Pedals - Road Bike Shop
Shop
>
Components
>
Forks, Cockpit, Pedals
>
Pedals
Mavic Crossride SL Pedals
Retail Price:
$109.99
Our Price: $43.99
buy now
Like the other members of Mavic's Crossride line, the Crossride SL Pedals are a lightweight, unfussy option made for everything from XC to all-mountain riding. Whether you're new to clipless pedals or have been riding with them for years, the user-friendly ATAC interface and predictable single...
Mavic Crossride XL-Pedals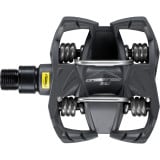 Retail Price:
$99.95
Our Price: $39.99
buy now
The Mavic Crossride XL pedals may just be the perfect pedals for getting newbies on clips. Of course, the ultra-predictable ATAC mechanism makes them ideal for certified rippers as well. The gigantic platform makes clipping in a breeze, and the single-setting release tension keeps you secure,...
Mavic iClic Cleats
Retail Price:
$24.95
Our Price: $20.99
buy now
Get rid of your worn cleats and add a fresh snap to your pedal engagement with the Mavic iClic Cleats. Boasting nearly effortless engagement, these cleats snap in quickly and easily to get out on the road and rolling through the miles. Your knees will stay happy with 10 degrees of angular float...
Mavic Zxellium SL-Pedal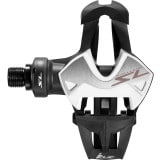 Retail Price:
$174.95
Our Price: $69.98
buy now
The Zxellium SL isn't the lightest pedal in Mavic's lineup. It is, however, a lot less expensive than Mavic's lightest pedal, and still weighs just over 200 grams. Because Mavic substituted a bit of composite for the top dog's carbon fiber bits, it was able to keep the cost of the SL down....
PowerTap P1 Power Meter Pedals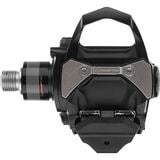 PowerTap was one of the first to join the portable power measurement game with its now legendary hub-based system. While the hubs were impeccable in their data-gathering ability, many riders -- spoiled by the convenience of swapping the meter to different bikes by swapping wheels -- found it...
PowerTap P1 Road Cleats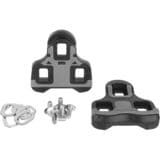 We've recently seen some misinformation circulating around the Internet about cleat compatibility for PowerTap's P1 pedals. A few reviews from popular sites noting that certain cleats from other manufacturers sorta kinda work with the pedals has led to people trying to mash cleats into pedals...
Race Face Aeffect Pedals
Retail Price:
$119.99
Our Price: $101.99
buy now
Most people aren't into switching pedals every time they go for a ride anyway, but the RaceFace Aeffect Pedals make such chopping and changing a thing of the past. With a thin but rugged aluminum body, bombproof chromoly steel axle, and 20 hex-headed traction pins per pedal, they can pull duty on...
Race Face Atlas Pedals
Retail Price:
$179.99
Our Price: $152.99
buy now
If you're strong enough, you can lock your bike into a stand, put all your power into the RaceFace Atlas Pedals, and actually slow down the Earth's rotation. It'll have all sorts of unfortunate consequences, probably, but it'd impress the hell out of a lot of people. If you're more interested in...
Race Face Chester Pedals
Having a place to put your feet is a pretty non-negotiable part of your mountain bike setup, plain and simple. But, you don't want to be the one out of your ride crew who spent your post-ride refreshment budget (and part of next month's rent) on fancy new pedals either. Race Face's Chester Pedals...
Shimano A530 SPD Pedals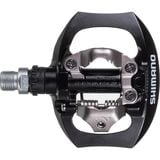 Retail Price:
$79.95
Our Price: $37.95
buy now
Changing pedals is a task even the most diehard mechanic dislikes. Clockwise, counterclockwise, right thread, left thread -- do any of us ever get it right the first time? For this reason the Shimano A530 SPD Pedals may just become your pedal of choice. While most pedals feature either a...
<< Prev | Back | 1 | 2 | 3 | 4 | 5 | 6 | 7 | 8 | 9 | 10 | More | Next >>