Pedals - Road Bike Shop
Shop
>
Components
>
Forks, Cockpit, Pedals
>
Pedals
Ritchey Pro Paradigm Mountain Pedals
Alloy bodies, durable bearings, and tough chromoly axles allow Ritchey to keep the Pro Paradigm Mountain Pedals under 260g -- without sacrificing strength and reliability. Not only that, the Pro Paradigms use a retention system that offers easy entry and release with excellent mud-shedding...
Ritchey WCS Echelon Road Pedals
A proven pedal design, Ritchey's WCS Echelon Road Pedals are a lightweight, reasonably priced component for those who value quality and functionality. The alloy body and carbon composite claw permit a 250g weigh-in, and they ride on a combination of bushings and sealed bearings for an extremely...
Shimano A530 SPD Pedals
With a large platform on one side, and clip-in compatibility on the other, Shimano's A530 SPD Pedals might just become the commuter's new best friend. Now you're able to run errands around town in your boots, wingtips, or high heels on the weekend, and still clip in for your commute to work come...
Shimano Dura-Ace PD-9000 SPD-SL Pedals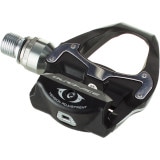 Retail Price:
$279.95
Our Price: $196.00
buy now
Over the generations of Dura-Ace, we've become more accustomed to seeing the gradual incorporation of carbon fiber. And while this seems like an interpretive advancement, Shimano has remained steadfast in its purposeful placement. So, instead of senselessly making every facet of the Dura-Ace...
Shimano PD-M324 SPD Dual Platform Pedal
Retail Price:
$69.95
Our Price: $45.50
buy now
It's rare to see any pedal that does more than one thing. The M324 is that rarity. One side is a typical caged platform pedal, terms so old few probably understand what they mean. The other side is a SPD pedal. While it looks like a pedal that can't make up its mind, it allows the rider to be of...
Shimano PD-M530 MTB SPD Pedals
Retail Price:
$68.00
Our Price: $32.99
buy now
Whether you're stepping up your two-wheeled game and clipping into the bicycle for the first time, Shimano PD-M530 MTB SPD Pedal will connect you to your two wheeled steed for years to come. These easy to adjust pedals will take you across miles of singletrack or down the street to work. The...
Shimano PD-M540 SPD Pedals
The Shimano M540 shares many of the upsides of the XTR-grade M959 mountain bike pedal at a fraction of the cost. It has an open binding mechanism to make clipping in easier than ever, and its weight blows away all of its competitors in its price range. And with the M540 there is no better value...
Shimano PD-M545 SPD Dual Platform Pedals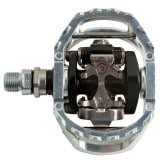 Retail Price:
$99.95
Our Price: $65.00
buy now
This is the more durable and heavier twin to the M424. Both have the same design, with a big, wide cage surrounding a traditional clipless pedal. The M545 has an aluminum cage for durability.
Shimano PD-M647 SPD Dual Platform Pedals
Retail Price:
$109.95
Our Price: $69.99
buy now
Shimano calls this a racing pedal, and it's easy to see why. The resin cage surrounding the clipless spedal is larger and grippier than the M545/M424 design. The clipless pedal inside the cage is based on the latest Shimano SPD MTB iteration. Making entry easy is the 12. 5-degree angle at which...
Shimano PD-M780 XT Race Pedal
Retail Price:
$119.95
Our Price: $69.95
buy now
This is the second generation of Shimano's XT branded pedals. And as usual, the workhorse XT parts get some trickledown from Shimano's flagship XTR line. For this version you'll save a handful of grams per pedal over the older XT PD-M770 pedals, but most importantly, the design of the XT PD-M780...
<< Prev | 1 | 2 | 3 | 4 | 5 | 6 | 7 | 8 | 9 | 10 | Next >>