Pedals - Road Bike Shop
Shop
>
Components
>
Forks, Cockpit, Pedals
>
Pedals
Shimano PD-M647 SPD Dual Platform Pedals
Retail Price:
$109.95
Our Price: $69.99
buy now
Shimano calls this a racing pedal, and it's easy to see why. The resin cage surrounding the clipless spedal is larger and grippier than the M545/M424 design. The clipless pedal inside the cage is based on the latest Shimano SPD MTB iteration. Making entry easy is the 12. 5-degree angle at which...
Shimano PD-M780 XT Race Pedal
Retail Price:
$119.95
Our Price: $73.95
buy now
This is the second generation of Shimano's XT branded pedals. And as usual, the workhorse XT parts get some trickledown from Shimano's flagship XTR line. For this version you'll save a handful of grams per pedal over the older XT PD-M770 pedals, but most importantly, the design of the XT PD-M780...
Shimano PD-M785 XT Trail Pedal
Retail Price:
$119.95
Our Price: $74.99
buy now
While lightness is always a good thing, there are a few places on the bike that deserve a look at function first. Perhaps you like more surface area than the standard XT pedals offer. These Shimano XT PD-M785 Pedals have an integral cage that gives you a greater area to hit when you have to "stab...
Shimano PD-MX80 Saint Pedals
Retail Price:
$99.95
Our Price: $65.00
buy now
For a long time running, DX Flat pedals fulfilled the needs of the BMX and mountain biking market with a solid aluminum body, adjustable traction pins, and legendary Shimano serviceability. It's safe to say that pedal is a now a classic. Much has changed over the years, however, and the PD-MX80...
Shimano SH56 SPD Cleat Set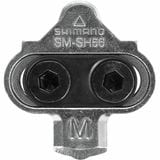 Retail Price:
$20.95
Our Price: $12.99
buy now
The Shimano SH-56 cleats are multi-release, which means you can clip out either to the outside or the inside of the pedal. The cleats can also be released by lifting and twisting your heel which makes them a great choice for those first learning to ride with clipless pedals. Please note that if...
Shimano SPD-SL Cleat Set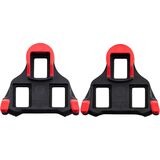 Retail Price:
$32.99
Our Price: $21.45
buy now
These are the replacement cleats for Shimano SPD-SL pedals, including the Dura Ace PD-7810 and the Ultegra PD-6620 models. You get two cleats and all installation hardware. The stock cleat that comes with the Dura Ace and Ultegra SL pedals are the Black/Yellow floating cleat with 6 degrees of...
Shimano Ultegra PD-6800 SPD-SL Pedals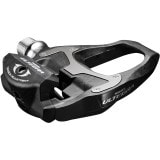 Retail Price:
$199.99
Our Price: $129.99
buy now
Unless you've been meditating in a cave for the past couple of years, you've most likely caught wind that Shimano created a carbon fiber Ultegra pedal. Yes, the PD-6700 carbon pedals were 60 grams lighter than their aluminum counterparts, and they were moving closer and closer to resembling a...
Shimano XTR PD-M9000 Race Pedal
In the world of mountain bike pedals, the arc in a graph that depicts the relationship between quality and cost would gradually and predictably rise along both axes. At the farthest side of the price axis, however, there would be a sudden and dramatic upward slope in quality, and that's where you...
Shimano XTR PD-M9020 Trail Pedals
Ever since its debut in 1990, Shimano's SPD (Shimano Pedaling Dynamics) clipless pedal system has been the number one choice of commuters, recreational roadies, and XC monsters looking for bombproof pedals. The new XTR PD-M9020 Trail Pedal celebrates SPD's first quarter century by doing something...
Speedplay Drillium Platform Pedals
When was the last time looking at a pedal raised your pulse? The Speedplay Drillium Pedals show that platform pedal design doesn't have to be boring or mundane. They're the ultimate racing flats thanks to the details of their construction. Speedplay incorporates three precision bearings (one...
<< Prev | 1 | 2 | 3 | 4 | 5 | 6 | 7 | 8 | 9 | 10 | Next >>