Pedals - Road Bike Shop
Shop
>
Components
>
Forks, Cockpit, Pedals
>
Pedals
Look Cycle Keo Blade Road Pedals
Retail Price:
$159.99
Our Price: $94.99
buy now
Let's be honest. When it comes right down to it, the tiny difference in grams between Look Cycle's Keo Blade Road Pedals and the superlative Carbon Ti model is small enough that its actual effect on a ride is negligible. The impact on the weight of the ol' bank account is another issue, though,...
Look Cycle Keo Classic 3 Road Pedals
Every ride only truly starts when you clip in, and the Look Cycle Keo Classic 3 Road Pedals are the first model that many of us ever clipped into. The Keo Classic 3's appeal lies primarily in two criteria. First, their simple, functional construction privileges durable reliability over the flash...
Look Cycle Keo Cleat Cover
This is an indispensable accessory to protect your cleats against unnecessary wear during walking. Not only will you prevent premature cleat wear, but these covers will give you traction enough to cross slippery tile cafe floors without spilling your mid-ride espresso. They will fit both Keo and...
Look Cycle Keo Dual Mode Essential Power Meter Pedals
From stem-gazing professionals to weekend warriors, power data has become a must for virtually any cyclist who takes their training seriously. Installing and maintaining a power meter can also be a huge pain in the ass. Look Cycles takes care of that with its Keo Dual Mode Essential Power Meter...
Look Cycle Keo Dual Mode Regular Power Meter Pedals
You've done your research in the hunt for your perfect power meter, created all the charts, weighed your priorities, and come to the conclusion that a pedal-based power meter fits best with your riding style and desire to keep installation costs limited to restocking the beverage refrigerator in...
Look Cycle Keo Grip Road Cleat
Cleats are one of those bits of kit that get overlooked, but Look's new Keo Grip Road Cleat is tougher to ignore than most. It has several obvious upgrades over most cleats, most noticeably non-skid rubber pads underneath the fore and aft portions of the cleat, but it's the unobtrusive central...
Look Cycle Keo Road Cleat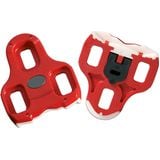 Look's Keo Road Cleats are built to last longer than the previous generation of Look cleats, and they also engage and disengage with less friction. The cleat is made from polyamide nylon with co-molded Teflon toe and heel inserts. The Keo cleats are available in two options: red (for 9 degrees of...
Look Cycle S-Track Carbon Ti Pedals
Retail Price:
$349.99
Our Price: $219.99
buy now
Versatile, lightweight, and reliable, the Look Cycles S-Track Carbon Ti Pedals is ready to tackle any and all enduro, all-mountain, or cross-country rides. A first in the mountain biking world, the S-Track offers a dual-contact surface area which not only allows spikes to be installed by...
Look Cycle S-Track Pedals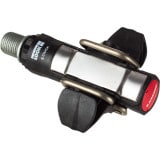 Retail Price:
$99.99
Our Price: $44.99
buy now
When it comes to pedaling efficiency, few manufacturers can claim the experience or the technical know-how that Look can. With that experience, the move from pavement to dirt wasn't a huge leap. The Look S-Track Pedal has made a huge impact on the mountain bike industry, and has excelled where...
Look Cycle S-Track Race Pedals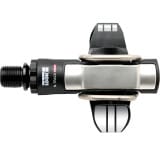 Retail Price:
$189.99
Our Price: $74.99
buy now
Look Cycle has been designing clipless pedals as long as just about anyone, and the S-Track Race Pedals leverage those decades of expertise into a new pedal design that's user-friendly and highly-customizable. However, it's the new cleat design that makes these one of the best mud-shedding pedals...
<< Prev | Back | 1 | 2 | 3 | 4 | 5 | 6 | 7 | 8 | 9 | 10 | More | Next >>