Pedals - Road Bike Shop
Shop
>
Components
>
Forks, Cockpit, Pedals
>
Pedals
Shimano PD-M647 SPD Dual Platform Pedals
Retail Price:
$109.95
Our Price: $83.97
buy now
Shimano calls this a racing pedal, and it's easy to see why. The resin cage surrounding the clipless spedal is larger and grippier than the M545/M424 design. The clipless pedal inside the cage is based on the latest Shimano SPD MTB iteration. Making entry easy is the 12. 5-degree angle at which...
Shimano PD-M780 XT Race Pedal
Retail Price:
$119.95
Our Price: $75.00
buy now
This is the second generation of Shimano's XT branded pedals. And as usual, the workhorse XT parts get some trickledown from Shimano's flagship XTR line. For this version you'll save a handful of grams per pedal over the older XT PD-M770 pedals, but most importantly, the design of the XT PD-M780...
Shimano SH51 SPD Cleats
These are the cleats that come with your Shimano SPD Pedals. The SH-51 Cleats are black and have four degrees of float for your feet. Compared to the SH-56 Multi-Release Cleats, these are much more secure and are generally preferred for the experienced rider. To get out of your pedal, you'll have...
Shimano SH56 SPD Cleat Set
The Shimano SH-56 cleats are multi-release, which means you can clip out either to the outside or the inside of the pedal. The cleats can also be released by lifting and twisting your heel which makes them a great choice for those first learning to ride with clipless pedals. Please note that if...
Shimano SPD-SL Cleat Set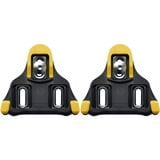 Retail Price:
$32.99
Our Price: $25.00
buy now
These are the replacement cleats for Shimano SPD-SL pedals, including the Dura Ace PD-7810 and the Ultegra PD-6620 models. You get two cleats and all installation hardware. The stock cleat that comes with the Dura Ace and Ultegra SL pedals are the Black/Yellow floating cleat with 6 degrees of...
Shimano SPD-SL Long Cleat Bolt Set
Retail Price:
$7.99
Our Price: $5.56
buy now
Some shoes -- especially those made by our French friends at Carnac -- have especially deep wells in the soles for housing the threads into which you screw your pedal cleat bolts. Shimano is aware of this, which is why they supply the world with long bolts for use in this case on the cleats for...
Shimano Ultegra PD-6800 SPD-SL Pedals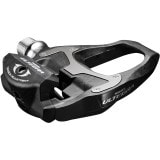 Retail Price:
$199.99
Our Price: $169.99
buy now
Unless you've been meditating in a cave for the past couple of years, you've most likely caught wind that Shimano created a carbon fiber Ultegra pedal. Yes, the PD-6700 carbon pedals were 60 grams lighter than their aluminum counterparts, and they were moving closer and closer to resembling a...
Shimano XTR PD-M980 XC Pedal
The XTR Race PD-M980 Pedals are lighter, provide more stability, and shed mud better than ever before. These improvements are the result of a refined pedal body shape. The design is leaner than the 970, with all non-essential material shaved away. While this amounts to a pedal that is roughly 20...
Shimano XTR PD-M985 Trail Pedal
While racers often look for the lightest possible parts to lessen their burden, ultimate lightness may not be your first priority. Perhaps you'd like a greater platform to support your shoe when you stand up to bomb down a rocky descent, or to make clipping-in in the midst of a steep climb easier...
Speedplay Base Plate Kit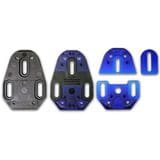 The Speedplay Base Plate Kit is for the 'whoops moment' where you bought three-hole mount shoes that don't accommodate your four-hole Speedplay cleats. Don't worry, we've got your back. The Speedplay Base Plate Kit replaces your four-hole base plates with three-hole base plates. The kit includes...
<< Prev | 1 | 2 | 3 | 4 | 5 | 6 | 7 | 8 | 9 | Next >>