Pedals - Road Bike Shop
Shop
>
Components
>
Forks, Cockpit, Pedals
>
Pedals
Look Cycle Keo Road Cleat
Look's Keo Road Cleats are built to last longer than the previous generation of Look cleats, and they also engage and disengage with less friction. The cleat is made from polyamide nylon with co-molded Teflon toe and heel inserts. The Keo cleats are available in two options: red (for 9 degrees of...
Look Cycle S-Track Pedals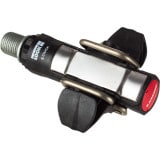 When it comes to pedaling efficiency, few manufacturers can claim the experience or the technical know-how that Look can. With that experience, the move from pavement to dirt wasn't a huge leap. The Look S-Track Pedal has made a huge impact on the mountain bike industry, and has excelled where...
Look Cycle S-Track Race Ti Pedals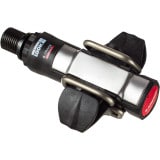 There are a ton of ways to increase pedaling efficiency. Stiff-soled shoes, clipless pedals, stiff crankarms, and on and on. To that end, the Look uses a few different approaches to increasing pedaling efficiency. In doing so, it created the S-Track Race Ti Pedal. The S-Track implements a large,...
Mavic ATAC Cleats
Retail Price:
$25.00
Our Price: $19.99
buy now
Swap out those old, worn cleats and clip-in with a shiny new set of Mavic ATAC Cleats. These cleats feature standard, two-bolt mounting with options for either a 13-degree or 17-degree release angle. These cleats are compatible with Mavic ATAC concept pedal systems and boast a low stack for easy...
PowerTap P1 Power Meter Pedals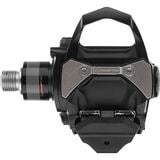 Freedom to measure power data from any bike you've got stashed in the garage is a valuable thing, and until now, it wasn't an option available from PowerTap. The P1 Power Meter Pedals represent a huge step forward for the brand's versatility, measuring power entirely from one mechanism contained...
PowerTap P1 Road Cleats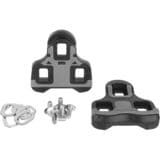 We've recently seen some misinformation circulating around the Internet about cleat compatibility for PowerTap's P1 pedals. A few reviews from popular sites noting that certain cleats from other manufacturers sorta kinda work with the pedals has led to people trying to mash cleats into pedals...
Race Face Aeffect Pedals
Retail Price:
$119.99
Our Price: $101.99
buy now
Most people aren't into switching pedals every time they go for a ride anyway, but the RaceFace Aeffect Pedals make such chopping and changing a thing of the past. With a thin but rugged aluminum body, bombproof chromoly steel axle, and 20 hex-headed traction pins per pedal, they can pull duty on...
Race Face Atlas Pedals
Retail Price:
$179.99
Our Price: $152.99
buy now
If you're strong enough, you can lock your bike into a stand, put all your power into the RaceFace Atlas Pedals, and actually slow down the Earth's rotation. It'll have all sorts of unfortunate consequences, probably, but it'd impress the hell out of a lot of people. If you're more interested in...
Race Face Chester Pedals
Having a place to put your feet is a pretty non-negotiable part of your mountain bike setup, plain and simple. But, you don't want to be the one out of your ride crew who spent your post-ride refreshment budget (and part of next month's rent) on fancy new pedals either. Race Face's Chester Pedals...
Shimano 105 PD-5800 Pedal
Retail Price:
$144.99
Our Price: $91.99
buy now
Pedals are one of the unsexiest parts of your bike, so you'd be forgiven for forgetting about them, but you'll remember in a hurry if they break when you're 20 miles from home. That said, you don't want a pedal to weigh six pounds, either. The everything wizards at Shimano solved that dilemma...
<< Prev | Back | 1 | 2 | 3 | 4 | 5 | 6 | 7 | 8 | 9 | 10 | More | Next >>