Pedals - Road Bike Shop
Shop
>
Components
>
Forks, Cockpit, Pedals
>
Pedals
Shimano PD-M540 SPD Pedals
Retail Price:
$79.95
Our Price: $49.99
buy now
Unless your daily bread depends on your race resume, or you just won the lottery, saving money in areas where it doesn't compromise performance is just a smart choice. The Shimano PD-M540 SPD Pedals include many of the same features of the XTR pedals at a fraction of the cost. The open binding of...
Shimano PD-MX80 Saint Pedals
Retail Price:
$99.95
Our Price: $59.95
buy now
Though we're typically leery of manufacturers tinkering with our favorite pieces of kit, Shimano's PD-MX80 Saint Pedals are a successful and welcome update to the classic DX Flat model. The durable aluminum body, nine adjustable traction pins, chromoly axles, and sealed bearings ensure that you...
Shimano PD-R540 SPD-SL Road Pedals
Retail Price:
$59.95
Our Price: $34.99
buy now
Ask anyone who's put in hours and hours on the bike about pedals, and they'll likely make a single recommendation: Shimano. Shimano's pedals seem to last forever, require little to no maintenance, and cleats are easy to find when it comes time to replace them. The PD-R540 SPD-SL Pedal seen here...
Shimano SH51 SPD Cleats
Retail Price:
$20.95
Our Price: $11.95
buy now
The Shimano SH51 SPD Cleats offer four degrees of float, and more experienced riders will typically prefer these over the Multi-Release SH-56 cleats. They take a bit more to get unclipped, but the added security in rough terrain is a worthy tradeoff.
Shimano SPD-SL Cleat Set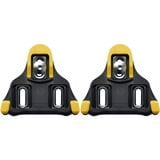 Retail Price:
$32.99
Our Price: $21.39
buy now
Shimano's SPD-SL Cleat Set includes two cleats and all the installation hardware you'll need. The cleat set is compatible with all Shimano SPD-SL pedals, including the Dura-Ace PD-7810 and the Ultegra PD-6620 models. The SM-SH11s are the Black/Yellow floating cleats with 6 degrees of float--this...
Shimano SPD-SL Long Cleat Bolt Set
Retail Price:
$7.99
Our Price: $5.19
buy now
Some shoes -- especially those made by our French friends at Carnac -- have especially deep wells in the soles for housing the threads into which you screw your pedal cleat bolts. Shimano is aware of this, which is why they supply the world with long bolts for use in this case on the cleats for...
Shimano Ultegra PD-6800 SPD-SL Pedals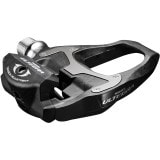 Retail Price:
$199.99
Our Price: $99.99
buy now
Featuring a carbon composite body for serious weight savings and high levels of rigidity, the Shimano Ultegra PD-6800 SPD-SL Pedals are a great choice for the competitive cyclist and casual, everyday rider alike. The pedal's wide platform enables high levels of energy transfer, ensuring maximum...
Shimano XT PD-M8000 XC Pedals
Shimano's XT group is blowing up in 2016. The drivetrain and wheels feature wider Q-factor options, wider gear ratios, and wider rims -- a general trend that extends to the XT PD-M8000 XC Pedals, too. Compared to the M780 pedals they're replacing, the M8000 XC racing pedals gain 2. 8mm in...
Shimano XT PD-M8020 Trail Pedal
Shimano's venerable XT group got hit so thoroughly with the redesign hammer for 2016 that the effects are apparent even outside of the usual tweaks to derailleurs and shifters. XT options like the wheels, crank, and cassette have gotten wider across the rims, Q-factor, and gear range,...
Shimano XTR PD-M9000 Race Pedal
Retail Price:
$179.99
Our Price: $95.99
buy now
For a sport that relishes in mud and sand, paying a premium for components seems counter-intuitive. Once in a while something comes along that is worth every grain of sand. The Shimano XTR M-9000 Race Pedals are just that something. Most noticeable is the weight. The M-9000 pedals are nearly 100...
<< Prev | Back | 1 | 2 | 3 | 4 | 5 | 6 | 7 | 8 | 9 | 10 | More | Next >>