Pedals - Road Bike Shop
Shop
>
Components
>
Forks, Cockpit, Pedals
>
Pedals
Look Cycle Keo Classic 2 Pedal
The new Keo Classic 2 represents the latest in Look's family of road pedals, borrowing many of the same technical features as its pricier siblings, but in a more value-driven package. It's a system both entry-level riders and more seasoned cyclists alike will appreciate, as the proven Look...
Look Cycle Keo Classic Road Pedal
So you've decided to take the plunge into clipless pedals to get more power behind your pedal stroke. But where do you begin? Truly, the number of choices is overwhelming. The Look Keo Classic Road Pedal is an entry level clipless pedal featuring the same attention to detail as the rest of the...
Look Cycle Keo Cleat Cover
This is an indispensable accessory to protect your cleats against unnecessary wear during walking. Not only will you prevent premature cleat wear, but these covers will give you traction enough to cross slippery tile cafe floors without spilling your mid-ride espresso. They will fit both Keo and...
Look Cycle Keo Easy Road Pedal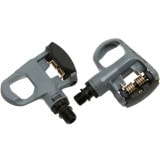 Look's Keo Easy pedals are enticing. The design is a proven winner in races all over the world, from citizen races to Grand Tours, yet the price is so low, it's hard not to say yes. The key is that the technology has been proven over millions of miles and countless thousands of users. When you...
Look Cycle Keo Grip Road Cleat
Look's Keo Grip Cleats function the same as the older Keo cleats once they're engaged in a Look Keo or Keo 2 pedal. It's what they do the rest of the time that is so different. Look has done a great job at re-imagining their cleat, seeing what others have done, seeing what they could do better,...
Look Cycle Keo Plus Road Pedal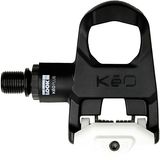 The Look KeO Plus Road Bike Pedal offers light weight, sealed bearings, and adjustable release tension at a price that won't suddenly cause your child support checks to bounce.
Look Cycle Keo Road Cleat
If you're starting to have problems of any sort with your Look pedals -- accidental disengagement, squeaking, etc -- new cleats are almost always what the doctor will order. How do you wear out cleats? Walking in them is one way, clipping in and out thousands of times through years of stopping at...
Look Cycle S-Track Race Pedals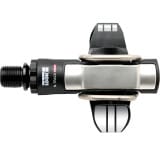 Look Cycle has been designing clipless pedals as long as just about anyone, and the S-Track Race Pedals leverage those decades of expertise into a new pedal design that's user-friendly and highly-customizable. However, it's the new cleat design that makes these one of the best mud-shedding pedals...
Look Cycle S-Track Race Ti Pedals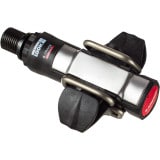 There are a ton of ways to increase pedaling efficiency. Stiff-soled shoes, clipless pedals, stiff crankarms, and on and on. To that end, the Look uses a few different approaches to increasing pedaling efficiency. In doing so, it created the S-Track Race Ti Pedal. The S-Track implements a large,...
Mavic Crossmax SL Ti-Pedal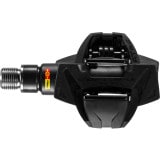 What do you get when two iconic French brands pool their resources to create their version of the ultimate XC Race pedal? The Mavic Crossmax SL Ti Pedal, that's what. The wheel wizards at Mavic enlisted the help of Time's engineering team, with the goal of adopting the ATAC interface to a pedal...
<< Prev | 1 | 2 | 3 | 4 | 5 | 6 | 7 | 8 | 9 | Next >>