Pedals - Road Bike Shop
Shop
>
Components
>
Forks, Cockpit, Pedals
>
Pedals
Garmin Vector S Power Meter Pedals
Retail Price:
$899.99
Our Price: $719.99
buy now
The Garmin Vector Pedals were introduced to an excited audience anxious to refine the collection of data from the drivetrain. The Vector S pedals not only further refine the process, they also reduce the price in the process. Even though your power is transferred via the pedals to the bike's...
Garmin Vector Shimano Ultegra Pedal Cartridge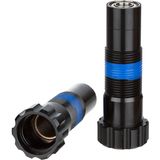 You love your Garmin Vector 2 or 2S power meter and all its pedal-based data tracking ability, but you find yourself dreaming of your favorite set of Shimano Ultegra PD-6800 pedals. Keep your wattage tracking mojo and swap out your pedal system with the Garmin Vector Shimano Ultegra Pedal...
HT Components X1 Clipless Pedals
HT Components wanted to design a secure, high-tension pedal for the downhill crowd, so the company decided to get some feedback on its early designs by sending pro Mr. Gwin down a few wild descents on the World Cup circuit on an early version of the pedal they hoped to create. It must have gone...
HT Components X2 Clipless Pedals
To create its new X2 Clipless Pedals, HT Components logically started with the effective design of its X1 downhill pedals. They worked closely with World Cup fixture Mr. Gwin to gain feedback early versions of the downhill pedals, which led them to alter the X1's platform to make the X2's easier...
iSSi Carbon Road Pedal
Pedal industry underdog iSSi has been attracting far more attention for its designs off the trails, but here at Competitive, we're equally excited about road options like the Carbon Road Pedal. While the ability to match the color with our frame is awfully enticing, iSSi's fresh approach and...
iSSi II Triple Pedal
We're excited to see Minnesota-based newcomer iSSi offering subtle tweaks and improvements to improve its line of mountain pedals this year. Already earning attention for entering an industry long dominated by a few giants, iSSi's functional, bright designs are looking better than ever. As the...
iSSi Triple Trail Pedal
Playing the part of the underdog in an industry dominated by giants, Minneapolis-based iSSi launched just a few years ago with the goal of making better pedals than what was currently available. We love to believe in an underdog as much as anyone else, but iSSi earned our admiration all by itself...
Look Cycle Keo 2 Max Blade Pedals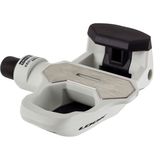 As dedicated cyclists, we're prone to occasional bouts of irrational defensiveness over minutiae like our choice of handlebar tape, saddles, and -- of course -- the make of our drivetrains. But few categories of kit preference excite group-ride partisanship like pedals. From the low-weight,...
Look Cycle Keo 2 Max Carbon Road Pedals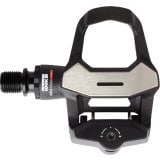 There's a good reason why Look's Keo 2 Max Carbon Road Pedals are a favorite among today's pros. As one of the widest clipless pedals out there, the Keo 2 Max offers a stiff platform and maximum power transfer from your feet to the drivetrain. For the new Keo 2 Max, Look increased the platform...
Look Cycle Keo 2 Max Road Pedals
For riders who finance their own cycling aspirations, equipment choices can involve some pretty intense cost/benefit analysis to get the most out of every dollar. Thanks to a polyamide composite pedal body, the Look Cycle Keo 2 Max Road Pedals go toe-to-toe with their Keo 2 Max Carbon...
<< Prev | Back | 1 | 2 | 3 | 4 | 5 | 6 | 7 | 8 | 9 | 10 | More | Next >>