Pedals - Road Bike Shop
Shop
>
Components
>
Forks, Cockpit, Pedals
>
Pedals
Look Cycle Keo Blade 2 TI Pedals
The Look Keo Blade 2 TI Pedals are an extension of the same innovations found in the original Keo Blade Carbon. They feature a wide body and reliable cleat retention system, but they save you 40 grams per pair with the incorporation of a titanium spindle. Look's Keo Blade 2 TI's design is based...
Look Cycle Keo Classic 2 Pedal
The new Keo Classic 2 represents the latest in Look's family of road pedals, borrowing many of the same technical features as its pricier siblings, but in a more value-driven package. It's a system both entry-level riders and more seasoned cyclists alike will appreciate, as the proven Look...
Look Cycle Keo Cleat Cover
This is an indispensable accessory to protect your cleats against unnecessary wear during walking. Not only will you prevent premature cleat wear, but these covers will give you traction enough to cross slippery tile cafe floors without spilling your mid-ride espresso. They will fit both Keo and...
Look Cycle Keo Grip Road Cleat
Look's Keo Grip Cleats function the same as the older Keo cleats once they're engaged in a Look Keo or Keo 2 pedal. It's what they do the rest of the time that is so different. Look has done a great job at re-imagining their cleat, seeing what others have done, seeing what they could do better,...
Look Cycle Keo Plus Road Pedal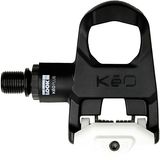 The Look KeO Plus Road Bike Pedal offers light weight, sealed bearings, and adjustable release tension at a price that won't suddenly cause your child support checks to bounce.
Look Cycle Keo Road Cleat
If you're starting to have problems of any sort with your Look pedals -- accidental disengagement, squeaking, etc -- new cleats are almost always what the doctor will order. How do you wear out cleats? Walking in them is one way, clipping in and out thousands of times through years of stopping at...
Mavic Crossmax SL Ti-Pedal
What do you get when two iconic French brands pool their resources to create their version of the ultimate XC Race pedal? The Mavic Crossmax SL Ti Pedal, that's what. The wheel wizards at Mavic enlisted the help of Time's engineering team, with the goal of adopting the ATAC interface to a pedal...
Mavic Crossmax XL Ti-Pedal
If you're an aggressive rider, and you don't want to deal with the weight penalty that typically comes with platform style clips, you'd do well to consider the Mavic Crossmax XL Ti pedal. At 340g, it's lighter than many XC-oriented options, but it has an enormous pedal body for added security...
Mavic Crossmax XL-Pedals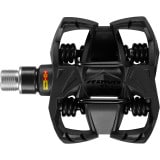 Sure, those tiny clipless pedals work well for the XC crowd, but there are some of us who need something more robust. We understand the need for a larger pedal that's tuned to the needs of aggressive riders, which is why we were so intrigued when Mavic launched the Crossmax XL pedal. Based off of...
Mavic Crossride XL-Pedals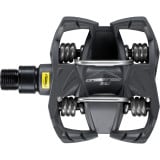 The Mavic Crossride XL pedals may just be the perfect pedals for getting newbies on clips. Of course, the ultra-predictable ATAC mechanism makes them ideal for certified rippers as well. The gigantic platform makes clipping in a breeze, and the single-setting release tension keeps you secure,...
<< Prev | Back | 1 | 2 | 3 | 4 | 5 | 6 | 7 | 8 | 9 | 10 | More | Next >>