Pedals - Road Bike Shop
Shop
>
Components
>
Forks, Cockpit, Pedals
>
Pedals
Look Cycle Keo Plus Road Pedal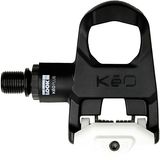 The Look KeO Plus Road Bike Pedal offers light weight, sealed bearings, and adjustable release tension at a price that won't suddenly cause your child support checks to bounce.
Look Cycle Keo Road Cleat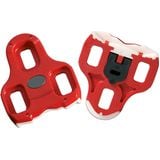 If you're starting to have problems of any sort with your Look pedals -- accidental disengagement, squeaking, etc -- new cleats are almost always what the doctor will order. How do you wear out cleats? Walking in them is one way, clipping in and out thousands of times through years of stopping at...
Look Cycle S-Track Pedals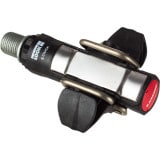 When it comes to pedaling efficiency, few manufacturers can claim the experience or the technical know-how that Look can. With that experience, the move from pavement to dirt wasn't a huge leap. The Look S-Track Pedal has made a huge impact on the mountain bike industry, and has excelled where...
Look Cycle S-Track Race Pedals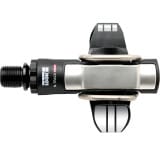 Look Cycle has been designing clipless pedals as long as just about anyone, and the S-Track Race Pedals leverage those decades of expertise into a new pedal design that's user-friendly and highly-customizable. However, it's the new cleat design that makes these one of the best mud-shedding pedals...
Look Cycle S-Track Race Ti Pedals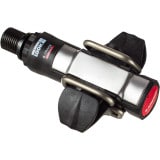 There are a ton of ways to increase pedaling efficiency. Stiff-soled shoes, clipless pedals, stiff crankarms, and on and on. To that end, the Look uses a few different approaches to increasing pedaling efficiency. In doing so, it created the S-Track Race Ti Pedal. The S-Track implements a large,...
Mavic Crossmax SL Ti-Pedal
What do you get when two iconic French brands pool their resources to create their version of the ultimate XC Race pedal? The Mavic Crossmax SL Ti Pedal, that's what. The wheel wizards at Mavic enlisted the help of Time's engineering team, with the goal of adopting the ATAC interface to a pedal...
Mavic Crossmax XL Ti-Pedal
If you're an aggressive rider, and you don't want to deal with the weight penalty that typically comes with platform style clips, you'd do well to consider the Mavic Crossmax XL Ti pedal. At 340g, it's lighter than many XC-oriented options, but it has an enormous pedal body for added security...
Mavic Crossmax XL-Pedals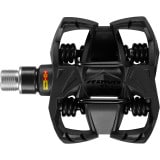 Sure, those tiny clipless pedals work well for the XC crowd, but there are some of us who need something more robust. We understand the need for a larger pedal that's tuned to the needs of aggressive riders, which is why we were so intrigued when Mavic launched the Crossmax XL pedal. Based off of...
Mavic Crossride XL-Pedals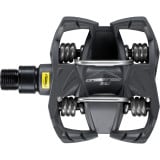 The Mavic Crossride XL pedals may just be the perfect pedals for getting newbies on clips. Of course, the ultra-predictable ATAC mechanism makes them ideal for certified rippers as well. The gigantic platform makes clipping in a breeze, and the single-setting release tension keeps you secure,...
Mavic Crossroc SL-Pedal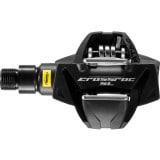 Mavic's entry into the mountain bike pedal arena has been downright impressive, and one of the best illustrations of the French brand's direction is the Crossroc SL pedal. Built on Time's renowned ATAC interface, they'll keep your feet in place down jarring descents, while remaining unbound by...
<< Prev | 1 | 2 | 3 | 4 | 5 | 6 | 7 | 8 | 9 | Next >>