Pedals - Road Bike Shop
Shop
>
Components
>
Forks, Cockpit, Pedals
>
Pedals
Look Cycle Keo Blade 2 Pro Team Ti Ltd. Edition Mondrian
Retail Price:
$439.99
Our Price: $374.95
buy now
The recently redesigned Keo Blade 2 Ti pedal is a marvel of engineering in its own right, being lighter, stiffer, and more reliable than its already-excellent predecessor, and still relying on the novel but ingenious single carbon blade mechanism that gives it its namesake. So what could make it...
Look Cycle Keo Blade 2 TI Pedals
Retail Price:
$399.99
Our Price: $349.99
buy now
Look's new Keo Blade 2 TI Pedals build upon the same wide body and reliable cleat retention system as the original Keo Blade Carbon, but with the integration of a titanium spindle they drop about 40 grams per pair. The Blade 2 TI improved "blade" design features a piece of carbon that has been...
Look Cycle Keo Classic 2 Pedal
Retail Price:
$129.99
Our Price: $99.95
buy now
The new Keo Classic 2 represents the latest in Look's family of road pedals, borrowing many of the same technical features as its pricier siblings, but in a more value-driven package. It's a system both entry-level riders and more seasoned cyclists alike will appreciate, as the proven Look...
Look Cycle Keo Cleat Cover
This is an indispensable accessory to protect your cleats against unnecessary wear during walking. Not only will you prevent premature cleat wear, but these covers will give you traction enough to cross slippery tile caf?? floors without spilling your mid-ride espresso. They will fit both Keo and...
Look Cycle Keo Easy Road Pedal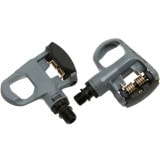 Retail Price:
$89.99
Our Price: $59.95
buy now
Look's Keo Easy pedals are enticing. The design is a proven winner in races all over the world, from citizen races to Grand Tours, yet the price is so low, it's hard not to say yes. The key is that the technology has been proven over millions of miles and countless thousands of users. When you...
Look Cycle Keo Grip Road Cleat
Look's Keo Grip Cleats function the same as the older Keo cleats once they're engaged in a Look Keo or Keo 2 pedal. It's what they do the rest of the time that is so different. Look has done a great job at re-imagining their cleat, seeing what others have done, seeing what they could do better,...
Look Cycle Keo Road Cleat
If you're starting to have problems of any sort with your Look pedals -- accidental disengagement, squeaking, etc -- new cleats are almost always what the doctor will order. How do you wear out cleats? Walking in them is one way, clipping in and out thousands of times through years of stopping at...
Look Cycle S-Track Pedals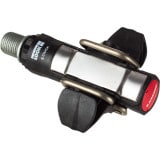 Retail Price:
$109.95
Our Price: $99.95
buy now
When it comes to pedaling efficiency, few manufacturers can claim the experience or the technical know-how that Look can. With that experience, the move from pavement to dirt wasn't a huge leap. The Look S-Track Pedal has made a huge impact on the mountain bike industry, and has excelled where...
Look Cycle S-Track Race Pedals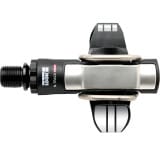 Retail Price:
$209.95
Our Price: $179.99
buy now
Look Cycle has been designing clipless pedals as long as just about anyone, and the S-Track Race Pedals leverage those decades of expertise into a new pedal design that's user-friendly and highly-customizable. However, it's the new cleat design that makes these one of the best mud-shedding pedals...
Look Cycle S-Track Race Ti Pedals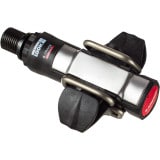 Retail Price:
$369.95
Our Price: $299.95
buy now
There are a ton of ways to increase pedaling efficiency. Stiff-soled shoes, clipless pedals, stiff crankarms, and on and on. To that end, the Look uses a few different approaches to increasing pedaling efficiency. In doing so, it created the S-Track Race Ti Pedal. The S-Track implements a large,...
<< Prev | Back | 1 | 2 | 3 | 4 | 5 | 6 | 7 | 8 | 9 | 10 | More | Next >>