Pedals - Road Bike Shop
Shop
>
Components
>
Forks, Cockpit, Pedals
>
Pedals
Crank Brothers Stamp Pedal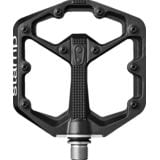 Retail Price:
$150.00
Our Price: $135.00
buy now
The Crank Brothers Stamp Pedal delivers race-ready function with a size range tailored to best match your shoe size. Their thin profile keeps your feet close to the pedal axle for maximum power transfer and leaves oodles of clearance for technical terrain and narrow ruts. For added control, a...
Deity Components Black Kat Pedals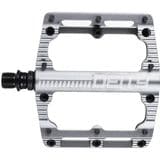 When designing the Black Kat Pedals, Deity set out to create a pedal that would not only feel incredible underfoot, but would also last the test of time. Consider that mission accomplished. The larger platform, thinner body, and overall lighter feel puts the Black Kat at the top of the list of...
Deity Components Compound Pedals
Whether you're rallying a full day of lift laps or hitting up the beachside bike park, make sure you've got Deity Components Compound Pedals for confident grip and classic style. Fashioned from injection-molded, nylon-fiber composite, these pedals are lightweight yet durably strong. Six...
Deity Components TMAC Pedals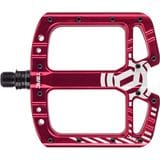 Add the Deity Components TMAC Pedals to your favorite ride and gain a wide, stable platform for sure grip and confident power transfer. Replaceable pins boost the grip for confidence on wicked descents and switchback berms. The TMAC's machined aluminum body provides a stiff and responsive feel,...
Garmin Vector 2 Power Meter Pedals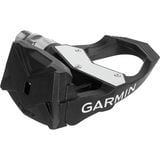 They say good things come to those who wait, and in the case of the Garmin Vector 2 Power Meter Pedals, it's true. If you're looking to get more out of your training than just seeing where you stack up against competitors on apps, it's probably time to make the jump to a power meter, and after a...
Garmin Vector 2S Power Meter Pedals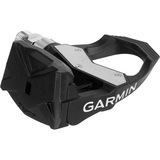 The Garmin Vector 2S Power Meter Pedals bring some new features to the table and provide powerful data tracking in an affordable, easy to install, and bike interchangeable format. With the Vector 2S, Garmin throws away the old washers found on the Vector S pedal pods and opted for a new, more...
Garmin Vector 2S Upgrade Pedal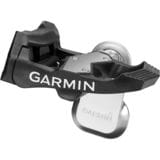 Upgrade your Garmin Vector 2S Pedals with the Vector 2S Upgrade Pedal and get rolling with even more data tracking. This pedal replaces the right pedal of the standard Vector 2S system, adding a right-side tracking pod to turn your bike into a dual-sensing data gathering machine. With readings...
Garmin Vector Shimano Ultegra Pedal Cartridge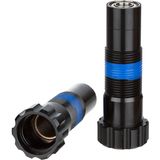 You love your Garmin Vector 2 or 2S power meter and all its pedal-based data tracking ability, but you find yourself dreaming of your favorite set of Shimano Ultegra PD-6800 pedals. Keep your wattage tracking mojo and swap out your pedal system with the Garmin Vector Shimano Ultegra Pedal...
HT Components AE05 Evo Pedals
At a claimed 360 grams per pair, the AE05 Evo Pedals aren't the absolute lightest in HT Components' Evo pedal family, but they're only a few grams off. As with the rest of its Evo counterparts, the AE05 provides a beefy platform with replaceable pins for your soles to grip as you tackle rough...
HT Components Leopard M1 Pedals
HT Components may be more widely known for its DH-inspired offerings, but they make sure to include the gram-counting cross-country and all-mountain riders with its Leopard M1 Pedals. Made from light yet durable extruded and CNC machined aluminum, these pedals turn smooth and provide sturdy...
<< Prev | Back | 1 | 2 | 3 | 4 | 5 | 6 | 7 | 8 | 9 | 10 | More | Next >>