Pedals - Road Bike Shop
Shop
>
Components
>
Forks, Cockpit, Pedals
>
Pedals
Crank Brothers Tread Contact Sleeves for Egg Beater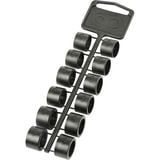 The Crank Brothers Tread Contact Sleeves give your Egg Beaters a tighter fit. Each strip includes 1mm, 2mm, and 3mm thicknesses.
e*thirteen components LG1 Plus Pedals
The e*thirteen LG1+ Pedals are designed to withstand the abuse that's dished out by the world's fastest downhill racers -- plain and simple. If you're reading this, odds are that you won't ever set foot atop a World Cup podium, but at least you'll know that your pedals will hold up to all of the...
Easton Flatboy Pedal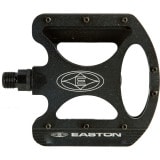 If you're out ripping lift-access DH trails, hucking drops, or just making laps in the jump park all day, you need to be able to trust your pedals. The Easton Flatboys are the choice the of badasses like Brian Lopes. The Flatboys are built with Cromoly spindles and Alloy cages to withstand huge...
Ergon PC2 Pedal
Retail Price:
$79.95
Our Price: $55.96
buy now
Flat pedals aren't just for curmudgeons and kids; we know lots of folks who ride flats. While most of those tend towards the wilder side of mountain biking, we have cross-country riding friends who prefer to be free from the confines of typical clipless pedal systems as well. Ergon makes the PC2...
Garmin Vector Powermeter Pedals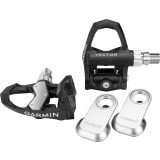 You've been waiting for years, drooling and poring over discreet photos of Team Garmin Sharp prototypes at every race in the world. Yes, for more than three seasons, we've been guilty of this too. However, the wait is finally over, as the Garmin Vector Powermeter Pedals have arrived to market....
Look Cycle Keo 2 Max Carbon Road Pedals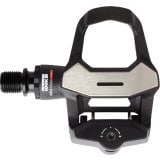 First and foremost, clipless pedals are designed to hold you tightly to your bike. But they're also the power transfer point from your feet to the drivetrain. And when you factor in rotation weight and energy dissipation, a pedals stiffness-to-weight ratio becomes a crucial component of watt...
Look Cycle Keo 2 Max Road Pedals
In mountain biking, people talk of privateers. That's most of the world -- people who buy their own stuff. And when counting pennies, doing spreadsheet calculations, and analyzing cost-per-gram, the less flashy parts -- the Chorus', Force's, and Ultegra's of the world, often provide 99% of the...
Look Cycle Keo Blade Carbon Aero pedal
Retail Price:
$390.00
Our Price: $234.00
buy now
When wind is a facto ... wait, what are we talking about? Wind is always a factor. Just ask Alberto Contador, who rode prototype time trial-specific aero pedals to victory in the last individual time trial around Lake Annecy at last year's Tour De France. Since then, Look and Contador have been...
Look Cycle Keo Blade Carbon Pedal
Retail Price:
$290.00
Our Price: $159.00
buy now
The Look Keo Blade Carbon Pedals runs the material gamut -- carbon fiber body, cromoly spindle, stainless steel wear plate, and a blade of carbon fiber that flexes against the retention plate to hold the cleat in place. The blade helps make the pedal lighter than it could be with a steel spring...
Look Cycle Keo Classic Road Pedal
So you've decided to take the plunge into clipless pedals to get more power behind your pedal stroke. But where do you begin? Truly, the number of choices is overwhelming. The Look Keo Classic Road Pedal is an entry level clipless pedal featuring the same attention to detail as the rest of the...
<< Prev | 1 | 2 | 3 | 4 | 5 | 6 | 7 | 8 | 9 | Next >>