Pedals - Road Bike Shop
Shop
>
Components
>
Forks, Cockpit, Pedals
>
Pedals
Crank Brothers Egg Beater 2 Pedals
Retail Price:
$94.99
Our Price: $85.49
buy now
However you take your eggs, you can't deny that Crank Brothers' Eggbeater Pedals have earned themselves a reputation rivaling the greasiest, most delicious diner breakfast -- albeit for a few different reasons. Their minimalist design has earned a devoted following amongst the XC/trail set for...
Crank Brothers Egg Beater 3 Pedals
Retail Price:
$135.00
Our Price: $121.50
buy now
While the youth have never known an era without Crank Brothers' mud-shedding Eggbeater 3 Pedals, the old guard remembers the times when really sloppy trails made clipless pedals as useful as... well, they weren't useful. At all. As in you may as well have screwed some potatoes into your crank...
Crank Brothers Mallet 2 Pedals
The Crank Brothers Mallet 2 Pedals offer you a dose of some extra peace of mind on your most technical descents, catering to downhill junkies and all-mountain riders who can't stay away from steeps. Their extra-large faces, mud-shedding design, and six adjustable pins provide your feet with a...
Crank Brothers Mallet 3 Pedals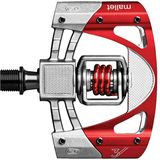 Designed as an elite downhill pedal for crushing high-speed descents, the Crankbrothers Mallet 3 Pedals offer bombproof durability and a large platform for pushing your limits on the trail. Designed a bit larger than your average trail pedal, the Mallet 3 obviously caters to gravity junkies, but...
Crank Brothers Mallet DH Race Pedals
Ever coy with product titles, Crank Brothers has done its damnedest to confuse us as to the purpose of its Mallet DH Race Pedals. After trying them out in multiple applications ranging from crits to TTs to 'cross, we've determined that their huge, alloy platforms, enlarged spindle, eight...
Crank Brothers Mallet Enduro Pedals
Crank Brothers knew it had a good thing with the DH version of its Mallet pedals, frequently a fixture on the World Cup circuit, so it kept a lot of the same features when creating a new, enduro-specific version fittingly called the Mallet Enduro Pedals. The Mallet Enduros are constructed on a...
Crank Brothers Stamp Pedal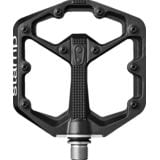 Retail Price:
$150.00
Our Price: $135.00
buy now
The Crank Brothers Stamp Pedal delivers race-ready function with a size range tailored to best match your shoe size. Their thin profile keeps your feet close to the pedal axle for maximum power transfer and leaves oodles of clearance for technical terrain and narrow ruts. For added control, a...
Crank Brothers Tread Contact Sleeves for Egg Beater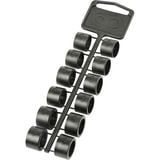 Retail Price:
$9.99
Our Price: $7.99
buy now
The Crank Brothers Tread Contact Sleeves give your Egg Beaters a tighter fit. Each strip includes 1mm, 2mm, and 3mm thicknesses.
Crank Brothers Zero Float Cleats
Retail Price:
$26.99
Our Price: $21.59
buy now
Some folks, especially those who have injured knees or ankles, enjoy a little bit of float in their pedals. Others prefer a solid attachment to their pedals. Crank Brothers' Zero Float Cleats are made for the latter.
Deity Components Compound Pedals
Whether you're rallying a full day of lift laps or hitting up the beachside bike park, make sure you've got Deity Components Compound Pedals for confident grip and classic style. Fashioned from injection molded nylon fiber composite, these pedals are lightweight yet durably strong. Six...
<< Prev | Back | 1 | 2 | 3 | 4 | 5 | 6 | 7 | 8 | 9 | 10 | More | Next >>