Pedals - Road Bike Shop
Shop
>
Components
>
Forks, Cockpit, Pedals
>
Pedals
Crank Brothers Mallet 1 Pedal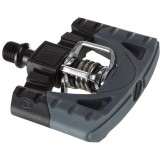 So-called all-mountain bikes come with their own set of requirements, and one of those is the need for a pedal that offers the efficiency and all-day comfort of a clipless pedal combined with the sphincter-relaxing confidence of a burly platform. The Crank Brothers Mallet 1 Pedal keeps a foot...
Crank Brothers Mallet 2 Pedal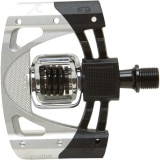 You're a waffler. For years people have been telling you to 'make up your friggin' mind already!' Crank Brothers takes a different approach. The Mallet 2 says 'waffle away.' The Mallet can be ridden with or without cleats so you can clip in when you feel like clipping in, ride flats-style when...
Crank Brothers Mallet 3 Pedal
The Crank Brothers Mallet 3 Pedal lets you clip in or not, depending on what type of riding you're doing that day. The broad platform gives you plenty of stability for freeride and DH riding, while the titanium wings bring the weight down so you can use the Mallet for all-mountain riding. Tough...
Crank Brothers Mallet DH Race Pedal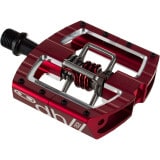 When the first platform/clip-in pedals became a big-mountain, aggressive rider favorite, an accumulating pile of plastic cages quickly made it apparent that downhill riding required tougher designs. Since those early days of gravity riding, Crank Brothers has built reputation for developing...
Crank Brothers Tread Contact Sleeves for Egg Beater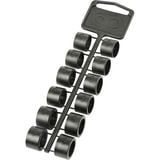 The Crank Brothers Tread Contact Sleeves give your Egg Beaters a tighter fit. Each strip includes 1mm, 2mm, and 3mm thicknesses.
e*thirteen components LG1 Plus Pedals
The e*thirteen LG1+ Pedals are designed to withstand the abuse that's dished out by the world's fastest downhill racers -- plain and simple. If you're reading this, odds are that you won't ever set foot atop a World Cup podium, but at least you'll know that your pedals will hold up to all of the...
Easton Flatboy Pedal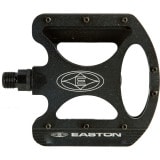 If you're out ripping lift-access DH trails, hucking drops, or just making laps in the jump park all day, you need to be able to trust your pedals. The Easton Flatboys are the choice the of badasses like Brian Lopes. The Flatboys are built with Cromoly spindles and Alloy cages to withstand huge...
Ergon PC2 Pedal
Retail Price:
$79.95
Our Price: $63.96
buy now
Flat pedals aren't just for curmudgeons and kids; we know lots of folks who ride flats. While most of those tend towards the wilder side of mountain biking, we have cross-country riding friends who prefer to be free from the confines of typical clipless pedal systems as well. Ergon makes the PC2...
Garmin Vector Powermeter Pedals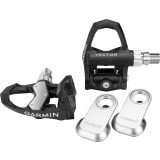 You've been waiting for years, drooling and poring over discreet photos of Team Garmin Sharp prototypes at every race in the world. Yes, for more than three seasons, we've been guilty of this too. However, the wait is finally over, as the Garmin Vector Powermeter Pedals have arrived to market....
Look Cycle Keo 2 Max Carbon Road Pedals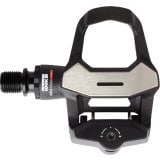 First and foremost, clipless pedals are designed to hold you tightly to your bike. But they're also the power transfer point from your feet to the drivetrain. And when you factor in rotation weight and energy dissipation, a pedals stiffness-to-weight ratio becomes a crucial component of watt...
<< Prev | 1 | 2 | 3 | 4 | 5 | 6 | 7 | 8 | 9 | 10 | Next >>