Pedals - Road Bike Shop
Shop
>
Components
>
Forks, Cockpit, Pedals
>
Pedals
Crank Brothers Tread Contact Sleeves for Egg Beater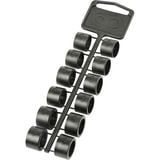 Retail Price:
$9.99
Our Price: $7.99
buy now
The Crank Brothers Tread Contact Sleeves give your Egg Beaters a tighter fit. Each strip includes 1mm, 2mm, and 3mm thicknesses.
Crank Brothers Zero Float Cleats
Retail Price:
$26.99
Our Price: $21.59
buy now
Some folks, especially those who have injured knees or ankles, enjoy a little bit of float in their pedals. Others prefer a solid attachment to their pedals. Crank Brothers' Zero Float Cleats are made for the latter.
Garmin Vector 2S Upgrade Pedal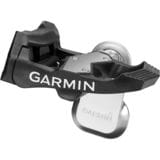 Upgrade your Garmin Vector 2S Pedals with the Vector 2S Upgrade Pedal and get rolling with even more data tracking. This pedal replaces the right pedal of the standard Vector 2S system, adding a right-side tracking pod to turn your bike into a dual-sensing data gathering machine. With readings...
Garmin Vector S Power Meter Pedals
Retail Price:
$899.99
Our Price: $764.99
buy now
The Garmin Vector Pedals were introduced to an excited audience anxious to refine the collection of data from the drivetrain. The Vector S pedals not only further refine the process, they also reduce the price in the process. Even though your power is transferred via the pedals to the bike's...
HT Components AE01 Evo Pedals
For riders that don't consider themselves minimalists, the AE01 EVO Pedals from HT Components offer a little more for your feet to hang onto on rougher trails and high-speed descents than flat pedals that are more concerned with weight. Though heavier, the pedals' aluminum extruded, CNC-machined...
HT Components ME01 Evo Pedals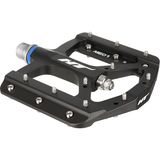 Don't add unnecessary weight to your frame with bulky flats. HT Components' EVO series is made up of streamlined pedals that aim to provide clearance over trail obstacles when you need it and a stiff, durable pedaling platform for your rides. Their CNC-machined magnesium body gives the pedals...
HT Components X1 Clipless Pedals
HT Components wanted to design a secure, high-tension pedal for the downhill crowd, so the company decided to get some feedback on its early designs by sending pro Mr. Gwin down a few wild descents on the World Cup circuit on an early version of the pedal they hoped to create. It must have gone...
HT Components X2 Clipless Pedals
To create its new X2 Clipless Pedals, HT Components logically started with the effective design of its X1 downhill pedals. They worked closely with World Cup fixture Mr. Gwin to gain feedback early versions of the downhill pedals, which led them to alter the X1's platform to make the X2's easier...
Look Cycle Keo 2 Max Blade Pedals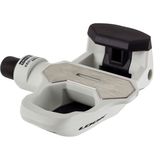 Retail Price:
$199.99
Our Price: $129.95
buy now
As dedicated cyclists, we're prone to occasional bouts of irrational defensiveness over minutiae like our choice of handlebar tape, saddles, and -- of course -- the make of our drivetrains. But few categories of kit preference excite group-ride partisanship like pedals. From the low-weight,...
Look Cycle Keo 2 Max Road Pedals
Retail Price:
$180.00
Our Price: $124.99
buy now
For riders who finance their own cycling aspirations, equipment choices can involve some pretty intense cost/benefit analysis to get the most out of every dollar. Thanks to a polyamide composite pedal body, the Look Cycle Keo 2 Max Road Pedals go toe-to-toe with their Keo 2 Max Carbon...
<< Prev | Back | 1 | 2 | 3 | 4 | 5 | 6 | 7 | 8 | 9 | 10 | More | Next >>