Pedals - Road Bike Shop
Shop
>
Components
>
Forks, Cockpit, Pedals
>
Pedals
Crank Brothers Mallet 3 Pedal
Retail Price:
$130.00
Our Price: $117.00
buy now
The Crank Brothers Mallet 3 Pedal lets you clip in or not, depending on what type of riding you're doing that day. The broad platform gives you plenty of stability for freeride and DH riding, while the titanium wings bring the weight down so you can use the Mallet for all-mountain riding. Tough...
Crank Brothers Mallet DH Race Pedal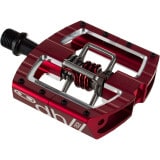 Retail Price:
$150.00
Our Price: $135.00
buy now
When the first platform/clip-in pedals became a big-mountain, aggressive rider favorite, an accumulating pile of plastic cages quickly made it apparent that downhill riding required tougher designs. Since those early days of gravity riding, Crank Brothers has built reputation for developing...
Crank Brothers Tread Contact Sleeves for Egg Beater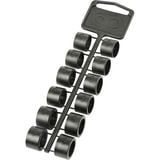 Retail Price:
$9.95
Our Price: $8.96
buy now
The Crank Brothers Tread Contact Sleeves give your Egg Beaters a tighter fit. Each strip includes 1mm, 2mm, and 3mm thicknesses.
Easton Flatboy Pedal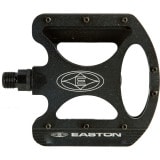 If you're out ripping lift-access DH trails, hucking drops, or just making laps in the jump park all day, you need to be able to trust your pedals. The Easton Flatboys are the choice the of badasses like Brian Lopes. The Flatboys are built with Cromoly spindles and Alloy cages to withstand huge...
Garmin Vector Powermeter Pedals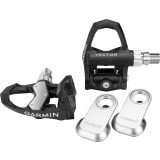 Retail Price:
$1699.99
Our Price: $1499.99
buy now
You've been waiting for years, drooling and poring over discreet photos of Team Garmin Sharp prototypes at every race in the world. Yes, for more than three seasons, we've been guilty of this too. However, the wait is finally over, as the Garmin Vector Powermeter Pedals have arrived to market....
Garmin Vector S Power Meter Upgrade Kit
If you're in the market for the Garmin Vector S Power Meter Upgrade Kit, then you're no doubt already aware of the benefits of Garmin's Vector power monitoring system. You've probably been enjoying the +/- 2% accuracy that results from measuring power at the immediate source where the engine (you...
Look Cycle Keo 2 Max Carbon Road Pedals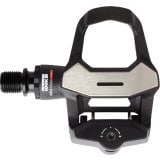 First and foremost, clipless pedals are designed to hold you tightly to your bike. But they're also the power transfer point from your feet to the drivetrain. And when you factor in rotation weight and energy dissipation, a pedals stiffness-to-weight ratio becomes a crucial component of watt...
Look Cycle Keo 2 Max Road Pedals
In mountain biking, people talk of privateers. That's most of the world -- people who buy their own stuff. And when counting pennies, doing spreadsheet calculations, and analyzing cost-per-gram, the less flashy parts -- the Chorus', Force's, and Ultegra's of the world, often provide 99% of the...
Look Cycle Keo Blade 2 CR Pedals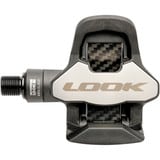 The Look Keo Blade 2 CR is the next in line to the Keo Blade 2 TI, and it benefits from all the innovations and technologies developed through the years for the Blade series. The Keo Blade 2 CR has been optimized for more power, more stability, and even better aerodynamics than its predecessor....
Look Cycle Keo Blade 2 Pro Team Ti Ltd. Edition Mondrian
Retail Price:
$439.99
Our Price: $374.95
buy now
The recently redesigned Keo Blade 2 Ti pedal is a marvel of engineering in its own right, being lighter, stiffer, and more reliable than its already-excellent predecessor, and still relying on the novel but ingenious single carbon blade mechanism that gives it its namesake. So what could make it...
<< Prev | Back | 1 | 2 | 3 | 4 | 5 | 6 | 7 | 8 | 9 | 10 | More | Next >>