Pedals - Road Bike Shop
Shop
>
Components
>
Forks, Cockpit, Pedals
>
Pedals
Crank Brothers Egg Beater 11 Pedals
The kitchen-utensil inspiration behind Crank Brother's mud-clearing pedal design knows no finer expression than the Eggbeater 11 Pedals. With the exception of the stainless steel spring, every bit of steel on the other Eggbeaters -- body, spindle, and wing -- is replaced with cycling's...
Crank Brothers Egg Beater 2 Pedals
Retail Price:
$94.99
Our Price: $71.04
buy now
However you take your eggs, you can't deny that Crank Brothers' Eggbeater Pedals have earned themselves a reputation rivaling the greasiest, most delicious diner breakfast -- albeit for a few different reasons. Their minimalist design has earned a devoted following amongst the XC/trail set for...
Crank Brothers Egg Beater 3 Pedals
Retail Price:
$134.95
Our Price: $107.95
buy now
While the youth have never known an era without Crank Brothers' mud-shedding Eggbeater 3 Pedals, the old guard remembers the times when really sloppy trails made clipless pedals as useful as... well, they weren't useful. At all. As in you may as well have screwed some potatoes into your crank...
Crank Brothers Mallet 3 Pedals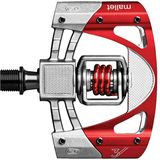 Designed as an elite downhill pedal for crushing high-speed descents, the Crankbrothers Mallet 3 Pedals offer bombproof durability and a large platform for pushing your limits on the trail. Designed a bit larger than your average trail pedal, the Mallet 3 obviously caters to gravity junkies, but...
Crank Brothers Mallet Enduro Pedals
Retail Price:
$165.00
Our Price: $131.95
buy now
Crank Brothers knew it had a good thing with the DH version of its Mallet pedals, frequently a fixture on the World Cup circuit, so it kept a lot of the same features when creating a new, enduro-specific version fittingly called the Mallet Enduro Pedals. The Mallet Enduros are constructed on a...
Crank Brothers Tread Contact Sleeves for Egg Beater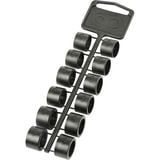 Retail Price:
$9.99
Our Price: $7.99
buy now
The Crank Brothers Tread Contact Sleeves give your Egg Beaters a tighter fit. Each strip includes 1mm, 2mm, and 3mm thicknesses.
Easton Flatboy Pedal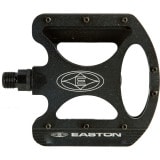 Simple flats have always been the pedal of choice for DH riders, freeriders, and jump-park rippers. True badassses, like Brian Lopes, choose the Easton Flatboy pedal. Easton didn't build the Flatboy with any fancy gimmicks. It's just a super-tough, grippy flat that can take abuse all day, every day.
Garmin Vector 2 Power Meter Pedals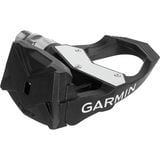 They say good things come to those who wait, and in the case of the Garmin Vector 2 Power Meter Pedals, it's true. If you're looking to get more out of your training than just seeing where you stack up against competitors on apps, it's probably time to make the jump to a power meter, and after a...
Garmin Vector 2S Power Meter Pedals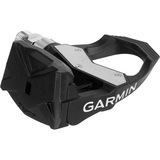 The Garmin Vector 2S Power Meter Pedals bring some new features to the table and provide powerful data tracking in an affordable, easy to install, and bike interchangeable format. With the Vector 2S, Garmin throws away the old washers found on the Vector S pedal pods and opted for a new, more...
Garmin Vector 2S Upgrade Pedal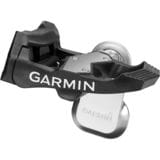 Upgrade your Garmin Vector 2S Pedals with the Vector 2S Upgrade Pedal and get rolling with even more data tracking. This pedal replaces the right pedal of the standard Vector 2S system, adding a right-side tracking pod to turn your bike into a dual-sensing data gathering machine. With readings...
<< Prev | Back | 1 | 2 | 3 | 4 | 5 | 6 | 7 | 8 | 9 | 10 | More | Next >>