Headsets - Road Bike Shop
Shop
>
Components
>
Forks, Cockpit, Pedals
>
Headsets
Cane Creek 110-Series Headset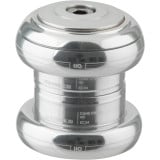 Retail Price:
$140.00
Our Price: $126.00
buy now
We're proud of our customer service and liberal return policy -- we want you to be satisfied. So we're happy to sell the Cane Creek 110-Series Headset. After all, it has a 110 year no-questions-asked warranty. You want a dependable, great looking headset to add style and performance to your bike?...
Cane Creek 40 IS42/28.6 Tall Cover Top
The Cane Creek 40 IS42/28. 6 Tall Cover Top features an innovative Clip-Seal to cover the top assembly and capture the compression ring. It uses black oxide sealed bearings and is cross compatible with 40 and 110 series headsets. Cane Creek's 40 IS42/28. 6 Tall Cover Top fits 28. 6mm stem clamps...
Cane Creek 40 IS52/40 Bottom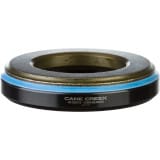 Cane Creek's 40 IS52/40 Bottom headset cup fits 52mm lower head tubes and forks with a 30mm crown race. It's constructed from aluminum with a steel crown and low-friction seals to keep muck out and bars spinning smooth.
Cane Creek 40-Series Headset
Retail Price:
$60.00
Our Price: $55.80
buy now
With Cane Creek's 40-Series Headset, you don't have to worry that spending less will equate to getting less performance. It's the working class headset that offers serious durability and smooth performance, rivaling their 110-Series Headset. Part of the money you save if due to the fact that they...
Cane Creek 40-Series Integrated Alloy Tall Top Headset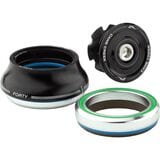 Cane Creek's 40-Series Integrated Headset certainly gets the job done, but you'll be able to appreciate it for more than just how well it works. It offers up a clean look with smooth performance, durability, and big-time value. It's the simplest of all of Cane Creek's 40-Series Headsets since the...
Cane Creek ZS3 1 1/8in Black Headset w/ Interlock
A low stack height is essential for contemporary twent- niners to keep the center of gravity as low as possible. Cane Creek's ZS3 1-1/8in Headset w/Interlock is a zero-stack design, so you can run your stem slammed. Constructed from aluminum, the ZS3's cups are plenty light with precision...
Cane Creek ZS49/EC49 AngleSet Tapered Headset Kit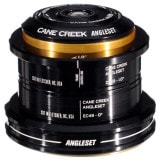 Retail Price:
$199.00
Our Price: $179.10
buy now
For those who obsess about steering feel and how it affects the ride experience, there is Angleset. Cane Creek created it so that you could change your effective head tube angle in order to get exactly what you want in terms of how your bike feels and performs under certain trail conditions. This...
Chris King 2Nut Threadset Headset - 1in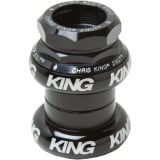 If you're committed to threaded forks and quill stems, you can't beat the Chris King 2Nut Threadset Headset for adjustability and durability. The 2Nut was the original Chris King headset, and the only one the company sold for the first 14 years of the its existence. Precision-machined, stainless...
Chris King Headset Cup Press Adapter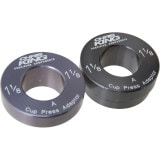 Make sure your new Chris King headset is installed correctly with the Headset Cup Press Adapter. Designed for 1 1/8-inch headsets, this adapter works with most headset press tools on the market and includes an adapter for crown race-setting as well.
Chris King Inset 2 Headset
Chris King headsets have been the industry benchmark for 35 years -- ever since the company created the first sealed bearing headset in 1976. This InSet 2 Headset is built upon that tradition, though it has different dimensions and style to fit current frame specs. It's designed for bike frames...
<< Prev | 1 | 2 | Next >>