Headsets - Road Bike Shop
Shop
>
Components
>
Forks, Cockpit, Pedals
>
Headsets
Cane Creek 110 Series IS41/28.6 Short Cover Top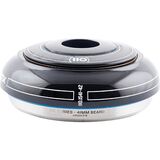 If you're building up a custom headset, you probably already know that the Cane Creek 110 Series houses some of the most premium options on the market. As the top-tier line from a brand that only makes designer componentry, the 110 Series is backed by a 110 year warranty. No, that's not a typo,...
Cane Creek 110-Series Headset
Retail Price:
$140.00
Our Price: $125.99
buy now
We're proud of our customer service and liberal return policy -- we want you to be satisfied. So we're happy to sell the Cane Creek 110-Series Headset. After all, it has a 110 year no-questions-asked warranty. You want a dependable, great looking headset to add style and performance to your bike?...
Cane Creek 110-Series IS52/40 Bottom
Building your dream headset may not be a goal on every cyclist's list, but we heartily support the endeavor, and so does Cane Creek. Its 110 Series IS52/40 Bottom represents one of several separately-sold headset pieces that let you choose exactly what will work with your frame and budget, and as...
Cane Creek 40 IS41/28.6 Short Cover Top
Cane Creek offers its components in a wide range of options, and its wallet-friendly 40-series provides room to create a custom headset for the frame of your choice. Made with durable, lightweight 6061 aluminum, the 40-Series IS41/28. 6 Short Cover Top is part of Cane Creek's IS, or internal,...
Cane Creek 40 IS52/40 Bottom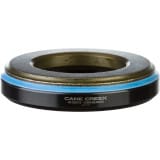 Cane Creek's 40 IS52/40 Bottom headset cup fits 52mm lower head tubes and forks with a 30mm crown race. It's constructed from aluminum with a steel crown and low-friction seals to keep muck out and bars spinning smooth.
Cane Creek 40 Series Mixed Tapered ZS44 EC49/40 Headset
A fork with a tapered steerer adds stiffness to the front end of the bike to improve tracking and steering control through rough terrain. It's a real benefit for long travel trail bikes bridging that gap between cross-country light and all-mountain capable. This Cane Creek 40-Series Mixed Tapered...
Cane Creek 40 Series Tapered ZS44 EC44/40 Headset
If you've got a bike frame with a 44mm straight headtube you have a couple of fork steerer options. You can run a 1-1/8" straight steerer with zero stack (ZS) cups, but if you'd like to use a 1-1/8" - 1. 5" tapered steerer, Cane Creek makes it possible with this 40 Series Tapered ZS44 EC44/40...
Cane Creek 40 Series ZS Tapered ZS44 ZS56/40 Headset
The Cane Creek 40 Series ZeroStack headset is modeled after Cane Creek's 110-series headset. The most noticeable difference is the finish. Where the 110 is a gloss black, the 40 opts for a satin look. There are a couple of internal differences, as well. Whether they are worth the difference in...
Cane Creek 40-Series Headset
With Cane Creek's 40-Series Headset, you don't have to worry that spending less will equate to getting less performance. It's the working class headset that offers serious durability and smooth performance, rivaling their 110-Series Headset. Part of the money you save if due to the fact that they...
Cane Creek 40-Series Integrated Alloy Tall Top IS41 IS41/30 Headset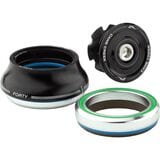 Cane Creek's 40-Series Integrated IS41 IS41/30 Headset certainly gets the job done, but you'll be able to appreciate it for more than just how well it works. It offers up a clean look with smooth performance, durability, and big-time value. It's the simplest of all of Cane Creek's 40-Series...
<< Prev | 1 | 2 | 3 | 4 | Next >>