Headsets - Road Bike Shop
Shop
>
Components
>
Forks, Cockpit, Pedals
>
Headsets
Chris King InSet 3 Tapered Headset with Griplock
Chris King is a smart guy. Firstly, he invented the sealed bearing headset that would become the industry standard for excellence. Secondly, he listened to the industry when it shouted out loud that bearings could be inside the head tube if one wanted them there. This Chris King InSet 3 Tapered...
Chris King Inset 4 Headset
The Chris King Inset 4 Headset mates straight steerer tubes to oversized headtubes designed for internal headsets. Compatible with 1 1/8-inch straight steerer tubes, and upper and lower internal headtube diameters of 49 millimeters
Chris King Inset 5 Headset
If you've got a bike frame with a 49mm ID head tube, it will accept a fork with a 1. 5" steerer tube. But it also leaves you plenty of opportunity for use with other steerer tube dimensions as long as you use the right headset. This Chris King InSet Model 5 Headset will allow you to mate a fork...
Chris King Inset 7 Headset
Your fancy new carbon frame has a massive headtube to quell chatter so you better make sure you installed a Chris King Inset 7 Headset to ensure your steering is as smooth as your freshly-shaved legs. Designed to provide seamless integration between your stem, headtube and fork, the Inset 7 isn't...
Chris King NoThreadset Headset - 1 1/8in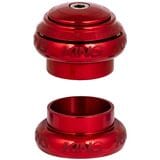 When you've got a product that is as good as Chris King's NoThreadset you don't have to make changes to it very often, but that doesn't excuse it from upgrades when they might make it a better headset. So this NoThreadset 1-1/8" Headset w/ GripLock is better than ever before. You might be asking,...
Chris King NoThreadset Headset - 1.5in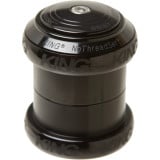 Retail Price:
$168.95
Our Price: $152.06
buy now
Finish off your bombproof DH build with the Chris King NoThreadset inch-and-a-half Headset. Chris King designed this headset from the ground up to meet the demands of today's downhillers and freeriders. Not only will the stainless steel cartridge bearings handle any abuse you can throw at it, but...
Chris King NoThreadset Headset - 1in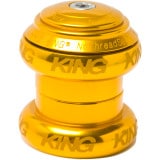 Chris King's No Threadset Headset has been the industry standard for more years than many companies have existed. Sealed cartridge bearings, durable aluminum cups, and classic King style add up to a headset that will outlast your bike.
Chris King NoThreadSet Tapered Headset w/ Griplock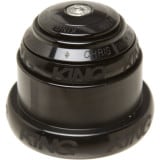 Retail Price:
$159.00
Our Price: $143.10
buy now
Tapered headsets come in a multitude of sizes and shapes these days. Luckily, you can get a Chris King Headset no matter what head tube dimension your frame designer chooses to use. The Chris King Tapered NoThreadSet w/ GripLock will marry a tapered fork to a frame with a tapered head tube, and...
Chris King Stainless Baseplate - 1.5in
With all of the steerer/headset standards you see in the bike industry these days, it's quite possible that you'll need a whole new headset if you buy a new bike or fork. But if you're lucky, you'll be able to swap your trusty Chris King Headset to the new model. Perhaps you've been running a 1....
Ritchey WCS Logic Headset
Retail Price:
$79.95
Our Price: $67.96
buy now
Looking for a light, smooth, long-lasting headset? Then check out Ritchey's WCS Logic Headset. With precision-machined aluminum cups and proven seals, the WSC Logic's an easy choice for your esteemed ride.
<< Prev | 1 | 2 | 3 | Next >>