Headsets - Road Bike Shop
Shop
>
Components
>
Forks, Cockpit, Pedals
>
Headsets
Cane Creek 40 Series Mixed Tapered ZS44 EC49/40 Headset
A fork with a tapered steerer adds stiffness to the front end of the bike to improve tracking and steering control through rough terrain. It's a real benefit for long travel trail bikes bridging that gap between cross-country light and all-mountain capable. This Cane Creek 40-Series Mixed Tapered...
Cane Creek 40 Series ZS Tapered ZS44 ZS56/40 Headset
The Cane Creek 40 Series ZeroStack headset is modeled after Cane Creek's 110-series headset. The most noticeable difference is the finish. Where the 110 is a gloss black, the 40 opts for a satin look. There are a couple of internal differences, as well. Whether they are worth the difference in...
Cane Creek 40-Series Integrated Alloy Tall Top IS41 IS41/30 Headset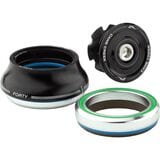 Cane Creek's 40-Series Integrated IS41 IS41/30 Headset certainly gets the job done, but you'll be able to appreciate it for more than just how well it works. It offers up a clean look with smooth performance, durability, and big-time value. It's the simplest of all of Cane Creek's 40-Series...
Cane Creek 40-Series ZS44/28.6 Tall Top Assembly Headset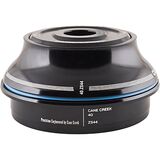 Retail Price:
$32.00
Our Price: $27.98
buy now
More parts mean more chances for failure and creaking, so Cane Creek designed the 40-Series ZS44/28. 6 Tall Top Assembly Headset to be used without spacers, so you increase strength, decrease the likelihood of creaking, and get 15mm of rise in one convenient and durable package. Cane Creek built...
Cane Creek ZS49/EC49 AngleSet Tapered Headset Kit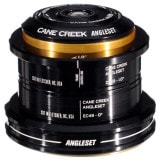 Retail Price:
$199.00
Our Price: $178.99
buy now
For those who obsess about steering feel and how it affects the ride experience, there is Angleset. Cane Creek created it so that you could change your effective head tube angle in order to get exactly what you want in terms of how your bike feels and performs under certain trail conditions. This...
Chris King 2Nut Threadset Headset - 1in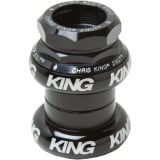 The Chris King 2Nut headset keeps your love affair with threaded forks and quill stems rolling smoothly. This was the only headset Chris King sold for the first 14 years the company existed and is well-known for its adjustability and durability. Stainless-steel cartridge bearings turn with...
Chris King Headset Cup Press Adapter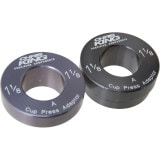 Make sure your new Chris King headset is installed correctly with the Headset Cup Press Adapter. Designed for 1 1/8-inch headsets, this adapter works with most headset press tools on the market and includes an adapter for crown race-setting as well.
Chris King Inset 1 Headset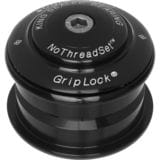 The Chris King Inset 1 Headset will help you add durability and a little extra style to your new frame. Inset headsets are for frames designed to use low-stack, internal headsets. Inset 1 will work with 1 1/8-inch steer tubes, and 43. 95 to 44-millimeter internal diameter headtubes
Chris King InSet 2 Headset
Chris King headsets are often considered the gold standard for headsets in the cycling world. Building on a reputation for bombproof reliability, the Inset 2 Headset retains Chris King's storied quality and precision with a new design to meet the needs of frames that use a semi-integrated headset...
Chris King InSet 3 Tapered Headset with Griplock
Chris King is a smart guy. Firstly, he invented the sealed bearing headset that would become the industry standard for excellence. Secondly, he listened to the industry when it shouted out loud that bearings could be inside the head tube if one wanted them there. This Chris King InSet 3 Tapered...
<< Prev | 1 | 2 | 3 | 4 | Next >>