Headsets - Road Bike Shop
Shop
>
Components
>
Forks, Cockpit, Pedals
>
Headsets
Chris King InSet 2 Headset
Chris King headsets are often considered the gold standard for headsets in the cycling world. Building on a reputation for bombproof reliability, the Inset 2 Headset retains Chris King's storied quality and precision with a new design to meet the needs of frames that use a semi-integrated headset...
Chris King InSet 3 Tapered Headset with Griplock
Chris King is a smart guy. Firstly, he invented the sealed bearing headset that would become the industry standard for excellence. Secondly, he listened to the industry when it shouted out loud that bearings could be inside the head tube if one wanted them there. This Chris King InSet 3 Tapered...
Chris King Inset 5 Headset
If you've got a bike frame with a 49mm ID head tube, it will accept a fork with a 1. 5" steerer tube. But it also leaves you plenty of opportunity for use with other steerer tube dimensions as long as you use the right headset. This Chris King InSet Model 5 Headset will allow you to mate a fork...
Chris King Inset 7 Headset
Chris King's InSet Headset series is designed for very specific applications, which is why you'll find numbers 1 through 8 attached to each one. The InSet 7 seen here includes a 44mm internal, zero stack upper cup paired with a 44mm external lower cup. This means that if you have a straight, 44mm...
Chris King NoThreadset Headset - 1 1/8in
Chris King, manufacturer of some of the best headsets in the world, decided to upgrade its NoThreadset 1-1/8" Headset with GripLock to put a little extra magic in your cockpit. The new GripLock replaces the older version's one-piece bearing cap with a new compression design. The new split ring...
Chris King NoThreadset Headset - 1.5in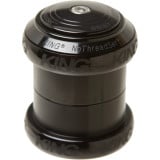 Retail Price:
$180.95
Our Price: $151.99
buy now
Finish off your bombproof DH build with the Chris King NoThreadset inch-and-a-half Headset. Chris King designed this headset from the ground up to meet the demands of today's downhillers and freeriders. Not only will the stainless steel cartridge bearings handle any abuse you can throw at it, but...
Chris King NoThreadset Headset - 1in
For many cyclists, the Chris King No Threadset is the very first upgrade for every new bike they buy. The No Threadset has earned a reputation for flawless precision in manufacture and endless durability. The 1-inch headset is perfect for your timeless Italian Classic or your beautiful,...
Chris King NoThreadSet Tapered Headset w/ Griplock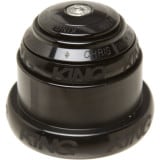 Retail Price:
$169.95
Our Price: $135.99
buy now
You can look at a bike and tell how much the owner loves it by the headset, and King headsets are reserved for our most precious bikes. Chris King makes all of its bearings in-house, which guarantees their roundness and hardness, and then assembles each headset by hand from a stock of components....
Chris King Stainless Baseplate - 1-1/8in
Baseplate or crown race -- call it what you want. Chris King calls it a baseplate. These things last forever when in use, just like the rest of a Chris King Headset. In fact, King headsets are often moved from one bike to the next. This is generally where the need for this 1-1/8in Stainless Steel...
Chris King Stainless Baseplate - 1.5in
With all of the steerer/headset standards you see in the bike industry these days, it's quite possible that you'll need a whole new headset if you buy a new bike or fork. But if you're lucky, you'll be able to swap your trusty Chris King Headset to the new model. Perhaps you've been running a 1....
<< Prev | 1 | 2 | 3 | Next >>