Handlebars - Road Bike Shop
Shop
>
Components
>
Forks, Cockpit, Pedals
>
Handlebars
3T Aeronova LTD Handlebar
3T's Aeronova LTD Handlebar is just about the tippy-top peak of cycling cockpit technology that you can put your hands around today. For some perspective, consider that 3T enjoyed some pretty high-profile exposure at this year's Tour courtesy of Dennis' stint in yellow and Teklehaimanot's longer...
3T Aeronova LTD Stealth Handlebar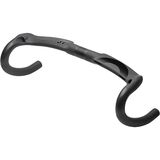 Retail Price:
$419.00
Our Price: $359.99
buy now
3T's Aeronova LTD Stealth Handlebar flies under the radar in all the important categories: drag, weight, and looks. While the first two are important in a save-every-watt kind of way, we aren't ashamed to admit that we're equally as excited about the LTD Stealth's muted aesthetics. The silver...
3T Aeronova Team Carbon Handlebar
Retail Price:
$349.00
Our Price: $267.99
buy now
Aluminum is wonderful. It's given us cans, airplanes, foil, and so much more, but the fact is that you wouldn't want to enter into the race of your life with handlebars made from soda cans. Better to have something made from carbon like the 3T Aeronova Team Carbon Handlebar. No need to waste...
3T Aerotundo LTD Handlebar
All handlebars are not created equal, and when you're building up your svelte carbon racing machine, bars are a crucial piece for both fit and (let's admit it) aesthetics. Fortunately, 3T has always had its clean lines and subtle colors dialed, and the Aerotundo LTD Handlebar only confirms these...
3T Aerotundo Team Handlebar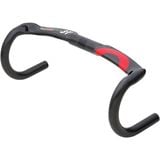 The teens are shaping up to be the decade of aerodynamics in the peloton: wheels, frames, shoes, helmets, and even bibs and jerseys are pitching in with wind-dodging designs. Little wonder, then, that handlebars -- the bike's leading edge -- should be early adapters, and 3T has (of course) been...
3T Aerotundo Team Stealth Handlebar
Many of us are keen to take advantage of the flashy shaping -- and its inherent aerodynamic advantage -- of 3T's Aerotundo Stealth Handlebar. But. We aren't all necessarily feeling the fire engine inspired, swooping graphical flair of 3T's standard Team line. The Aerotundo Team Stealth Handlebar...
3T Ergonova LTD Handlebar
Every second that you're on your bike, you're on your bars (except for those opened-armed kiss-blowing arm-flexing finish line celebrations that you're known for), and that means bars matter. That's why ergo bars have become so popular, and there's no better ergo bar than the 3T Ergonova LTD...
3T Ergonova Pro Handlebar
Retail Price:
$119.00
Our Price: $109.99
buy now
When you're cruising down empty country roads with only fence posts and cows for company, are you really gonna be thinking about how much your fancy carbon bars weigh? Probably not, especially when you can ride with the comfort provided by the 3T Ergnova Pro Handlebar. It has the same ergonomic...
3T Ergosum Pro Handlebar
3T's Ergosum Pro Handlebar returns with the same design tweaks that fit your body rather than forcing your body to adapt to it. Instead of a rounded curve, the drops describe two flattened lengths connected at rounded angles. These flat areas provide two definite platforms for you to anchor your...
3T Ergosum Team Stealth Handlebar
The angled length of the 3T Ergosum Team Stealth Handlebar's drops may once have been a novelty, but they're no longer a rare sight in the peloton or the bike shop. The rise of the ergonomic drop began with the trend of ever more aggressive stack heights: as the bars got lower, the riders began...
<< Prev | Back | 1 | 2 | 3 | 4 | 5 | 6 | 7 | 8 | 9 | 10 | More | Next >>