Handlebars - Road Bike Shop
Shop
>
Components
>
Forks, Cockpit, Pedals
>
Handlebars
Renthal Fatbar Lite
Renthal made its name over the decades by crafting some of the toughest, smartest, and winningest motocross components in the world. As of 2010, the company turned its attention to the world of mountain biking, and since then has landed no fewer than six world championships to its name. Want to...
Renthal Fatbar Lite Carbon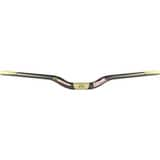 It might seem a bit of a stretch that world-renowned motocross component manufacturer Renthal stepped onto the mountain bike scene only a few years ago and already claims to have engineered a superlight trail-ready carbon fiber handlebar. That is, until you realize that the UK-based company not...
Ritchey WCS Carbon Evo Curve Handlebar
Retail Price:
$299.95
Our Price: $239.99
buy now
The semi-flat, oval profile of Ritchey's WCS Carbon Evo Curve Handlebar, with a four-degree sweep, provides an ideal perch for palms and wrists. It also helps smooth the transition to the hoods for quick response, and it allows the progressive, rotated-upward position that's preferred by many...
Ritchey WCS Carbon Monocurve
Retail Price:
$599.95
Our Price: $389.99
buy now
The words 'lightweight' and 'stiff' are just beaten into the ground in the bike industry. Everybody's everything is 'lighter' and stiffer' than everybody else's. That said, it's occasionally true--as in the case of the Ritchey WCS Monocurve Handlebar/Stem Combo. What used to be two parts is now...
Ritchey WCS Flat Handlebar
Retail Price:
$75.00
Our Price: $54.99
buy now
You don't ride a flatbar because you like to bend over. No, you ride it because it provides a powerful position for optimal pedaling with a lower center of gravity. Sure, some riders like to jokingly point out your curve-less broomstick, but those are the same guys wishing for a throttle to twist...
Storck RBC180 Handlebar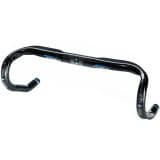 Storck knows the importance of a lightweight, rigid, and dependable cockpit, which is why its engineers devote the same time and attention to detail toward designing its components as they do its complete bikes. The new RBC180 Handlebar expresses this to the fullest, as its super low weight,...
Storck RBC220 Handlebar
With Storck being revered in the world of carbon fiber frame design, it only made sense that its engineers develop a line of high-end componentry to complement their bicycles. The new RBC220 Handlebar perfectly illustrates this, as it was built to provide precise cockpit control using Storck's...
Syntace C3 Clip
Sure you might invest in full carbon aero base bars and extensions, with "s-bends" or "straight-bars," and microscopically small brake levers to minimize your frontal profile. But when push comes to shove, if you spend more time holding the bull horns than resting in your aerobars, you are doing...
Syntace Syntace Vector Carbon High10
If you are searching for a wide mountain bike handlebar with a slight rise, the Syntace Vector Carbon High10 may be the perfect lightweight addition to your cockpit. And although Syntace is probably not the first name that comes to mind when you think of mountain biking, it has been producing...
Syntace Vector Handlebar - Carbon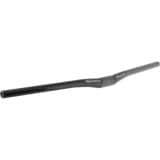 Retail Price:
$230.00
Our Price: $89.99
buy now
Syntace has long been in the business of producing some of the most precise and rigorously tested products available. The Syntace Vector Carbon Handlebar is a perfect illustration of this point. Weighing in at less than 200g, it passes the extremely rigorous VR-3 DH 2002. 4 testing standards...
<< Prev | Back | 1 | 2 | 3 | 4 | 5 | 6 | 7 | 8 | 9 | 10 | More | Next >>