Handlebars - Road Bike Shop
Shop
>
Components
>
Forks, Cockpit, Pedals
>
Handlebars
Ritchey WCS Carbon Evo Curve Handlebar
The semi-flat, oval profile of Ritchey's WCS Carbon Evo Curve Handlebar, with a four-degree sweep, provides an ideal perch for palms and wrists. It also helps smooth the transition to the hoods for quick response, and it allows the progressive, rotated-upward position that's preferred by many...
Ritchey WCS Carbon Monocurve
Retail Price:
$599.95
Our Price: $420.00
buy now
The words 'lightweight' and 'stiff' are just beaten into the ground in the bike industry. Everybody's everything is 'lighter' and stiffer' than everybody else's. That said, it's occasionally true--as in the case of the Ritchey WCS Monocurve Handlebar/Stem Combo. What used to be two parts is now...
Ritchey WCS Carbon Trail Rizer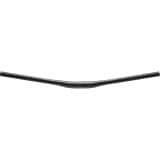 Retail Price:
$169.95
Our Price: $135.99
buy now
The design goal for the Ritchey WCS Carbon Trail Rizer was simple -- take the already successful WCS line of mountain bars, and increase both its strength and rigidity. Not surprisingly, Ritchey surpassed its goal. As a result, the Trail Rizer is the widest bar in the Ritchey lineup, not to...
Ritchey WCS Flat Carbon Handlebar
Retail Price:
$139.95
Our Price: $111.99
buy now
Ritchey has taken its reputable WCS Flat Bar and developed a carbon version. The component manufacturer is calling it the WCS Flat Carbon Handlebar, and it relies on the same shape and dimensions as the alloy version, only it features a strong, sleek unidirectional carbon construction. As we all...
Ritchey WCS Flat Handlebar
Retail Price:
$75.00
Our Price: $59.99
buy now
You don't ride a flatbar because you like to bend over. No, you ride it because it provides a powerful position for optimal pedaling with a lower center of gravity. Sure, some riders like to jokingly point out your curve-less broomstick, but those are the same guys wishing for a throttle to twist...
Ritchey WCS Logic Carbon CURVE Handlebar
Ritchey's WCS Logic Carbon CURVE Handlebars are the short-reach and shallow-drop bars of choice for many professional cyclists due to their low weight, comfortable shape, and rigid construction. The carbon monocoque design features a shallow (128mm) drop and relatively short (73mm) reach. The...
Ritchey WCS Streem II Handlebar
Retail Price:
$109.95
Our Price: $87.99
buy now
Ritchey's WCS Streem II Handlebar builds on the original's aluminum construction and design to provide a short reach and anatomic bend. The sub-280 gram WCS Streem II now has a top section that's redesigned with an even larger wing-shaped platform. This not only provides a comfortable placement...
Storck RBC180 Handlebar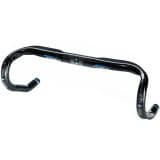 Storck knows the importance of a lightweight, rigid, and dependable cockpit, which is why its engineers devote the same time and attention to detail toward designing its components as they do its complete bikes. The new RBC180 Handlebar expresses this to the fullest, as its super low weight,...
Storck RBC220 Handlebar
With Storck being revered in the world of carbon fiber frame design, it only made sense that its engineers develop a line of high-end componentry to complement their bicycles. The new RBC220 Handlebar perfectly illustrates this, as it was built to provide precise cockpit control using Storck's...
Syntace C3 Clip
Sure you might invest in full carbon aero base bars and extensions, with "s-bends" or "straight-bars," and microscopically small brake levers to minimize your frontal profile. But when push comes to shove, if you spend more time holding the bull horns than resting in your aerobars, you are doing...
<< Prev | Back | 1 | 2 | 3 | 4 | 5 | 6 | 7 | 8 | 9 | 10 | More | Next >>