Handlebars - Road Bike Shop
Shop
>
Components
>
Forks, Cockpit, Pedals
>
Handlebars
Niner Flat Top RDO Carbon Handlebar
Retail Price:
$199.00
Our Price: $189.99
buy now
Niner's range-topping RDO components have been pushing the limits of carbon technology since their inception, and the RDO Carbon Handlebar continues that tradition. Niner has successfully dropped 20 grams from its already light Flat Top Carbon bar, without affecting ride quality or strength. They...
Niner Low Top RDO Handlebar
Achieving a neutral saddle-to-handlebar relationship can be difficult, regardless of whether it's a fat bike, touring bike, or 29er. In one application, Niner's Low Top RDO Handlebar perfectly positions riders with a sub-27-inch standover on its X-Small frames. But, that doesn't mean it's limited...
Profile Design T1+ Carbon Aerobars
Profile Design continues to push the boundaries of aerobars, even though it effectively invented them decades ago. The T1+ Carbon Aerobars have been selected as the official aerobar of the Ironman Triathlon, and given that they include a carbon fiber construction and Profile's brand new F-35...
Profile Design T2 Wing Base Bar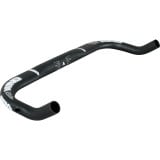 With the option of buying your base bar and extensions as a kit-of-parts, riders of all levels and budgets are now able to fully customize their triathlon or time trial bike. The Profile Designs T2 Wing Base Bar gives you the same wind-cheating shape as a carbon bar, only in a more economical...
Profile Design T2+ Cobra Carbon Clip-On TT Bar
Profile Design is a veritable one-stop shop for customizing your time trial or triathlon position. In addition to several base bars, they also have over a half dozen extensions to choose from. The T2+ Carbon Clip-On TT Bars are one of the more popular extension shapes for anyone who needs to...
Profile Design T3+ AL Aerobar with J4 Risers
Retail Price:
$139.99
Our Price: $70.00
buy now
If you're riding with aerobars, then chances are good you're doing so to get the most aerodynamic posture that you can comfortably maintain over the course of a time trial, triathlon, or long distance road riding. Since every body's different, calling this a tough balance to strike without 100%...
Profile Design T4+ Carbon Clip-On TT Bars
Unlike how many create base bars and extensions as a one-piece-deal, Profile Design has an option for those who need to customize their time trial position. So, whether you use one of Profile's base bars for a complete setup, or you just need to use your drop bars as a base, the T4+ Carbon...
Profile Design T4+ Clip-On TT Bars
Not every cyclist or triathlete wants a full-carbon base bar with carbon extensions. Some prefer to use clip-on extensions with their drop bars for more versatility in hand positions, or to make climbing, and out of the saddle riding a little more comfortable. Profile Design's T4 Plus Clip-On TT...
Profile Design VIper Wing Base Bar
Retail Price:
$269.99
Our Price: $215.99
buy now
Aerobars, whether being used in triathlon or time-trialing, are designed to do one thing -- position the rider in as aerodynamic of a position as possible. And although we admit that a fully-integrated bar is rather clean looking, unless you're flexible like a 'bendy-straw,' you'll need something...
Race Face Atlas 1 1/4in Riser Handlebar
Nearly 32mm of rise makes Race Face's Atlas 1 1/4in Riser Handlebar one of its tallest. And, at 785mm wide (almost 31 inches), it's going to fill the gap of larger riders looking for a spacious cockpit, or downhill racers looking for more control. To fulfill strength requirements, the Atlas is...
<< Prev | Back | 1 | 2 | 3 | 4 | 5 | 6 | 7 | 8 | 9 | 10 | More | Next >>