Handlebars - Road Bike Shop
Shop
>
Components
>
Forks, Cockpit, Pedals
>
Handlebars
Race Face Next Wide 1/4in Riser Handlebar
Retail Price:
$149.99
Our Price: $121.00
buy now
When a handlebar's weight sits comfortably under the 180 gram mark, it's OK to question its strength. Race Face, however, designs the Next Wide 1/4in Riser to pass its downhill strength requirements. This means the cross country-light Next will hold up to aggressive riders, and will be equally at...
Race Face Turbine 3/4 Riser Handlebar OE
Retail Price:
$79.99
Our Price: $67.99
buy now
If you don't want to spend hours poking around for the perfect bar, and simply want a solid, light do-it-all bar at a reasonable price, save yourself the hassle and just pick up Race Face's 3/4in Turbine Riser Bar. The Turbine's ergonomics have been well thought-out. The bar places you roughly...
Race Face Turbine 3/4in Riser Handlebar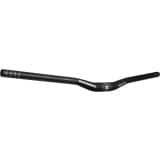 Retail Price:
$69.99
Our Price: $59.49
buy now
Race Face's 3/4in Turbine Riser places you roughly 19mm higher for a commanding position on technical terrain. And, with a combined nine-degree rearward and six-degree upward sweep, this 725mm-wide alloy handlebar puts all-mountain and trail ergonomics first. The Turbine's cold-drawn, seamless...
Race Face Turbine 35 20mm Rise Bar
Turbine 35 20mm Rise Bar
Renthal Fatbar
Those who dabble in both motocross and the pedal-type of bicycle activities will likely be familiar with the Renthal name, having been producing some of the winningest handlebars in motocross out of the factory in Manchester, UK, for several decades now. Since moving into mountain biking in 2010,...
Renthal Fatbar Carbon
Legendary motocross component manufacturer Renthal derives its name from a mash-up of the last names of the company's two founders, Andrew Renshaw and Henry Rosenthal. The brand crossed over into the world of mountain biking in 2010, and the Renthal Fatbar Carbon represents a similar sort of...
Renthal Fatbar Lite
Renthal made its name over the decades by crafting some of the toughest, smartest, and winningest motocross components in the world. As of 2010, the company turned its attention to the world of mountain biking, and since then has landed no fewer than six world championships to its name. Want to...
Renthal Fatbar Lite Carbon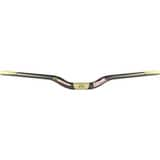 It might seem a bit of a stretch that world-renowned motocross component manufacturer Renthal stepped onto the mountain bike scene only a few years ago and already claims to have engineered a superlight trail-ready carbon fiber handlebar. That is, until you realize that the UK-based company not...
Ritchey SuperLogic Rizer Carbon Handlebar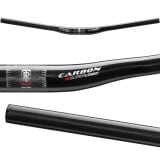 Retail Price:
$189.95
Our Price: $113.99
buy now
You like your bars a little higher than flat, but not chopper-style. The Ritchey SuperLogic Rizer Carbon Handlebars give you a little lift without making your trail bike look like a motorcycle. Full-carbon construction provides rigor-mortis-like stiffness to make sure you get some dividends on...
Storck RBC180 Handlebar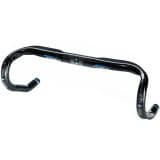 Storck knows the importance of a lightweight, rigid, and dependable cockpit, which is why its engineers devote the same time and attention to detail toward designing its components as they do its complete bikes. The new RBC180 Handlebar expresses this to the fullest, as its super low weight,...
<< Prev | Back | 1 | 2 | 3 | 4 | 5 | 6 | 7 | 8 | 9 | 10 | More | Next >>