Handlebars - Road Bike Shop
Shop
>
Components
>
Forks, Cockpit, Pedals
>
Handlebars
HED Corsair Aerobar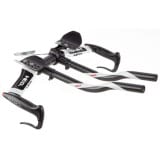 Steve Hed lives in a wind tunnel. And while sleepless nights spent mulling over complex algorithms, carbon layups, and boundary layers could be bad for his home life, you prosper from his insomnia. The HED Corsair is the latest HED innovation in aerodynamic design. Featuring HED's lightest...
HED Corsair E Aerobar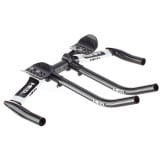 Whether you're splintering the wood at the velodrome or doing the long haul in a triathlon, the HED Corsair E will deliver an unparalleled advantage against the clock. Featuring a rigid, lightweight carbon fiber layup and an advanced aerodynamic shape, the Corsair E is HED's most comprehensive TT...
Niner Flat Top Carbon Handlebar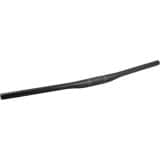 The Niner Flat Top Carbon Handlebar is built from high-modulus carbon fiber to cut down on weight, and is optimized for strength, stiffness, and dampening. Niner went to great lengths to reinforce this bar so it won't flex when you're standing up on the pedals; this is essential to both...
Niner Flat Top Handlebar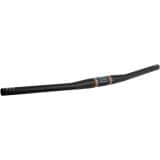 Mountain bikers used to cut their bars down to 'slice through trees' ... they used to ride with a hip pack and in cut-off jeans, too. We've come a long way, and modern mountain bikers favor wide bars like the Niner Flat Top Handlebar to steer their single-speeds and 29ers. Larger wheels and...
Niner Flat Top RDO Carbon Handlebar
Niner's range-topping RDO components have been pushing the limits of carbon technology since their inception, and the RDO Carbon Handlebar continues that tradition. Niner has successfully dropped 20 grams from its already light Flat Top Carbon bar, without affecting ride quality or strength. They...
Niner Low Top RDO Handlebar
Achieving a neutral saddle-to-handlebar relationship can be difficult, regardless of whether it's a fat bike, touring bike, or 29er. In one application, Niner's Low Top RDO Handlebar perfectly positions riders with a sub-27-inch standover on its X-Small frames. But, that doesn't mean it's limited...
Profile Design Aeria T2
If they're good enough for 2013 Ironman World Championship winner Mirinda Carfrae, The Profile Designs Aeris T2 are definitely good enough for you and anyone else who wants aerobars that are easily adjustable and able to fit a multitude of riders. And who doesn't want that?For a long time there...
Profile Design Aeria T4
If your taste is more to a traditional bend aerobar, but you want the fastest, most adjustable bar available, Profile Designs Aeria T4 may just fit the bill. This full carbon aerobar is an award winning design that delights bike fitters with 8 bolts and seemingly infinitely movable arm rests and...
Profile Design T1+ Carbon Aerobars
Profile Design continues to push the boundaries of aerobars, even though it effectively invented them decades ago. The T1+ Carbon Aerobars have been selected as the official aerobar of the Ironman Triathlon, and given that they include a carbon fiber construction and Profile's brand new F-35...
Profile Design T1+ Clip-On TT Bars
When you need no-nonsense extensions that simply work, the Profile Design T1+ Clip-On Time Trial Bars are the answer. This is a lighter, simpler, easier-to-adjust version of Profile's old Stryke clip-on setup, which itself was lighter, simpler, and more adjustable than its predecessors. Their...
<< Prev | Back | 1 | 2 | 3 | 4 | 5 | 6 | 7 | 8 | 9 | 10 | More | Next >>