Handlebars - Road Bike Shop
Shop
>
Components
>
Forks, Cockpit, Pedals
>
Handlebars
Profile Design 1/Twenty Road Handlebar
If you prefer your bars with a slight upward rotation, then rest assured that you're not alone. Rotating the bars up can level the slope from flats to hoods, but it does often come at the expense of steep drops that aren't as stable as they would be if the bars were rotated forward. The short...
Profile Design 1/ZeroFive Road Handlebar
The reach and drop of Profile Design's 1/ZeroFive Road Handlebar describe a study in contrasts. The 70mm reach is reminiscent of shallow, compact ergo bars, while the 122mm drop reminds us of a more standardly proportioned ergo model. The combination of the two, when combined with Profile's Drop...
Profile Design ADL Aluminum Clip-on Aerobars
One of the first cyclists we noticed using extensions with an S-bend shape on bars like the Profile Design ADL Aluminum Clip-on Aerobars in a time trial was Ullrich, the German powerhouse and perennial Tour runner-up. That's no surprise, as riders like Ullrich built their careers on producing...
Profile Design Aeria T2
If they're good enough for 2013 Ironman World Championship winner Mirinda Carfrae, The Profile Designs Aeris T2 are definitely good enough for you and anyone else who wants aerobars that are easily adjustable and able to fit a multitude of riders. And who doesn't want that?For a long time there...
Profile Design Aeria T2 AL Aerobar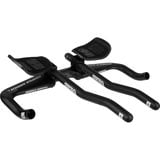 Profile Design introduced an aluminum version of its Aeria aerobars with the Aeria T2 Alloy, and they look and perform much like their lighter counterparts, with a notably lower price. While you won't get any of the road-dampening, weight-saving benefits of carbon, you'll get almost all of the...
Profile Design Aeria T4
If your taste is more to a traditional bend aerobar, but you want the fastest, most adjustable bar available, Profile Designs Aeria T4 may just fit the bill. This full carbon aerobar is an award winning design that delights bike fitters with 8 bolts and seemingly infinitely movable arm rests and...
Profile Design Aeria Ultimate Stem
The Profile Designs Aeria Ultimate Stem boasts a streamlined design to reduce drag and improve aerodynamics. The lid lock clamp delivers a solid connection between the faceplate and stem body, and the hidden two-bolt attachment system improves the overall durability of the stem while maintaining...
Profile Design Airstryke Aluminum Clip-on Aerobars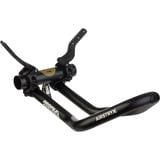 We can identify two primary problems with clip-on bars. First, when fitting them on standard road drop bars for a triathlon or time trial, we have to adjust the whole geometry of our cockpit. Second, they cover the flats. The Airstryke Aluminum Clip-on Aerobars take care of the second issue by...
Profile Design Aluminum Aerobar Extension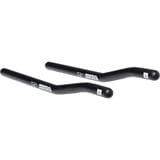 Profile Design set out to make a collection of clip-on Aluminum Aerobar Extensions that would give every time trial rider or triathlete the option to be comfortable in the aerobars. Choose the one that most closely matches what you want, then clip on and go. These aerobars are designed to be...
Profile Design Carbon Aerobar Extension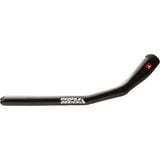 Despite their reputation, aerobars don't have to be uncomfortable -- if you're serious about racing a time trial or triathlon, you should have a set. Profile Design's Carbon Aerobar Extensions give you plenty of ways to customize fit so that you're not worried about your hands falling asleep...
<< Prev | Back | 1 | 2 | 3 | 4 | 5 | 6 | 7 | 8 | 9 | 10 | More | Next >>