Handlebars - Road Bike Shop
Shop
>
Components
>
Forks, Cockpit, Pedals
>
Handlebars
FSA SL-K Compact Carbon Handlebar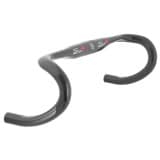 You probably don't need anyone to tell you about the benefits of carbon fiber, but we'll do it anyway: it's light, strong, and, when blended with Kevlar, as in the FSA SL-K Compact Carbon Handlebar, seriously tough. So, if you're looking to lighten your setup while boosting durability and...
FSA SL-K Road Compact Handlebar
In the rush to get the best technology to the most likely race-bike buyers, some manufacturers have a tendency to forget that people, like bicycles, come in a wide variety of shapes and sizes. Fortunately, the folks at FSA haven't forgotten. The FSA SL-K Road Compact handlebar combines race-ready...
FSA SLK MTB Flat Handlebar
For years, pretty much all bicycle components were made from aluminum. It's stiff, lightweight, and relatively inexpensive. Over the past couple decades, carbon fiber has taken the top shelf for production of everything from frames to rims, and aluminum components have been frowned upon unfairly....
FSA SLK MTB Low Riser Handlebar
Carbon fiber has long been known for its vibration-damping properties, and aluminum has been used in bicycle components for decades because of its stiffness, strength, and low weight. FSA's SL-K Low Rise Handlebar combines the two through its Carbon Structural Integration process, creating a...
HED Corsair Aerobar
Steve Hed lives in a wind tunnel. And while sleepless nights spent mulling over complex algorithms, carbon layups, and boundary layers could be bad for his home life, you prosper from his insomnia. The HED Corsair is the latest HED innovation in aerodynamic design. Featuring HED's lightest...
Juliana Riser Bar/Grip Combo
The Juliana Riser Bar/Grip Combo uses a reduced diameter for petite hands, which is the among the simplest ways to make a mountain bike more comfortable for those with smaller hands. This means female riders can have a better grasp without sacrificing cushion. The 680mm-wide handlebars are...
Niner Flat Top RDO Carbon Handlebar
Since it's built with the same technology found throughout Niner's top-level carbon frames, you won't be surprised to learn that the Flat Top RDO Carbon Handlebar loses a cool 20g of claimed weight compared to the non-RDO carbon model. Those lost grams litter the RDO bar's trail of production,...
Niner Low Top RDO Handlebar
Achieving a neutral saddle-to-handlebar relationship can be difficult, regardless of whether it's a fat bike, touring bike, or 29er. In one application, Niner's Low Top RDO Handlebar perfectly positions riders with a sub-27-inch standover on its X-Small frames. But, that doesn't mean it's limited...
Profile Design 1/ThirtyFive Road Handlebar
Ideally, the drops of a handlebar should be parallel with the ground. According to Profile Design, the reason why many of us break that sacred covenant is that, as frame geometries and handlebar shapes have evolved, those of us who prefer a level transition from the flats to the hoods have found...
Profile Design 1/Twenty Road Handlebar
If you prefer your bars with a slight upward rotation, then rest assured that you're not alone. Rotating the bars up can level the slope from flats to hoods, but it does often come at the expense of steep drops that aren't as stable as they would be if the bars were rotated forward. The short...
<< Prev | Back | 1 | 2 | 3 | 4 | 5 | 6 | 7 | 8 | 9 | 10 | More | Next >>