Handlebars - Road Bike Shop
Shop
>
Components
>
Forks, Cockpit, Pedals
>
Handlebars
FSA K-Force Compact Handlebar
Retail Price:
$289.95
Our Price: $246.46
buy now
While FSA was the true trailblazer for compact gearing -- the 50/34T chainring combo, its compact handlebar merely added to the design most requested by cyclists. By compact handlebars, FSA means shallow drop handlebars. These feature round drops, not awkwardly shaped anatomic drops, with a...
FSA K-Force Ergo Carbon Handlebar
Retail Price:
$310.00
Our Price: $155.00
buy now
What do six of the top twenty riders at the Giro this year have in common? They all rode FSA bars, and the K-Force Ergo Carbon Handlebar was the bar of choice between them. It's easy to see why. Matching a level of stiffness with a heightened level of vibration absorption, the K-Force Ergo...
FSA K-Wing Compact Handlebar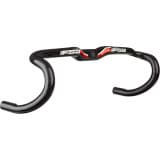 Retail Price:
$369.95
Our Price: $314.46
buy now
FSA focused on comfort when designing the K-Wing Compact Handlebar. The flattened Aero-Ergo profile of the tops is a testament to this. Not only does the profile of the top spread your weight over more of your hands to relieve pressure, but they're also angled down ever-so-slightly. The idea is...
FSA Wing Pro Compact Handlebar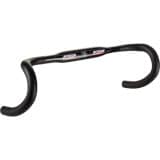 Retail Price:
$110.00
Our Price: $49.95
buy now
FSA championed the concept of the wing-style handlebar years ago. They provided riders with the first-ever alternative to the traditional round shape of bar tops. The flattened cross section nicely molded to the shape of loose fists -- exactly what many of us have when we climb with our hands on...
HED Corsair Aerobar
Steve Hed lives in a wind tunnel. And while sleepless nights spent mulling over complex algorithms, carbon layups, and boundary layers could be bad for his home life, you prosper from his insomnia. The HED Corsair is the latest HED innovation in aerodynamic design. Featuring HED's lightest...
HED Corsair E Aerobar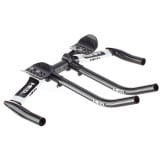 Whether you're splintering the wood at the velodrome or doing the long haul in a triathlon, the HED Corsair E will deliver an unparalleled advantage against the clock. Featuring a rigid, lightweight carbon fiber layup and an advanced aerodynamic shape, the Corsair E is HED's most comprehensive TT...
Ibis Hi-Fi Carbon Handlebar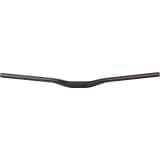 Carbon has solidified itself as the handlebar material of choice for most competitive riders and XC racers, as it's both lightweight and durable. Additionally, carbon absorbs vibration incredibly well, meaning that the fatigue and numbness that sets in with aluminum is effectively soaked up over...
Juliana Riser Bar/Grip Combo
The Juliana Riser Bar/Grip Combo uses a reduced diameter for petite hands, which is the among the simplest ways to make a mountain bike more comfortable for those with smaller hands. This means female riders can have a better grasp without sacrificing cushion. The 680mm-wide handlebars are...
Niner Flat Top Handlebar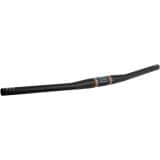 Mountain bikers used to cut their bars down to 'slice through trees' ... they used to ride with a hip pack and in cut-off jeans, too. We've come a long way, and modern mountain bikers favor wide bars like the Niner Flat Top Handlebar to steer their single-speeds and 29ers. Larger wheels and...
Niner Flat Top RDO Carbon Handlebar
Niner's range-topping RDO components have been pushing the limits of carbon technology since their inception, and the RDO Carbon Handlebar continues that tradition. Niner has successfully dropped 20 grams from its already light Flat Top Carbon bar, without affecting ride quality or strength. They...
<< Prev | Back | 1 | 2 | 3 | 4 | 5 | 6 | 7 | 8 | 9 | 10 | More | Next >>