Handlebars - Road Bike Shop
Shop
>
Components
>
Forks, Cockpit, Pedals
>
Handlebars
Fi'zi:k Cyrano R1 Snake Handlebar
Retail Price:
$300.00
Our Price: $240.00
buy now
Relying on its proven Spine Concept system, Fi'zi:k developed a new line of handlebars that specifically correspond to a rider's level of flexibility and riding style. For those unfamiliar with this philosophy, Spine Concept essentially groups cyclists into three categories (with corresponding...
Fi'zi:k Cyrano R3 Bull Handlebar
You may not have enough spine flexibility to touch your toes, but that doesn't mean that you should be relegated to using equipment that doesn't fit, or that makes your time in the saddle less than comfortable. Fi'zi:k has taken its Spine Concept Fit system and applied it not only to saddles but...
Fi'zi:k Cyrano R3 Chameleon Handlebar
Snake, chameleon, and bull are the three animals Fi'zi:k's Spine Concept uses to denote spinal flexibility from most to least flexible. Used initially to design saddles, Fi'zi:k has extended its thinking about how the spine relates to a bicycle's cockpit. The Cyrano is a series of handlebars and...
Fi'zi:k Cyrano R3 Snake Handlebar
Not everyone has the same amount of spine flexibility, and Fi'zi:k has utilized different levels of flex to differentiate its saddles into categories. Recently, Fi'zi:k has extended its thinking about how the spine relates to a bicycle's cockpit. The Cyrano is a series of handlebars and...
FSA Energy Compact Handlebar
Handlebars have run the gamut of shapes from ergo, to round to a composite of the two. The FSA Energy Compact takes the shallow drop that has become popular and mated it to a flattened bar top to provide additional hand positioning options. FSA championed the concept of the wing-style handlebar...
FSA Energy Road New Ergo Handlebar
The FSA Energy Road New Ergo Handlebar is a rock-solid but lightweight choice for the road rider or cyclocross rider looking to upgrade to a more ergonomic bar. Its sharp style and comfortable shape will agree with almost any bike, and any athlete. The New Ergo Energy handlebar is made from...
FSA Gossamer Wing Compact
FSA's Gossamer Wing Compact handlebar may be the most versatile offering in the manufacturer's extensive catalog of drop bars, combining lightweight with efficiency and a relatively low price point. It's made of double-butted 6066 alloy that's been shot-peened, which is a process that shows up...
FSA Gravity Light ATB Handlebar
Drawing on its many years of manufacturing world-class cockpit components for all sorts of riding disciplines, FSA established its Gravity brand to assure big-hitting riders out there that the company was serious about entering the heavy-duty mountain bike component world. So, spawning from this...
FSA Gravity Light CSI Handlebar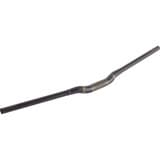 Having long since proven itself in the world of high-end road, cyclocross, and cross-country mountain bike componentry, FSA has expanded its focus to encompass hardcore all-mountain riders with its new, aptly-named Gravity brand. The company's engineers continue to bring innovative ideas to the...
FSA K-Force Compact Handlebar
Retail Price:
$289.95
Our Price: $231.96
buy now
While FSA was the true trailblazer for compact gearing -- the 50/34T chainring combo, its compact handlebar merely added to the design most requested by cyclists. By compact handlebars, FSA means shallow drop handlebars. These feature round drops, not awkwardly shaped anatomic drops, with a...
<< Prev | Back | 1 | 2 | 3 | 4 | 5 | 6 | 7 | 8 | 9 | 10 | More | Next >>