Handlebars - Road Bike Shop
Shop
>
Components
>
Forks, Cockpit, Pedals
>
Handlebars
FSA Extra Light Compact Handlebar
Whether you're recovering from a crash and are in need of a functioning bar or are just looking to freshen up your favorite bike, the FSA Extra Light Compact Handlebar is bound to add some kick and drop some grams off your ride. Made from high-modulus carbon fiber, this bar weighs in at a paltry...
FSA Gossamer Wing Compact
Retail Price:
$69.99
Our Price: $51.99
buy now
FSA's Gossamer Wing Compact handlebar may be the most versatile offering in the manufacturer's extensive catalog of drop bars, combining lightweight with efficiency and a relatively low price point. It's made of double-butted 6066 alloy that's been shot-peened, which is a process that shows up...
FSA K-Force Compact Handlebar
Retail Price:
$290.00
Our Price: $280.49
buy now
The FSA K-Force is (despite the strange naming convention) the most popular drop bar shape among experienced cyclists. Compact, in FSA-speak, just means that these bars have a shallow, round drop--not the oddly shaped anatomic bars. The 125mm/80mm drop-reach combo with a 4-degree sweep and the...
FSA K-Wing Compact Handlebar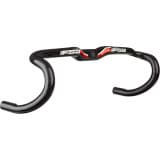 Retail Price:
$369.95
Our Price: $276.99
buy now
The FSA K-Wing Compact Handlebar is designed to let your wrists adopt a more natural position on the bar, so you stay comfortable while you're racking up the miles. The top of the K-Wing features a flattened Aero-Ergo profile that helps relieve pressure on your wrists by spreading your weight...
FSA Omega Compact Road Handlebar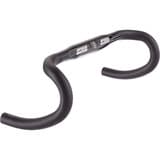 Retail Price:
$49.99
Our Price: $36.99
buy now
FSA's Omega Compact Road Handlebar lets you upgrade your cyclocross or training bike without making you spend a fortune. The Omega Compact is built with 6066-series aluminum tubing that is double-butted, tapered, shot-peened, and features wide grooves for easier cable routing. And with drops that...
FSA SL-K Compact Carbon Handlebar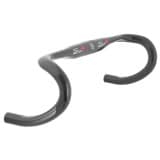 You probably don't need anyone to tell you about the benefits of carbon fiber, but we'll do it anyway: it's light, strong, and, when blended with Kevlar, as in the FSA SL-K Compact Carbon Handlebar, seriously tough. So, if you're looking to lighten your setup while boosting durability and...
FSA SL-K Road Compact Handlebar
Retail Price:
$309.99
Our Price: $278.99
buy now
In the rush to get the best technology to the most likely race-bike buyers, some manufacturers have a tendency to forget that people, like bicycles, come in a wide variety of shapes and sizes. Fortunately, the folks at FSA haven't forgotten. The FSA SL-K Road Compact handlebar combines race-ready...
FSA SLK MTB Flat Handlebar
For years, pretty much all bicycle components were made from aluminum. It's stiff, lightweight, and relatively inexpensive. Over the past couple decades, carbon fiber has taken the top shelf for production of everything from frames to rims, and aluminum components have been frowned upon unfairly....
FSA SLK MTB Low Riser Handlebar
Carbon fiber has long been known for its vibration-damping properties, and aluminum has been used in bicycle components for decades because of its stiffness, strength, and low weight. FSA's SL-K Low Rise Handlebar combines the two through its Carbon Structural Integration process, creating a...
Ibis Hi-Fi Carbon Handlebar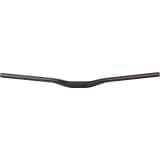 Carbon has solidified itself as the handlebar material of choice for most competitive riders and XC racers, as it's both lightweight and durable. Additionally, carbon absorbs vibration incredibly well, meaning that the fatigue and numbness that sets in with aluminum is effectively soaked up over...
<< Prev | Back | 1 | 2 | 3 | 4 | 5 | 6 | 7 | 8 | 9 | 10 | More | Next >>