Handlebars - Road Bike Shop
Shop
>
Components
>
Forks, Cockpit, Pedals
>
Handlebars
Easton Haven 35 Riser Carbon Handlebar
Easton's Haven 35 Riser Carbon Handlebar is the all new younger sibling of its market-leading counterpart, the Havoc 35 Carbon. There are some key differences that distinguish the former from the latter, namely that the Haven 35 Carbon offers two options of rise (20 or 40 millimeters), has a more...
Easton Havoc 35 Handlebar
Easton has been the metalwork master forever. It has been responsible for countless innovations in both materials and design. Well, somebody call somebody; the folks at Easton have done it again. In keeping with the 'bigger is better' theory of handlebar design, they've cranked the clamp size up...
Easton Havoc Carbon Handlebar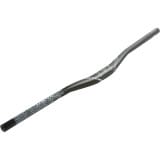 Easton's new Havoc Carbon DH Handlebar is a lot like its alloy sibling, the Havoc Aluminum. Both are monster-wide, at 750mm, and both are built to be scary strong. The scarier thing is that the carbon edition is a whopping 80 grams lighter. While that may not seem like a lot of weight, each gram...
Easton Havoc Handlebar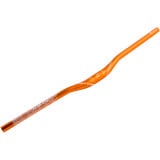 Easton's new Havoc DH Handlebar is going to be a good choice for budget minded gravity riders as it won't break the bank, so you're free to spend precious pennies on the stuff that fails more often (say, on broken chains and bent derailleur hangers). And that it's lighter than most DH bars is a...
ENVE DH Handlebar
It's been proven time and time again: Well-built carbon fiber components aren't only strong enough, they're the strongest on the planet. When it comes to build quality, few can touch ENVE. The ENVE DH handlebar has been tested into the ground, and the results are in -- this very well may be the...
ENVE HDH Handlebar
DH bars are getting taller and wider with no end in sight. Of course, with that extra width comes added leverage, so they have to be stronger than ever to make up for it. That means you have to bolt an anchor to your stem, right? Nope. The ENVE HDH handlebar is 810mm wide -- more than enough to...
ENVE Riser Handlebar
These days, most serious XC riders and racers are using carbon fiber handlebars. Carbon bars are lightweight and extremely tough. The quality that really sets them apart, however, is their ability to absorb vibration. Constant vibration, either from the road or the trail, causes numbness and...
ENVE Road Handlebar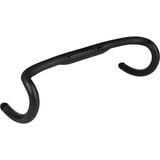 Enve is easily the most sought-for name in carbon. Known for their prowess in lightweight design, Enve has revolutionized the field of carbon engineering in a short amount of time. The Enve Road Handlebar is the only road handlebar in Enve's impressive catalog of components, for a reason:...
ENVE RSR Handlebar
This year, ENVE aimed for the sweet spot between 759 and 761mm, and it nailed it. And the weight? An incredible 194 grams. Carbon bars are notoriously lightweight and extremely tough. The quality that really sets them apart, however, is their ability to absorb vibration. Constant vibration,...
ENVE SES Aero Road Handlebar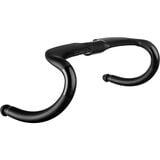 As part of the Enve Smart System (SES series), the new SES Aero Road Handlebar relies on Enve's most sophisticated technology and engineering techniques to ensure a fast, stiff, and aerodynamic set of drop bars. Similar to its Aero bar platform and carbon wheel lineup, Enve partnered with...
<< Prev | Back | 1 | 2 | 3 | 4 | 5 | 6 | 7 | 8 | 9 | 10 | More | Next >>