Handlebars - Road Bike Shop
Shop
>
Components
>
Forks, Cockpit, Pedals
>
Handlebars
ENVE HDH Handlebar
DH bars are getting taller and wider with no end in sight. Of course, with that extra width comes added leverage, so they have to be stronger than ever to make up for it. That means you have to bolt an anchor to your stem, right? Nope. The ENVE HDH handlebar is 810mm wide -- more than enough to...
ENVE Road Handlebar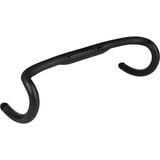 Enve is easily the most sought-for name in carbon. Known for their prowess in lightweight design, Enve has revolutionized the field of carbon engineering in a short amount of time. The Enve Road Handlebar is the only road handlebar in Enve's impressive catalog of components, for a reason:...
ENVE SES Aero Road Handlebar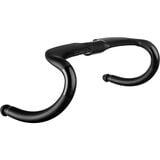 The ENVE SES Aero Road Handlebar is built for one thing: going fast. It's ENVE's first foray into internal cable routing, resulting in a clean look that cuts through the air. The flat, wide top section of the bars slices wind when you need speed and provides a big platform for resting tired hands...
ENVE SES Aero TT Handlebar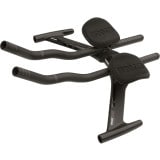 Carbon fiber is an invariably versatile material. In fact, there are dozens of ways to design a similar laminate. But with carbon, the process is as critical as the outcome. The Enve engineers' design with the knowledge that a strong final product is the result of an innovative design process --...
Fi'zi:k Cyrano 00 Bull Handlebar
Retail Price:
$400.00
Our Price: $319.99
buy now
Super-strong and feather-light unidirectional carbon fiber might the first thing you notice about the Fi'zi:k Cyrano 00 Bull Handlebars, but that's not really where the Bull makes its money. More importantly, Fi'zi:k's realized that being able to curl up like a cat, put both feet behind your head...
Fi'zi:k Cyrano 00 Snake Handlebar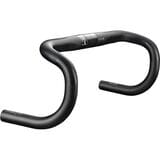 Retail Price:
$400.00
Our Price: $299.99
buy now
You put time and attention into the fit of your saddle and the position of your handlebars, but how about the shape of the bars themselves? Fi'zi:k, makers of saddles for virtually every body type, has extended its thinking about how the spine relates to a bicycle's cockpit. The Cyrano is a...
Fi'zi:k Cyrano R1 Bull Handlebar
Two of the most important touch points on a bike are the saddle and the handlebars. Fi'zi:k is well known for designing saddles based on its Spine Concept Fit System. This system uses three animals: snake, chameleon, and bull to categorize riders according to the flexibility of their spines from...
Fi'zi:k Cyrano R1 Chameleon Handlebar
Retail Price:
$300.00
Our Price: $239.99
buy now
Fi'zi:k's Spine Concept Fit places riders in one of three different categories which denote their spine flexibility and riding style. This system assists rider with finding a saddle that is optimal for their body type. It has extended its fit system into additional components and the Cyrano...
Fi'zi:k Cyrano R1 Snake Handlebar
Relying on its proven Spine Concept system, Fi'zi:k developed a new line of handlebars that specifically correspond to a rider's level of flexibility and riding style. For those unfamiliar with this philosophy, Spine Concept essentially groups cyclists into three categories (with corresponding...
Fi'zi:k Cyrano R3 Bull Handlebar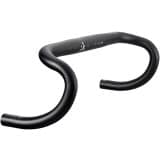 Retail Price:
$99.99
Our Price: $79.99
buy now
Fizik designed the Cyrano R3 Bull Handlebar to work with its Spine Concept system and meet the needs of riders who aren't very flexible. Nearly identical to the R1 Bull, the R3 uses a more economical aluminum instead of unidirectional carbon fiber. Reach and drop measurements look like other...
<< Prev | Back | 1 | 2 | 3 | 4 | 5 | 6 | 7 | 8 | 9 | 10 | More | Next >>