Handlebars - Road Bike Shop
Shop
>
Components
>
Forks, Cockpit, Pedals
>
Handlebars
Easton Havoc 35 Handlebar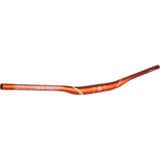 Easton has been the metalwork master forever. It has been responsible for countless innovations in both materials and design. Well, somebody call somebody; the folks at Easton have done it again. In keeping with the 'bigger is better' theory of handlebar design, they've cranked the clamp size up...
Easton Havoc Handlebar
Easton's new Havoc DH Handlebar is going to be a good choice for budget minded gravity riders as it won't break the bank, so you're free to spend precious pennies on the stuff that fails more often (say, on broken chains and bent derailleur hangers). And that it's lighter than most DH bars is a...
ENVE Downhill Handlebar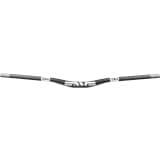 Not too long ago, people were afraid that carbon fiber was too fragile for handlebars and stems. Some of the early designs were weak, some were just dangerous. Those days are over. Today, well-designed carbon fiber handlebars are the toughest on the planet. The Enve Downhill Handlebar is not only...
ENVE Downhill Minnaar Bar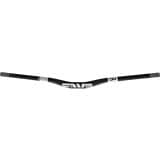 In honor of Greg Minaar's third World Championships victory in 2013, ENVE introduced the Minaar Bar Downhill Handlebar. Based off the custom extra-wide bar he rode to victory, this bar is essentially identical to ENVE's DH bar, with the exception of a slightly wider 808mm width, and World...
ENVE Road Handlebar
Enve is easily the most sought-for name in carbon. Known for their prowess in lightweight design, Enve has revolutionized the field of carbon engineering in a short amount of time. The Enve Road Handlebar is the only road handlebar in Enve's impressive catalog of components, for a reason:...
ENVE SES Aero Road Handlebar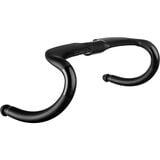 As part of the Enve Smart System (SES series), the new SES Aero Road Handlebar relies on Enve's most sophisticated technology and engineering techniques to ensure a fast, stiff, and aerodynamic set of drop bars. Similar to its Aero bar platform and carbon wheel lineup, Enve partnered with...
ENVE SES Aero TT Handlebar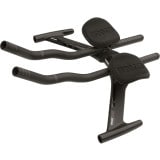 Carbon fiber is an invariably versatile material. In fact, there are dozens of ways to design a similar laminate. But with carbon, the process is as critical as the outcome. The Enve engineers' design with the knowledge that a strong final product is the result of an innovative design process --...
ENVE Sweep Handlebar
For over five years, Enve has been re-engineering the face of carbon design. Not so long ago, it was feared that carbon was too delicate for any meaningful application in mountain biking. However, the Enve Sweep Bar exposes this notion as a mere rumor. More than just a technical carbon design,...
Fi'zi:k Cyrano 00 Bull Handlebar
Retail Price:
$400.00
Our Price: $299.99
buy now
Fi'zi:k has taken its Spine Concept Fit system and applied it not only to saddles, but also to handlebars. This means that even if touching your toes eludes you, riding a bike with properly fitted equipment doesn't need to. The Cyrano 00 Bull Handlebar is a high-modulus carbon design,...
Fi'zi:k Cyrano 00 Chameleon Handlebar
Retail Price:
$400.00
Our Price: $304.00
buy now
Fi'zi:k's Spine Concept Fit uses the Snake, Chameleon, and Bull to denote spine flexibility from most to least flexible. Used initially to design saddles, Fi'zi:k has extended its thinking about how the spine relates to a bicycle's cockpit. The Cyrano is a series of handlebars and components that...
<< Prev | Back | 1 | 2 | 3 | 4 | 5 | 6 | 7 | 8 | 9 | 10 | More | Next >>