Handlebars - Road Bike Shop
Shop
>
Components
>
Forks, Cockpit, Pedals
>
Handlebars
3T Tornova Pro Handlebar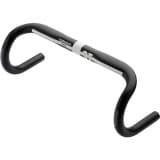 So, you've got an appreciation for all things classic, including aluminum handlebars and traditional bar shapes, but you're not quite a retro-grouch, either. If you're looking to step into the 21st century without the associated pitfalls, the 3T Tornova Pro Handlebar is right up your alley. Based...
3T Tornova Team Handlebar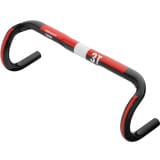 With over a half century of experience supplying components to the world's greatest racers, it's safe to say that 3T has seen a boatload of trends come and go. And despite the brand's iconic history, it's far from content to rest on its laurels, which makes the 3T Tornova Team Handlebar...
3T Ventus II Limited Handlebar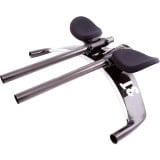 Retail Price:
$1260.00
Our Price: $755.95
buy now
The iconic Ventus won gold and silver in the 2008 Beijing time trial. You'd think that accolades like that would be enough of a reason to keep the Ventus just as it is. However, 3T doesn't rest on its laurels. It completely renewed the aerobar with a redesign that is sure to make the Ventus II as...
3T Xida LTD Handlebar
Retail Price:
$154.95
Our Price: $92.99
buy now
If riser bars aren't your thing, you'll be glad to know that 3T still makes some fantastically light flat bars. The 3T Xida LTD Carbon Handlebar is their top-shelf offering. It's made of high modulus unidirectional carbon fiber for an optimum strength to weight ratio. It's their lightest mountain...
3T Xida Pro Handlebar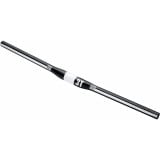 Oversize handlebars are now the norm. And while we like the stiffness and strength inherent in the 31. 8mm clamp diameter, we haven't always liked the oversize (in terms of width) bulged center section. The engineers at 3T have created the Xida Pro Alloy Handlebar with what they call a "compact"...
3T Xida Team Handlebar
If you're the kind of rider that prefers to save a few dollars and still have fine gear, the 3T Xida Team Carbon Handlebar offers up an aesthetic equal to its higher priced sibling. Instead of the spendy high modulus carbon used in the Xida LTD, the Team uses a more general purpose carbon fiber....
Deda Elementi Kronos Due Aero Handlebar
Retail Price:
$660.00
Our Price: $594.00
buy now
When your competition is the clock, every passing second is like a competitor tearing around you for the lead. For such a formidable opponent, you need every possible advantage at your disposal, and the Deda Kronos Due Aero Handlebars give you the leading edge. Built for an aggressive pursuit...
Deda Elementi M35 Handlebar
Retail Price:
$350.00
Our Price: $174.99
buy now
Just when the 25. 4mm and 26. 0mm clamp diameters of yore were fading into obscurity and we were pretty much left with 31. 8mm for both mountain and road handlebars, Deda introduces their M35 Handlebar. With its 35mm top section, the M35 is 50% stiffer than a comparable 31. 8mm bar. The 35mm...
Deda Elementi Zero100 Alloy Handlebar
Maybe you've heard that carbon fiber is stronger than aluminum. But if you feel more confident with aluminum, we won't argue; we'll just show you this bar, the Deda Elementi Zero100. The Zero100 is the aluminum entry in the new Deda Rapid Hand Movement (RHM) design initiative. Deda noticed that...
Easton EA70 Ergo Handlebars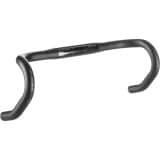 First there were round bends. Then anatomic bends, then removable faceplate stems unleashed bar designers to get really creative. That creativity was further expanded when carbon-fiber became a viable handlebar material. There are so many shapes, so many styles today, but we're starting to see...
<< Prev | Back | 1 | 2 | 3 | 4 | 5 | 6 | 7 | 8 | 9 | 10 | More | Next >>