Handlebars - Road Bike Shop
Shop
>
Components
>
Forks, Cockpit, Pedals
>
Handlebars
Easton Havoc 35 Carbon Handlebar
We won't make any lame 'raising the bar' puns. We're just to cool for that. The Easton Havoc 35 Carbon has, however, set a new standard withthese three numbers: 35, 225, and 800. These are numbers that we knew could be achieved separately, but not all together in one lovely piece of carbon fiber....
Easton Havoc 35 Handlebar
Easton has been the metalwork master forever. It has been responsible for countless innovations in both materials and design. Well, somebody call somebody; the folks at Easton have done it again. In keeping with the 'bigger is better' theory of handlebar design, they've cranked the clamp size up...
Easton Havoc Carbon Handlebar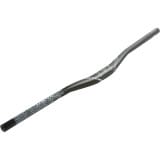 Retail Price:
$174.95
Our Price: $119.95
buy now
Easton's new Havoc Carbon DH Handlebar is a lot like its alloy sibling, the Havoc Aluminum. Both are monster-wide, at 750mm, and both are built to be scary strong. The scarier thing is that the carbon edition is a whopping 80 grams lighter. While that may not seem like a lot of weight, each gram...
Easton Havoc Handlebar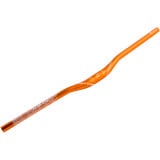 Retail Price:
$75.00
Our Price: $54.95
buy now
Easton's new Havoc DH Handlebar is going to be a good choice for budget minded gravity riders as it won't break the bank, so you're free to spend precious pennies on the stuff that fails more often (say, on broken chains and bent derailleur hangers). And that it's lighter than most DH bars is a...
ENVE DH Handlebar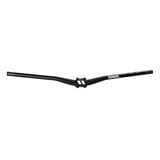 It's been proven time and time again: Well-built carbon fiber components aren't only strong enough, they're the strongest on the planet. When it comes to build quality, few can touch ENVE. The ENVE DH handlebar has been tested into the ground, and the results are in -- this very well may be the...
ENVE Road Handlebar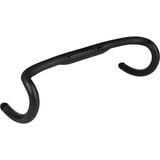 Warning: you may not actually want to wrap your ENVE Road Handlebar in any bar tape for a few days after you get it. It'll probably take a few days of gazing at its lithe carbon silhouette and marveling at its lightness, 205g to be exact, before you're ready to obscure even the ends of it. Once...
ENVE SES Aero Road Handlebar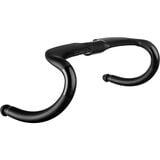 The ENVE SES Aero Road Handlebar is built for one thing: going fast. It's ENVE's first foray into internal cable routing, resulting in a clean look that cuts through the air. The flat, wide top section of the bars slices wind when you need speed and provides a big platform for resting tired hands...
ENVE SES Aero TT Handlebar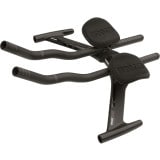 Carbon fiber is an invariably versatile material. In fact, there are dozens of ways to design a similar laminate. But with carbon, the process is as critical as the outcome. The Enve engineers' design with the knowledge that a strong final product is the result of an innovative design process --...
ENVE SWP Handlebar
The ENVE SWP Handlebar offers zero rise with nine degrees of sweep for a low-slung, well-planted feel when you're sprinting out of the saddle and conquering technical climbs. Zero degree bars lower the front end of your cross country rocket or trail-devouring rig, alleviating the wandering feel...
Fi'zi:k Cyrano 00 Bull Handlebar
Retail Price:
$400.00
Our Price: $319.99
buy now
Super-strong and feather-light unidirectional carbon fiber might the first thing you notice about the Fi'zi:k Cyrano 00 Bull Handlebars, but that's not really where the Bull makes its money. More importantly, Fi'zi:k's realized that being able to curl up like a cat, put both feet behind your head...
<< Prev | Back | 1 | 2 | 3 | 4 | 5 | 6 | 7 | 8 | 9 | 10 | More | Next >>