Handlebars - Road Bike Shop
Shop
>
Components
>
Forks, Cockpit, Pedals
>
Handlebars
3T Tornova LTD Handlebar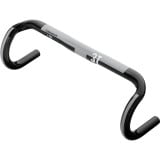 Retail Price:
$399.95
Our Price: $175.00
buy now
It's been more than 50 years since 3T built its first handlebar, and in that time, the Italian brand has learned a thing or two about what riders need. That makes the 3T Tornova LTD Handlebar particularly noteworthy. By combining the aesthetics of its classic bend bars, with subtle ergonomic...
3T Tornova Pro Handlebar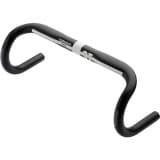 Retail Price:
$120.00
Our Price: $50.00
buy now
So, you've got an appreciation for all things classic, including aluminum handlebars and traditional bar shapes, but you're not quite a retro-grouch, either. If you're looking to step into the 21st century without the associated pitfalls, the 3T Tornova Pro Handlebar is right up your alley. Based...
3T Tornova Team Handlebar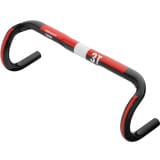 Retail Price:
$349.95
Our Price: $155.00
buy now
With over a half century of experience supplying components to the world's greatest racers, it's safe to say that 3T has seen a boatload of trends come and go. And despite the brand's iconic history, it's far from content to rest on its laurels, which makes the 3T Tornova Team Handlebar...
3T Ventus II Limited Handlebar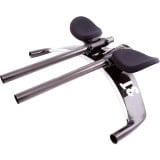 Retail Price:
$1260.00
Our Price: $755.95
buy now
The iconic Ventus won gold and silver in the 2008 Beijing time trial. You'd think that accolades like that would be enough of a reason to keep the Ventus just as it is. However, 3T doesn't rest on its laurels. It completely renewed the aerobar with a redesign that is sure to make the Ventus II as...
3T Vola Pro Alloy Aerobars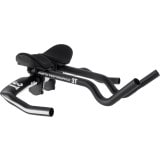 An award-winning bar, the new 3T Vola Pro Alloy Aerobar is ideal for triathletes and time-trialists who don't feel the need for a full carbon bar, at three times the price. Durability, adjustability, and comfort set this bar apart from the crowd. For added strength and durability, the Vola was...
3T Zefiro Team Handlebar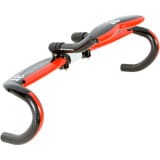 The 3T Zefiro Team Handlebar is the perfect blend of road racing and time-trialing--in a handlebar. Designed to incorporate the power and control of a drop bar with the low-drag form of the time-trialist rider's aerobar. The Zefiro features the compact bend of the Ergonova with the unique Pi Wing...
Deda Elementi Carbon Blast Aero Handlebar
Retail Price:
$300.00
Our Price: $240.00
buy now
If you've been itching to get into stage races or triathlons, but haven't committed to the point of a multi-thousand-dollar time trial bike, the Deda Carbon Blast Aero Handlebar is for you. The Carbon Blast mounts to your existing road bike's handlebars, and offers an ergonomic extension that...
Deda Elementi Kronos Due Aero Handlebar
Retail Price:
$660.00
Our Price: $528.00
buy now
When your competition is the clock, every passing second is like a competitor tearing around you for the lead. For such a formidable opponent, you need every possible advantage at your disposal, and the Deda Kronos Due Aero Handlebars give you the leading edge. Built for an aggressive pursuit...
Deda Elementi M35 Handlebar
Retail Price:
$350.00
Our Price: $249.99
buy now
Just when the 25. 4mm and 26. 0mm clamp diameters of yore were fading into obscurity and we were pretty much left with 31. 8mm for both mountain and road handlebars, Deda introduces their M35 Handlebar. With its 35mm top section, the M35 is 50% stiffer than a comparable 31. 8mm bar. The 35mm...
Deda Elementi RHM01 Alloy Handlebar
Retail Price:
$50.00
Our Price: $39.99
buy now
Let's say that you like the position of the tops of your bars in relation to your saddle, but want the drops higher to make them more easily accessible. The design of Deda's RHM01 Alloy Handlebar does just that. With its 75mm reach and 128mm drop, it's undoubtedly a shallow handlebar, and what...
<< Prev | Back | 1 | 2 | 3 | 4 | 5 | 6 | 7 | 8 | 9 | 10 | More | Next >>