Handlebars - Road Bike Shop
Shop
>
Components
>
Forks, Cockpit, Pedals
>
Handlebars
Syntace C3 Clip
If you want to have a successful, efficient race it's crucial that you stay comfortable. The Syntace C3 Clip is designed to keep you comfortable when you're in the most aerodynamic position possible. The C3 features a double helix bend, which places your wrists in a more natural position and...
Syntace Vector Carbon High35
Syntace is probably not the first name that comes to mind when you're looking for a new wide handlebar for your mountain bike. Yet it's been manufacturing both aluminum and carbon bike components from its German headquarters for years. The Vector Carbon High35 is its latest offering, and it's one...
Thomson Carbon Road Handlebar
As one of the first Thomson products to diverge from their aerospace-grade aluminum mainstay, the Thomson Carbon Road Handlebar represents the company's foray into masterful carbon road bars. Retaining the renowned quality that makes Thomson famous, these carbon bars are manufactured by Toray,...
Thomson Carbon XC Handlebar
The aerospace engineering industry has little tolerance for trends and ill-planned designs, and Thomson's methodical, impeccable craftsmanship has represented the company's pragmatic roots in the industry since it first began making mountain bike stems. Slowly expanding further into the realm of...
Thomson Downhill Handlebar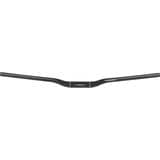 When Ronnie set out to improve on his daughter's road bike, that component -- a CNC-machined alloy stem -- gained immediate respect for its thorough design and use of quality materials. This launched a long-time aerospace engineer into the niche, high-end cycling industry. Fifteen years later,...
Thomson Titanium Mountain Handlebar
While the Elite Dropper seatpost may be the most anticipated product from Thompson, its quiet entry into the handlebar market, with products like this Titanium Mountain Handlebar, could be just as significant. Natural growth of Thomson's product line led them to another cockpit component, which...
TruVativ Descendant Carbon Flat Handlebar
Aspiring enduroists often rely on riser bars for a little bit more leeway in big terrain, but the pros like Jerome Clementz run flat bars to attack the run with a more aggressive stance. TruVativ's Descendant Carbon Flat Handlebar is designed around Clementz's preferred dimensions and designed to...
TruVativ Descendant Carbon Riser Handlebar
A riser bar is to an enduro sled like peanut butter is to chocolate: it's not for everybody, but if it's your thing, then it fulfills a craving that no other combination can. For that particular group, TruVativ's Descendant Carbon Riser Handlebar stands up tall with 20mm of rise across its 750mm...
TruVativ Descendant DH Handlebar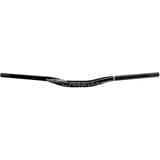 While carbon has become the choice for top-end component manufacturers across the enduro scene, we often still find ourselves gravitating toward alloy bars for gravity riding. TruVativ's Descendant DH Handlebar illustrates the reasons why: since we prefer wide bars for the short stems and slack...
TruVativ Descendant Flat Handlebar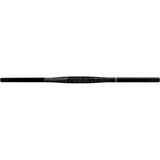 A lot of enduro aspirants rely on a bit of bar rise to get them through big terrain. Not Jerome Clementz. TruVativ models the Descendant Flat Handlebar to his preferred spec, shifting weight forward onto the front wheel to make handling sharper and giving enduro veterans and daredevils precise...
<< Prev | Back | 11 | 12 | 13 | 14 | 15 | 16 | More | Next >>