Handlebars - Road Bike Shop
Shop
>
Components
>
Forks, Cockpit, Pedals
>
Handlebars
Zipp Service Course Handlebar
Retail Price:
$97.95
Our Price: $29.99
buy now
Zipp handlebars have subtle shaping that separates them from the pack, and makes them comfortable, light, and strong. Like its carbon fiber counterparts, the Zipp Service Course Alloy Handlebars have a constant taper from the 31. 8mm clamp area in the center of the bar to the 24. 2mm diameter at...
Zipp Service Course Handlebar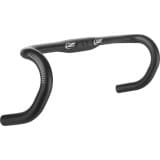 Using the same tapered diameter as its carbon counterparts, the Zipp Service Course Handlebar goes from 31. 8mm at its central clamp down to 24. 2mm at the top bend. This tapered diameter lends an intuitive shape for high levels of comfort. Its durable 6061 aluminum construction retains brawny...
Zipp Service Course SL-70 Ergo Handlebar
Regardless of its renowned homage to carbon, Zipp realizes that aluminum is far from an outdated material. Whether you prefer it for peace of mind in the heat of the sprint or find the slight weight difference an easy way to keep your ultra-light bike above legal weight limits for your Cat 1...
Zipp Service Course SL-70 Handlebar
Aluminum is far from extinct as a high-end bike material. For example, many pros still rely on aluminum handlebars, whether it be for peace of mind or because having a more substantial bar is an intelligent way to meet the UCI minimum weight requirement without sacrificing ride quality....
Zipp Service Course SL-80 Handle Bar
Retail Price:
$109.95
Our Price: $98.95
buy now
You could pay top dollar for carbon bars and hope they don't break when you crank into a sprint or take a tumble, or you could trust your first-place finish and cockpit durability to the 7050 aluminum of Zipp's Service Course SL-80 Handlebar. They weigh only 60g more than Zipp's comparable carbon...
Zipp Service Course SL-88 Handlebar
Drop handlebars used to have one shape. Period. Now, there are countless styles to choose from -- anatomic, short reach, double-bend, just to name a few.The Zipp Service Course SL-88 is a traditional bend drop bar. A replacement for the Service Course SL-TB, it is a strong, lightweight aluminum...
Zipp SL-70 Aero Carbon Handlebar
Zipp's new SL-70 Aero Carbon Handlebar builds on the legacy of the VukaSprint to offer a road handlebar with unrivaled fit and aerodynamic performance. Manufactured from unidirectional carbon fiber, the SL-70 features a distinctive wing-shape that uses Computational Fluid Dynamics, the same...
Zipp Vuka Alumina Clip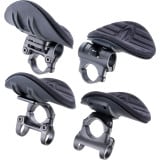 We can't drive home this message enough -- whether it's triathlon or time trial, versatility is paramount to your position on the bike. Over the course of a season, your position will inevitably change. So, possessing the freedom to adjust your position over the front of the bike is essential to...
Zipp Vuka Extensions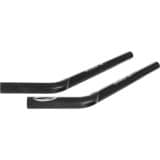 Retail Price:
$130.00
Our Price: $104.00
buy now
Zipp's Vuka Extensions are an integral part of the Zipp aerodynamic bar system, as they were designed to give you the perfect balance of comfort, control, and efficient aerodynamics during your race against the clock. Zipp engineered four styles of the Vuka Extensions, giving you an array of...
Zipp Vukabull Carbon Base Bar
The Zipp Vukabull Carbon Base Bar is not only the result of aerodynamic testing and weight-saving efforts, it's also the result of Zipp talking to its users to get a better idea of what people actually want. The end product is aerodynamic, incredibly lightweight, and comfortable. The Vukabull...
<< Prev | Back | 11 | 12 | 13 | 14 | More | Next >>