Handlebars - Road Bike Shop
Shop
>
Components
>
Forks, Cockpit, Pedals
>
Handlebars
3T Ergonova Team Stealth Handlebar
The 3T Ergonova Team Stealth Handlebar was designed with compact drops and a shorter reach to provide a comfy yet race-worthy ride for any type of rider. The Stealth version takes all the attributes of the Ergonova Team and packages them up in a sleek, monochromatic finish. The Ergonova Team...
3T Ergosum Limited Handlebar
Retail Price:
$399.95
Our Price: $299.99
buy now
The 3T Ergosum Limited Handlebar is constructed using high-modulus carbon fiber for the ultimate in stiffness while still maintaining its place as one of the lightest handlebars on the market. Similar to its sibling, the Ergonova LTD, the Ergosum features a shallow drop, but utilizes the...
3T Ergosum Pro Handlebar
Retail Price:
$109.95
Our Price: $88.00
buy now
Regardless of how much or how little time you like to spend in the drops, roadies who use integrated shifters can now attach them to the 3T Ergosum Pro Handlebar and easily adjust its reach and angle for a comfortable ride. This shallow drop bar's narrow radius was designed to fit brake-shift...
3T Ergosum Pro Handlebar
3T's Ergosum Pro Handlebar returns with the same design tweaks that fit your body rather than forcing your body to adapt to it. Instead of a rounded curve, the drops describe two flattened lengths connected at rounded angles. These flat areas provide two definite platforms for you to anchor your...
3T Ergosum Team Carbon Handlebar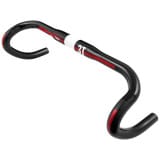 Retail Price:
$300.00
Our Price: $194.99
buy now
50 years is a long time to be building handlebars, and despite the fact that 3T has since passed that mark, its Ergosum Team Carbon Handlebar proves that the brand is committed to progress. Featuring 3T's wildly popular long reach/shallow drop shape, this handlebar blends classic good looks with...
3T Exsero Pro Handlebar
Retail Price:
$74.95
Our Price: $29.50
buy now
Sure, 3T designs some of the most lauded carbon handlebars around. But, sometimes you don't want to break the bank every time you buy a new component for your prized steed. The Exsero Pro Handlebar is the perfect addition to your mountain bike, with all the design features of the Exsero Team...
3T Extendo Team Carbon Handlebar
Retail Price:
$144.95
Our Price: $57.99
buy now
The ultra-wide 3T Extendo Team Carbon Handlebar will give you the leverage needed for trail-owning control. A 12-degree rearward sweep and eccentric-to-central-clamping bar outer sections allow you to easily find a wrist-friendly position that'll reduce fatigue--and further enhance control.
3T Flat LTD Handlebar
The 3T Flat LTD Handlebar was designed with a multi-faceted rider in mind. Technical cross-country one day, light enduro the next weekend, with a bit of single track and a marathon racing thrown in the mix for fun. With 3T's commitment to safety and testing, drawing from protocols that meet...
3T Flat Pro Handlebar
Finding the right handlebars is a little bit like ordering off the 1000-item menu at that Tex-Mex joint down the street -- you might not figure out what you like best until you've tried everything. Knowing what you're looking for helps, though, and if you're a rider who crushes XC, all-mountain,...
3T Flat Team Handlebar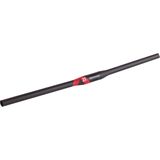 Unfortunately, finding the right handlebars is largely a process of trial and error, but if you're a rider who likes to tackle a little bit of everything -- fast XC rides, all-mountain explorations, races, and some technical downhills -- the 3T Flat Team Handlebar might save you some time, money,...
<< Prev | Back | 1 | 2 | 3 | 4 | 5 | 6 | 7 | 8 | 9 | 10 | More | Next >>