Handlebars - Road Bike Shop
Shop
>
Components
>
Forks, Cockpit, Pedals
>
Handlebars
3T Ergosum Pro Handlebar
Retail Price:
$109.95
Our Price: $88.00
buy now
Regardless of how much or how little time you like to spend in the drops, roadies who use integrated shifters can now attach them to the 3T Ergosum Pro Handlebar and easily adjust its reach and angle for a comfortable ride. This shallow drop bar's narrow radius was designed to fit brake-shift...
3T Ergosum Team Handlebar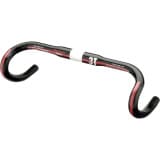 Retail Price:
$349.99
Our Price: $204.00
buy now
3T designed the Ergosum Team Handlebar with greater reach and shallower drop than most traditional handlebars. With races spending more time on their brake hoods, this shape is becoming increasingly popular. The Ergosum is compatible with most clip-ons, and simplifies adjusting the brake angle...
3T Ergosum Team Handlebar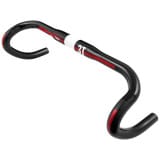 Retail Price:
$300.00
Our Price: $240.00
buy now
50 years is a long time to be building handlebars, and despite the fact that 3T has since passed that mark, its Ergosum Team Handlebar proves that the brand is committed to progress. Featuring 3T's wildly popular long reach/shallow drop shape, this handlebar blends classic good looks with modern...
3T Eryx LTD Handlebar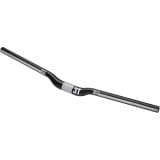 Retail Price:
$149.95
Our Price: $139.99
buy now
3T has long been in the business of making innovative handlebars, staking their claim to the market in the early 1960's. That tradition continues today, though steel and alloy have fallen out of favor for their top-end products. 3T makes their top-of-the-line Eryx LTD Carbon Handlebar with high...
3T Exsero Team Handlebar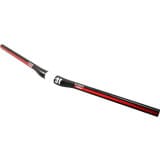 Retail Price:
$154.95
Our Price: $72.99
buy now
The wizardry of carbon fiber never ceases to amaze us. When designers started making frames, we gasped. Then wheels, even saddles appeared. Now, through development and research that rivals the aerospace industry, 3T has created a carbon handlebar -- for mountain biking the roughest trails out...
3T Extendo Team Handlebar
Retail Price:
$144.95
Our Price: $69.99
buy now
The ultra-wide 3T Extendo Team Handlebar will give you the leverage needed for trail-owning control. A 12-degree rearward sweep and eccentric-to-central-clamping bar outer sections allow you to easily find a wrist-friendly position that'll reduce fatigue--and further enhance control.
3T Mistral Pro Aerobar
The 3T Mistral Aerobar offers up a serious aerodynamic advantage and a nice surprise in its flexibility to match yours, or otherwise. The Mistral has a total of 16 possible forearm positions and allows lateral and angular adjustment at the elbow base pads. It's fully UCI-compliant, so it can be...
3T Rotundo Limited Handlebars
Retail Price:
$399.95
Our Price: $240.00
buy now
There's a reason why, even with all the ergonomic developments of shaped handlebars, the classic, enduring bend of the 3T Rotundo Limited bars will always appeal to many of us two-wheel enthusiasts. Not only is it a classic aesthetic, but it also allows for individualized preference of hand...
3T Rotundo Team Handlebar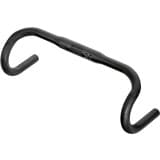 Retail Price:
$349.95
Our Price: $164.95
buy now
The 3T Rotundo Team Carbon handlebar is the bar that the Schleck brothers manhandled at the Tour, the Olympics, and countless other races in 2008. To the championship of Luxembourg, to the yellow jersey, to the white jersey, and more. While CSC-Saxo Bank director Bjarne Riis was probably most...
3T Rotundo Team Handlebar
Retail Price:
$300.00
Our Price: $209.95
buy now
Simple, classic, and elegant are the first words that come to mind when we think of 3T. Unlike so many others out there that are attempting to branch into unknown territory, 3T sticks with what it does best -- making beautiful componentry that works. Such is the case with the Rotundo Team...
<< Prev | Back | 1 | 2 | 3 | 4 | 5 | 6 | 7 | 8 | 9 | 10 | More | Next >>