Handlebars - Road Bike Shop
Shop
>
Components
>
Forks, Cockpit, Pedals
>
Handlebars
3T Ergonova Pro Handlebar
Retail Price:
$119.95
Our Price: $109.99
buy now
Aluminum tubing has come a long way since the days when you could only get it in three shapes: round, round, or round. With the ability to shape aluminum tubing just about any way they want, bicycle component manufacturers can shape aluminum to do amazing things, like reducing fatigue after hours...
3T Ergonova Team Handlebar
Retail Price:
$349.95
Our Price: $332.99
buy now
The Ergonova Team Handlebar isn't the most luxury-priced piece of kit in 3T's line, but it may be the most common handlebar at the start line of most local races and criteriums. The reason for its widespread appeal is rooted in its carbon construction, which follows the same lines as the more...
3T Ergonova Team Stealth Handlebar
Retail Price:
$369.95
Our Price: $258.99
buy now
Wanting to be comfortable when you're out on your annual Fourth of July loop with your ride crew doesn't have to come at the expense of being able to stay with the pack when the wind picks up. If classic or aero race bars are giving you numb hands or aching shoulders, plenty of other options...
3T Ergosum Pro Handlebar
3T's Ergosum Pro Handlebar returns with the same design tweaks that fit your body rather than forcing your body to adapt to it. Instead of a rounded curve, the drops describe two flattened lengths connected at rounded angles. These flat areas provide two definite platforms for you to anchor your...
3T Ergosum Team Stealth Handlebar
The angled length of the 3T Ergosum Team Stealth Handlebar's drops may once have been a novelty, but they're no longer a rare sight in the peloton or the bike shop. The rise of the ergonomic drop began with the trend of ever more aggressive stack heights: as the bars got lower, the riders began...
3T Flat Team Handlebar - Stealth
Handlebar fitting is a science the same way alchemy is a science, which can make it hard to find the perfect bars for your riding style, but if you're a rider who likes to tackle a little bit of everything -- fast XC rides, all-mountain explorations, races, and some technical downhills -- the 3T...
3T Riser LTD Handlebar
The 3T Riser LTD Handlebar was designed with a multi-purpose rider in mind. Cross-country one week, singletrack and a marathon race the next week, and then on to a weekend of light enduro, this handlebar will steer you through it all. With 3T's commitment to safety and testing, drawing from...
3T Rotundo LTD Handlebar
The 3T Rotundo LTD Handlebar was designed for riders who prefer an old-school, round drop handlebar, but also want all the modern advantages of a carbon fiber bar. 3T combined classic design with its industry-leading carbon fiber technology to create a bar meant to conquer any road situation. The...
3T Rotundo Pro Handlebar
Workhorse, bombproof -- few words feel as beaten to death across the industry when describing kit. The truth is that these words often translate to: not carbon. While applying the "not carbon" label to 3T's Rotundo Pro Handlebar is not technically fallacious, it is an act of gross underestimation...
3T Rotundo Team Stealth Handlebar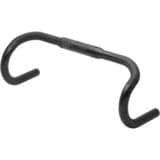 3T designed the Rotundo Team Stealth Handlebar for those of us who prefer a traditional round drop handlebar, yet also want all the modern advantages of carbon fiber. Pairing classic design with 3T's industry-leading carbon fiber technology, this bar hits the mark to tackle any road-race scenario...
<< Prev | Back | 1 | 2 | 3 | 4 | 5 | 6 | 7 | 8 | 9 | 10 | More | Next >>