Handlebar Tape - Road Bike Shop
Shop
>
Components
>
Forks, Cockpit, Pedals
>
Handlebar Tape
Arundel Cork Bar Tape
While we don't doubt that 20 years from now we'll be riding 6lb bikes with telepathic shifting and hydraulic braking, we're fairly sure we'll still rely on cork handlebar tape. Cork is just thick enough to absorb a bit of road shock; it's just tacky enough so your sweaty hands won't slip when you...
Arundel Gecko Bar Tape
The Arundel Gecko Bar Tape offers you a low-profile, confident grip in any condition. Arundel uses a polyurethane/EVA foam sandwich construction that is around 2mm at its thickest and tapers toward the edges. The Gecko's dimpled surface is durable and will give you a steady hold, even in wet...
Arundel Rubber Gecko Black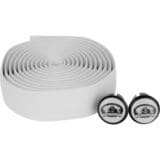 The tape on your bars is peeling, and it's no longer quite the same color as what you originally bought. Clean up the look of your frame with Arundel's Rubber Gecko Black bar tape. Like the lizard it's named for, this tape is grippy. Unlike its namesake, the tape is made with EVA foam and...
Cinelli Cork Tape
Retail Price:
$14.95
Our Price: $11.99
buy now
Cinelli Cork Tape has been a classic to wrap handlebars for years because of its anti-slip properties and natural absorption of sweat. So, put a little extra love into your bike with the rainbow of colors Cinelli features. The tape has an adhesive backing to make for easy installation.
Cinelli Gel Cork
Retail Price:
$21.95
Our Price: $15.99
buy now
Few products have stood the test of time like Cinelli Cork bar tape. That goes double for products within the bike industry. Cinelli Gel Cork Tape is just your old favorite with a thin layer of gel to absorb road shock and vibration.
Deda Elementi Fluorescent Bar Tape
Whether your aim is that of safety, pushing the buttons of good taste, or replicating Vini Fantini in any way possible, the Deda Elementi Fluorescent Bar Tape will achieve your objective. And aside from looks, this bar tape features the best that Deda has to offer. It's been constructed from its...
Deda Elementi Padded Foam Bar Tape
Retail Price:
$11.99
Our Price: $7.99
buy now
Cinelli Cork tape was the standard for ages until Deda came along and built a better mousetrap. We love what Deda does with their Foam handlebar tape because it has just a kiss more cush than cork, without being as cloying chunky as Fizik bar gel. For almost all rides and almost all circumstances...
Easton Microfiber Handlebar Tape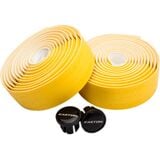 Whether you're putting the finishing touches on your custom new build, or it's just time to show your trusty machine a little love, Easton's new Microfiber Handlebar Tape is just what the home mechanic ordered. The redesigned Microfiber Handlebar tape effectively minimizes road vibration through...
ESI Grips RCT Wrap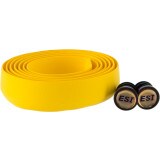 For riders of ESI's famous mountain bike grips, there is no substitute. Now, the ESI RCT Wrap translates the company's 100% silicone, lightweight, shock-absorbing grips into durable, stretchable, reversible, super-tacky handlebar tape for your cyclocross, road, touring, or triathlon excursions....
Fi'zi:k Endurance Bar Tape
Retail Price:
$29.95
Our Price: $23.96
buy now
Starting a new season with fresh new bar tape is a little luxury that you shouldn't deny yourself. Fizik's Endurance Bar Tape is a classic choice, featuring durable, 2. 5mm thick Microtex to withstand all of the weather -- and more importantly, the sweat -- it's subjected to throughout your rides...
<< Prev | 1 | 2 | Next >>