Grips - Road Bike Shop
Shop
>
Components
>
Forks, Cockpit, Pedals
>
Grips
Deity Components Knuckleduster Grip
Setting a new standard for grip design, the Deity Knuckleduster Grip manages to maximize both grip and comfort so you get the best of both worlds. It sports an ergonomic design to help you hold on more securely and comfortably, and the tapered inner sleeve ensures solid contact with the handlebar...
Deity Components Waypoint Grip
Often utilized, but rarely maximized, diamond-pattern grips suffered from stale design--at least until Deity came along with the Waypoint Grip. A smart tapered internal sleeve eliminates play for a solid feel, and the TRC rubber compound offers an amazingly comfortable feel right out of the...
Ergon GA1 Evo Grips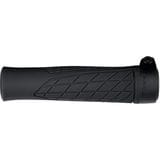 Retail Price:
$24.95
Our Price: $19.99
buy now
Designed for all-mountain and gravity-oriented disciplines, the Ergon GA1 Evo Grips feature a rounder, more traditional profile. The shape is subtler, than Ergon's other grips, yet they still feature a position- and hand-specific design. For function, the grips have been contoured for easy...
Ergon GE1 Grips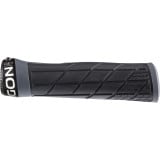 Retail Price:
$34.95
Our Price: $28.94
buy now
Whether you want a pop of bright color or a more muted approach, the Ergon GE1 Grips provide a traditional grip style with an ever so slightly sculpted angle for a comfy, controlled flight down the trail.
Ergon GP1 Grip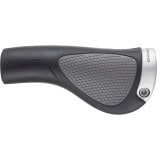 Retail Price:
$30.00
Our Price: $24.99
buy now
The Ergon GP1 grip is a great starting point for an exploration of Ergon's wares. The grip has two kinds of rubber, a harder rubber on the outside and a soft, patterned and textured Kraton rubber pad that both grips the hand or glove and offers great support. Each grip is held in place by a...
Ergon GS1 Grip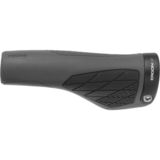 Ergon counts its GS series grips as its premium endurance race model. This isn't a stretch considering it's been ridden to multiple world and national championships. With a palatable price, the GS1 has a relatively simple design, the key features of which are two internal supports built into the...
Ergon GS2 Grip
Bar ends may not be all that popular anymore, but there is definitely something to be said for having a grip that allows multiple hand positions. Ergon's GS2 Grip has a small, composite three-finger 'hook' that provides additional hand positions and control when climbing out of the saddle without...
Ergon GS3 Grip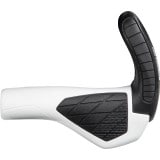 Retail Price:
$59.95
Our Price: $57.16
buy now
Ergon's grips were developed to reduce pressure on your hands, namely your ulnar nerve which, in turn, helps to mitigate numbness from long stretches in the saddle. The GS3 grip is the ideal compromise between its lightweight GX race grips and its plusher GP series grips. The GS grips are a...
Ergon GX1 Grips
Technical XC racing calls for low-profile grips that will work with you, not against you, in situations where small mistakes cost significant time. Ergon understands this well, and the company engineered its GX1 Grips with fast grip changes that leave little room for slipping around on the bars...
ESI Grips Chunky Mountain Bike Grip
Retail Price:
$19.00
Our Price: $15.10
buy now
The ESI Chunky Mountain Bike Grip delivers you a cush ride with excellent control in all conditions. The Chunky is constructed with ultra-grippy silicone, which not only secures your hold but also does a superb job of absorbing vibration. The silicone also gives you a custom fit by molding to the...
<< Prev | 1 | 2 | 3 | 4 | Next >>