Grips - Road Bike Shop
Shop
>
Components
>
Forks, Cockpit, Pedals
>
Grips
Ergon GS2 Carbon Grip - Leichtbau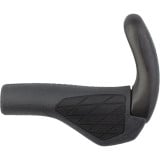 Retail Price:
$99.95
Our Price: $66.00
buy now
Ergon's GS2 Leichtbau Carbon Grip employs a shape that falls right in-between the classic GP and GX series, offering a shape that works to reduce pressure on your Ulnar nerves and to ease wrist strain while retaining the lightweight characteristic of the GX1. It differs from the GS1 in that it...
Ergon GS2 Grip
Bar ends may not be all that popular anymore, but there is definitely something to be said for having a grip that allows multiple hand positions. Ergon's GS2 Grip has a small, composite three-finger 'hook' that provides additional hand positions and control when climbing out of the saddle without...
Ergon GS3 Carbon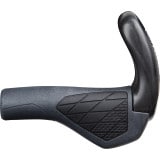 The Ergon GS3 Carbon bar ends are about comfort and performance, the two pillars of a successful day on the bike. Made from glass-reinforced plastic, the main body of the grip is very light while special rubber inserts elegantly form the bar ends. Rubber inlays improve the grip and comfort. You...
Ergon GS3 Grip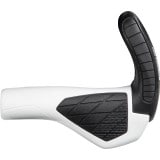 Ergon's grips were developed to reduce pressure on your hands, namely your ulnar nerve which, in turn, helps to mitigate numbness from long stretches in the saddle. The GS3 grip is the ideal compromise between its lightweight GX race grips and its plusher GP series grips. The GS grips are a...
ESI Grips Chunky Mountain Bike Grip
Not long ago, the ESI Chunky Mountain Bike Grips were a well-kept secret of elite endurance racers. But, the secret is out, and you're now able to experience the smooth ride and all-conditions control that these silicone wonder-grips have become so well known for. ESI's grips are built from...
ESI Grips Racer's Edge Mountain Bike Grip
The seemingly magical properties of silicone grips have made them popular items in endurance racing circles, and you're able to thank ESI for starting the trend. With the Racer's Edge Grips, ESI has brought that smooth ride and all-conditions control to those of us who prefer thinner grips. ESI's...
Juliana Lock-On Grips
Like the bikes, Juliana's Lock-On Grips were developed with the needs of more petite riders in mind, and are only compatible with Juliana handlebars. This means the grips have a smaller diameter so female riders can wrap their hands around them. This, however, does not come with a sacrifice in...
Lizard Skins Aaron Chase Signature Grip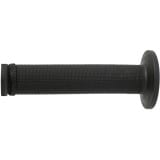 Install a fresh set of Lizard Skin Aaron Chase Signature Grips on your gravity-defying tiny dancer and shred dirt jumps with no-nonsense dexterity.
Lizard Skins Bearclaw Lock-On Grip
Your helmet cam is on, your heart is pounding, and your friends are cheering you on. You picked your line and you're going for it with confidence. Down the trail, you make it through the first sharp berm, no problem. You make it over the teeter totter, and now you're pushing it to get up off the...
Lizard Skins Charger Lock-On Grip
When you ride a lot, your grips continually and silently deteriorate--until you're left with minimal cush, and max pain. Install the Lizard Skins Charger Lock-On Grip and restore your bike's cockpit to a paw-pleasing state.
<< Prev | 1 | 2 | 3 | 4 | Next >>