Grips - Road Bike Shop
Shop
>
Components
>
Forks, Cockpit, Pedals
>
Grips
Lizard Skins Aaron Chase Signature Grip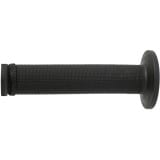 Install a fresh set of Lizard Skin Aaron Chase Signature Grips on your gravity-defying tiny dancer and shred dirt jumps with no-nonsense dexterity.
Lizard Skins Bearclaw Lock-On Grip
Your helmet cam is on, your heart is pounding, and your friends are cheering you on. You picked your line and you're going for it with confidence. Down the trail, you make it through the first sharp berm, no problem. You make it over the teeter totter, and now you're pushing it to get up off the...
Lizard Skins Charger Lock-On Grip
When you ride a lot, your grips continually and silently deteriorate--until you're left with minimal cush, and max pain. Install the Lizard Skins Charger Lock-On Grip and restore your bike's cockpit to a paw-pleasing state.
Lizard Skins DSP Grip 30.3mm
Lock-on grips rewrote the book on attaching mountain bike grips to handlebars, but they have drawbacks. One of which is weight, the other is unequal pinching from the clamps. And, in this day and age of fragile carbon bars, that can create serious problems down the road. Lizard Skins, however,...
Lizard Skins Logo Lock-On Grip
Grip the Lizard Skins Logo Lock-on soft gel exterior and rip it. The security of a stiff, twist-free plastic inner and aluminum clamps let you ride without loose, throttle-twisting grips.
Lizard Skins Moab Grip
If you've ridden in Moab, you know that its particular brand of slickrock can make you feel like you've aged 20 years in an afternoon. It's nice to have a little extra cushion while riding there, especially for your hands. The Lizard Skins Moab Grip provides the little bit of extra cushion and...
Lizard Skins Moab Lock-On Grip
Inspired by the Delicate Arch, a famous rock formation near Moab, Utah, the Lizard Skins Moab Grip is a usable tribute to one of the great meccas and birth-places of modern mountain biking. Since mountain biking's beginning, the trails of Moab have allowed us to push our bikes, bodies, and...
Lizard Skins Northshore Lock-On Grip
Great for riders with larger hands or those who prefer larger diameter, cushy grips, Lizard Skins' Northshore Grips fit the bill. The textured design is styled to resemble wooden planking and stones -- just what we love about the trails on the North Shore. They work great with or without gloves....
Lizard Skins Peaty Lock-On Cheers Grip
Install the comfy Lizard Skins Peaty Lock-On Cheers Grip and roll with a non-slip, dampening, and secure grip.
Lizard Skins Single Compound 494 Grips
If you're looking for simplicity and durability in your grips, the Lizard Skin Single Compound 494 Grips are your basic do-it-all solution. Made with the same quality that's made Lizard Skins a known quantity, the 494 Grips are the non-locking, git-er-done compliment to your trail bike. If you...
<< Prev | 1 | 2 | 3 | Next >>