Forks - Road Bike Shop
Shop
>
Components
>
Forks, Cockpit, Pedals
>
Forks
RockShox Reba RL - Solo Air 100 29in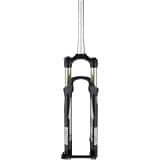 While it's neither the lightest fork on the market, nor is it intended for truly extreme uses, we've got to admit, we really like the Reba. That's because it's proven itself as a stiff, durable fork that doesn't require undue maintenance or taking out a second mortgage. So if your short travel or...
RockShox RS-1 120mm 29in Fork with X-Loc Remote
We're guilty of using the "turning the suspension world upside down" line more than once in discussion of RockShox's revolutionary new RS-1 fork platform. Why? Because the new XC/trail-focused fork is just that: an inverted, motorcycle-style fork chassis that utilizes cutting edge technology to...
RockShox RS-1 ACS - Solo Air 100 29in with XLoc Remote
It'll get glances on the trail. And, you'll probably be asked your fair share of questions about it. The RockShox RS-1 ACS - Solo Air 100 29in with XLoc Remote is a thing of beauty, and wonder. The decision to manufacture the fork as part of a fork/wheel system, dubbed "Predictive Steering," lent...
RockShox SID RCT3 Solo Air 120 Maxle Lite15 - 29in
We'll never forget the first time that we laid eyes on the original RockShox SID. The electric blue beauty screamed speed, a fact only bolstered by its presence on the bikes of the fastest XC racers of the day. And while the SID RCT3 Solo Air 120 MaxleLite15 29-inch fork has shed its blue hue,...
RockShox SID XX - Solo Air 100 27.5" MaxleLite15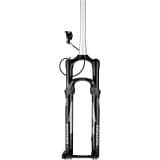 The RockShox SID XX forks are known to be particularly light, and yet that's only part of what makes them a weapon of choice for cross-country racers seeking the podium. The SID platform is also tough enough to be sought by gram-counting trail-rippers, too, so it's an easy go-to for riders...
RockShox SID XX World Cup Fork - Solo Air 100 29in MaxleLite15
RockShox's World Cup products are the peak of SRAM's research and design efforts, featuring race-driven technology and designs. Answering the needs of XC race bikes, the 100mm-travel SID XX World Cup Solo Air 29in with MaxleLite15 tips the scales just a few ounces over 3lbs. But weight is only...
RockyMounts Drive Shaft Thru-Axle Bike Rack Adapter
Is there a greater concern when roof-racking a bike than the fear of someone walking by your car and lifting your steed as you enjoy some post-ride grub? You can't always park in front of the windows. That's why they make lockable roof racks. However, until now you haven't been able to secure...
Topeak Pocket Shock DXG Fork & Shock Pump
Topeak doesn't make shocks, but they make lots of smartly-designed pumps that accomplish a variety of tasks. The Topeak Pocket Shock DXG with Dial Gauge is their dee-luxe shock pressurizer. There is a 300psi gauge sitting atop an aluminum barrel. Attached to the carbon-faced gauge (high on style)...
<< Prev | 1 | 2 | 3 | 4 | 5 | 6 | Next >>