Forks - Road Bike Shop
Shop
>
Components
>
Forks, Cockpit, Pedals
>
Forks
FOX Racing Shox 40 Float 27.5 203 HSC/LSC FIT Fork - 2016
Believe it or not, you have something in common with names like Atherton and Carpenter, and it's not (just) injuries from bailing. With the 40 Float 27. 5 203 HSC/LSC FIT Fork, FOX Racing Shox puts the fork that precedes the rainbow stripes of the current DH world champions into the hands of the...
FOX Racing Shox Dust Wiper Kit
The Fox Dust Wiper Kit works with Fox's ultra-smooth Kashima coating to make Fox forks some of the smoothest-functioning in the industry. Unfortunately, dirt can eventually cause the seals to leak and will need to be replaced when the fork is overhauled. Fox partnered with legendary seal...
FOX Racing Shox Float Air Seal Kit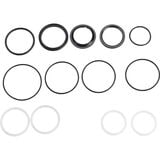 Keep your Fox Float shocks working like new by servicing them with the Fox Float Air Seal Kit. It comes with a bundle of seals and bushings to fit all types of Float shocks, along with a pack of fluid for lubrication.
FOX Racing Shox Suspension Fluid - 32oz.
For proper maintenance of your Fox Suspension products, we strongly recommend using Fox Suspension Fluids. Three versions are currently available (although the green stuff is now discontinued and will soon disappear): The 10-weight Red Fluid is a damping fluid only, to be used in all FIT dampers,...
FOX Racing Shox Travel Spacer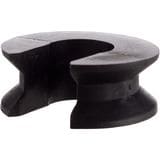 Install the Fox Racing travel spacer in your Fox Vanilla or Float series fork to adjust travel. You can tighten up your fork for cross-country riding without disturbing your bike's geometry.
Magura USA TS8 R27.5in 120 eLECT Fork
Retail Price:
$1400.00
Our Price: $840.00
buy now
Over the years, a few manufacturers have toyed with the idea of incorporating electronic adjustment systems into suspension forks, with mixed success. After countless hours of lab and real-world testing, however, the German engineers have bestowed upon us an electronic fork platform we're proud...
Magura USA TS8 R29" 120 eLECT Fork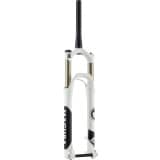 Retail Price:
$1400.00
Our Price: $799.99
buy now
Magura's TS8 R29" 120 eLECT Fork, uses 3D-Sensors, wireless technology, and a modern control module to instantly adapt this 120mm-travel fork to riding conditions. The eLECT technology runs on a modern lithium battery that'll last 40 hours in automatic mode, and it's stretchable to 60 hours in...
Niner Carbon Rigid Fork
We've had a bit of a gear crush on Niner's Carbon Rigid Fork ever since it was first introduced. That's because it's insanely stiff and lightweight, removing the handicap of squishy, heavy forks that often just serve to slow our 29ers down. Its carbon is laid up in a monocoque mold, which means...
Niner RDO Carbon Rigid Fork
A tough, rigid thru-axle is just one of the upgrades that Niner offers on its RDO Carbon Rigid Fork, along with a strong, light, and responsive tapered head tube that'll let you rally through trails without worrying about collapsing your fork or feeling out of control. Big wheels, high speeds,...
RockShox Pike Full Service Kit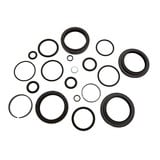 The RockShox Pike Full Service Kit has a replacement damper cartridge and all replacement seals for your Pike fork. Don't start a rebuild without it. Please let us know if you have any questions about rebuilding your Pike fork, and for your safety, be sure to have a qualified mechanic either...
<< Prev | 1 | 2 | 3 | 4 | 5 | 6 | 7 | 8 | Next >>