Forks - Road Bike Shop
Shop
>
Components
>
Forks, Cockpit, Pedals
>
Forks
FOX Racing Shox 40 FLOAT 26 203 RC2 FIT Fork - 2015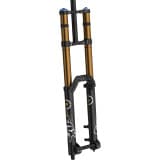 Retail Price:
$1700.00
Our Price: $1360.00
buy now
Slap the name "FOX" on the lowers of any dual-crown fork, and you've got the attention of any hardcore downhill or gravity rider. Why? Because the name means no-holds-barred performance and durability, and its heavy-duty dual-crown models are some of the winningest downhill forks of all time. FOX...
FOX Racing Shox 40 R 26in
Retail Price:
$1250.00
Our Price: $1000.00
buy now
While the tech-fiend in us is drawn to Fox's air sprung 40 Float RC2 wonder-fork, we realize that the majority of downhill mountain bikers prefer their suspension to be simple and effective. If that sounds like you, allow us to introduce you to the Fox 40 R. It sees an all-new chassis that drops...
FOX Racing Shox Dust Wiper Kit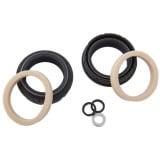 Fox partnered with legendary seal maker SKF to develop their low-friction fork seals. This Fox Dust Wiper Kit is standard equipment on current Fox Forks, and these seals are what give them such a buttery smooth feel along with the Kashima Coat. Forks are one of those things that get taken for...
FOX Racing Shox Float Air Seal Kit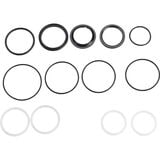 Keep your Fox Float shocks working like new by servicing them with the Fox Float Air Seal Kit. It comes with a bundle of seals and bushings to fit all types of Float shocks, along with a pack of fluid for lubrication.
FOX Racing Shox Travel Spacer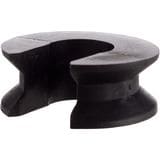 Install the Fox Racing travel spacer in your Fox Vanilla or Float series fork to adjust travel. You can tighten up your fork for cross-country riding without disturbing your bike's geometry.
Magura USA TS8 R27.5in 120 eLECT Fork
Retail Price:
$1400.00
Our Price: $840.00
buy now
Over the years, a few manufacturers have toyed with the idea of incorporating electronic adjustment systems into suspension forks, with mixed success. After countless hours of lab and real-world testing, however, the German engineers have bestowed upon us an electronic fork platform we're proud...
Niner RDO Carbon Rigid Fork
Mountain bikers are quickly learning that traditional quick-release skewers are better suited for barbequing than holding your front wheel on the bike. The same can be said for 1-1/8in head tube standards; they're great if you plan on riding rail trails, but if you're a mountain ripper and seek...
RockShox Pike RCT3 - 26" 150mm SoloAir
Retail Price:
$980.00
Our Price: $799.00
buy now
Unlike the Lyric, Rock Shox's Pike does not have a coil option, and this RCT3 150mm Solo Air 26in model's stroke tops out right where the Lyric starts. The forks do share large 35mm sanctions, however, so you can expect the light and tough Pike to play nicely on any aggressive trail. And, with...
RockShox Pike RCT3 - 27.5in 160mm - MaxleLite15 Dual Position Air
Retail Price:
$1085.00
Our Price: $803.95
buy now
The Pike has had an illustrious life to date as an all-mountain demolisher, but the new RockShox Pike RCT3 Dual Position Air makes gives it even more range to maximize speed across virtually all terrains and grades. The 35 millimeter stanchions, forged 7075 crown, and magnesium lowers are...
RockShox Pike RCT3 - 27.5in 160mm MaxleLite15 Solo Air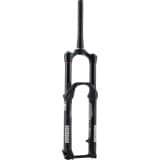 Retail Price:
$1085.00
Our Price: $799.95
buy now
While the original Pike was built on a reinforced long-travel cross-country platform, the newly redesigned Pike was conceived from the axle up to be the ultimate all-mountain fork -- something RockShox only saw as possible with a dedicated platform. A pair of 35mm stanchions, bound by a forged...
<< Prev | 1 | 2 | 3 | 4 | Next >>