Forks - Road Bike Shop
Shop
>
Components
>
Forks, Cockpit, Pedals
>
Forks
FOX Racing Shox 36 FLOAT 29 140 RC2 FIT Fork - 2015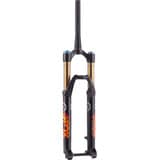 Few elements of the ever-evolving mountain bike industry seem as fickle as forks. It seems that every two or three years, a new generation of super performers appears, relegating the previous models to the dust bin. FOX's 36 FLOAT 29 140 RC2 is the latest addition to this army of usurpers;...
FOX Racing Shox 36 FLOAT 29 160 RC2 FIT Fork - 2015
The idea of a big-wheeled bike boasting big travel is daunting for many riders, let alone the engineers who have to build them. All that wheel diameter and suspension travel, if poorly calibrated, can lead to a wobbly, clumsy bike, which is why we can gladly recommend the 2015 36 FLOAT 29 160 RC2...
FOX Racing Shox 36 TALAS 27.5 160 RC2 FIT Fork - 2015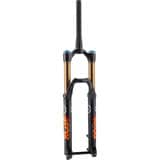 FOX has had some very stiff competition recently in the suspension world (no pun intended). Not happy to concede its well-earned market share, the company has completely revamped its heavy-duty 36mm-stanchion lineup for 2015, and the 2015 FOX 36 TALAS 27. 5 160 RC2 FIT Fork is a great example of...
FOX Racing Shox 40 FLOAT 26 203 RC2 FIT Fork - 2015
Slap the name "FOX" on the lowers of any dual-crown fork, and you've got the attention of any hardcore downhill or gravity rider. Why? Because the name means no-holds-barred performance and durability, and its heavy-duty dual-crown models are some of the winningest downhill forks of all time. FOX...
FOX Racing Shox 40 Float 27.5 203 RC2 FIT Fork - 2015
In the age of 27. 5 inch wheeled downhill bikes, the 2015 FOX 40 Float 27. 5 RC2 FIT fork has already won World Cups, and it's not done yet. Built with a longer dropout offset and larger tire clearance to accommodate for a larger wheel, this is a truly elite suspension product that can be fully...
FOX Racing Shox 40 R 26in
While the tech-fiend in us is drawn to Fox's air sprung 40 Float RC2 wonder-fork, we realize that the majority of downhill mountain bikers prefer their suspension to be simple and effective. If that sounds like you, allow us to introduce you to the Fox 40 R. It sees an all-new chassis that drops...
FOX Racing Shox Dust Wiper Kit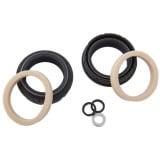 Fox partnered with legendary seal maker SKF to develop their low-friction fork seals. This Fox Dust Wiper Kit is standard equipment on current Fox Forks, and these seals are what give them such a buttery smooth feel along with the Kashima Coat. Forks are one of those things that get taken for...
Magura USA TS8 R27.5in 120 eLECT Fork
Retail Price:
$1400.00
Our Price: $840.00
buy now
Over the years, a few manufacturers have toyed with the idea of incorporating electronic adjustment systems into suspension forks, with mixed success. After countless hours of lab and real-world testing, however, the German engineers have bestowed upon us an electronic fork platform we're proud...
Magura USA TS8 R27.5in 120 Fork
Retail Price:
$900.00
Our Price: $539.99
buy now
The right balance of features, wheel size, and travel positions Magura's TS8 R27. 5in 120 Fork as a perfect match to modern mountain bike frames. Throughout its 120mm of travel, Magura uses updated bushing and seal designs for plush action, resulting in more control and comfort. And, to ensure...
Magura USA TS8 R29" 120 eLECT Fork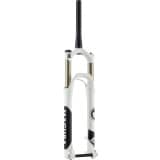 Retail Price:
$1400.00
Our Price: $799.99
buy now
Magura's TS8 R29" 120 eLECT Fork, uses 3D-Sensors, wireless technology, and a modern control module to instantly adapt this 120mm-travel fork to riding conditions. The eLECT technology runs on a modern lithium battery that'll last 40 hours in automatic mode, and it's stretchable to 60 hours in...
<< Prev | 1 | 2 | 3 | 4 | 5 | Next >>