Shifters - Road Bike Shop
Shop
>
Components
>
Drivetrain, Brakes
>
Shifters
SRAM X0 3x10 Trigger Shifter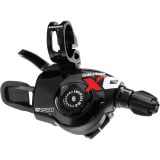 The SRAM X0 3x10 Trigger Shifter is specifically designed for triple compatible front derailleurs and cranks. The lever position can be adjusted for finger length or push preference. They're also Matchmaker-X compatible if you appreciate a clean handlebar arrangement. SRAM's Exact Actuation...
SRAM X0 Silver 2x10 Grip Shifters
Retail Price:
$225.00
Our Price: $210.00
buy now
Famous for their low weight, ability to shift multiple gears at once, and dependability, SRAM's twist shifters created a stir when first introduced, and were essential to the company's early success. Those positive traits and vibrant history continue with the introduction of the X0 Silver 2x10...
SRAM X0 Silver 3x10 Grip Shifters
Retail Price:
$225.00
Our Price: $157.50
buy now
Having thirty gears to choose from has its advantages; namely, the perfect ratio for any situation. Getting to that gear, however, can take awhile with trigger shifters -- it takes multiple pushes of a selector to find the right gear. The SRAM XO Silver Grip Shifters quickly gets you to the right...
SRAM X0 Trigger Shifters
This X0 Silver Trigger Shifter Set is specifically designed to shift a triple compatible front derailleur across three chainrings as well as affect 10-speed gear changes out back. It's made just like the standard X0 set, save for the polished aluminum finish on the top cover that reminds us of...
SRAM X01 Grip Shifter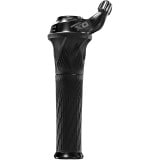 SRAM built an empire by starting with its iconic Grip Shift. So, we breathed a collective sigh of relief when the component giant announced that it was offering a X01 Grip Shift for its latest generation of 1x11 drivetrains. This means that die hard twist shift fans will have the same fast shifts...
SRAM X01 Trigger Shifter
Durable, lightweight, and accurate, the SRAM X01 Trigger Shifter delivers a precise, sure-handed experience up and down SRAM's X-Dome cassette. Minus a carbon cover and Gore Ride On cables, the X01 employs much of the same technology as SRAM's XX1 shifter. This includes the new X-Actuation that...
SRAM XX1 Grip Shifter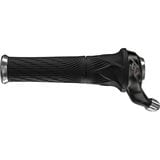 At once, the SRAM XX1 Grip Shifter is a revelation and a revisiting. At the helm of the controls for an 11-speed cassette, the Grip Shifter places a foot forward towards the future. While at the same time, its design both improves upon and retains the heritage of mountain biking. This duality is...
SRAM XX1 Trigger Shifter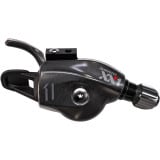 The SRAM XX1 group has brought an undeniable change to the world of mountain bike components. As a one-by-eleven group, it performs well in any mountain application and is versatile enough to run on either a XC or downhill bike. However, individually, the components of the XX1 group stand alone...
<< Prev | 1 | 2 | 3 | 4 | Next >>