Shifters - Road Bike Shop
Shop
>
Components
>
Drivetrain, Brakes
>
Shifters
SRAM Red 22 Shifters
Retail Price:
$551.00
Our Price: $529.00
buy now
When SRAM re-introduced Red in 2012, there was nothing more its engineers could do to make it better. It had been redesigned throughout, targeting specific areas of the drivetrain at the requests of the world's best cyclists. SRAM concluded that adding more gearing to the equation was the only...
SRAM Rival 22 ZeroLoss 11-speed Shifters
When you move your fingers to shift, you do so expecting instant engagement in the next gear. But, as you well know, that isn't always the case. SRAM's ZeroLoss technology ensures that your patience isn't tried and that your gears are ready when your legs are. The Rival 11-speed group is the...
SRAM X0 2x10 Trigger Shifters
Retail Price:
$261.95
Our Price: $170.27
buy now
In spite of the attention that one-by drivetrains have been getting as of late, we know that there's still a large group of diehards who aren't ready to ditch their front derailleurs just yet. So, if you prefer the added range provided by a two-by drivetrain, you'll have a hard time finding a...
SRAM X0 3x10 Grip Shifters
Retail Price:
$225.00
Our Price: $168.75
buy now
3x10 drivetrains offer the greatest variation of ratios for your mountain bike, and one of the quickest ways to shift through all those gears is with a twist shifter. The ability to jump multiple gears at once has always been one of twist shifters' positive traits. That, a super-low weight, and...
SRAM X0 3x10 Trigger Shifter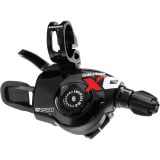 Retail Price:
$261.95
Our Price: $196.46
buy now
The SRAM X0 3x10 Trigger Shifter is specifically designed for triple compatible front derailleurs and cranks. The lever position can be adjusted for finger length or push preference. They're also Matchmaker-X compatible if you appreciate a clean handlebar arrangement. SRAM's Exact Actuation...
SRAM X0 Trigger Shifters
Retail Price:
$122.95
Our Price: $94.99
buy now
This X0 Silver Trigger Shifter Set is specifically designed to shift a triple compatible front derailleur across three chainrings as well as affect 10-speed gear changes out back. It's made just like the standard X0 set, save for the polished aluminum finish on the top cover that reminds us of...
SRAM X01 Grip Shifter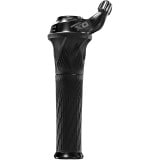 SRAM built an empire by starting with its iconic Grip Shift. So, we breathed a collective sigh of relief when the component giant announced that it was offering a X01 Grip Shift for its latest generation of 1x11 drivetrains. This means that die hard twist shift fans will have the same fast shifts...
SRAM X01 Trigger Shifter
Retail Price:
$139.00
Our Price: $104.95
buy now
Durable, lightweight, and accurate, the SRAM X01 Trigger Shifter delivers a precise, sure-handed experience up and down SRAM's X-Dome cassette. Minus a carbon cover and Gore Ride On cables, the X01 employs much of the same technology as SRAM's XX1 shifter. This includes the new X-Actuation that...
SRAM X1 11-Speed Trigger Shifter
Retail Price:
$81.00
Our Price: $69.95
buy now
SRAM's X1 was designed to deliver the best of one-by-11 technology at a lower price point than its XX1 and X01, meaning that a wider audience is now able to experience the simplicity and durability that a one-by setup provides, without breaking the bank in the process. The X1 trigger shifter...
SRAM X9 2x10 Speed Trigger Shifter Set
SRAM's X9 2x10 Speed Trigger Shifter Set provides both durability and functionality at a price weekend warriors can stomach. Sharing the great pull lever ball bearing technology found in the XX and X0 family, X9 differs with a non-adjustable thumb lever. Both shifters are Matchmaker-X compatible,...
<< Prev | 1 | 2 | 3 | 4 | 5 | Next >>