Drivetrain Small Parts - Road Bike Shop
Shop
>
Components
>
Drivetrain, Brakes
>
Drivetrain Small Parts
Borealis Bikes Yampa Derailleur Hanger
If you use Borealis' Yampa as intended, a bent or broken Derailleur Hanger far from civilization is a reality to prep for. Keep an extra Yampa hang-down in the pack or road-trip repair kit for a fix that's quicker than any limp home. Borealis forged and milled the Yampa's hanger from lightweight...
Campagnolo Campagnolo Chorus 11 EPS Under Cable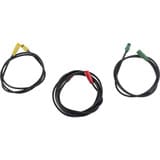 Vital for connecting your Power Unit to the rest of your EPS drivetrain if you mount the unit externally, the Campagnolo Chorus 11 EPS V2 Under Cable can't be substituted with a cable from a Record or Super Record EPS system. Chorus and Athena EPS drivetrains use a slightly heavier and less...
Campagnolo EPS Charger Cable
Campagnolo Electronic Power Shift operates on a lithium ion battery in its Power Unit that can go longer between charges than any other battery in the business. But all good things must come to an end, and you can count on your battery running out of juice someday. For the charge that will get...
Campagnolo EPS Power Unit Holder
Retail Price:
$30.00
Our Price: $17.99
buy now
The name EPS Power Unit Holder says it all. This bracket mounts and holds the EPS Power Unit to your bike's frame. Campagnolo designed the standard bracket to attach to the down tube's water bottle boss, while allowing full usage of an installed water bottle cage. This is the standard-length EPS...
Campagnolo Extension for EPS V2 Power Unit Charging Cable
With the introduction of Campagnolo's new internally-mounted V2 Power Unit, you're now able to cleanly mount your EPS battery within your frame, where it's shielded from the wind, rain, and impacts. This revamped system still needs to be charged at roughly 1000 miles of riding, however, which is...
Campagnolo External EPS V2 Power Unit Holder
There are some frames that won't accommodate internal mounting, and there are also those who simply prefer the battery access an external mount provides. For these scenarios, Campagnolo has developed a new External EPS V2 Power Unit Holder. The durable bracket features six holes that enable a...
Civilian Bicycle Co. Sliding Dropouts
Retail Price:
$19.95
Our Price: $6.99
buy now
The Sliding Dropouts found on a Civilian Bicycle Co. steed have the derailleur hanger integrated. And if you're riding a Civilian how its builder intended, you're bound to tweak that hanger at sometime. So, Mr. Hart thought ahead and made these droupouts available on their own. These sliders are...
Enduro Bearings TorqTite Bottom Bracket Wrench
To install your Enduro Bearings TorqTite Bottom Bracket, you'll need the TorqTite Bottom Bracket Wrench. Like all Enduro products, it's machined in the USA. It's also laser-etched to remind you that you really shouldn't crank your new bracket down as hard as you can. Each wrench is compatible...
Ibis Di2 Ports
Setting up your Ibis to run with the reassuring precision of Shimano's Di2 drivetrain is a lengthy, but worthwhile process. Whether you're trusting your favorite mechanic or taking on the job yourself, Ibis' Di2 Ports will make sure you're able to position the cables correctly on your frame the...
Ibis Front Derailleur Mount Cover Plate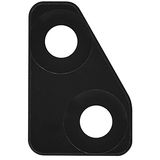 Now that you've converted your Ibis to a one-by with a successful front derailleur-ectomy, you've got a gaping hole where your late chain mover used to be. Do the decent thing and finish the job with the Front Derailleur Mount Cover Plate.
<< Prev | 1 | 2 | 3 | 4 | 5 | 6 | Next >>