Drivetrain Small Parts - Road Bike Shop
Shop
>
Components
>
Drivetrain, Brakes
>
Drivetrain Small Parts
Wheels Mfg Derailleur Hanger 251 - Colnago
Get your derailleur back up and running fast after over-cooking that last corner with the Wheels Mfg Colnago Derailleur Hanger 251. It's made from CNC machined 6061 alloy and includes two M4x8 flat head mounting screws for easy attachment to your mountain-pass conquering steed.
Wilier Cento1 SL / Cento1 / Imperiale Derailleur Hanger
Let's face it, accidents happen. And when they do, your derailleur hanger sometimes gets bent. Most of the time it can straightened with a proper derailleur hanger tool, but sometimes not. And when you can't safely straighten it for precise derailleur function, you need to replace your hanger....
Wolf Tooth Components RoadLink
The founders of Wolf Tooth Components in Minneapolis got started with the goal of shaking up the componentry offerings on the market currently using their shared engineering and manufacturing backgrounds. Small parts like the RoadLink define that mission pretty well; the oblong aluminum and steel...
Yeti Cycles 12x142 TA Derailleur Hanger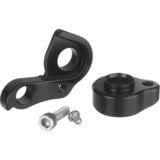 Don't let a broken derailleur hanger from an encounter with a vengeful rock garden get in the way of finishing out a day on the trails. With a spare Yeti Cycles 12x142 TA Derailleur Hanger in your pack, you'll be back up and shifting through the dirt in a flash -- no more long treks back the...
Yeti Cycles ASR-C/ASR5/ASR5-C Derailleur Hanger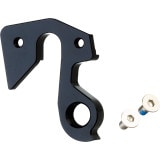 Retail Price:
$20.00
Our Price: $17.99
buy now
There's nothing worse than the sickness and dread that comes when a stick whacks your derailleur hanger and you realize that you're about to embark on an eight mile hike back to the trailhead. And those uber-stiff carbon soled shoes you bought last week? Well, they're great for serious hammering...
Yeti Cycles ISCG 05 Mount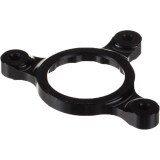 If you plan on upgrading your SB-66 or SB-95 to single-ring duty, you'll want to pick up the Yeti ISCG05 Mount ... or else it won't work. This guide is compatible with most current chain guides designed for the ISCG05 standards.
Yeti Cycles SB D-Type Cover
You've got a Yeti SB or ARC Carbon, you've got a one-by drivetrain, and you've got a gaping hole in your life where your front derailleur used to be. Plug that hole with some Yetiman therapy in the form of the SB D-Type Cover, which bolts on to the above frames to make you whole again.
Yeti Cycles SB-66 Carbon Rear Derailleur Hanger
Retail Price:
$32.00
Our Price: $24.99
buy now
Accidents are unavoidable on the trail, and as a result, an all-too-common symptom is a bent or broken derailleur hanger. Sadly, even the almighty Yeti SB-66 Carbon is prone to the occasional disruption of service. So, regardless whether you're preparing for your own future crashes, or you're...
Yeti Cycles Shimano Chip Kit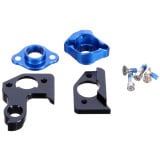 One of the coolest things about Yeti's newest bikes, like the ASR5, 575, Big Top, and SB-66, is that they give you the adaptability to tailor the rear axle configuration. You could sling in a standard quick release rear wheel and be off down the trail. Or you can run with a 12x142mm thru-axle,...
<< Prev | 1 | 2 | 3 | 4 | 5 | 6 | Next >>