Drivetrain Small Parts - Road Bike Shop
Shop
>
Components
>
Drivetrain, Brakes
>
Drivetrain Small Parts
Santa Cruz Bicycles Chameleon 27.5+ Single Speed Dropout Kit
Versatility defines Santa Cruz's Chameleon and it's designed to adapt much like its namesake. Santa Cruz blessed every version of the Chameleon with the ability to swap from a hill leveling, gear and derailleur ride, to a flog yourself all-day singlespeed with a simple dropout swap. Furthering...
Santa Cruz Bicycles Chameleon 29 Dropout Kit
Santa Cruz's Chameleon is a versatile frame and we love how accommodating it is to our current mood. A simple dropouts swap takes the frame from a climb crushing derailleur and gear set up, to an off-season, less maintenance requiring single speed. Roll quickly on rough or buff trails with...
Santa Cruz Bicycles Chameleon 29 Single Speed Dropout Kit
Santa Cruz's Chameleon maximizes versatility and lets us customize the bike based on trail conditions or our mood. We love how easy it is to swap the dropouts and change the bike from a climbing friendly, multi-gear ride to a leg sapping, slow cadence grinder of a single speed. If you feel...
Santa Cruz Bicycles Custom Downtube Decal
Customize your trail and enduro machines with the vibrant hues and stand-out appeal of the Santa Cruz Custom Downtube Decal. This custom decal sticks onto your bike's downtube, popping brilliantly from matte carbon frames and shiny paint schemes alike. It's compatible with 2017 Santa Cruz models...
Santa Cruz Bicycles Stigmata Derailleur Hanger
When a pre-race scouting lap takes a turn for the worse and your trusty Stigmata's left limping with a broken derailleur hangar 30 minutes before start time, it's good to have a stash of Santa Cruz Stigmata Derailleur Hangers tucked away in the trunk for just this type of occasion. A quick swap...
Santa Cruz Bicycles Thru-Axle Derailleur Hanger
If you've inadvertently laid down your Tallboy, Tallboy LT carbon, Nomad carbon, Blur LT Carbon, Blur XC Carbon, Blur TR Carbon, or Highball Carbon ... or any other Santa Cruz with the new 142mm thru-axle, this is the hanger you need to get shifting back in order.
Shimano BM-DN100 Di2 Battery Mount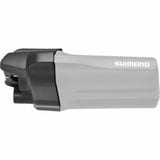 Retail Price:
$101.99
Our Price: $91.79
buy now
Somehow, Di2 can't help but keep getting smarter. With a new Bluetooth battery and Shimano's E-Tube Wireless app, you can now change your shifting preferences wirelessly in the middle of a ride with a smartphone or ANT+ head unit. New versions of Deore XT Di2 will ship with this compatibility...
Shimano BT-DN110 Di2 Battery
Retail Price:
$142.99
Our Price: $120.11
buy now
Refresh your Di2 shifting system with the Shimano BT-DN110 Di2 Battery. Designed to fit stealthily in seat posts and other internal mounts, this battery is compatible with Shimano's E-Tube technology to drive precise shifts no matter the conditions.
Shimano Di2 Inline Wireless Unit - EW-WU111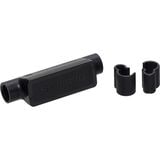 Retail Price:
$92.99
Our Price: $79.97
buy now
The Shimano Di2 EW-WU111 Inline Wireless Unit boosts the system's ease of use by adding Bluetooth connectivity in addition to carrying over ANT+ to pair with an even wider range of devices. Paired with Shimano's E-Tube Project Wireless app, the Inline Wireless Unit lets you customize your...
Shimano E-Tube Cockpit Junction Box - SM-EW90 A/B
Retail Price:
$98.99
Our Price: $84.14
buy now
The Shimano E-Tube Cockpit Junction Box works with the Dura-Ace Di2 9070 groupset to enable supplemental shifting positions so that the ease of electronic shifting is always at your fingertips, no matter what hand position you favor. The E-Tube mounts just below your handlebars and functions as a...
<< Prev | 1 | 2 | 3 | 4 | 5 | 6 | 7 | 8 | Next >>