Drivetrain Small Parts - Road Bike Shop
Shop
>
Components
>
Drivetrain, Brakes
>
Drivetrain Small Parts
Pivot Pivot Derailleur Hanger
You hit a rock, sucked a stick into your wheel, a bird flew into your derailleur, just riding along -- we've heard it all when it comes to broken derailleur hangers. Whatever your reason is for needing a new Pivot Derailleur Hanger, we've got you covered. Get out there and ride your little heart...
Pivot Swinger Dropout SS Kit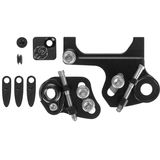 Pivot invested ample research and design into the Swinger Dropout SS Kit so you can enjoy the gear-free life without the annoyances of creaks and slackening chains. The design swings around a pivot that's located in front of the upper post mount of the brake, tensioning the chain with a...
Ridley Noah RS/Dean RS/Helium Derailleur Hanger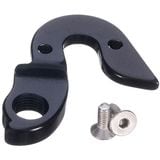 It's always a great idea to have a spare derailleur hanger around in case of a mishap. The design of this hanger allows it to bend or break before serious damage occurs to your expensive bike frame. In the event of damage to the hanger, it's best to replace it rather than attempt to straighten it...
Ridley X-Trail Derailleur Hanger
After you and your bike take a dramatic dive into a large juniper bush, you probably should take inventory of yourself first, but we know you'll be lunging after your beloved trail companion before you even think about the blood streaming out of your knee. Once you realize your bike didn't fly...
Santa Cruz Bicycles Thru-Axle Derailleur Hanger
If you've inadvertently laid down your Tallboy, Tallboy LT carbon, Nomad carbon, Blur LT Carbon, Blur XC Carbon, Blur TR Carbon, or Highball Carbon ... or any other Santa Cruz with the new 142mm thru-axle, this is the hanger you need to get shifting back in order.
Shimano BM-DN100 Di2 Battery Mount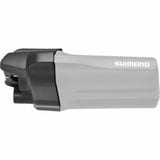 Somehow, Di2 can't help but keep getting smarter. With a new Bluetooth battery and Shimano's E-Tube Wireless app, you can now change your shifting preferences wirelessly in the middle of a ride with a smartphone or ANT+ head unit. New versions of Deore XT Di2 will ship with this compatibility...
Shimano BT-DN110 Di2 Battery
Retail Price:
$142.99
Our Price: $113.99
buy now
Refresh your Di2 shifting system with the Shimano BT-DN110 Di2 Battery. Designed to fit stealthily in seat posts and other internal mounts, this battery is compatible with Shimano's E-Tube technology to drive precise shifts no matter the conditions.
Shimano Di2 Inline Wireless Unit - EW-WU111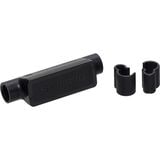 Retail Price:
$92.99
Our Price: $79.99
buy now
The Shimano Di2 EW-WU111 Inline Wireless Unit boosts the system's ease of use by adding Bluetooth connectivity in addition to carrying over ANT+ to pair with an even wider range of devices. Paired with Shimano's E-Tube Project Wireless app, the Inline Wireless Unit lets you customize your...
Shimano E-Tube Cockpit Junction Box - SM-EW90 A/B
Retail Price:
$98.99
Our Price: $83.75
buy now
The Shimano E-Tube Cockpit Junction Box works with the Dura-Ace Di2 9070 groupset to enable supplemental shifting positions so that the ease of electronic shifting is always at your fingertips, no matter what hand position you favor. The E-Tube mounts just below your handlebars and functions as a...
Shimano E-Tube Di2 Junction Box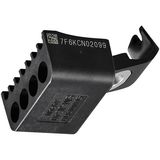 Retail Price:
$27.99
Our Price: $20.95
buy now
Shimano's E-Tube Di2 Junction Box (also known as the B junction) connects all your component and battery wires to make assembly much easier. It's a crucial item along with the five required wire sections to operate your Ultegra 6770, Ultegra 6870, or Dura-Ace 9070 Di2 shift system. The E-Tube Di2...
<< Prev | 1 | 2 | 3 | 4 | 5 | 6 | 7 | 8 | Next >>