Drivetrain Small Parts - Road Bike Shop
Shop
>
Components
>
Drivetrain, Brakes
>
Drivetrain Small Parts
Pivot Pivot Derailleur Hanger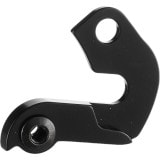 Retail Price:
$19.95
Our Price: $14.99
buy now
We know how it goes, you were 'just riding along' and then your derailleur hanger snapped out of nowhere. Hey, it's happened to all of us, and we recommend just counting your blessings that it was only the hanger that broke. Regardless of what happened, we've got your back. And if you're riding a...
Ridley Noah R-Flow 2009+ Derailleur Hanger
Any good Boy Scout can tell you the value of being prepared. Having a spare derailleur hanger in your tool kit is essential if you're an active cyclist with events on your calendar. After all, these are designed to fail in the event of a crash. Your frame and top-dollar rear derailleur will be...
Ridley Noah RS/Dean RS/Helium/Excalibur Derailleur Hanger
It's always a great idea to have a spare derailleur hanger around in case of a mishap. The design of this hanger allows it to bend or break before serious damage occurs to your expensive bike frame. In the event of damage to the hanger, it's best to replace it rather than attempt to straighten it...
Santa Cruz Bicycles Derailleur Hanger Kit - Blur XC 2.0, Blur LT 2.0 Carbon, Tallboy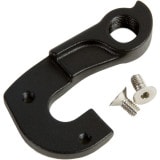 Replace the mangled derailleur hanger on your Blur XC 2. 0, Blur LT 2. 0 Carbon, or Tallboy by using this Santa Cruz kit.
Santa Cruz Bicycles Logo Chainstay Protector
Details, details, details. When your Santa Cruz was new, it came with a stylish Santa Cruz Logo chainstay protector. And if you've lost it, or you just want to get one that looks nice and fresh, you're now able to do so. Choose the Large if you ride a Bullit, Jackal, V10, or Chameleon. If you...
Santa Cruz Bicycles Thru-Axle Derailleur Hanger
If you've inadvertently laid down your Tallboy, Tallboy LT carbon, Nomad carbon, Blur LT Carbon, Blur XC Carbon, Blur TR Carbon, or Highball Carbon ... or any other Santa Cruz with the new 142mm thru-axle, this is the hanger you need to get shifting back in order.
Shimano Di2 Battery
Retail Price:
$69.95
Our Price: $52.46
buy now
This is the one common item between all of Shimano's Di2 groups -- the Di2 SM-BTR1-67 Battery. Call it Ultegra, call it Dura-Ace, but we'll call it the one you'll need. It's a rechargeable lithium-ion battery that mounts on a bracket designed to work with bottle cage mounts. The mount stays on...
Shimano Di2 Battery Charger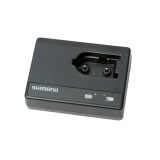 Retail Price:
$79.95
Our Price: $63.96
buy now
If you're going to have Shimano electronic Di2, you must have the compatible Shimano SM-BCRI Battery Charger to keep it up and running. As the battery is shared between Ultegra and Dura-Ace, this is the same charger for both systems. The nice thing about the charger is that it's small, like a...
Shimano E-Tube Cockpit Junction Box - SM-EW90 A/B
Retail Price:
$139.95
Our Price: $111.96
buy now
With the introduction of the Dura-Ace Di2 9070, the door was fully opened for secondary shifter options. In addition to their standard ST-9070 shifters, many riders are now opting for supplemental shifting positions to reflect the race course for the given day. It's an option many...
Shimano E-Tube Di2 Battery Mount
Retail Price:
$99.95
Our Price: $54.97
buy now
Available in three options -- Long External, Long Internal, and Short, the E-Tube Di2 SM-BMR1 Battery Mount securely holds your drivetrain's power source. Both long versions mount to either down or seat tube braze-ons. However, they're designed to be paired specifically with either type of wiring...
<< Prev | 1 | 2 | 3 | 4 | 5 | 6 | 7 | Next >>