Drivetrain Small Parts - Road Bike Shop
Shop
>
Components
>
Drivetrain, Brakes
>
Drivetrain Small Parts
Pinarello F8 Di2 Seatpost Mount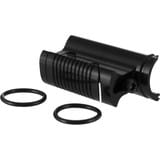 You learn a few tricks when the top team you build equipment for chooses to run electronic drivetrains. This has been the case for a while now at Pinarello, as its partnership with Team Sky was instrumental in the development of the new flagship Dogma F8, complete with internal cable routing that...
Pinarello Seatpost Internal Battery Mount for Di2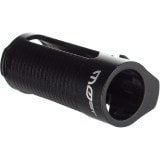 The reasons for running Shimano's new Dura-Ace 9070 Internal Seatpost Battery seem to keep multiplying. For one, this setup shaves a substantial amount weight off of the group set, lowering it to a weight that's actually lower than the 9000 mechanical group. However, as we're sure that you've...
Santa Cruz Bicycles 12x142mm Direct Mount Dropout Kit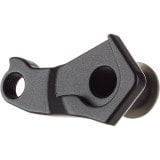 Direct Mount derailleur hangers are ushering in a new era, just like the 15mm QR has for forks. It's not necessarily frame stiffness that makes a direct mount dropout so desirable. It's ease of use, simplified components, and enhanced shifting. The Direct Mount Dropout works with Direct Mount...
Santa Cruz Bicycles Chainstay Protector
Even if Captain America is out of work, it'd be insulting to hire him as a chainstay protector...especially when the Santa Cruz Chainstay Protector can do the same job for less. And without the silly stars-and-stripes color scheme. Sold individually.
Santa Cruz Bicycles Derailleur Hanger Kit - Blur XC 2.0, Blur LT 2.0 Carbon, Tallboy
Replace the mangled derailleur hanger on your Blur XC 2. 0, Blur LT 2. 0 Carbon, or Tallboy by using this Santa Cruz kit.
Santa Cruz Bicycles Logo Chainstay Protector
Retail Price:
$8.00
Our Price: $5.99
buy now
Details, details, details. When your Santa Cruz was new, it came with a stylish Santa Cruz Logo chainstay protector. And if you've lost it, or you just want to get one that looks nice and fresh, you're now able to do so. Choose the Large if you ride a Bullit, Jackal, V10, or Chameleon. If you...
Shimano Di2 Battery
Retail Price:
$69.95
Our Price: $52.46
buy now
This is the one common item between all of Shimano's Di2 groups -- the Di2 SM-BTR1-67 Battery. Call it Ultegra, call it Dura-Ace, but we'll call it the one you'll need. It's a rechargeable lithium-ion battery that mounts on a bracket designed to work with bottle cage mounts. The mount stays on...
Shimano Di2 Battery Charger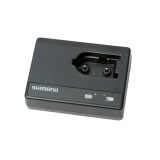 Retail Price:
$79.95
Our Price: $63.96
buy now
If you're going to have Shimano electronic Di2, you must have the compatible Shimano SM-BCRI Battery Charger to keep it up and running. As the battery is shared between Ultegra and Dura-Ace, this is the same charger for both systems. The nice thing about the charger is that it's small, like a...
Shimano Dura-Ace 7970 Di2 Braze-on Clamp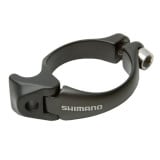 Retail Price:
$59.95
Our Price: $24.99
buy now
We've always been kind of peeved at Campagnolo and Shimano for not making front derailleur adapters that match the aesthetics of their front derailleurs. We might have to take Shimano off that list, as their new Dura-Ace 7970 front derailleur adapter finally does something right. It looks pretty...
Shimano E-Tube Cockpit Junction Box - SM-EW90 A/B
Retail Price:
$139.95
Our Price: $111.96
buy now
With the introduction of the Dura-Ace Di2 9070, the door was fully opened for secondary shifter options. In addition to their standard ST-9070 shifters, many riders are now opting for supplemental shifting positions to reflect the race course for the given day. It's an option many...
<< Prev | 1 | 2 | 3 | 4 | 5 | 6 | Next >>