Drivetrain Small Parts - Road Bike Shop
Shop
>
Components
>
Drivetrain, Brakes
>
Drivetrain Small Parts
Niner EBB Bio-Centric V2
Since their inception, we've had a love-hate relationship with eccentric bottom brackets. They offer some serious advantages over sliding dropouts, but have their own set of design flaws to overcome. Traditional eccentric bottom brackets use set screws or an expanding wedge to hold the eccentric...
Niner S.I.R.9 Thru Axle Derailleur Hanger
Crashes are inevitable, be prepared to replace a bent, broken, or pretzeled S. I. R. 9 Thru Axle Derailleur Hanger with this genuine Niner product. It's just like the original -- aluminum and awesome.
Pinarello Derailleur Hanger
This Pinarello Derailleur Hanger is the part that you'll need for your Dogma 65. 1 Think2, Dogma2, Dogma, Prince Carbon, and 2011and 2012 Paris Carbon. It has a well-thought-out design that we really like. The part that we like is that the hardware threads into the hanger itself instead of into...
Pinarello Dogma Think 2 Chainstay Protector
There's a time and place for battle scars, but your beautiful Dogma frame doesn't deserve that kind of abuse. With the Dogma Think 2 Chainstay Protector, you're able to rest assured that your frame's pretty paint will keep its (chip-free) luster -- even after those fierce sections of cobbles and...
Pinarello Seatpost Internal Battery Mount for Di2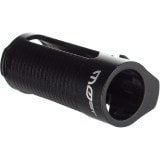 Shed precious grams off your Di2 drivetrain with the Pinarello Seatpost Internal Battery Mount. This slick internal battery mount lowers the weight of your groupset below that of the 9000 mechanical group, helping to maximize efficiency on your race-bred Pinarello. Designed specifically for...
Pivot Derailleur Hanger
You hit a rock, sucked a stick into your wheel, a bird flew into your derailleur, just riding along -- we've heard it all when it comes to broken derailleur hangers. Whatever your reason is for needing a new Pivot Derailleur Hanger, we've got you covered. Get out there and ride your little heart...
Pivot Front Derailleur Cover Plate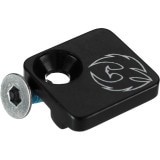 One-by drivetrains are becoming more prevalent for obvious reasons like better ground clearance, less complexity, and optimized gear ratios. The problem is most manufacturers, like Pivot, design its frames to be compatible with direct-mount front derailleurs -- leaving an eyesore to an otherwise...
Pivot Mach 6 Carbon Upper Linkage Upgrade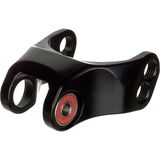 We would never categorize the first Mach 6 Carbon as flexy, but the boosted axle on the newer version has set a whole new bar for what the Mach 6 can handle. Don't despair though, because the Pivot Mach 6 Carbon Upper Linkage Upgrade is here to add even more stiffness to your 12 x 142mm rear...
Pivot Swinger Dropout SS Kit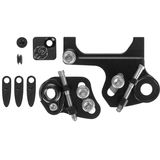 Pivot invested ample research and design into the Swinger Dropout SS Kit so you can enjoy the gear-free life without the annoyances of creaks and slackening chains. The design swings around a pivot that's located in front of the upper post mount of the brake, tensioning the chain with a...
Ridley Noah R-Flow 2009+ Derailleur Hanger
Any good Boy Scout can tell you the value of being prepared. Having a spare derailleur hanger in your tool kit is essential if you're an active cyclist with events on your calendar. After all, these are designed to fail in the event of a crash. Your frame and top-dollar rear derailleur will be...
<< Prev | 1 | 2 | 3 | 4 | 5 | 6 | 7 | 8 | Next >>