Drivetrain Small Parts - Road Bike Shop
Shop
>
Components
>
Drivetrain, Brakes
>
Drivetrain Small Parts
Niner Jet 9 RDO Pivot Bolt Kit
Retail Price:
$80.00
Our Price: $68.00
buy now
You don't talk about it much, but how your bike looks is pretty important. If you wanted a bike that looks like everybody else's, you could just leave it stock. Why would you do that, though? Niner lets you express a little bit more with your bike by adding some from-the-factory bling to your...
Open Derailleur Hanger
The Derailleur Hanger is essential to shifting accuracy. If you're traveling, it's always a good idea to pack an extra one to keep you on the trail -- instead of anxiously waiting for the postman. The Open Derailleur Hanger is compatible with Open's O-1. 0.
Orbea Rallon 10 Dropout Hanger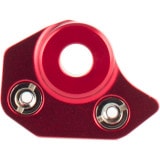 Retail Price:
$15.00
Our Price: $5.99
buy now
Orbea isn't afraid to call its Rallon the 'perfect enduro mountain bike.' But rough trails don't play favorites, and an errant rock outcropping or unfortunate crash could leave you in need of a new dropout. In the event of an impact that results in a bend, it's always better to simply replace the...
Pivot 12x142 Pivot Derailleur Hanger
You hit a rock, sucked a stick into your wheel, a bird flew into your derailleur, JRA -- we've heard it all when it comes to broken derailleur hangers. Whatever your reason is for needing a new 12x142 Pivot Derailleur Hanger, we've got you covered. Get out there and ride your little heart out....
Pivot Front Derailleur Cover Plate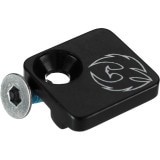 One-by drivetrains are becoming more prevalent for obvious reasons like better ground clearance, less complexity, and optimized gear ratios. The problem is most manufacturers, like Pivot, design its frames to be compatible with direct-mount front derailleurs -- leaving an eyesore to an otherwise...
Pivot LES Swinger Single Speed Dropout Kit
Pivot invested ample research and design into the LES Swinger Single Speed Dropout Kit so you can enjoy the gear-less experience without the annoyances of creaks and slackening chains. Pivot's Swinger adjustable dropout system is also a dutiful approach to the issue of brake interference and...
Shimano Di2 Battery
Retail Price:
$69.95
Our Price: $60.00
buy now
This is the one common item between all of Shimano's Di2 groups -- the Di2 SM-BTR1-67 Battery. Call it Ultegra, call it Dura-Ace, but we'll call it the one you'll need. It's a rechargeable lithium-ion battery that mounts on a bracket designed to work with bottle cage mounts. The mount stays on...
Shimano Di2 Battery Charger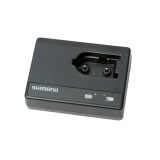 Retail Price:
$79.95
Our Price: $63.96
buy now
If you're going to have Shimano electronic Di2, you must have the compatible Shimano SM-BCRI Battery Charger to keep it up and running. As the battery is shared between Ultegra and Dura-Ace, this is the same charger for both systems. The nice thing about the charger is that it's small, like a...
Shimano E-Tube Cockpit Junction Box - SM-EW90 A/B
Retail Price:
$139.95
Our Price: $111.96
buy now
With the introduction of the Dura-Ace Di2 9070, the door was fully opened for secondary shifter options. In addition to their standard ST-9070 shifters, many riders are now opting for supplemental shifting positions to reflect the race course for the given day. It's an option many...
Shimano E-Tube Di2 Battery Mount
Retail Price:
$99.95
Our Price: $54.97
buy now
Available in three options -- Long External, Long Internal, and Short, the E-Tube Di2 SM-BMR1 Battery Mount securely holds your drivetrain's power source. Both long versions mount to either down or seat tube braze-ons. However, they're designed to be paired specifically with either type of wiring...
<< Prev | 1 | 2 | 3 | 4 | 5 | 6 | Next >>