Drivetrain Small Parts - Road Bike Shop
Shop
>
Components
>
Drivetrain, Brakes
>
Drivetrain Small Parts
Merlin Derailleur Hanger - XLM 29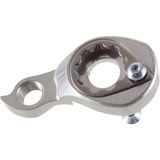 It's the kind of thing we almost hope you never need: a replacement Merlin XLM Derailleur Hanger, designed specifically for your XLM hardtail frame. Then again, if you do need it, it probably means you were pushing your limits, so go ahead and ride on.
Niner Air 9 Carbon Geared Kit
Retail Price:
$60.00
Our Price: $44.99
buy now
If you'd like to add some more cogs to your Niner Air 9 Carbon, there's no easier way then this Geared Kit. It includes the performance Shift Kit -- a sealed guide tube with ferrule and the bottom-bracket located nylon guide -- and titanium guards for the bottom bracket shell and chainstay to...
Niner Derailleur Hanger
The very first aluminum frames didn't have replaceable dropouts. So, you could bend them back a few times, but then the hanger would snap off and it would be off to the bike shop for a new frame. Thankfully, those days are over. Your Niner frame comes with a replaceable dropout that can be...
Niner EBB Bio-Centric V2
Since their inception, we've had a love-hate relationship with eccentric bottom brackets. They offer some serious advantages over sliding dropouts, but have their own set of design flaws to overcome. Traditional eccentric bottom brackets use set screws or an expanding wedge to hold the eccentric...
Niner Jet 9 RDO Pivot Bolt Kit
Retail Price:
$80.00
Our Price: $72.00
buy now
You don't talk about it much, but how your bike looks is pretty important. If you wanted a bike that looks like everybody else's, you could just leave it stock. Why would you do that, though? Niner lets you express a little bit more with your bike by adding some from-the-factory bling to your...
Orbea Rallon 10 Dropout Hanger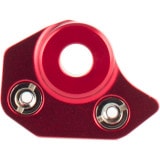 Retail Price:
$15.00
Our Price: $6.99
buy now
Orbea isn't afraid to call its Rallon the 'perfect enduro mountain bike.' But rough trails don't play favorites, and an errant rock outcropping or unfortunate crash could leave you in need of a new dropout. In the event of an impact that results in a bend, it's always better to simply replace the...
Pinarello Derailleur Hanger
This Pinarello Derailleur Hanger is the part that you'll need for your Dogma 65. 1 Think2, Dogma2, Dogma, Prince Carbon, and 2011and 2012 Paris Carbon. It has a well-thought-out design that we really like. The part that we like is that the hardware threads into the hanger itself instead of into...
Pinarello Dogma Think 2 Chainstay Protector
There's a time and place for battle scars, but your beautiful Dogma frame doesn't deserve that kind of abuse. With the Dogma Think 2 Chainstay Protector, you're able to rest assured that your frame's pretty paint will keep its (chip-free) luster -- even after those fierce sections of cobbles and...
Pivot Front Derailleur Cover Plate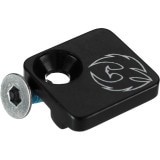 One-by drivetrains are becoming more prevalent for obvious reasons like better ground clearance, less complexity, and optimized gear ratios. The problem is most manufacturers, like Pivot, design its frames to be compatible with direct-mount front derailleurs -- leaving an eyesore to an otherwise...
Pivot Pivot Derailleur Hanger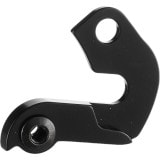 Retail Price:
$19.95
Our Price: $14.99
buy now
We know how it goes, you were 'just riding along' and then your derailleur hanger snapped out of nowhere. Hey, it's happened to all of us, and we recommend just counting your blessings that it was only the hanger that broke. Regardless of what happened, we've got your back. And if you're riding a...
<< Prev | 1 | 2 | 3 | 4 | 5 | 6 | 7 | Next >>