Drivetrain Small Parts - Road Bike Shop
Shop
>
Components
>
Drivetrain, Brakes
>
Drivetrain Small Parts
Orbea Rallon 10 Dropout Hanger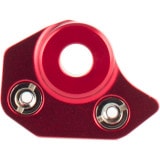 Retail Price:
$15.00
Our Price: $5.99
buy now
Orbea isn't afraid to call its Rallon the 'perfect enduro mountain bike.' But rough trails don't play favorites, and an errant rock outcropping or unfortunate crash could leave you in need of a new dropout. In the event of an impact that results in a bend, it's always better to simply replace the...
Pinarello Dogma Think 2 Chainstay Protector
There's a time and place for battle scars, but your beautiful Dogma frame doesn't deserve that kind of abuse. With the Dogma Think 2 Chainstay Protector, you're able to rest assured that your frame's pretty paint will keep its (chip-free) luster -- even after those fierce sections of cobbles and...
Pinarello F8 Di2 Seatpost Mount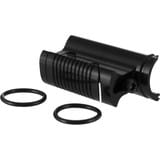 You learn a few tricks when the top team you build equipment for chooses to run electronic drivetrains. This has been the case for a while now at Pinarello, as its partnership with Team Sky was instrumental in the development of the new flagship Dogma F8, complete with internal cable routing that...
Pinarello Seatpost Internal Battery Mount for Di2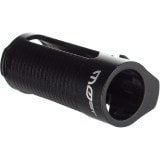 The reasons for running Shimano's new Dura-Ace 9070 Internal Seatpost Battery seem to keep multiplying. For one, this setup shaves a substantial amount weight off of the group set, lowering it to a weight that's actually lower than the 9000 mechanical group. However, as we're sure that you've...
Pivot 12x142 Pivot Derailleur Hanger
You hit a rock, sucked a stick into your wheel, a bird flew into your derailleur, JRA -- we've heard it all when it comes to broken derailleur hangers. Whatever your reason is for needing a new 12x142 Pivot Derailleur Hanger, we've got you covered. Get out there and ride your little heart out....
Pivot Front Derailleur Cover Plate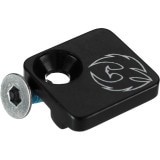 One-by drivetrains are becoming more prevalent for obvious reasons like better ground clearance, less complexity, and optimized gear ratios. The problem is most manufacturers, like Pivot, design its frames to be compatible with direct-mount front derailleurs -- leaving an eyesore to an otherwise...
Pivot LES Swinger Single Speed Dropout Kit
Pivot invested ample research and design into the LES Swinger Single Speed Dropout Kit so you can enjoy the gear-less experience without the annoyances of creaks and slackening chains. Pivot's Swinger adjustable dropout system is also a dutiful approach to the issue of brake interference and...
Pivot Pivot Derailleur Hanger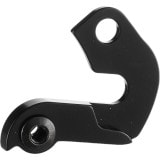 Retail Price:
$19.95
Our Price: $14.99
buy now
We know how it goes, you were 'just riding along' and then your derailleur hanger snapped out of nowhere. Hey, it's happened to all of us, and we recommend just counting your blessings that it was only the hanger that broke. Regardless of what happened, we've got your back. And if you're riding a...
Santa Cruz Bicycles Thru-Axle Derailleur Hanger
If you've inadvertently laid down your Tallboy, Tallboy LT carbon, Nomad carbon, Blur LT Carbon, Blur XC Carbon, Blur TR Carbon, or Highball Carbon ... or any other Santa Cruz with the new 142mm thru-axle, this is the hanger you need to get shifting back in order.
Shimano Di2 Battery
Retail Price:
$69.95
Our Price: $64.95
buy now
This is the one common item between all of Shimano's Di2 groups -- the Di2 SM-BTR1-67 Battery. Call it Ultegra, call it Dura-Ace, but we'll call it the one you'll need. It's a rechargeable lithium-ion battery that mounts on a bracket designed to work with bottle cage mounts. The mount stays on...
<< Prev | 1 | 2 | 3 | 4 | 5 | 6 | Next >>