Drivetrain Small Parts - Road Bike Shop
Shop
>
Components
>
Drivetrain, Brakes
>
Drivetrain Small Parts
Open Derailleur Hanger
The Derailleur Hanger is essential to shifting accuracy. If you're traveling, it's always a good idea to pack an extra one to keep you on the trail -- instead of anxiously waiting for the postman. The Open Derailleur Hanger is compatible with Open's O-1. 0.
Orbea Alma Hydro Derailleur Hanger
The 29-inch wheels of the Orbea Alma Hydro might be large enough to roll over most anything you encounter on the trail, but a rock outcropping, log, or fall could still snag your rear derailleur. The soft alloy of the Alma Hydro Hanger is designed to quickly bend or even break off to prevent...
Orbea Rallon 10 Dropout Hanger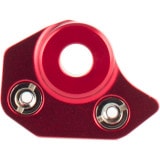 Retail Price:
$15.00
Our Price: $9.75
buy now
Orbea isn't afraid to call its Rallon the 'perfect enduro mountain bike.' But rough trails don't play favorites, and an errant rock outcropping or unfortunate crash could leave you in need of a new dropout. In the event of an impact that results in a bend, it's always better to simply replace the...
Pivot 12x142 Pivot Derailleur Hanger
You hit a rock, sucked a stick into your wheel, a bird flew into your derailleur, JRA -- we've heard it all when it comes to broken derailleur hangers. Whatever your reason is for needing a new 12x142 Pivot Derailleur Hanger, we've got you covered. Get out there and ride your little heart out....
Pivot LES Swinger Single Speed Dropout Kit
Pivot invested ample research and design into the LES Swinger Single Speed Dropout Kit so you can enjoy the gear-less experience without the annoyances of creaks and slackening chains. Pivot's Swinger adjustable dropout system is also a dutiful approach to the issue of brake interference and...
Pivot Pivot Derailleur Hanger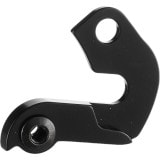 Retail Price:
$19.95
Our Price: $17.96
buy now
We know how it goes, you were 'just riding along' and then your derailleur hanger snapped out of nowhere. Hey, it's happened to all of us, and we recommend just counting your blessings that it was only the hanger that broke. Regardless of what happened, we've got your back. And if you're riding a...
Ridley Noah R-Flow 2009+ Derailleur Hanger
Any good Boy Scout can tell you the value of being prepared. Having a spare derailleur hanger in your tool kit is essential if you're an active cyclist with events on your calendar. After all, these are designed to fail in the event of a crash. Your frame and top-dollar rear derailleur will be...
Ridley Noah RS/Dean RS/Helium/Excalibur Derailleur Hanger
It's always a great idea to have a spare derailleur hanger around in case of a mishap. The design of this hanger allows it to bend or break before serious damage occurs to your expensive bike frame. In the event of damage to the hanger, it's best to replace it rather than attempt to straighten it...
Ridley Non-Drive Side Dropout
Retail Price:
$20.00
Our Price: $12.00
buy now
This is the Non-Drive Side Dropout that fits 2009 and newer Damocles, 2008 Noah, and Asteria frames. It's made of aluminum and is CNC machined to join perfectly with the alloy stay tips that are bonded into the ends of the frame tubes on the back of the bike. This Damocles 09+/Noah 08/Asteria...
Santa Cruz Bicycles 12x142mm Direct Mount Dropout Kit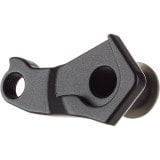 Direct Mount derailleur hangers are ushering in a new era, just like the 15mm QR has for forks. It's not necessarily frame stiffness that makes a direct mount dropout so desirable. It's ease of use, simplified components, and enhanced shifting. The Direct Mount Dropout works with Direct Mount...
<< Prev | 1 | 2 | 3 | 4 | 5 | 6 | 7 | Next >>