Drivetrain Small Parts - Road Bike Shop
Shop
>
Components
>
Drivetrain, Brakes
>
Drivetrain Small Parts
Niner EBB Bio-Centric V2
Since their inception, we've had a love-hate relationship with eccentric bottom brackets. They offer some serious advantages over sliding dropouts, but have their own set of design flaws to overcome. Traditional eccentric bottom brackets use set screws or an expanding wedge to hold the eccentric...
Niner Jet 9 RDO Pivot Bolt Kit
Retail Price:
$80.00
Our Price: $72.00
buy now
You don't talk about it much, but how your bike looks is pretty important. If you wanted a bike that looks like everybody else's, you could just leave it stock. Why would you do that, though? Niner lets you express a little bit more with your bike by adding some from-the-factory bling to your...
Niner S.I.R.9 Thru Axle Derailleur Hanger
Crashes are inevitable, be prepared to replace a bent, broken, or pretzeled S. I. R. 9 Thru Axle Derailleur Hanger with this genuine Niner product. It's just like the original -- aluminum and awesome.
Open Derailleur Hanger
The Derailleur Hanger is essential to shifting accuracy. If you're traveling, it's always a good idea to pack an extra one to keep you on the trail -- instead of anxiously waiting for the postman. The Open Derailleur Hanger is compatible with Open's O-1. 0.
Orbea Alma Hydro Derailleur Hanger
Retail Price:
$15.00
Our Price: $11.99
buy now
The 29-inch wheels of the Orbea Alma Hydro might be large enough to roll over most anything you encounter on the trail, but a rock outcropping, log, or fall could still snag your rear derailleur. The soft alloy of the Alma Hydro Hanger is designed to quickly bend or even break off to prevent...
Orbea Rallon 10 Dropout Hanger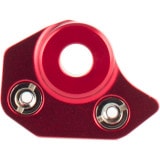 Retail Price:
$15.00
Our Price: $8.99
buy now
Orbea isn't afraid to call its Rallon the 'perfect enduro mountain bike.' But rough trails don't play favorites, and an errant rock outcropping or unfortunate crash could leave you in need of a new dropout. In the event of an impact that results in a bend, it's always better to simply replace the...
Pivot LES Swinger Single Speed Dropout Kit
Retail Price:
$150.00
Our Price: $134.99
buy now
Pivot invested ample research and design into the LES Swinger Single Speed Dropout Kit so you can enjoy the gear-less experience without the annoyances of creaks and slackening chains. Pivot's Swinger adjustable dropout system is also a dutiful approach to the issue of brake interference and...
Pivot Pivot Derailleur Hanger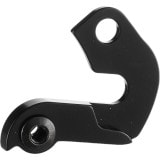 Retail Price:
$19.95
Our Price: $17.96
buy now
We know how it goes, you were 'just riding along' and then your derailleur hanger snapped out of nowhere. Hey, it's happened to all of us, and we recommend just counting your blessings that it was only the hanger that broke. Regardless of what happened, we've got your back. And if you're riding a...
Ridley Noah RS/Dean RS/Helium/Excalibur Derailleur Hanger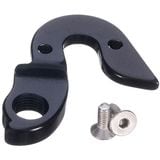 It's always a great idea to have a spare derailleur hanger around in case of a mishap. The design of this hanger allows it to bend or break before serious damage occurs to your expensive bike frame. In the event of damage to the hanger, it's best to replace it rather than attempt to straighten it...
Ridley Non-Drive Side Dropout
Retail Price:
$20.00
Our Price: $12.00
buy now
This is the Non-Drive Side Dropout that fits 2009 and newer Damocles, 2008 Noah, and Asteria frames. It's made of aluminum and is CNC machined to join perfectly with the alloy stay tips that are bonded into the ends of the frame tubes on the back of the bike. This Damocles 09+/Noah 08/Asteria...
<< Prev | 1 | 2 | 3 | 4 | 5 | 6 | 7 | Next >>