Drivetrain Small Parts - Road Bike Shop
Shop
>
Components
>
Drivetrain, Brakes
>
Drivetrain Small Parts
Ibis Ripley Rockguard
Rocking your Ripley pretty hard? Protect it with this polycarbonate Ibis Ripley Rockguard. Designed and shaped specifically for the Ripley, it attaches via the bottle cage bolts on the underside of the down tube to protect from rock strikes, bird strikes, or whatever else you happen to be...
Ibis Stainless Chainsuck Protector
If you've made the investment in an Ibis, chances are that you're looking to keep it running in top shape. Lucky enough, Ibis sympathizes with you, which is why it offers its Stainless Chain Suck Protector in models to fit each of its mountain bike frames. Ibis's carbon fiber frames have earned a...
Ibis Thru-Axle Derailleur Hanger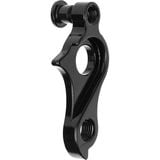 The Mojo HD and SL-R are fun bikes, and we often find ourselves lured many miles away from the trailhead by the siren call of unexplored routes. If you're like us and like to get deep into the woods, you should have one of these Thru-Axle Derailleur Hangers in your repair kit in case of the...
K-Edge Braze-On Adapter Clamp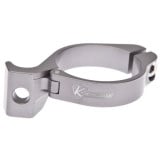 Weight weenies rejoice -- the 14g K-Edge Braze-On Adapter Clamp is the lightest way to mount a braze-on style front derailleur onto the round seat tube of your road bike. The fact that it comes in an array of colors just makes it that much more interesting. Like their line of chain retention...
K-Edge Chain Catcher - Braze-on
The violence of the spring classics' cobbles can make a chain do bad things mid-shift. It's for this very reason that pro team mechanics have long fashioned one-off metal widgets to keep chains from dropping between the inner chainring and the bottom bracket. Like 44t Record chainrings and...
K-Edge Chain Catcher - Clamp-type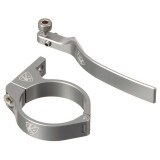 We've all been there: Seriously rough roads or mis-timed shifts can throw your chain off the inside of the chainrings. And like the oft-fashioned custom widgets designed and built by pro team mechanics on the eve of the cobbled classics, the K-Edge Clamp-on Chain Catcher acts as a safeguard...
K-Edge Cross Catcher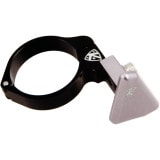 Retail Price:
$59.99
Our Price: $53.99
buy now
The K-Edge Double Cross Chain Catcher is made specifically for cyclocross bikes with double chainrings. It is comprised of two lightweight CNC machined components -- a tidy clamp for the seat tube, and a triangular guide plate that mounts on the clamp. The guide plate has a slotted stem with 12mm...
K-Edge Dirt-3 Chain Catcher
Retail Price:
$40.00
Our Price: $29.99
buy now
Say all you'd like about front derailleur adjustment, yeah ... we know. But no matter the perfection with which yours has been adjusted, sometimes crazy things happen, especially in really rough terrain. We've all been there -- rocks, roots, and desperate shifts all conspire towards chaotic chain...
Litespeed M1 Derailleur Hanger
Retail Price:
$30.00
Our Price: $25.50
buy now
The simple aluminum derailleur hanger does a thankless job; it's rarely appreciated. That is until it gets bent in a crash, then you realize how wonderful it is to have a straight one and how it just saved your frame from damage. This M1 Derailleur Hanger is what you'll need to get your Litespeed...
Lizard Skins Clear Adhesive Frame Patches
Protecting your bike's paint from chain-bang should be a no-brainer, and the Lizard Skins Clear Adhesive patch is the most inconspicuous way to do it. The clear adhesive patch fastens securely and eliminates the need to use a cloth protector--so forget about dragging half the landscape home after...
<< Prev | 1 | 2 | 3 | 4 | 5 | 6 | 7 | 8 | Next >>