Drivetrain Small Parts - Road Bike Shop
Shop
>
Components
>
Drivetrain, Brakes
>
Drivetrain Small Parts
Lezyne CNC Rod Tool - 32mm Hex
Lezyne never ceases to amaze us with its innovative thinking. Outside the box? The folks at Lezyne don't even know that there is a box. This becomes evident when you have the pleasure of using a tool like the Lezyne CNC Rod Wrench. The CNC Rod is the backbone of Lezyne's 2-Way Tech system, which...
Lezyne External Bottom Bracket and Cassette Lockring Tool
There's never enough room on your workbench, and when you're in the middle of a project, it seems like clutter just magically appears. Before you know it, your bench is completely covered with parts and tools and you can't find anything. Lezyne feels your pain. This is why it developed the...
Lizard Skins Clear Adhesive Frame Patches
Protecting your bike's paint from chain-bang should be a no-brainer, and the Lizard Skins Clear Adhesive patch is the most inconspicuous way to do it. The clear adhesive patch fastens securely and eliminates the need to use a cloth protector--so forget about dragging half the landscape home after...
Lizard Skins Clear Adhesive Patch Kit
You knew the time was right to buy the nimble trail bike you'd been eyeing for months, but let's face it: the killer paint scheme on this year's model was what really inspired you to pull the trigger and commit already. Since you got it, you've found yourself more than a little mesmerized by just...
Lizard Skins Neoprene Chainstay Protector
When you're bombing down a sick, flowy run, the last thing you want to hear is the annoying thwack of an errant chain crashing against your chainstay. Protect your frame from chain slap and damage with the Lizard Skins Neoprene Chainstay Protector. Made from neoprene and heavy-duty threads, this...
Merlin Derailleur Hanger - Extralight/CrusherTi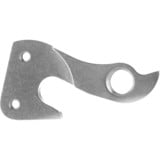 Merlin frames are among the most durable, most reliable builds in the world. Like all high-quality framesets, if they do have an Achilles' heel, it's the derailleur hanger. Anyone who has ever bent or snapped a hanger knows that this is by design, as it sacrifices the small, replaceable part to...
Merlin Derailleur Hanger - XLM 29
It's the kind of thing we almost hope you never need: a replacement Merlin XLM Derailleur Hanger, designed specifically for your XLM hardtail frame. Then again, if you do need it, it probably means you were pushing your limits, so go ahead and ride on.
MRP Decapitator FD Cover Plate
You've just made the jump to a beautiful, streamlined, single-chainring setup, but are in a conundrum over how to deal with that pesky derailleur mount chilling out with no purpose on the frame. Never fear, the MRP Decapitator FD Cover Plate is here to save the day. It sits neatly over the direct...
Niner Derailleur Hanger
The very first aluminum frames didn't have replaceable dropouts. So, you could bend them back a few times, but then the hanger would snap off and it would be off to the bike shop for a new frame. Thankfully, those days are over. Your Niner frame comes with a replaceable dropout that can be...
Niner Derailleur Hanger - CX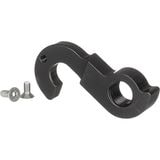 Back in the olden days when frames were mostly made from steel or aluminum and didn't have replaceable dropouts, you'd just bend back the hanger when it was out of place. While this worked in the short term, eventually the metal would weaken and break from all that bending, and you'd be out...
<< Prev | 1 | 2 | 3 | 4 | 5 | 6 | 7 | Next >>