Drivetrain Small Parts - Road Bike Shop
Shop
>
Components
>
Drivetrain, Brakes
>
Drivetrain Small Parts
Ibis Thru-Axle Derailleur Hanger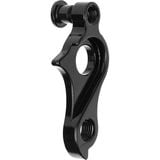 The Mojo HD and SL-R are fun bikes, and we often find ourselves lured many miles away from the trailhead by the siren call of unexplored routes. If you're like us and like to get deep into the woods, you should have one of these Thru-Axle Derailleur Hangers in your repair kit in case of the...
K-Edge Braze-On Adapter Clamp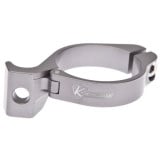 Weight weenies rejoice -- the 14g K-Edge Braze-On Adapter Clamp is the lightest way to mount a braze-on style front derailleur onto the round seat tube of your road bike. The fact that it comes in an array of colors just makes it that much more interesting. Like their line of chain retention...
K-Edge Chain Catcher - Braze-on
The violence of the spring classics' cobbles can make a chain do bad things mid-shift. It's for this very reason that pro team mechanics have long fashioned one-off metal widgets to keep chains from dropping between the inner chainring and the bottom bracket. Like 44t Record chainrings and...
K-Edge Cross Catcher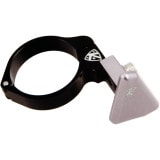 Retail Price:
$59.99
Our Price: $53.99
buy now
The K-Edge Double Cross Chain Catcher is made specifically for cyclocross bikes with double chainrings. It is comprised of two lightweight CNC machined components -- a tidy clamp for the seat tube, and a triangular guide plate that mounts on the clamp. The guide plate has a slotted stem with 12mm...
Lizard Skins Carbon Leather Chainstay Protector
Protect your carbon frame with the Lizard Skins Carbon Leather Chainstay Protector. The Lizard Skins' simple and durable design sticks securely to your ride's chainstay, effectively preventing your chain from chipping away at your investment.
Lizard Skins Clear Skin Chainstay Protector
The Lizard Skins Chainstay Protector is your first line of defense in the world of chain-slap. Durable, chain-protecting adhesive plastic keeps chainstays looking new for less than you spent on that pitcher of microbrew.
Lizard Skins Clear Skin Road Chainstay Protector
You paid a lot for your 15-pound, tarmac-ripping machine, so pay a little to protect it with the Lizard Skins Clear Skin Road Chainstay Protector. The simple adhesive keeps the Clear Skin stuck to your frame, and the durable plastic material makes chipped chainstays a thing of the past.
Merlin Derailleur Hanger - Extralight/CrusherTi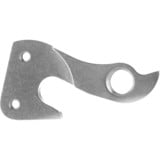 Merlin frames are among the most durable, most reliable builds in the world. Like all high-quality framesets, if they do have an Achilles' heel, it's the derailleur hanger. Anyone who has ever bent or snapped a hanger knows that this is by design, as it sacrifices the small, replaceable part to...
Niner Air 9 Carbon Geared Kit
Retail Price:
$60.00
Our Price: $44.99
buy now
If you'd like to add some more cogs to your Niner Air 9 Carbon, there's no easier way then this Geared Kit. It includes the performance Shift Kit -- a sealed guide tube with ferrule and the bottom-bracket located nylon guide -- and titanium guards for the bottom bracket shell and chainstay to...
Niner Derailleur Hanger
The very first aluminum frames didn't have replaceable dropouts. So, you could bend them back a few times, but then the hanger would snap off and it would be off to the bike shop for a new frame. Thankfully, those days are over. Your Niner frame comes with a replaceable dropout that can be...
<< Prev | 1 | 2 | 3 | 4 | 5 | 6 | 7 | Next >>