Drivetrain Small Parts - Road Bike Shop
Shop
>
Components
>
Drivetrain, Brakes
>
Drivetrain Small Parts
Ibis Thru-Axle Derailleur Hanger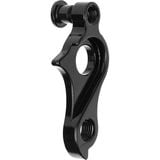 The Mojo HD and SL-R are fun bikes, and we often find ourselves lured many miles away from the trailhead by the siren call of unexplored routes. If you're like us and like to get deep into the woods, you should have one of these Thru-Axle Derailleur Hangers in your repair kit in case of the...
K-Edge Braze-On Adapter Clamp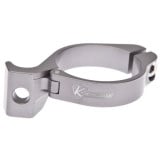 Retail Price:
$55.00
Our Price: $49.99
buy now
Weight weenies rejoice -- the 14g K-Edge Braze-On Adapter Clamp is the lightest way to mount a braze-on style front derailleur onto the round seat tube of your road bike. The fact that it comes in an array of colors just makes it that much more interesting. Like their line of chain retention...
K-Edge Chain Catcher - Clamp-type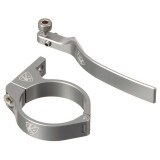 We've all been there: Seriously rough roads or mis-timed shifts can throw your chain off the inside of the chainrings. And like the oft-fashioned custom widgets designed and built by pro team mechanics on the eve of the cobbled classics, the K-Edge Clamp-on Chain Catcher acts as a safeguard...
K-Edge Cross Catcher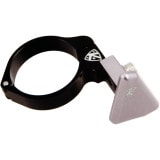 Retail Price:
$59.99
Our Price: $53.99
buy now
The K-Edge Double Cross Chain Catcher is made specifically for cyclocross bikes with double chainrings. It is comprised of two lightweight CNC machined components -- a tidy clamp for the seat tube, and a triangular guide plate that mounts on the clamp. The guide plate has a slotted stem with 12mm...
Lezyne External Bottom Bracket Socket Tool - 3/8 Socket Driver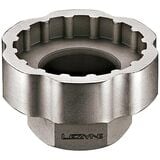 Shop tools go through hell every day. That's why they have to be designed and built to handle the abuse that the most frustrated shop-monkey can dish out. Lezyne's tools are some of the burliest we've seen. The Lezyne EXBBT-SOC external bottom bracket tool would stand up to just about any kind of...
Lizard Skins Clear Adhesive Frame Patches
Protecting your bike's paint from chain-bang should be a no-brainer, and the Lizard Skins Clear Adhesive patch is the most inconspicuous way to do it. The clear adhesive patch fastens securely and eliminates the need to use a cloth protector--so forget about dragging half the landscape home after...
Lizard Skins Clear Skin Chainstay Protector
The Lizard Skins Chainstay Protector is your first line of defense in the world of chain-slap. Durable, chain-protecting adhesive plastic keeps chainstays looking new for less than you spent on that pitcher of microbrew.
Lizard Skins Clear Skin Road Chainstay Protector
You paid a lot for your 15-pound, tarmac-ripping machine, so pay a little to protect it with the Lizard Skins Clear Skin Road Chainstay Protector. The simple adhesive keeps the Clear Skin stuck to your frame, and the durable plastic material makes chipped chainstays a thing of the past.
Lizard Skins Jumbo Chainstay Protector
Naked right chainstays are not pretty on derailleur-equipped bikes. On mountain bikes, the stay gets downright fugly. Chain slap takes even the prettiest, hardest stay and gouges it, scrapes, it, and lays down sub-dermal grease slicks that never look clean, and, if the tubing is ultra-thin wall,...
Merlin Derailleur Hanger - Extralight/CrusherTi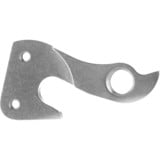 Merlin frames are among the most durable, most reliable builds in the world. Like all high-quality framesets, if they do have an Achilles' heel, it's the derailleur hanger. Anyone who has ever bent or snapped a hanger knows that this is by design, as it sacrifices the small, replaceable part to...
<< Prev | 1 | 2 | 3 | 4 | 5 | 6 | 7 | Next >>