Drivetrain Small Parts - Road Bike Shop
Shop
>
Components
>
Drivetrain, Brakes
>
Drivetrain Small Parts
Ibis Thru-Axle Derailleur Hanger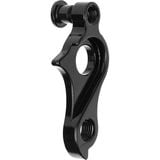 The Mojo HD and SL-R are fun bikes, and we often find ourselves lured many miles away from the trailhead by the siren call of unexplored routes. If you're like us and like to get deep into the woods, you should have one of these Thru-Axle Derailleur Hangers in your repair kit in case of the...
Lizard Skins Carbon Leather Chainstay Protector
Protect your carbon frame with the Lizard Skins Carbon Leather Chainstay Protector. The Lizard Skins' simple and durable design sticks securely to your ride's chainstay, effectively preventing your chain from chipping away at your investment.
Lizard Skins Clear Adhesive Frame Patches
Protecting your bike's paint from chain-bang should be a no-brainer, and the Lizard Skins Clear Adhesive patch is the most inconspicuous way to do it. The clear adhesive patch fastens securely and eliminates the need to use a cloth protector--so forget about dragging half the landscape home after...
Lizard Skins Clear Skin Chainstay Protector
The Lizard Skins Chainstay Protector is your first line of defense in the world of chain-slap. Durable, chain-protecting adhesive plastic keeps chainstays looking new for less than you spent on that pitcher of microbrew.
Lizard Skins Jumbo 29er Chainstay Protector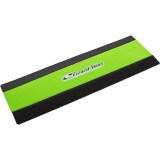 Y'know what they say about guys with big chainstays? They need big chainstay protectors. Like the Lizard Skins Jumbo 29er Chainstay Protector, to keep any unwanted chain slap from marring their beautiful frames.
Lizard Skins Jumbo Chainstay Protector
Naked right chainstays are not pretty on derailleur-equipped bikes. On mountain bikes, the stay gets downright fugly. Chain slap takes even the prettiest, hardest stay and gouges it, scrapes, it, and lays down sub-dermal grease slicks that never look clean, and, if the tubing is ultra-thin wall,...
Merlin Derailleur Hanger - Extralight/CrusherTi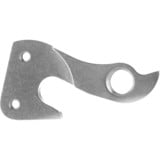 Merlin frames are among the most durable, most reliable builds in the world. Like all high-quality framesets, if they do have an Achilles' heel, it's the derailleur hanger. Anyone who has ever bent or snapped a hanger knows that this is by design, as it sacrifices the small, replaceable part to...
Merlin Derailleur Hanger - XLM 29
It's the kind of thing we almost hope you never need: a replacement Merlin XLM Derailleur Hanger, designed specifically for your XLM hardtail frame. Then again, if you do need it, it probably means you were pushing your limits, so go ahead and ride on.
MRP Decapitator FD Cover Plate
You've just made the jump to a beautiful, streamlined, single-chainring setup, but are in a conundrum over how to deal with that pesky derailleur mount chilling out with no purpose on the frame. Never fear, the MRP Decapitator FD Cover Plate is here to save the day. It sits neatly over the direct...
Niner Air 9 Carbon Geared Kit
Retail Price:
$60.00
Our Price: $44.99
buy now
If you'd like to add some more cogs to your Niner Air 9 Carbon, there's no easier way then this Geared Kit. It includes the performance Shift Kit -- a sealed guide tube with ferrule and the bottom-bracket located nylon guide -- and titanium guards for the bottom bracket shell and chainstay to...
<< Prev | 1 | 2 | 3 | 4 | 5 | 6 | 7 | Next >>