Drivetrain Small Parts - Road Bike Shop
Shop
>
Components
>
Drivetrain, Brakes
>
Drivetrain Small Parts
K-Edge Chain Catcher - Braze-on
The violence of the spring classics' cobbles can make a chain do bad things mid-shift. It's for this very reason that pro team mechanics have long fashioned one-off metal widgets to keep chains from dropping between the inner chainring and the bottom bracket. Like 44t Record chainrings and...
K-Edge Chain Catcher - Clamp-type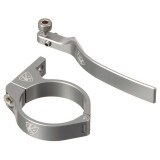 We've all been there: Seriously rough roads or mis-timed shifts can throw your chain off the inside of the chainrings. And like the oft-fashioned custom widgets designed and built by pro team mechanics on the eve of the cobbled classics, the K-Edge Clamp-on Chain Catcher acts as a safeguard...
K-Edge Cross Catcher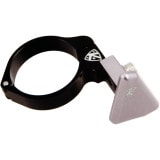 Retail Price:
$59.99
Our Price: $44.99
buy now
The K-Edge Double Cross Chain Catcher is made specifically for cyclocross bikes with double chainrings. It is comprised of two lightweight CNC machined components -- a tidy clamp for the seat tube, and a triangular guide plate that mounts on the clamp. The guide plate has a slotted stem with 12mm...
Lizard Skins Jumbo 29er Chainstay Protector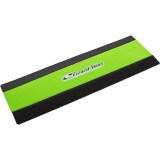 Y'know what they say about guys with big chainstays? They need big chainstay protectors. Like the Lizard Skins Jumbo 29er Chainstay Protector, to keep any unwanted chain slap from marring their beautiful frames.
Merlin Derailleur Hanger - Extralight/CrusherTi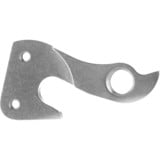 Merlin frames are among the most durable, most reliable builds in the world. Like all high-quality framesets, if they do have an Achilles' heel, it's the derailleur hanger. Anyone who has ever bent or snapped a hanger knows that this is by design, as it sacrifices the small, replaceable part to...
Merlin Derailleur Hanger - XLM 29
It's the kind of thing we almost hope you never need: a replacement Merlin XLM Derailleur Hanger, designed specifically for your XLM hardtail frame. Then again, if you do need it, it probably means you were pushing your limits, so go ahead and ride on.
MRP Decapitator FD Cover Plate
You've just made the jump to a beautiful, streamlined, single-chainring setup, but are in a conundrum over how to deal with that pesky derailleur mount chilling out with no purpose on the frame. Never fear, the MRP Decapitator FD Cover Plate is here to save the day. It sits neatly over the direct...
Niner Air 9 Carbon Geared Kit
Retail Price:
$60.00
Our Price: $44.99
buy now
If you'd like to add some more cogs to your Niner Air 9 Carbon, there's no easier way then this Geared Kit. It includes the performance Shift Kit -- a sealed guide tube with ferrule and the bottom-bracket located nylon guide -- and titanium guards for the bottom bracket shell and chainstay to...
Niner Derailleur Hanger
The very first aluminum frames didn't have replaceable dropouts. So, you could bend them back a few times, but then the hanger would snap off and it would be off to the bike shop for a new frame. Thankfully, those days are over. Your Niner frame comes with a replaceable dropout that can be...
Niner Derailleur Hanger - CX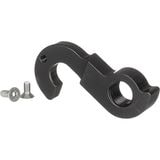 Back in the olden days when frames were mostly made from steel or aluminum and didn't have replaceable dropouts, you'd just bend back the hanger when it was out of place. While this worked in the short term, eventually the metal would weaken and break from all that bending, and you'd be out...
<< Prev | 1 | 2 | 3 | 4 | 5 | 6 | Next >>