Drivetrain Small Parts - Road Bike Shop
Shop
>
Components
>
Drivetrain, Brakes
>
Drivetrain Small Parts
K-Edge Cross Catcher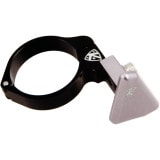 Retail Price:
$59.99
Our Price: $47.99
buy now
The K-Edge Double Cross Chain Catcher is made specifically for cyclocross bikes with double chainrings. It is comprised of two lightweight CNC machined components -- a tidy clamp for the seat tube, and a triangular guide plate that mounts on the clamp. The guide plate has a slotted stem with 12mm...
Lizard Skins Carbon Leather Chainstay Protector
Protect your carbon frame with the Lizard Skins Carbon Leather Chainstay Protector. The Lizard Skins' simple and durable design sticks securely to your ride's chainstay, effectively preventing your chain from chipping away at your investment.
Lizard Skins Clear Adhesive Frame Patches
Protecting your bike's paint from chain-bang should be a no-brainer, and the Lizard Skins Clear Adhesive patch is the most inconspicuous way to do it. The clear adhesive patch fastens securely and eliminates the need to use a cloth protector--so forget about dragging half the landscape home after...
Lizard Skins Clear Skin Road Chainstay Protector
You paid a lot for your 15-pound, tarmac-ripping machine, so pay a little to protect it with the Lizard Skins Clear Skin Road Chainstay Protector. The simple adhesive keeps the Clear Skin stuck to your frame, and the durable plastic material makes chipped chainstays a thing of the past.
Lizard Skins Jumbo Chainstay Protector
Naked right chainstays are not pretty on derailleur-equipped bikes. On mountain bikes, the stay gets downright fugly. Chain slap takes even the prettiest, hardest stay and gouges it, scrapes, it, and lays down sub-dermal grease slicks that never look clean, and, if the tubing is ultra-thin wall,...
Merlin Derailleur Hanger - Extralight/CrusherTi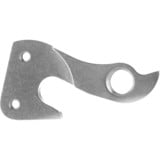 Merlin frames are among the most durable, most reliable builds in the world. Like all high-quality framesets, if they do have an Achilles' heel, it's the derailleur hanger. Anyone who has ever bent or snapped a hanger knows that this is by design, as it sacrifices the small, replaceable part to...
Merlin Derailleur Hanger - XLM 29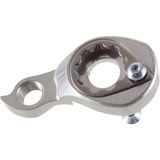 It's the kind of thing we almost hope you never need: a replacement Merlin XLM Derailleur Hanger, designed specifically for your XLM hardtail frame. Then again, if you do need it, it probably means you were pushing your limits, so go ahead and ride on.
Niner Air 9 Carbon Geared Kit
Retail Price:
$60.00
Our Price: $44.99
buy now
If you'd like to add some more cogs to your Niner Air 9 Carbon, there's no easier way then this Geared Kit. It includes the performance Shift Kit -- a sealed guide tube with ferrule and the bottom-bracket located nylon guide -- and titanium guards for the bottom bracket shell and chainstay to...
Niner Jet 9 RDO Pivot Bolt Kit
Retail Price:
$80.00
Our Price: $68.00
buy now
You don't talk about it much, but how your bike looks is pretty important. If you wanted a bike that looks like everybody else's, you could just leave it stock. Why would you do that, though? Niner lets you express a little bit more with your bike by adding some from-the-factory bling to your...
Orbea Rallon 10 Dropout Hanger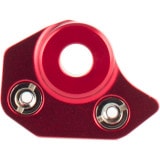 Retail Price:
$15.00
Our Price: $5.99
buy now
Orbea isn't afraid to call its Rallon the 'perfect enduro mountain bike.' But rough trails don't play favorites, and an errant rock outcropping or unfortunate crash could leave you in need of a new dropout. In the event of an impact that results in a bend, it's always better to simply replace the...
<< Prev | 1 | 2 | 3 | 4 | 5 | 6 | Next >>