Derailleurs - Road Bike Shop
Shop
>
Components
>
Drivetrain, Brakes
>
Derailleurs
Shimano XTR Dyna-Sys FD-M980 Front Derailleur
Retail Price:
$129.95
Our Price: $64.98
buy now
Shimano's XTR Triple Front Derailleur options can seem confusing, but let's be glad that there are options so that we can have different bikes with different rear suspension designs. Let's examine further. To simplify, Shimano really only builds two XTR front derailleur styles -- top swing and...
Shimano XTR FD-M981 Dyna-Sys Top Pull Front Derailleur - Triple
Retail Price:
$99.95
Our Price: $58.00
buy now
While single- and double-chainring drivetrains are becoming more popular for mountain bike use, there's no denying that many riders still prefer the superior range that's of a triple. For these traditionalists, Shimano still builds its XTR Front Derailleur in a Top Pull Triple option, also known...
Shimano XTR FD-M985 Dyna-Sys Front Derailleur - Double
Retail Price:
$99.95
Our Price: $84.96
buy now
This XTR Dyna-Sys Double Front Derailleur FD-M985 is specifically designed for use with Shimano's XTR Race Double Crankset and XTR 10-speed HG-X chain. The reason for the exclusivity is that the cage is shaped accordingly. It's shorter than the cage on the triple compatible version. So while...
Shimano XTR FD-M986 Dyna-Sys Traditional Front Derailleur - Double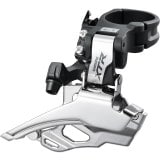 Retail Price:
$109.95
Our Price: $100.00
buy now
We grew up with derailleurs that looked a lot like this one, save for the sleek, new style of XTR 980. This XTR Dyna-Sys Traditional Double Front Derailleur FD-M986 has a traditional design. Some might call it a high clamp, some a bottom swing. Either way, some frames require it because of the...
Shimano XTR M-981 Shadow Rear Derailleur
Retail Price:
$189.95
Our Price: $113.97
buy now
Modern 150mm-travel bikes have different requirements in comparison to crosscountry race bikes, yet riders still prefer the weight, precision, and strength that's found in Shimano's XTR line. For them, there's the M-981 Trail Rear Derailleur; for the XC purest, however, Shimano's streamlined XTR...
Shimano XTR Shadow Plus RD-M986 Rear Derailleur
Retail Price:
$199.95
Our Price: $169.96
buy now
The smooth action of Shimano's XTR Rear Derailleur has always been a contributing factor to XTR's legendary status. But the Shadow Plus RD-M986 packs a new feature that's rewriting drivetrain performance -- a motion damping switch that controls pulley cage fore and aft movement.This means you can...
SRAM Force 22 Front Derailleur
One of the standout components that makes Force 22's drivetrain so intuitive is the front derailleur. The new groupset is dubbed 'True 22' as that's exactly how many useable and trim-free gears you receive with the new groupset. Force has now carried over many of the same innovative technology...
SRAM Force 22 Rear Derailleur
SRAM now delivers 22 gears with its new Force groupset. It's called 'True 22,' as the 11-speed drivetrain allows you to utilize every one of these gears, in any combination, without adding any weight to the already outstanding Force drivetrain system. The Force 22 Rear Derailleur stands in as an...
SRAM Force Front Derailleur
Retail Price:
$74.00
Our Price: $44.40
buy now
For all the big changes that have occurred with the redesign of SRAM Force components, the one place where things have barely changed is the front derailleur. The cage, the pivots, the adjusting screws, the clamp, and the weight remain the same. The only change is the finish. The derailleur is...
SRAM Red 22 Front Derailleur
While SRAM's Yaw technology was arguably the most defining attribute of the 2012 re-introduction of Red, the 11th gear makes this claim with the new Red 22 group. But that doesn't mean the front derailleur gets bumped to the back burner with the new group -- quite the opposite. The Red 22 Front...
<< Prev | 1 | 2 | 3 | 4 | 5 | 6 | 7 | 8 | Next >>