Derailleurs - Road Bike Shop
Shop
>
Components
>
Drivetrain, Brakes
>
Derailleurs
Shimano SLX FD-M7020-E 2x11 Front Derailleur
We're always excited to hear a rumor of trickle-down technology making its way down the Shimano groupset family line, and this spring, that rumor applied to SLX. Shimano went back to the workshop and took tech from Deore XT and XTR and added it to SLX, giving the hardworking groupset a makeover...
Shimano SLX FD-M7020-H 2x11 Front Derailleur
Though the glossies might have you believing that the front derailleur is facing inevitable extinction, there's no shame in wanting to hold onto your granny gear for your climb-heavy rides. When Shimano gave the SLX drivetrain its extensive makeover for 2016, the brand introduced a few...
Shimano SLX FD-M7020-L 2x11 Front Derailleur
Shimano redesigned its entire SLX drivetrain for 2016, bestowing a host of trickle down technology from XT and XTR onto the workhorse groupset. Where SLX was reliable before, its exceptionally so now, with improved functionality and stunning aesthetics from cranksets to trigger shifters. The SLX...
Shimano SLX FD-M7025-D 2x11 Front Derailleur
Retail Price:
$26.99
Our Price: $24.83
buy now
We'll admit: the thought of ditching our granny gear forever in favor of a one-by setup always sounds great from the couch. Predictably, our enthusiasm begins to wane as we hop on our trail bikes and start pedaling, with our optimism dropping precipitously when we hit our first of several...
Shimano SLX FD-M7025-E 2x11 Front Derailleur
If you haven't heard about Shimano's new redesign of SLX, we don't think it's a stretch to say you'll be seeing a lot more of it out on singletrack soon. SLX has always been a reliable choice for off-road rigs, but this year, it debuts with fresh trickle-down technology from pricier Deore XT in a...
Shimano SLX FD-M7025-L 2x11 Front Derailleur
Shimano's redesign of its entire SLX line resulted in changes that not just the budget-focused crowd alone should be excited about. Once again demonstrating the power of trickle-down technology, Shimano took features from its crown jewels, XTR and XT, and moved it down to workhorse SLX, turning...
Shimano SLX RD-M7000 Rear Derailleur
Retail Price:
$64.99
Our Price: $55.24
buy now
After spending its entire life in the shadows of the luminous XTR and XT drivetrains, SLX received an extensive overhaul for 2016 that raises the bar on the definition of a workhorse drivetrain. Still accessible to the self-sponsored cyclist, SLX now offers 11-speed capability and sleek new...
Shimano Ultegra 6800 Front Derailleur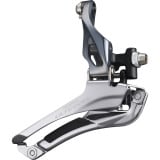 Retail Price:
$38.99
Our Price: $30.02
buy now
Front derailleurs are pretty single-minded, so we were initially a bit bemused that Shimano insisted on making as many changes as it did to the latest generation of the Ultegra 6800 Front Derailleur. The 6800 model borrows design cues from its more expensive Dura-Ace cousin, which manifest...
Shimano Ultegra 6800 Rear Derailleur
Retail Price:
$75.99
Our Price: $49.95
buy now
Shimano's Ultegra 6800 Rear Derailleur got some serious upgrades from the 6700 series. It's more compact, lightweight, and features consistent shifting across the cassette's whole 11-speed range--a welcome improvement. A redesigned spring mechanism gives the RD-6800 an equal, positive sensation...
Shimano Ultegra Di2 FD-6870 Front Derailleur
Retail Price:
$205.99
Our Price: $139.98
buy now
A confession: We've always loved Shimano's front derailleurs. They've always worked flawlessly and quietly. And then we rode Di2 bikes. The precision of the Di2 front derailleurs cannot be overstated. They work so phenomenally well, so precisely, and so quietly that we often forget they're there....
<< Prev | 1 | 2 | 3 | 4 | 5 | 6 | 7 | 8 | Next >>