Derailleurs - Road Bike Shop
Shop
>
Components
>
Drivetrain, Brakes
>
Derailleurs
Shimano Dura-Ace FD-R9150 Front Derailleur Adapter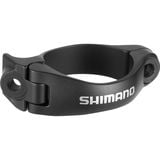 There are two things you can count on with steel frames: they ride like butter and you'll have to spend an inordinate amount of time hunting down a braze-on mount in order to attach any of today's front derailleurs to them. Shimano's Di2 derailleurs are a good case in point, but the Dura-Ace...
Shimano Dura-Ace Front Derailleur Adapter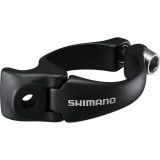 Staying current with modern design trends, Shimano's newest Dura-Ace FD-9070 Front Derailleur is available only in braze-on form. However, don't despair if your favorite frame is preventing you from enjoying the performance of electronic-shifting. Simply attach the Shimano Dura-Ace Front...
Shimano Dura-Ace RD-9000 11-Speed Rear Derailleur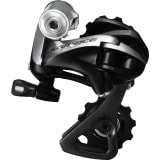 Retail Price:
$202.99
Our Price: $134.95
buy now
Shimano's derailleurs have always been superlative, and the new Dura-Ace RD-9000 is no exception. It makes intelligent use of carbon fiber, but still relies primarily on its alloy construction to get the job done smoothly, quietly, and efficiently. Oh, and it'll pretty much last forever, too. One...
Shimano Dura-Ace RD-R9100 11-Speed Rear Derailleur
Retail Price:
$207.99
Our Price: $184.99
buy now
At a time when electronic drivetrains are gaining unstoppable traction, we appreciate that Shimano chose not to neglect its storied pro-level mechanical drivetrain for Di2, making careful, meticulous updates that have resulted in subtle, but significant, improvements to functionality. For those...
Shimano FD-CX70 Front Derailleur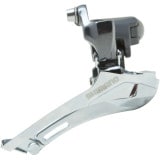 The Shimano FD-CX70 Front Derailleur is an Ultegra-level cyclocross derailleur designed for lightweight performance in muddy conditions.
Shimano SLX FD-M7020-D 2x11 Front Derailleur
It's never been the sexiest, shiniest Shimano drivetrain, or the cheapest, but this year, SLX has finally been granted its moment in the spotlight. From the looks of things, it's going to be a long moment. Receiving an overhaul spanning from cranksets to trigger shifters, SLX emerged from the...
Shimano SLX FD-M7020-E 2x11 Front Derailleur
We're always excited to hear a rumor of trickle-down technology making its way down the Shimano groupset family line, and this spring, that rumor applied to SLX. Shimano went back to the workshop and took tech from Deore XT and XTR and added it to SLX, giving the hardworking groupset a makeover...
Shimano SLX FD-M7020-H 2x11 Front Derailleur
Though the glossies might have you believing that the front derailleur is facing inevitable extinction, there's no shame in wanting to hold onto your granny gear for your climb-heavy rides. When Shimano gave the SLX drivetrain its extensive makeover for 2016, the brand introduced a few...
Shimano SLX FD-M7020-L 2x11 Front Derailleur
Shimano redesigned its entire SLX drivetrain for 2016, bestowing a host of trickle down technology from XT and XTR onto the workhorse groupset. Where SLX was reliable before, its exceptionally so now, with improved functionality and stunning aesthetics from cranksets to trigger shifters. The SLX...
Shimano SLX FD-M7025-D 2x11 Front Derailleur
We'll admit: the thought of ditching our granny gear forever in favor of a one-by setup always sounds great from the couch. Predictably, our enthusiasm begins to wane as we hop on our trail bikes and start pedaling, with our optimism dropping precipitously when we hit our first of several...
<< Prev | 1 | 2 | 3 | 4 | 5 | 6 | 7 | 8 | 9 | Next >>