Cranksets Chainrings - Road Bike Shop
Shop
>
Components
>
Drivetrain, Brakes
>
Cranksets & Chainrings
SRAM X01 X-SYNC Chainring - 94 BCD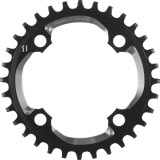 Retail Price:
$98.00
Our Price: $72.67
buy now
Making gear ratio adjustments, from 30t to 38t increments, just got easier with SRAM's X01 X-SYNC 94 BCD Chainring. These rings are CNC-machined from 7075 aluminum for maximum chain control. Due to SRAM's machining process, each tooth features a variable thickness. Accordingly, the teeth of the...
SRAM X01 X-SYNC Chainring- 104 BCD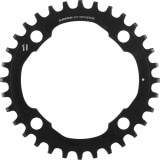 Retail Price:
$105.00
Our Price: $75.95
buy now
If you already have a crank, and you want to upgrade to X01 components, you're able to use the X01 104 BCD X-Sync Chainring. And, because there are five ratios, you're also able to make adjustments from 32t to 38t in two tooth increments. Making gear ratio adjustments, from 32t to 38t increments,...
SRAM X1 1000 BB30 Crankset
It's no secret that SRAM's revolutionary 1x11 drivetrain platform has risen to dominance in the world of mountain bikes. While it originally debuted at the top-end of the market, SRAM has thankfully trickled down 1x11 technology into more wallet-friendly groups, notably the X1 groupset. The SRAM...
SRAM X1 1000 GXP Crankset
In a discipline that makes its name tackling the roughest terrain possible at racing speeds, minimizing the number of moving parts that can fail is a capital-g Good thing. It's little wonder, then, that SRAM's 1X drivetrains have become so popular. Given its position in SRAM's groupset hierarchy,...
SRAM X1 1400 BB30 Crankset
Retail Price:
$308.00
Our Price: $276.99
buy now
Having thoroughly dominated the world of mountain biking since its debut only two years ago, SRAM's 1x11 drivetrain platform has gotten even friendlier with the introduction of the new X1 group, established as the value-oriented 1x11 family below the top-line XX1 and mid-range X01 groups. This...
SRAM X1 1400 GXP Crankset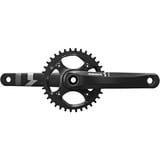 Retail Price:
$262.00
Our Price: $235.99
buy now
It's safe to say that SRAM's 1x11 drivetrain systems have swept through the mountain bike world. The superiority of the configuration is evident from any angle, and now, with the new X1 group slotting in below the top-line XX1 and next-best X01, the system is available at a friendlier price point...
SRAM XX1 Chainring
Retail Price:
$92.00
Our Price: $69.95
buy now
SRAM's XX1 is a fresh approach to drivetrain designs that builds on proven, and preferred, principles of established riders and racers alike. One-by setups are nothing new, but none have offered the ratio spread, chain retention, and performance driven technology that this 11-speed group does....
SRAM XX1 GXP 168 Q-Factor Crankarms
Retail Price:
$289.95
Our Price: $234.08
buy now
When SRAM first introduced serious mountain bike components, it caught a certain juggernaut sleeping on the job. This, thankfully, pushed the industry to the high standards that we enjoy today. SRAM hasn't letup either, as is proven with the XX1 drivetrain and its corresponding XX GXP Crankarms...
SRM BB-Mounted Sensor Cable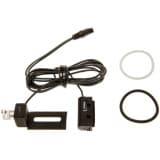 For all of the advanced technology built into an SRM PowerMeter, we struggle to name a single bicycle component that's more frustrating to install. Specifically, the source of SRM installation angst focuses on the power pickup of an SRM sensor cable. That's why there's the SRM BB Sensor Cable....
Storck Powerarms G2 Crank Arms
It should really come as no surprise that the engineers at Storck would lay claim to producing one of the lightest carbon cranksets in the world, seeing as their familiarity in the realm of bicycle composite design and manufacturing is matched by few. As such, the new Storck Powerarms G2 (second...
<< Prev | 1 | 2 | 3 | 4 | 5 | 6 | 7 | 8 | 9 | Next >>