Cranksets Chainrings - Road Bike Shop
Shop
>
Components
>
Drivetrain, Brakes
>
Cranksets & Chainrings
SRAM Red Outer Chainring - Road
Some of us go for the kill on every ride, while others are less, well, competitive. The former are always on the cutting edge equipment, looking for every technical advantage. The latter are happy to do one or two or no races a year, and tend to be more concerned with longevity, durability,...
SRAM Red X-Glide Chainring - Road
There are certain situations on the road where you need absolute control over where your chain is. Plenty of examples come to mind from the peloton, and most involve a grand tour, a steep climb, a group of favorites, and perhaps the likes of Contador blowing the race apart. For example, maybe if...
SRAM Rival 22 BB30 Crankset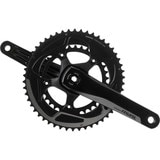 After SRAM put the works on its fantastic Red drivetrain, bumping up the number of potential gear combinations to 22 and refining the heck out of the system at the same time, it was only a matter of time before the rest of the company's road drivetrain family followed suit. Slotting in just below...
SRAM Rival Crankset with GXP Bottom Bracket
Comparing any SRAM Rival component to its Red counterpart is an easy task because SRAM makes the story so easy to follow: Rival and Red components are functionally identical across all component types. What makes Red feel so special (shifting, braking, ergonomics, etc) carries directly into the...
SRAM X-Glide 11-speed 110BCD Chain Ring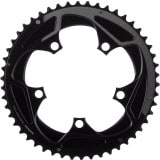 The X-Glide 11-speed Chain Ring was designed using the same upshift rivets that are used in SRAM's fast shifting XX mountain group set. This makes for smooth movement between front gears when using one of its Yaw derailleurs. The X-Glide chain rings were CNC machined using 7075-T6 aluminum which...
SRAM X01 DH BB30 Crankarm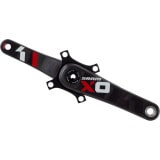 With an oversized BB30 spindle for maximum stiffness and sleek, yet durable, carbon fiber arms, the Sram X01 DH Crankarm is ready for the starting gate. The carbon arms are mated to an aluminum spider with a 94mm bolt circle diameter for a lightweight single-ring setup interface. This BCD is...
SRAM X01 X-SYNC Chainring - 94 BCD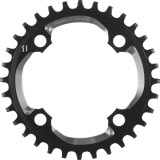 Making gear ratio adjustments, from 30t to 38t increments, just got easier with SRAM's X01 X-SYNC 94 BCD Chainring. These rings are CNC-machined from 7075 aluminum for maximum chain control. Due to SRAM's machining process, each tooth features a variable thickness. Accordingly, the teeth of the...
SRAM X01 X-SYNC Chainring- 104 BCD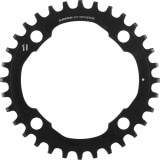 Retail Price:
$105.00
Our Price: $75.95
buy now
If you already have a crank, and you want to upgrade to X01 components, you're able to use the X01 104 BCD X-Sync Chainring. And, because there are five ratios, you're also able to make adjustments from 32t to 38t in two tooth increments. Making gear ratio adjustments, from 32t to 38t increments,...
SRAM X1 1000 BB30 Crankset
It's no secret that SRAM's revolutionary 1x11 drivetrain platform has risen to dominance in the world of mountain bikes. While it originally debuted at the top-end of the market, SRAM has thankfully trickled down 1x11 technology into more wallet-friendly groups, notably the X1 groupset. The SRAM...
SRAM X1 1000 GXP Crankset
In a discipline that makes its name tackling the roughest terrain possible at racing speeds, minimizing the number of moving parts that can fail is a capital-g Good thing. It's little wonder, then, that SRAM's 1X drivetrains have become so popular. Given its position in SRAM's groupset hierarchy,...
<< Prev | 1 | 2 | 3 | 4 | 5 | 6 | 7 | 8 | 9 | Next >>