Cranksets Chainrings - Road Bike Shop
Shop
>
Components
>
Drivetrain, Brakes
>
Cranksets & Chainrings
SRAM Rival 22 GXP Crankset
Given that the two are sister companies, it's only logical that SRAM would get around to offering its workhorse Rival 22 Crankset in a model compatible with TruVativ's GXP (Giga X Pipe) bottom bracket. The GXP's defining elements include a left bearing with a smaller diameter to mate with the...
SRAM Rival Crankset with GXP Bottom Bracket
Comparing any SRAM Rival component to its Red counterpart is an easy task because SRAM makes the story so easy to follow: Rival and Red components are functionally identical across all component types. What makes Red feel so special (shifting, braking, ergonomics, etc) carries directly into the...
SRAM X-Glide 11-speed 110BCD Chain Ring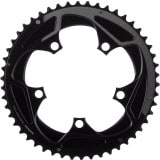 The X-Glide 11-speed Chain Ring was designed using the same upshift rivets that are used in SRAM's fast shifting XX mountain group set. This makes for smooth movement between front gears when using one of its Yaw derailleurs. The X-Glide chain rings were CNC machined using 7075-T6 aluminum which...
SRAM X-SYNC Direct Mount Chainring
SRAM's X-Sync Direct Mount Chainring features X-Sync's tall, square teeth to engage the chain sooner on each rotation for maximum control with a one-by drivetrain so the chain doesn't get bored and wander off onto your pedal spindle. The teeth also alternate between narrow and wide with...
SRAM X01 BB30 Crankset
Retail Price:
$424.00
Our Price: $309.95
buy now
Anyone who's ever dealt with granny-ring-induced pedal feedback knows that front derailleurs are for the birds, as far as mountain biking is concerned. So if you're ready to ditch the front derailleur, and you're looking for the simplest, lightest setup, the SRAM X01 BB30 Crankset fits the bill....
SRAM X01 GXP Direct Mount Crankset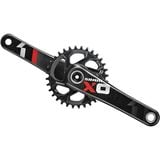 SRAM's one-by drivetrain revolution may be the highlight of the mountain bike tech coming out of the innovative manufacturer's Illinois headquarters, but the X01 GXP Direct Mount Crankset may be a close second place. The X01 Direct Mount cranks effectively eliminate the spider for an interface...
SRAM X01 X-SYNC Chainring - 94 BCD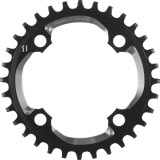 Retail Price:
$98.00
Our Price: $59.95
buy now
The SRAM X01 X-SYNC 94BCD Chainring aids in your ability to quickly swap gear ratios, thanks to its 30 to 38-teeth increments. The other big story with this chainring is its tall, square teeth that engage earlier than triangle-shaped teeth found on traditional chainrings, locking together when...
SRAM X01 X-SYNC Chainring- 104 BCD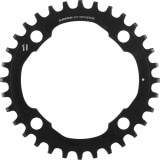 Retail Price:
$113.00
Our Price: $81.00
buy now
If you already have a crank, and you want to upgrade to X01 components, you're able to use the X01 104 BCD X-Sync Chainring. And, because there are five ratios, you're also able to make adjustments from 32t to 38t in two tooth increments. Making gear ratio adjustments, from 32t to 38t increments,...
SRAM X1 1000 BB30 Crankset
Retail Price:
$239.00
Our Price: $185.99
buy now
It's no secret that SRAM's revolutionary 1x11 drivetrain platform has risen to dominance in the world of mountain bikes. While it originally debuted at the top-end of the market, SRAM has thankfully trickled down 1x11 technology into more wallet-friendly groups, notably the X1 groupset. The SRAM...
SRAM X1 1000 GXP Crankset
Retail Price:
$199.00
Our Price: $154.99
buy now
In a discipline that makes its name tackling the roughest terrain possible at racing speeds, minimizing the number of moving parts that can fail is a capital-g Good thing. It's little wonder, then, that SRAM's 1X drivetrains have become so popular. Given its position in SRAM's groupset hierarchy,...
<< Prev | 1 | 2 | 3 | 4 | 5 | 6 | 7 | 8 | 9 | 10 | Next >>