Cranksets Chainrings - Road Bike Shop
Shop
>
Components
>
Drivetrain, Brakes
>
Cranksets & Chainrings
SRAM Force 22 GXP Crankset
Retail Price:
$305.00
Our Price: $228.75
buy now
While the announcement of 22 gears might draw most people's attention toward the new Force 22, we'd argue the biggest achievement of the new group was SRAM's generous carryover of Red's technology. The Force 22 GXP Crankset showcases this most clearly, as it was constructed with unidirectional...
SRAM Force CX1 X-Sync 11-speed 110BCD Chain Ring
Retail Price:
$125.95
Our Price: $114.99
buy now
When SRAM set out to create the ultimate one-by cyclocross group, it looked to its well-loved mountain bike components for inspiration. The derailleur is a hybrid of all the best parts of its road and mountain groups and to that end the chain rings needed to be equally as impressive. The Force...
SRAM New Red 10-Speed Power Meter Non-Hidden Bolt Chainring
If you happen to have a first-generation "new" SRAM Red drivetrain -- the 10-speed version available from 2012-2013 until the 11-speed Red 22 version debuted -- and you're using it along with a Quarq or SRM power meter, and you need to replace your big ring, well, here you go.
SRAM Powerglide Road Chainring
SRAM offers its Inner Chainring, ideal for both road and 'cross riding, in myriad sizes to humor our impulses and account for whatever a given race throws our way. This ring is stamped from 7075-T6 alloy, a string of numbers and letters that is really just a funny way to spell "gear that will...
SRAM Red 22 BB30 Crankset
Retail Price:
$489.00
Our Price: $413.99
buy now
The BB30 system continues its reign over the peloton as a preferred bottom bracket standard. It's not hard to see why, as an oversized, 30mm spindle and large bottom bracket shell add torsional stiffness, providing a responsive and efficient pedaling platform without increased weight. The system...
SRAM Red 22 GXP Crankset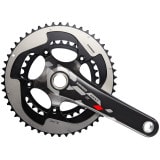 Retail Price:
$451.00
Our Price: $360.80
buy now
SRAM's re-introduced Red group in 2012 addressed the specific drivetrain requests of cycling's elite athletes, and the culmination of feedback -- combined with early wins aboard the new drivetrain -- confirmed that the modifications were successful. So, when SRAM's engineers took a hard look at...
SRAM Red Outer Chainring - Road
Some of us go for the kill on every ride, while others are less, well, competitive. The former are always on the cutting edge equipment, looking for every technical advantage. The latter are happy to do one or two or no races a year, and tend to be more concerned with longevity, durability,...
SRAM Red X-Glide Chainring - Road
There are certain situations on the road where you need absolute control over where your chain is. Plenty of examples come to mind from the peloton, and most involve a grand tour, a steep climb, a group of favorites, and perhaps the likes of Contador blowing the race apart. For example, maybe if...
SRAM Rival 22 BB30 Crankset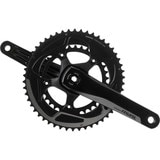 After SRAM put the works on its fantastic Red drivetrain, bumping up the number of potential gear combinations to 22 and refining the heck out of the system at the same time, it was only a matter of time before the rest of the company's road drivetrain family followed suit. Slotting in just below...
SRAM Rival Crankset with GXP Bottom Bracket
Comparing any SRAM Rival component to its Red counterpart is an easy task because SRAM makes the story so easy to follow: Rival and Red components are functionally identical across all component types. What makes Red feel so special (shifting, braking, ergonomics, etc) carries directly into the...
<< Prev | 1 | 2 | 3 | 4 | 5 | 6 | 7 | 8 | 9 | 10 | Next >>