Cranksets Chainrings - Road Bike Shop
Shop
>
Components
>
Drivetrain, Brakes
>
Cranksets & Chainrings
SRAM Force CX1 BB30 Crankset
Retail Price:
$307.95
Our Price: $277.20
buy now
It has arrived. One-by drivetrains have been part of the mountain bike scene for a few years now, and singlespeed racing in both mountain and cyclocross disciplines has a growing following. SRAM took the best of both, durablity from mountain biking and simplicity of the singlespeed, and developed...
SRAM Force CX1 GXP Crankset
Retail Price:
$273.95
Our Price: $246.50
buy now
SRAM's 1X mountain bike groupset has received praise for it's simplicity and reliability as well as its streamlined good looks. For 2014, SRAM took the best from this mountain groupset and combined it with its road technology to create the cyclocross specific Force CX1. Now your groupset will...
SRAM Force CX1 X-Sync 11-speed 110BCD Chain Ring
Retail Price:
$131.95
Our Price: $114.99
buy now
SRAM's Force CX1 is its cyclocross-specific 1x11 group. As you might expect, SRAM took the best of its mountain groups and crossed them with the best of its road groups to create the ultimate tough, lightweight, element-proof drivetrain. At the heart of this system is the Force CX1 X-Sync...
SRAM Powerglide Road Chainring
SRAM offers its Inner Chainring, ideal for both road and 'cross riding, in myriad sizes to humor our impulses and account for whatever a given race throws our way. This ring is stamped from 7075-T6 alloy, a string of numbers and letters that is really just a funny way to spell "gear that will...
SRAM Red 22 BB30 Crankset
Retail Price:
$489.00
Our Price: $338.00
buy now
The engineers at SRAM have improved upon the first-generation Red crankset by going bigger, and ultimately offering a lighter, stiffer, and more precise crankset. Built with Exogram technology, the new SRAM Red BB30 Crankset uses a larger carbon-optimizing structure, which enables them to use...
SRAM Red 22 GXP Crankset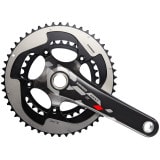 Retail Price:
$451.00
Our Price: $360.80
buy now
The SRAM Red groupset is at the forefront of precision shifting and crispness. So when SRAM tried to improve on it even more, the only thing that stood out was the need to make the leap to 11-speeds. The Red 22 GXP Crankset provides you with "True 22" shifting for ultimate performance. While the...
SRAM Red Outer Chainring - Road
For the rider who demands bombproof build quality and affordability, the SRAM Red Outer Chainring features a 7075-T6 alloy composition that's strain hardened for the ultimate in long-lasting, flex-free performance. Its SRAM/TruVativ machining and coining facilitates precise shifting, while...
SRAM Red X-Glide Chainring - Road
Sloppy shifting is the bane of serious climbers. You know the feeling--you shift, nothing happens, and then BANG! You slam down two gears and totally lost momentum. SRAM's Red-X Glide Chainring is ridiculously responsive, though, so you'll never have to wait for your chain to drop down or jump a...
SRAM Rival 22 BB30 Crankset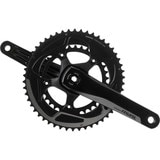 Retail Price:
$217.95
Our Price: $190.00
buy now
After SRAM put the works on its fantastic Red drivetrain, bumping up the number of potential gear combinations to 22 and refining the heck out of the system at the same time, it was only a matter of time before the rest of the company's road drivetrain family followed suit. Slotting in just below...
SRAM Rival 22 GXP Crankset
Given that the two are sister companies, it's only logical that SRAM would get around to offering its workhorse Rival 22 Crankset in a model compatible with TruVativ's GXP (Giga X Pipe) bottom bracket. The GXP's defining elements include a left bearing with a smaller diameter to mate with the...
<< Prev | 1 | 2 | 3 | 4 | 5 | 6 | 7 | 8 | 9 | 10 | Next >>