Cranksets Chainrings - Road Bike Shop
Shop
>
Components
>
Drivetrain, Brakes
>
Cranksets & Chainrings
SRAM Force CX1 X-Sync 11-speed 110BCD Chain Ring
When SRAM set out to create the ultimate one-by cyclocross group, it looked to its well-loved mountain bike components for inspiration. The derailleur is a hybrid of all the best parts of its road and mountain groups and to that end the chain rings needed to be equally as impressive. The Force...
SRAM Red 22 BB30 Crankset
The BB30 system continues its reign over the peloton as a preferred bottom bracket standard. It's not hard to see why, as an oversized, 30mm spindle and large bottom bracket shell add torsional stiffness, providing a responsive and efficient pedaling platform without increased weight. The system...
SRAM Red 22 GXP Crankset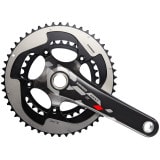 SRAM's re-introduced Red group in 2012 addressed the specific drivetrain requests of cycling's elite athletes, and the culmination of feedback -- combined with early wins aboard the new drivetrain -- confirmed that the modifications were successful. So, when SRAM's engineers took a hard look at...
SRAM Rival 22 BB30 Crankset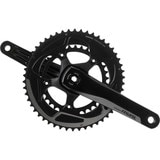 After SRAM put the works on its fantastic Red drivetrain, bumping up the number of potential gear combinations to 22 and refining the heck out of the system at the same time, it was only a matter of time before the rest of the company's road drivetrain family followed suit. Slotting in just below...
SRAM Rival Crankset with GXP Bottom Bracket
Comparing any SRAM Rival component to its Red counterpart is an easy task because SRAM makes the story so easy to follow: Rival and Red components are functionally identical across all component types. What makes Red feel so special (shifting, braking, ergonomics, etc) carries directly into the...
SRAM X-Glide 11-speed 110BCD Chain Ring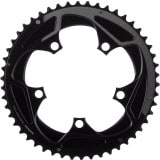 The X-Glide 11-speed Chain Ring was designed using the same upshift rivets that are used in SRAM's fast shifting XX mountain group set. This makes for smooth movement between front gears when using one of its Yaw derailleurs. The X-Glide chain rings were CNC machined using 7075-T6 aluminum which...
SRAM X01 BB30 Crankarms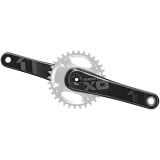 By now, it's a fact that 11-speed is here to stay. And as we all know, SRAM's innovative spirit and technical know-how is what brought this technology to fruition. Now, SRAM has opted to spread the magic to the masses with, well, a little more affordable price point. So, if you're in need of...
SRAM X01 DH BB30 Crankarm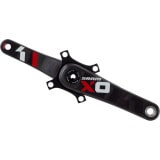 With an oversized BB30 spindle for maximum stiffness and sleek, yet durable, carbon fiber arms, the Sram X01 DH Crankarm is ready for the starting gate. The carbon arms are mated to an aluminum spider with a 94mm bolt circle diameter for a lightweight single-ring setup interface. This BCD is...
SRAM X01 GXP Crankarms
The narrow Q-factor provided by SRAM's 11-speed components is often over shadowed by the forward-thinking technology in its groupsets. Case in point are SRAM's X01 GXP Crankarms. Yes, they borrow heavily from SRAM's XX1 technology, but with an improved ankle clearance, bearing durability, and...
SRAM X01 X-SYNC Chainring - 94 BCD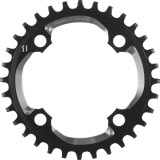 Making gear ratio adjustments, from 30t to 38t increments, just got easier with SRAM's X01 X-SYNC 94 BCD Chainring. These rings are CNC-machined from 7075 aluminum for maximum chain control. Due to SRAM's machining process, each tooth features a variable thickness. Accordingly, the teeth of the...
<< Prev | 1 | 2 | 3 | 4 | 5 | 6 | 7 | 8 | 9 | Next >>