Cranksets Chainrings - Road Bike Shop
Shop
>
Components
>
Drivetrain, Brakes
>
Cranksets & Chainrings
Rotor REX 1.2 Cranks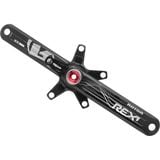 REX is the designation given to Rotor's new line of mountain bike cranksets. Using the same technology as its lightweight aluminum cranks, they are setting new standards in strength-to-weight ratios. The REX 1. 2 is its double ring crankset that will have you powering up and down your local...
Rotor RHawk & RRaptor Axle
Attaching to Rotor R-Hawk and R-Raptor cranksets with interchangeable crank arms, axles, and chainrings, the RHawk & RRaptor Axle give you the option of running your crankset in standard, BOOST, and downhill configurations. Each specific axle is engineered with specific q-factors and chainline...
Rotor RHawk & RRaptor Direct Mount noQ Chainring
Compatible with Rotor's R-Hawk and R-Raptor Cranks for aggressive trail riding and enduro racing, the RHawk & RRaptor Direct Mount noQ Chainring comes in a variety of chainring sizes for an optimal set-up with your 1x9, 1x10, or 1x11 drivetrain. 7975-T6 aluminum maximizes strength-to-weight for...
Rotor RHawk & RRaptor Direct Mount Q-Ring
Designed with Rotor's oval ring shape to take full advantage of your strongest pedaling point, the RHawk & RRaptor Direct Mount Q-Ring helps you get the most out of every trail ride and enduro race with less overall effort and fatigue required. This oval-shaped ring is direct-mount compatible...
Rotor RHawk Bumper Set
You know that sooner or later you're gonna obliterate the bumpers on your crank arms--after all, that's why they're there. Protect those milled alloy appendages with Rotor's RHawk Bumper Set, which lets you re-up on the rubber when a trip down didn't end quite as planned.
Rotor Road Inner Q-Ring
It's time to develop a more efficient pedal stroke with the Rotor Road Inner Q-Ring. Not only does the Q-Ring's unique oval-shape smooth your pedal stroke to maximize your power potential, its redesigned pins and ramps now provide faster shifting. Optimum Chainring Positioning offers a range of...
Rotor RRaptor Bumper Set
Rock strikes, over-cooked corners, half-baked lines--we expose our cranks to all manner of abuse during shuttle laps. Protect the crank arms hanging off your glam oval rings with Rotor's RRaptor Bumper Set, which are available in everything from Rat Pack-approved black to every color Queen's...
Rotor RX2 Inner Chainring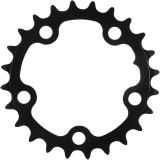 Some riders are instant converts to Rotor's ovalized chainrings, while others remain staunch believers in traditional round rings. And while Rotor has sold round and oval rings for road, its foray into mountain biking is relatively new. The RX2 Inner Chainring was designed specifically for...
Rotor Shimano Inner Q-Ring
The outer ring gets all the attention with its aero design and flashy style, but you can't complete the transition to ovals without a Rotor Shimano Inner Q-Ring. This little ring proves that the quest for improved pedaling efficiency expands beyond the high-speed gear mashers, garnering benefits...
Rotor Shimano Outer Aero Q-Ring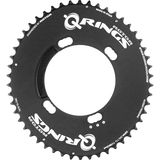 Round chainrings aren't going away anytime soon, but ovalized rings are becoming a much more common sight within the peloton. Carrying claims of reduced dead spots and increased pedaling efficiency, Rotor's Shimano Outer Aero Q-Ring is the ideal upgrade for any cyclist searching willing to stray...
<< Prev | Back | 1 | 2 | 3 | 4 | 5 | 6 | 7 | 8 | 9 | 10 | More | Next >>