Cranksets Chainrings - Road Bike Shop
Shop
>
Components
>
Drivetrain, Brakes
>
Cranksets & Chainrings
SRAM X01 X-SYNC Chainring- 104 BCD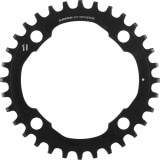 If you already have a crank, and you want to upgrade to X01 components, you're able to use the X01 104 BCD X-Sync Chainring. And, because there are five ratios, you're also able to make adjustments from 32t to 38t in two tooth increments. Making gear ratio adjustments, from 32t to 38t increments,...
SRAM XX1 BB30 156 Q-Factor Crankset
Retail Price:
$325.00
Our Price: $260.00
buy now
SRAM's pursuit of seamless and simple component integration shows it continually innovating the component industry -- case in point being the XX1 group. As a whole, XX1 works as an efficient machine, but individually, each component plays a vital role in making this group the trendsetter that it...
SRAM XX1 BB30 Crankarms - 168 Q-Factor
Given the immediate acclaim that SRAM's XX1 group set has received, it's not surprising that SRAM is focused on improvement rather than replacement. However, you're probably wondering how this is even possible with XX1? Well, given XX1's wide array of possible chainring, Q-Factor, and bottom...
SRAM XX1 Chainring
SRAM's XX1 is a fresh approach to drivetrain designs that builds on proven, and preferred, principles of established riders and racers alike. One-by setups are nothing new, but none have offered the ratio spread, chain retention, and performance driven technology that this 11-speed group does....
SRAM XX1 GXP 168 Q-Factor Crankarms
When SRAM first introduced serious mountain bike components, it caught a certain juggernaut sleeping on the job. This, thankfully, pushed the industry to the high standards that we enjoy today. SRAM hasn't letup either, as is proven with the XX1 drivetrain and its corresponding XX GXP Crankarms...
SRAM XX1 GXP Crankarms Q-Factor 156
When we first introduced SRAM's new XX1 group set to the site, we were blown away by the demand for its blend of rugged sensibility and diverse functionality. We understand the support, especially considering that the aforementioned is paired with an 11-speed setup. However, after compiling...
SRM BB-Mounted Sensor Cable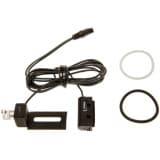 For all of the advanced technology built into an SRM PowerMeter, we struggle to name a single bicycle component that's more frustrating to install. Specifically, the source of SRM installation angst focuses on the power pickup of an SRM sensor cable. That's why there's the SRM BB Sensor Cable....
Storck Powerarms G2 Crank Arms
It should really come as no surprise that the engineers at Storck would lay claim to producing one of the lightest carbon cranksets in the world, seeing as their familiarity in the realm of bicycle composite design and manufacturing is matched by few. As such, the new Storck Powerarms G2 (second...
TruVativ X0 2.2 BB30 10-Speed Crankset
Retail Price:
$474.00
Our Price: $261.00
buy now
If nothing else, BB30 cranks like this Truvativ X0 BB30 2. 2 10-Speed Crankset will allow more heel and ankle clearance as we pedal, potentially eliminating the scraping between shoe and crankarm that some of us have grown accustomed to with outboard bearing crank designs of late. If this sounds...
TruVativ X0 DH GXP Singlespeed Crankset
Downhill-specific cranksets have always been incredibly stiff and could survive a nuclear blast; until now they could also serve as effective boat anchors. The Truvativ X0 DH Crankset is poised to change half of that tough-but-heavy reputation. The reason for the weight reduction is that the X0...
<< Prev | 1 | 2 | 3 | 4 | 5 | 6 | 7 | 8 | Next >>