Cranksets Chainrings - Road Bike Shop
Shop
>
Components
>
Drivetrain, Brakes
>
Cranksets & Chainrings
Rotor Flow Aero Cranks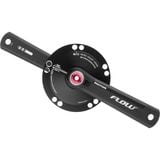 Rotor's 3D Plus Road crank is a revolutionary design in the world of carbon versus aluminum components. Using Rotor's Trinity Drilling System and 7055 alloy, it is stiffer than most carbon cranks, and it is also compatible with virtually any bottom bracket system. The Rotor Flow Aero Cranks,...
Rotor noQ Carbon Round Chainring
Rotor may be best known for its oval-shaped Qarbon rings, but it also remembers to include those of who prefer round rings with its noQ Carbon Round Chainring. Utilizing the same light and efficient structure as its ovalized siblings, the noQ ring boasts a CNC machined alloy base reinforced with...
Rotor Outer Aero Q-Ring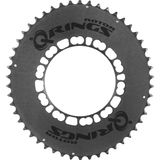 No matter how smooth your pedal stroke, your power delivery will be peaky. The transfer of power from your legs to the circular chainring means that some parts of the pedal stroke deliver more power than others. The reason you notice Rotor Outer Aero Q-Rings popping up on so many of the top pros'...
Rotor Qarbon Aero Outer Q-Ring
You've spent some time testing out oval rings, and now that you've decided they work for you it's time to get on board with the best and upgrade that outer ring to a Rotor Qarbon Aero Outer Q-Ring. Its CNC machined alloy body is reinforced with a carbon fiber finish for a blend of...
Rotor Qarbon Aero Outer Q-Ring - Shimano
Compatibility standards are finicky things, and Rotor makes sure to address your Shimano crankset worries with its Shimano-specific Qarbon Aero Outer Q-Ring. When paired with an inner Q-ring, this outer ring is the final piece in the puzzle towards upgrading your crankset to oval. Rotor...
Rotor QCX1 Aero Chainring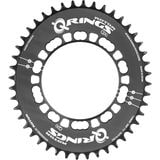 Though it does in fact have "aero" in the title, the key feature of Rotor's QCX1 Aero Chainring is actually its more pronounced oval shape, up to 12. 5% from the road-specific version's 10% ovality. That means it's even more efficient than the standard road model, especially in the high-reward...
Rotor QX1 Aero Road Chainring
While it hasn't yet found a competitive home outside of crits and triathlon, one-by technology has certainly proven its worth in those two disciplines. Rotor's QX1 Aero Road Chainring ushers the nascent technology into the land of ovalized chainrings, netting claimed gains in efficiency for the...
Rotor QX1 Chainring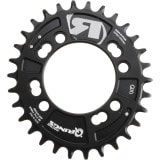 Oval chainrings aren't exactly popular, but you can see the appeal. Designed to prolong your "power zone" and reduce deadspots, rings like the Rotor QX1 might look a little strange, but they work. Rotor designed the QX1 to run with SRAM, Specialized, and Rotor one-by drivetrains, and gave it...
Rotor QX1 Mountain Chainring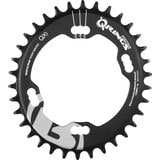 Rotor's QX1 Mountain Chainrings bring oval efficiency to the trail with durable construction and stiff power transfer that pairs perfectly with your Shimano XT M8000 and XTR M9000 crankset. Ovals aren't a new idea, but they've been gaining traction across disciplines with claims of boosted...
Rotor QX1 Spider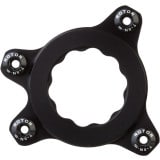 Rotor has delivered ovalized chainring technology to one-by mountain biking. Now you're able to experience increased efficiency and a minimized dead spot that will have you powering uphill and across trails faster than ever with Rotor's QX1 chainrings. Using the appropriate Rotor QX1 Spider, you...
<< Prev | Back | 1 | 2 | 3 | 4 | 5 | 6 | 7 | 8 | 9 | 10 | More | Next >>