Cranksets Chainrings - Road Bike Shop
Shop
>
Components
>
Drivetrain, Brakes
>
Cranksets & Chainrings
Shimano Dura-Ace FC-9000 11-Speed Crankset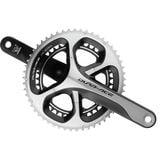 Retail Price:
$489.99
Our Price: $358.95
buy now
Shimano's new Dura-Ace 9000 got a lot of press for a lot of reasons: the jump to 11-speed, the gorgeous design, the new lever ergonomics, but perhaps more than anything for the crankset and its all-new, four-arm spider. It's great to look at, but what's so great about a proprietary (and...
Shimano Saint M825 Crankset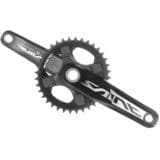 Built to withstand the hard hits and big drops of downhill racing, Shimano's Saint drivetrain delivers confident gear shifts on the burliest runs. At the groupset's center, the Saint M825 Crankset drives the chain forward with Shimano's renowned Hollowtech II technology, the strongest steel axle...
Shimano Shimano Dura-Ace 9000 Chainring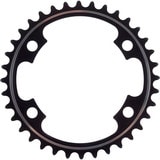 Retail Price:
$34.95
Our Price: $31.79
buy now
The Shimano Dura-Ace groupset is well known for its precision engineering. This engineering extends into every part of the groupset, including the new 9000-series Chainring. The DA 9000 chainring is made from alloy that has been carbide-reinforced. Carbide is often used in drill tips for...
Shimano SLX M7000 1x Chainring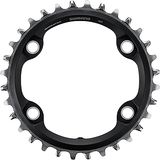 We know that SLX is still technically considered Shimano's workhorse mountain drivetrain, efficient and affordable. It's never been known as the sexiest or lightest groupset, but has filled its niche admirably up until now. After the overhaul Shimano introduced this year, however, we're not how...
Shimano Ultegra 6800 11 Speed Inner Chainring
We're not surprised to assert that Shimano carried Ultegra's stunning aesthetics all the way from the groupset-anchoring crankset to the chainring, but we're excited about it all the same. Not stopping at aesthetics, Shimano also constructed the Ultegra 6800 11-Speed Inner Chainring with the same...
Shimano Ultegra 6800 11-Speed Outer Chainring
When we think of Ultegra 6800, we're immediately filled with thoughts of its enviably good looks. And before we start to sound superficial, let's note that those looks are backed up by intelligent design and ever-improving functionality throughout the entire groupset. Ultegra is genetically...
Shimano Ultegra 6800 Crankset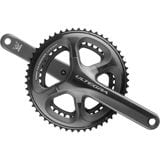 Retail Price:
$211.99
Our Price: $159.98
buy now
We've all got multiple cycling lives, ranging from racing road and 'cross to riding charity sportives and all the long training miles that go into preparing for them. Few cranks can comfortably straddle every aspect of the mutable cyclist's life like Shimano's Ultegra 6800 Crankset, which brings...
Shimano XT FC-M8000 1x Crank Arms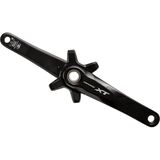 Retail Price:
$117.99
Our Price: $99.95
buy now
The latest generation of Shimano's road and mountain drivetrains has seen some pretty extravagant changes. Of the changed groups, none may be as heavily altered as the new XT, and the biggest changes worth mentioning may be those resulting in the XT FC-M8000 1x Crank Arms. With trickle-down...
Shimano XT FC-M8000 Double Crankset
Retail Price:
$180.99
Our Price: $149.99
buy now
With M8000, Deore XT has adopted the 11-speed configuration of most high-end drivetrains. The double configuration has become increasingly popular in the last few years, since it covers most terrain, while eliminating the weight and complication of the third front ring.The premise of the 2x11...
Shimano XT FC-M8000-B1 Boost 1x Crank Arms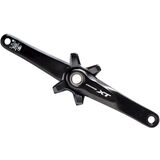 Retail Price:
$120.99
Our Price: $99.98
buy now
Shimano has given its original mountain drivetrain a well-deserved upgrade, and we appreciate the way the brand continuously spreads the wealth throughout its offerings. Its savvy engineers also showed that they're ready to embrace Boost 148 rear axle spacing, aptly observing the benefits of the...
<< Prev | Back | 1 | 2 | 3 | 4 | 5 | 6 | 7 | 8 | 9 | 10 | More | Next >>