Cranksets Chainrings - Road Bike Shop
Shop
>
Components
>
Drivetrain, Brakes
>
Cranksets & Chainrings
Rotor REX 1.2 Cranks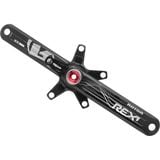 REX is the designation given to Rotor's new line of mountain bike cranksets. Using the same technology as its lightweight aluminum cranks, they are setting new standards in strength-to-weight ratios. The REX 1. 2 is its double ring crankset that will have you powering up and down your local...
Rotor Road Inner Q-Ring
It's time to develop a more efficient pedal stroke with the Rotor Road Inner Q-Ring. Not only does the Q-Ring's unique oval-shape smooth your pedal stroke to maximize your power potential, its redesigned pins and ramps now provide faster shifting. Optimum Chainring Positioning offers a range of...
Rotor Round Road Inner Chainring
Oval chainrings have a dedicated following but, kinda like licorice and hippity hop music, they aren't for everyone. Rotor made its name with ovalized rings, but the Round Road Inner Chainring is, well, round, so traditional riders can enjoy Rotor's durability without having to leave circularity...
Rotor Round Road Outer Chainring
While rotor's ovalized Q-Rings have had proven results for many riders, some guys, even on team Garmin-Cervelo, have not made the switch. For those who prefer a round outer ring, there's the Rotor Round Outer Chainring, which is available in either a 50t/110mm or 53t/130mm size. The round rings...
Rotor RX2 Inner Chainring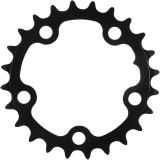 Some riders are instant converts to Rotor's ovalized chainrings, while others remain staunch believers in traditional round rings. And while Rotor has sold round and oval rings for road, its foray into mountain biking is relatively new. The RX2 Inner Chainring was designed specifically for...
Shimano 105 FC-5800 11-Speed Crankset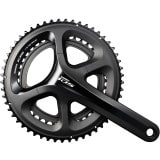 The new 11-speed Shimano 105 group is a huge leap forward from the previous 10-speed family, narrowing the gap to its higher-cost siblings Ultegra and Dura-Ace down to a mere sliver. The 105 FC-5800 11-Speed Crankset gives you oodles of performance and gets the drivetrain rolling without draining...
Shimano Dura-Ace FC-9000 11-Speed Crankset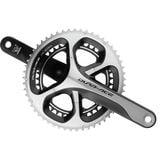 Retail Price:
$541.99
Our Price: $379.99
buy now
Shimano's new Dura-Ace 9000 got a lot of press for a lot of reasons: the jump to 11-speed, the gorgeous design, the new lever ergonomics, but perhaps more than anything for the crankset and its all-new, four-arm spider. It's great to look at, but what's so great about a proprietary (and...
Shimano Dura-Ace FC-R9100 11-Speed Crankset
Retail Price:
$542.99
Our Price: $499.95
buy now
If you, like a few of us old souls around the Competitive offices, are holding fast to your belief in the soul of mechanical shifting, Shimano hasn't abandoned you. Though the world may very well be moving towards 100% electronic drivetrains someday in the future, mechanical still makes a hell of...
Shimano Saint M825 Crankset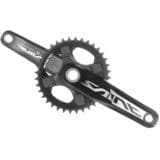 Built to withstand the hard hits and big drops of downhill racing, Shimano's Saint drivetrain delivers confident gear shifts on the burliest runs. At the groupset's center, the Saint M825 Crankset drives the chain forward with Shimano's renowned Hollowtech II technology, the strongest steel axle...
Shimano Shimano Dura-Ace 9000 Chainring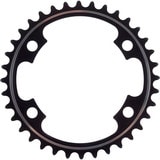 The Shimano Dura-Ace groupset is well known for its precision engineering. This engineering extends into every part of the groupset, including the new 9000-series Chainring. The DA 9000 chainring is made from alloy that has been carbide-reinforced. Carbide is often used in drill tips for...
<< Prev | Back | 1 | 2 | 3 | 4 | 5 | 6 | 7 | 8 | 9 | 10 | More | Next >>