Cranksets Chainrings - Road Bike Shop
Shop
>
Components
>
Drivetrain, Brakes
>
Cranksets & Chainrings
Rotor Round Road Outer Chainring
While Garmin-Cervelo's Q-Rings converts Heinrich Haussler and Christian Vande Velde win races and build form towards July aboard Rotor's non-traditional ovalized chainrings, not everyone on the team made the switch. Cameron Meyer is one rider on the team who depends on Rotor's standard round...
Rotor RX1 Chainring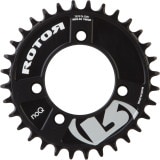 Rotor is known for its ovalized chainrings, yet some riders still like the feel of traditional non-oval rings. To "round" out its quiver of road and mountain rings, Rotor has added a series of mountain bike-compatible rings. The RX1 is designed for the new 1x drivetrains. These round rings are...
Rotor RX2 Inner Chainring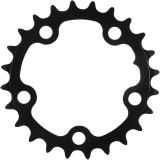 Some riders are instant converts to Rotor's ovalized chainrings, while others remain staunch believers in traditional round rings. And while Rotor has sold round and oval rings for road, its foray into mountain biking is relatively new. The RX2 Inner Chainring was designed specifically for...
Rotor RX2 Outer Chainring
Just as Rotor has extended its line of ovalized rings to include mountain bike-compatible rings, it has added to its quiver of round rings with the new non-Q RX2 mountain bike rings. The RX2 Outer Chainring was designed in an identical manner as Rotor's Q-rings, without the ovalized shaping....
Shimano 105-FC 5700 Crankset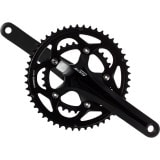 Retail Price:
$199.95
Our Price: $169.96
buy now
The prices of road bike components can, at times, be a bit daunting. A pair of crankarms that will run you a couple car payments or a month's mortgage may not fit into the budget or slide past the spouse unnoticed. That's why there's Shimano 105. Make no mistake-this isn't budget gear. This is...
Shimano Dura-Ace FC-9000 11-Speed Crankset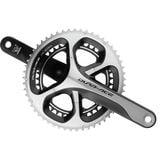 Retail Price:
$599.95
Our Price: $509.96
buy now
11-speeds? Absolutely. Lighter weight? You got it. The marriage between a standard and compact crankset? Amen. The Shimano Dura-Ace FC-9000 11-Speed Crankset has once again revolutionized the market through common sense design that, for one reason or another, no one else has attempted. Finally,...
Shimano FC-CX70 Crankset
Retail Price:
$199.95
Our Price: $179.95
buy now
The FC-CX70 Crankset is Shimano's Ultegra-grade crankset for cyclo-crossers. The design focuses on stiff, lightweight performance in all kinds of conditions to sunny road riding to nasty, muddy slop. Super-light HOLLOWTECH II constructionSpindle integrated with right crank arm for increased...
Shimano Saint SM-CR81 Chainring
Retail Price:
$149.95
Our Price: $37.99
buy now
Get your single ring Shimano Saint Cranksets (M810-1 or M815-1)ready by adding the Saint SM-CR81 Chainring. This ring comes with a semi-flexible, translucent honeycomb bashguard that flexes and compresses on impact without cracking. Available ring sizes include 34, 36, 38, 40, and 42 tooth options.
Shimano Ultegra 6800 Crankset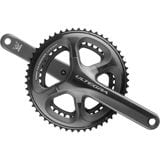 Retail Price:
$319.95
Our Price: $255.50
buy now
With the introduction of Shimano's new Ultegra 6800 groupset, most people's focus was naturally drawn toward the additional gearing options provided by the 11th cog. But the new group is something more than just added gearing; it represents an entirely revamped drivetrain system that now...
Shimano XT Dyna-Sys FC-M780 Triple Crankset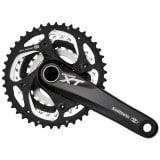 Retail Price:
$269.95
Our Price: $229.00
buy now
Following the XTR model, Shimano's trail-tested XT group now offers more options that help tailor the components to suit your riding preferences or favored terrain. This Shimano XT 3x10 Hollowtech II Crankset FC-780 is like its 770 predecessor in many ways, notably the Hollowtech II construction...
<< Prev | 1 | 2 | 3 | 4 | 5 | 6 | 7 | 8 | 9 | Next >>