Cranksets Chainrings - Road Bike Shop
Shop
>
Components
>
Drivetrain, Brakes
>
Cranksets & Chainrings
Race Face SIXC Crank Arms - 83mm Spindle
Retail Price:
$459.99
Our Price: $390.99
buy now
Do you just happen to be looking around for the world's lightest DH-rated production crankset? Step right this way and check out the Race Face SIXC Carbon Crank Arms with 83mm Spindle. Made in-house of ultra-high-density unidirectional carbon fiber, and formed with a proprietary hollow-molding...
Rotor 3D Plus Road Crankarms
Carbon cranksets might be all the rage, but those of us looking for a certain aesthetic, or certain stiffness, are still inclined to look to well-made, machined aluminum cranks to complete our builds. The Rotor 3D Plus Road Crankarms are the pinnacle of alloy crank construction. They're Trinity...
Rotor 3D30 CX1 Crank Arms
There's a time and place for carbon crank arms; however, it might not be the time you get too ambitious with a bunny hop and crack one open on a barrier. Rotor's 3D30 CX1 Crank Arms are right at home there, though, with an aluminum construction that's artfully machined to shed grams without...
Rotor 3D30 Road Crank Arms
Our wish list for cranksets is actually pretty short: stiff, reliable, and light. In that order. You're not alone if a little carbon fiber lightbulb just went off in your head, but many top manufacturers still rely on good ol' alloy for the job, Rotor included. The 3D30 Crank Arms are the brand's...
Rotor Flow Aero Cranks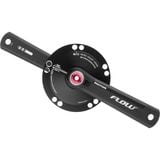 Rotor's 3D Plus Road crank is a revolutionary design in the world of carbon versus aluminum components. Using Rotor's Trinity Drilling System and 7055 alloy, it is stiffer than most carbon cranks, and it is also compatible with virtually any bottom bracket system. The Rotor Flow Aero Cranks,...
Rotor noQ Carbon Round Chainring
Rotor may be best known for its oval-shaped Qarbon rings, but it also remembers to include those of who prefer round rings with its noQ Carbon Round Chainring. Utilizing the same light and efficient structure as its ovalized siblings, the noQ ring boasts a CNC machined alloy base reinforced with...
Rotor Outer Aero Q-Ring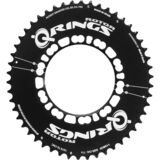 No matter how smooth your pedal stroke, your power delivery will be peaky. The transfer of power from your legs to the circular chainring means that some parts of the pedal stroke deliver more power than others. The reason you notice Rotor Outer Aero Q-Rings popping up on so many of the top pros'...
Rotor Qarbon Aero Outer Q-Ring
You've spent some time testing out oval rings, and now that you've decided they work for you it's time to get on board with the best and upgrade that outer ring to a Rotor Qarbon Aero Outer Q-Ring. Its CNC machined alloy body is reinforced with a carbon fiber finish for a blend of...
Rotor Qarbon Aero Outer Q-Ring - Shimano
Compatibility standards are finicky things, and Rotor makes sure to address your Shimano crankset worries with its Shimano-specific Qarbon Aero Outer Q-Ring. When paired with an inner Q-ring, this outer ring is the final piece in the puzzle towards upgrading your crankset to oval. Rotor...
Rotor QCX1 Aero Chainring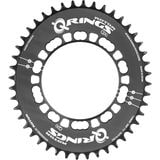 Though it does in fact have "aero" in the title, the key feature of Rotor's QCX1 Aero Chainring is actually its more pronounced oval shape, up to 12. 5% from the road-specific version's 10% ovality. That means it's even more efficient than the standard road model, especially in the high-reward...
<< Prev | Back | 1 | 2 | 3 | 4 | 5 | 6 | 7 | 8 | 9 | 10 | More | Next >>