Cranksets Chainrings - Road Bike Shop
Shop
>
Components
>
Drivetrain, Brakes
>
Cranksets & Chainrings
Race Face Turbine Cinch Crank Arms
Retail Price:
$199.99
Our Price: $169.99
buy now
If you're as particular as we are about your crankset situation, then you're not keen to leave arm, ring, and spindle choice to the troglodytes who spec bikes in order to save big manufacturers money instead of meeting your exacting criteria. So ditch the selfsame slop in favor of Race Face's...
Race Face Turbine Fat Bike Crank Arms
Whether you're building up a brand new frame or looking to update your current fat bike's spec, the Race Face Turbine Fat Bike Crank Arms bring light, stiff, affordable function to your drivetrain. Precision machined to exacting standards, these crank arms pair with Race Face's separately sold...
Rotor 3D Plus Road Crankarms
Carbon cranksets might be all the rage, but those of us looking for a certain aesthetic, or certain stiffness, are still inclined to look to well-made, machined aluminum cranks to complete our builds. The Rotor 3D Plus Road Crankarms are the pinnacle of alloy crank construction. They're Trinity...
Rotor Flow Aero Cranks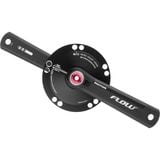 Rotor's 3D Plus Road crank is a revolutionary design in the world of carbon versus aluminum components. Using Rotor's Trinity Drilling System and 7055 alloy, it is stiffer than most carbon cranks, and it is also compatible with virtually any bottom bracket system. The Rotor Flow Aero Cranks,...
Rotor QX1 Chainring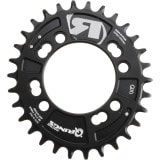 Oval chainrings aren't exactly popular, but you can see the appeal. Designed to prolong your "power zone" and reduce deadspots, rings like the Rotor QX1 might look a little strange, but they work. Rotor designed the QX1 to run with SRAM, Specialized, and Rotor one-by drivetrains, and gave it...
Rotor QX1 Spider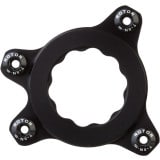 Rotor has delivered ovalized chainring technology to one-by mountain biking. Now you're able to experience increased efficiency and a minimized dead spot that will have you powering uphill and across trails faster than ever with Rotor's QX1 chainrings. Using the appropriate Rotor QX1 Spider, you...
Rotor QX2 Inner Chainring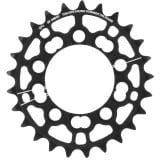 At Interbike this past fall, Rotor finally released its much-anticipated mountain bike cranksets and compatible ovalized chainrings. Rotor took its road-winning technology and parlayed that success into rings that work on the rough trails and surfaces that usually cause stutters in the efficiency...
Rotor QX2 Outer Chainring
Rotor took its road-winning technology and finally released ovalized mountain bike rings, as well as single-, double-, and triple-specific REX mountain bike cranksets this past fall. The QX2 is designed as the outer chainring for a 2-ring mountain bike drivetrain. Ovalized chainrings are...
Rotor QXL Inner Chainring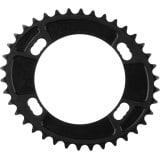 Get your oval on with the Rotor QXL Inner Chainring. It features extra ovalization compared to standard Q-Rings to increase pedal stroke efficiency and minimize dead spots for time trialists, sprinters, and other high cadence/high power riders. In theory, you'll have more even power and simply go...
Rotor QXL Outer Chainring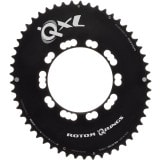 From all-out sprints to bold breakaways, the Rotor QXL Outer Chainring maximizes high-cadence efforts and sustained power delivery during time trial events and fast-paced racing scenarios. The oversized QXL features 16% ovalization, compared to 10% for Rotor's standard Q Rings. This increase in...
<< Prev | Back | 1 | 2 | 3 | 4 | 5 | 6 | 7 | 8 | 9 | 10 | More | Next >>