Cranksets Chainrings - Road Bike Shop
Shop
>
Components
>
Drivetrain, Brakes
>
Cranksets & Chainrings
Rotor 3D Plus Road Crankarms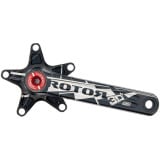 Retail Price:
$600.00
Our Price: $479.99
buy now
Rotor first explored the use of alloy 30mm bottom bracket spindles through their involvement with the Cervelo Test Team. And while the Trinity drilled arms and compatibility with round or Q-Rings remains the same, these Rotor 3D Plus Road Cranks have a few small differences in comparison to their...
Rotor 3D Plus Road Crankarms
Rotor's 3D Road Cranks were originally developed with feedback from the Cervelo Test Team, and while the 3D Plus Cranks retain many of the same characteristics, such as Trinity drilled arms and compatibility with round or Q-Rings, they have a few differences that make them stand apart from their...
Rotor Flow Aero Cranks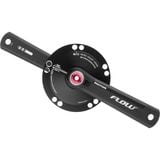 Rotor's 3D Plus Road crank is a revolutionary design in the world of carbon versus aluminum components. Using Rotor's Trinity Drilling System and 7055 alloy, it is stiffer than most carbon cranks, and it is also compatible with virtually any bottom bracket system. The Rotor Flow Aero Cranks,...
Rotor Mountain Inner Q-Ring
We're starting to see ovalized rings like the Rotor Mountain Inner Q-Ring popping up everywhere, from the local criteriums to the marathon mountain bike race courses, but why? The oblong shape of the Q-Rings lends more leverage to the pedal stroke, extracting more power from your legs and more...
Rotor Outer Aero Q-Ring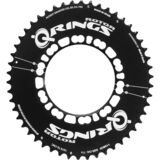 Take a close look at some of the pro road machines out there these days: Wiggins' Pinarello Dogma, Van Lierde's Cervelo, Vos' Giant. What do they all have in common? Aside from being piloted by world-podium-topping athletes, these bikes are each equipped with oblong chainrings from Rotor. Why?...
Rotor QX1 Chainring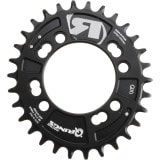 Rotor is well known for its ovalized road chainrings and its cranksets. Now it has taken this technology and applied it to mountain biking with a series of chainrings designed to get you up and over faster. The QX1 is the first ovalized chainring designed for a 1x drivetrain. Ovalized chainrings...
Rotor QX1 Spider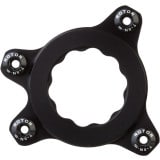 Rotor has delivered ovalized chainring technology to one-by mountain biking. Now you're able to experience increased efficiency and a minimized dead spot that will have you powering uphill and across trails faster than ever with Rotor's QX1 chainrings. Using the appropriate Rotor QX1 Spider, you...
Rotor QX2 Inner Chainring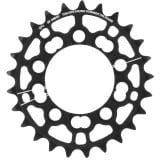 At Interbike this past fall, Rotor finally released its much-anticipated mountain bike cranksets and compatible ovalized chainrings. Rotor took its road-winning technology and parlayed that success into rings that work on the rough trails and surfaces that usually cause stutters in the efficiency...
Rotor QX2 Outer Chainring
Rotor took its road-winning technology and finally released ovalized mountain bike rings, as well as single-, double-, and triple-specific REX mountain bike cranksets this past fall. The QX2 is designed as the outer chainring for a 2-ring mountain bike drivetrain. Ovalized chainrings are...
Rotor QXL Inner Chainring
Rotor's ovalized chainrings have been shown to increase the efficiency of virtually any rider's pedal stroke. While the standard Q rings are the perfect all-around ring, if you race in conditions that demand near peak power output for extended periods, such as time trials or sprints, the more...
<< Prev | 1 | 2 | 3 | 4 | 5 | 6 | 7 | 8 | 9 | Next >>