Cranksets Chainrings - Road Bike Shop
Shop
>
Components
>
Drivetrain, Brakes
>
Cranksets & Chainrings
Race Face Next SL Direct Mount Chainring
Designed to be the simplest, stiffest, and lightest interface between Race Face cranks, the Cinch-compatible Next SL Direct Mount Chainring works with 9-, 10-, and 11-speed drivetrains. Of all the recent advancements in mountain biking, e. g., fat bikes, 27. 5in wheels, carbon everything, and...
Race Face Turbine Fat Bike Crankset
Under the influence of newfangled CAD software, CNC machines, and colorful anodization, the late '90s burgeoning aftermarket favored alloys milled into impossibly complex, eye-pleasing shapes. Out of that primordial soup, Race Face's Turbine crank emerged -- honest in both form and function; it...
Rotor 3D Plus Road BBright Crankset
Retail Price:
$849.95
Our Price: $249.99
buy now
Rotor made its mark on the cycling world largely through the effectiveness and popularity of its Q-Rings, but it still recognizes that there are those who prefer to stick with round chainrings. That's why the Rotor 3D Plus BBright Crankset accomplishes just that, and it's setup to perfectly...
Rotor 3D Plus Road Crankarms
Rotor first explored the use of alloy 30mm bottom bracket spindles through their involvement with the Cervelo Test Team. And while the Trinity drilled arms and compatibility with round or Q-Rings remains the same, these Rotor 3D Plus Road Cranks have a few small differences in comparison to their...
Rotor 3D Plus Road Crankarms
Rotor's 3D Road Cranks were originally developed with feedback from the Cervelo Test Team, and while the 3D Plus Cranks retain many of the same characteristics, such as Trinity drilled arms and compatibility with round or Q-Rings, they have a few differences that make them stand apart from their...
Rotor Flow Aero Cranks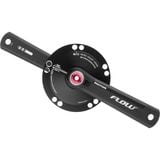 Rotor's 3D Plus Road crank is a revolutionary design in the world of carbon versus aluminum components. Using Rotor's Trinity Drilling System and 7055 alloy, it is stiffer than most carbon cranks, and it is also compatible with virtually any bottom bracket system. The Rotor Flow Aero Cranks,...
Rotor FLOW Aero Crankset
Retail Price:
$689.95
Our Price: $274.99
buy now
Working within the constraints of even the narrowest bottom bracket standards forced Rotor to rethink aerodynamics for its new crankset. So, using the accepted PressFit30 as their foundation, Rotor engineers teamed up with Garmin's aerodynamic expert, Robbie Ketchell, for the undertaking. What...
Rotor QX1 Chainring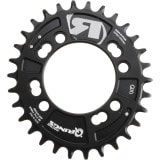 Rotor is well known for its ovalized road chainrings and its cranksets. Now it has taken this technology and applied it to mountain biking with a series of chainrings designed to get you up and over faster. The QX1 is the first ovalized chainring designed for a 1x drivetrain. Ovalized chainrings...
Rotor QX1 Spider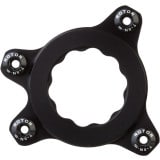 Rotor has delivered ovalized chainring technology to one-by mountain biking. Now you're able to experience increased efficiency and a minimized dead spot that will have you powering uphill and across trails faster than ever with Rotor's QX1 chainrings. Using the appropriate Rotor QX1 Spider, you...
Rotor QX2 Inner Chainring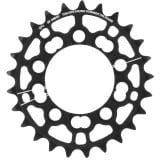 At Interbike this past fall, Rotor finally released its much-anticipated mountain bike cranksets and compatible ovalized chainrings. Rotor took its road-winning technology and parlayed that success into rings that work on the rough trails and surfaces that usually cause stutters in the efficiency...
<< Prev | 1 | 2 | 3 | 4 | 5 | 6 | 7 | 8 | Next >>