Cranksets Chainrings - Road Bike Shop
Shop
>
Components
>
Drivetrain, Brakes
>
Cranksets & Chainrings
Race Face Next SL Crank Arms
Whether you ride a tried and true triple chainring, or have jumped headfirst into the one-by gear trend that is now making its way into cyclocross, the Next SL crank accommodates both. While a one-by uses a direct-mount chainring, a double or triple setup uses the Race Face aluminum spider that...
Race Face Next SL Crank Arms - Fat Bike
Retail Price:
$459.99
Our Price: $390.99
buy now
It seems paradoxical to pursue low-weight gear when you're riding a fat bike, but just because the tires and wheels are big and heavy doesn't mean everything else on the bike needs to weigh more. In fact, those jolly fat tires mean that the other components should try even harder to lose weight....
Race Face Next SL Direct Mount Chainring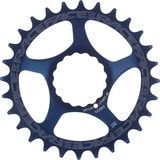 Retail Price:
$69.99
Our Price: $59.49
buy now
Of all the recent innovations in mountain biking, the Narrow Wide tooth profile featured on the Next SL Direct Mount Chainring is arguably the most understated progression. Race Face has designed a tighter interface between the inner and outer links to prevent the chain from jumping. The Next SL...
Race Face SIXC Crank Arms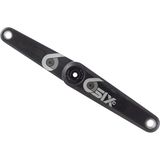 Retail Price:
$459.99
Our Price: $390.15
buy now
The Race Face SixC Crank Arms are the lightest DH arms in the universe. So, if you're looking for Earth's version of indestructible crank arms, but you're also trying to keep the weight to a minimum, there's no reason to look anywhere else. This is due to Race Face's ultra-high-density...
Race Face SIXC Crank Arms - 83mm Spindle
Do you just happen to be looking around for the world's lightest DH-rated production crankset? Step right this way and check out the Race Face SIXC Carbon Crank Arms with 83mm Spindle. Made in-house of ultra-high-density unidirectional carbon fiber, and formed with a proprietary hollow-molding...
Race Face Turbine Crank Arms
Retail Price:
$199.99
Our Price: $169.99
buy now
If you're as particular as we are about your crankset situation, then you're not keen to leave arm, ring, and spindle choice to the troglodytes who spec bikes in order to save big manufacturers money instead of meeting your exacting criteria. So ditch the selfsame slop in favor of Race Face's...
Rotor 3D Plus Road Crankarms
Carbon cranksets might be all the rage, but those of us looking for a certain aesthetic, or certain stiffness, are still inclined to look to well-made, machined aluminum cranks to complete our builds. The Rotor 3D Plus Road Crankarms are the pinnacle of alloy crank construction. They're Trinity...
Rotor Flow Aero Cranks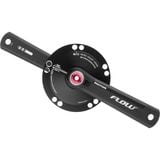 Rotor's 3D Plus Road crank is a revolutionary design in the world of carbon versus aluminum components. Using Rotor's Trinity Drilling System and 7055 alloy, it is stiffer than most carbon cranks, and it is also compatible with virtually any bottom bracket system. The Rotor Flow Aero Cranks,...
Rotor Mountain Inner Q-Ring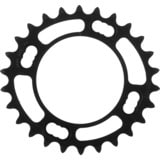 We're starting to see ovalized rings like the Rotor Mountain Inner Q-Ring popping up everywhere, from the local criteriums to the marathon mountain bike race courses, but why? The oblong shape of the Q-Rings lends more leverage to the pedal stroke, extracting more power from your legs and more...
Rotor Outer Aero Q-Ring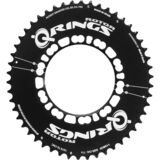 Take a close look at some of the pro road machines out there these days: Wiggins' Pinarello Dogma, Van Lierde's Cervelo, Vos' Giant. What do they all have in common? Aside from being piloted by world-podium-topping athletes, these bikes are each equipped with oblong chainrings from Rotor. Why?...
<< Prev | 1 | 2 | 3 | 4 | 5 | 6 | 7 | 8 | 9 | 10 | Next >>