Chains Chain Guides - Road Bike Shop
Shop
>
Components
>
Drivetrain, Brakes
>
Chains & Chain Guides
Absolute Black Premium Chain Guide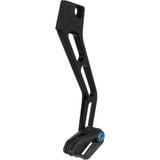 Any turned pedal lost to a fallen chain is an absolute travesty in your book, which is why you ride with Absolute Black's Premium Chain Guide firmly attached to your mountain bike. This light, durable guide comes in round or oval shapes to better accommodate your duo-wheeled vehicle's mechanics,...
Campagnolo Record 11 Chain
Retail Price:
$70.00
Our Price: $44.80
buy now
Campagnolo's new 11-Speed Chain is narrow. At 5. 5mm, it's easily the narrowest chain that Campy makes. They call it the "Ultra Shift" chain because of its incredible shift precision. The first thing you'll notice when you start to pedal the bike is glorious silence. Less interference from...
Campagnolo Ultra Link Chain Pin - 11-Speed
Retail Price:
$9.60
Our Price: $7.95
buy now
If you're running a Campagnolo 11-Speed chain, you'll likely never remove it from your bike, that is, unless you're a fastidious bike cleaner or it's at the end point of its service life. Either way, 11-Speed Campagnolo chain removal is rote and any old chain tool can be used to perform this...
MRP 1x CS Chain Guide
Retail Price:
$39.95
Our Price: $37.55
buy now
Seeing 1x drivetrains have relegated the front derailleur to your spare parts bin, it's good to have the MRP 1x CS Chain Guide just in case things go wrong while you're slamming and banging your way down the trail. Even with the proliferation of narrow-wide rings claiming to keep your chain on,...
MRP 1x V3 Alloy Chain Guide
Retail Price:
$69.95
Our Price: $65.75
buy now
Before you pack up and hit the road for your weekend bike trip in the mountains, make sure you've got MRP's 1x V3 Alloy Chain Guide mounted onto your frame. In fact, since it can be completely installed using just a 4mm hex wrench, you have no excuse not to do it yourself. Made with durable alloy...
MRP 1x V3 Carbon Chain Guide
When you steer your trail bike onto shadowy new stretches of singletrack far away from the crowds, you'll feel a lot better if you've got the MRP 1x V3 Carbon Chain Guide mounted onto your frame for a little extra reassurance. Once you put it on, dive into deep ruts and through white-knuckle rock...
MRP AMG Retention System
The MRP AMG Retention System is built to keep your aggressive trail bike's chain online when you're getting wild. With the widespread acceptance of one-by drivetrains, and clutch-equipped rear derailleurs, many riders have simply chosen to forgo chain retention altogether, but if you check out...
MRP AMg V2 Alloy Chain Guide
You vowed at the end of last year that you weren't going to spend any more afternoons yelling profanities on the side of the trail while your ride buddies sped away, unaware that you'd dropped your chain again on one of the best stretches of your ride. Rather than being the one known for...
MRP AMg V2 Carbon Chain Guide
Retail Price:
$149.95
Our Price: $140.95
buy now
While most of your friends are able to loudly assert their preference for desert slickrock, smooth flow trails, or loamy PNW singletrack, you get a giddy grin on your face for any of it. One thing you do know for sure is that you're all carbon, all the time. When you're putting a chain guard on...
Muc-Off Nanotube Chain
When you're counting down to race day, and looking for every possible place you can accelerate your ride, reach for the Muc-Off Nanotube Chain to give an extra pick-me-up to your pedal stroke. Designed for race day on road, mountain, gravel, or tri bikes, the Muc-Off Nanotube Chain claims to save...
<< Prev | 1 | 2 | 3 | 4 | Next >>