Chains Chain Guides - Road Bike Shop
Shop
>
Components
>
Drivetrain, Brakes
>
Chains & Chain Guides
Campagnolo Chorus 11 Chain
Retail Price:
$80.00
Our Price: $46.00
buy now
Like the Record 11 chain, the Campagnolo Chorus 11 Ultra Shift chain is 5. 5mm wide. This narrowness means it has less interference with adjacent sprockets and chainrings, which makes it quieter and quicker-shifting than previous generations of Campagnolo chains. The re-shaped Ultra Shift outer...
Campagnolo Record 11 Chain
Retail Price:
$84.00
Our Price: $65.00
buy now
You might recall that Campagnolo had 3 generations of their Record 10 speed chain, evolving from a 6. 1mm width down to 5. 9mm. With the introduction of Record 11 speed, this width now reduces to 5. 5mm. Campagnolo calls their Record 11 chain the "Ultra Shift" chain. First and foremost, it...
Campagnolo Ultra Link Chain Pin - 11-Speed
If you're running a Campagnolo 11-Speed chain, you'll likely never remove it from your bike, that is, unless you're a fastidious bike cleaner or it's at the end point of its service life. Either way, 11-Speed Campagnolo chain removal is rote and any old chain tool can be used to perform this...
Cutter Asymm Single Speed Chain
Retail Price:
$19.95
Our Price: $3.99
buy now
Dress your gear-less rig up with the stout Cutter Asymm Single Speed Chain. The asymmetric design not only separates from the mundane--If you finally nut up and grind that 'crete barrier you've been scoping, the smooth plates will slide right along.
e*thirteen components XCX Chain Guide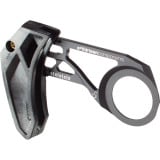 Retail Price:
$100.00
Our Price: $79.99
buy now
We tame complexity when we can. But in our quest for simplicity, a 1x10 rarely works perfectly without the addition of a chain guide like this e*thirteen XCX Chain Guide. The truth is that the front derailleur does a noble job of keeping the chain in line over your chainrings as you pedal through...
KMC X10SL Chain
The KMC X10SL Gold 10-Speed Chain employs a high-tech titanium-nitride coating that does two great things in addition to looking hot: First, it increases the life of the chain by reducing stretch and increasing its surface hardness. The second thing is the titanium nitride holds lube on its...
KMC X11SL-CP Chain
For years, cycling component manufacturers have been trying to reinvent the wheel. And the tire. And the shift-lever. And -- well, you get the point. So with all this innovation, it was only a matter of time before someone attempted to reinvent the chain. Enter the 228-gram KMC X11SL-CP, one of...
MRP 2x Chainguide
MRP designed the 2x (Two-Bye) Chainguide to deal with the unique gear ratios, chain lines, and impact protection requirements of today's 2x10 drivetrains. Removable skid allows you to sacrifice protection for weight savingsDual-pulley system provides precise chain engagement while reducing noise...
Shimano CN-HG93 XT 9-Speed Chain
Retail Price:
$42.95
Our Price: $36.55
buy now
The Ultegra HG-93 chain features super-narrow 9-speed construction, allowing for the use of a 9-speed cassette of the same overall width as 8-speed. Its ultra-precision construction helps maintain strength, dependability, and shifting performance on the narrower 9-speed sprockets. You also get...
Shimano Dura-Ace CN-9000 11-Speed Chain
Retail Price:
$49.95
Our Price: $45.00
buy now
We've come to grips with being full-blown bike nerds, and let's face it, if you're looking at the new Shimano Dura-Ace CN-9000 11-Speed Chain instead of the new crankset, you are too. At least you have good reason to be interested. The CN-9000 isn't just an 11-speed chain. Instead of simply...
<< Prev | 1 | 2 | 3 | Next >>