Chains Chain Guides - Road Bike Shop
Shop
>
Components
>
Drivetrain, Brakes
>
Chains & Chain Guides
Absolute Black Bash Guide Premium Chain Guide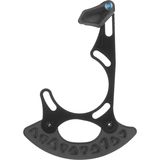 Don't let big hits interrupt your flow--attach the Absolute Black Bash Guide Premium Chain Guide to your rig to be sure your chain stays attached during rowdy trails. Its lightweight, simplistic design is easy to attach and features an adjustable chainline for universal compatibility.
Absolute Black Premium Chain Guide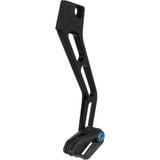 Any turned pedal lost to a fallen chain is an absolute travesty in your book, which is why you ride with Absolute Black's Premium Chain Guide firmly attached to your mountain bike. This light, durable guide comes in round or oval shapes to better accommodate your duo-wheeled vehicle's mechanics,...
Campagnolo Chorus 11 Chain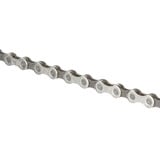 Retail Price:
$69.99
Our Price: $46.99
buy now
The Campagnolo's Chorus 11 Chain is 11-speed optimized, with robust nickle-plated steel links and a low-friction Ni-PTFE treatment for crisp-shifting performance. In fact, the only difference between the Chorus 11 Chain and its Record and Super Record counterparts lies in solid pins that connect...
Campagnolo Record 11 Chain
Retail Price:
$84.00
Our Price: $44.99
buy now
Campagnolo's new 11-Speed Chain is narrow. At 5. 5mm, it's easily the narrowest chain that Campy makes. They call it the "Ultra Shift" chain because of its incredible shift precision. The first thing you'll notice when you start to pedal the bike is glorious silence. Less interference from...
Campagnolo Ultra Link Chain Pin - 11-Speed
Retail Price:
$9.60
Our Price: $7.95
buy now
If you're running a Campagnolo 11-Speed chain, you'll likely never remove it from your bike, that is, unless you're a fastidious bike cleaner or it's at the end point of its service life. Either way, 11-Speed Campagnolo chain removal is rote and any old chain tool can be used to perform this...
K-Edge Chain Catcher - Clamp-type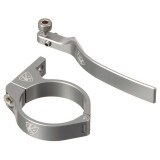 Retail Price:
$54.99
Our Price: $51.99
buy now
We've all been there: Seriously rough roads or mis-timed shifts can throw your chain off the inside of the chainrings. And like the oft-fashioned custom widgets designed and built by pro team mechanics on the eve of the cobbled classics, the K-Edge Clamp-on Chain Catcher acts as a safeguard...
MRP 1x CS Chain Guide
Seeing 1x drivetrains have relegated the front derailleur to your spare parts bin, it's good to have the MRP 1x CS Chain Guide just in case things go wrong while you're slamming and banging your way down the trail. Even with the proliferation of narrow-wide rings claiming to keep your chain on,...
MRP 1x V3 Alloy Chain Guide
Before you pack up and hit the road for your weekend bike trip in the mountains, make sure you've got MRP's 1x V3 Alloy Chain Guide mounted onto your frame. In fact, since it can be completely installed using just a 4mm hex wrench, you have no excuse not to do it yourself. Made with durable alloy...
MRP 1x V3 Carbon Chain Guide
When you steer your trail bike onto shadowy new stretches of singletrack far away from the crowds, you'll feel a lot better if you've got the MRP 1x V3 Carbon Chain Guide mounted onto your frame for a little extra reassurance. Once you put it on, dive into deep ruts and through white-knuckle rock...
MRP AMG Retention System
The MRP AMG Retention System is built to keep your aggressive trail bike's chain online when you're getting wild. With the widespread acceptance of one-by drivetrains, and clutch-equipped rear derailleurs, many riders have simply chosen to forgo chain retention altogether, but if you check out...
<< Prev | 1 | 2 | 3 | 4 | Next >>