Chains Chain Guides - Road Bike Shop
Shop
>
Components
>
Drivetrain, Brakes
>
Chains & Chain Guides
Campagnolo Chorus 11 Chain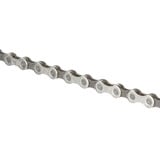 Retail Price:
$69.99
Our Price: $47.00
buy now
The Campagnolo's Chorus 11 Chain is 11-speed optimized, with robust nickle-plated steel links and a low-friction Ni-PTFE treatment for crisp-shifting performance. In fact, the only difference between the Chorus 11 Chain and its Record and Super Record counterparts lies in solid pins that connect...
Campagnolo Record 11 Chain
Retail Price:
$84.00
Our Price: $58.50
buy now
Campagnolo's new 11-Speed Chain is narrow. At 5. 5mm, it's easily the narrowest chain that Campy makes. They call it the "Ultra Shift" chain because of its incredible shift precision. The first thing you'll notice when you start to pedal the bike is glorious silence. Less interference from...
Campagnolo Ultra Link Chain Pin - 11-Speed
If you're running a Campagnolo 11-Speed chain, you'll likely never remove it from your bike, that is, unless you're a fastidious bike cleaner or it's at the end point of its service life. Either way, 11-Speed Campagnolo chain removal is rote and any old chain tool can be used to perform this...
e*thirteen components XCX Chain Guide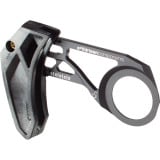 Retail Price:
$95.95
Our Price: $85.99
buy now
We tame complexity when we can. But in our quest for simplicity, a 1x10 rarely works perfectly without the addition of a chain guide like this e*thirteen XCX Chain Guide. The truth is that the front derailleur does a noble job of keeping the chain in line over your chainrings as you pedal through...
KMC X9.99 Chain
Retail Price:
$45.50
Our Price: $24.00
buy now
KMC's X9. 99 Chain is durable and smooth shifting and compatible with all 9-speed Campagnolo, SRAM, and Shimano drivetrains. It features a Double X bridge shape and outer and inner plate chamfering for fast shifting. It has also been given a proprietary "stretch-proof" treatment to increase...
KMC X9L Chain
Retail Price:
$50.50
Our Price: $28.99
buy now
For your 9-speed derailleur system, KMC's X9L provides durability, unmatched shifting performance, and KMC's MissingLink connector for easy maintenance. KMC's X9L chain has hollow link pins and perforations on the inner and outer plates. These weight saving reductions of excess material will save...
MRP AMG Retention System
Retail Price:
$119.95
Our Price: $84.99
buy now
The MRP AMG Retention System is built to keep your aggressive trail bike's chain online when you're getting wild. With the widespread acceptance of one-by drivetrains, and clutch-equipped rear derailleurs, many riders have simply chosen to forgo chain retention altogether, but if you check out...
Shimano 10-Speed Chain Pins
Retail Price:
$11.00
Our Price: $9.90
buy now
Whether you break your Shimano 10-speed chain on accident while out in the wild or on purpose for maintenance, you'll need Shimano 10-Speed Chain Pins to put it back together. Traveling in packs of five, these pins will get you back on the bike quickly with some spares for future chain adventures...
Shimano CN-HG600 11-Speed Chain
Retail Price:
$39.95
Our Price: $19.95
buy now
For 2015, Shimano's 105 groupset got a few high-profile upgrades. It's gone to 11-speed, and now has many of the same crankset technologies seen in Dura-Ace and Ultegra. As you'd expect, changes to the cassette and crankset also necessitate changes to the chain that connects them. Shimano...
Shimano CN-HG700 11-Speed Chain
Retail Price:
$39.95
Our Price: $27.95
buy now
Though the new naming convention eschews model titles, it's safe to assume that Shimano's CN-HG700 11-Speed Chain is designed with the balance of function and price found in the Ultegra drivetrain -- even though it's actually compatible with any of Shimano's 11-speed drivetrains. As with the...
<< Prev | 1 | 2 | 3 | Next >>