Chains Chain Guides - Road Bike Shop
Shop
>
Components
>
Drivetrain, Brakes
>
Chains & Chain Guides
SRAM PC-Red 22 Chain
Retail Price:
$62.95
Our Price: $32.65
buy now
If you're building up your new dream machine to run on any of SRAM's new 11-speed drivetrains, don't just scrounge up a chain from your garage to throw on your bike. Make sure your shifting stays smooth and precise within your new, wider gear range with the SRAM PC-Red 22 Chain, developed...
SRAM PowerLink Chain Connector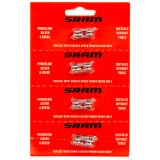 Trailside chain repair isn't much fun, but SRAM makes it a touch easier with the SRAM 9-Speed Power Link. The Power Link allows you to connect or disconnect your chain without the use of tools, making cleaning your chain a breeze as well. As it works for both SRAM and Shimano 9 Speed chains, we...
SRAM Powerlock Link for 11-Speed Chain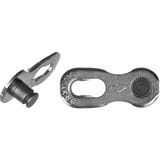 Retail Price:
$17.00
Our Price: $13.49
buy now
The SRAM Powerlock Link is key for shortening your chain or trailside maintenance. This one works with SRAM' 11-speed chains and is compatible with mountain or road.
SRAM X01 Eagle 12-Speed Chain
With the amount of nail-biting concern over chain strength that accompanied 11-speed drivetrains, SRAM had its work cut out to create the even thinner X01 Eagle 12-Speed Chain 12-speed Chain. In true SRAM style, the company met this challenge head-on and redefined chain construction along the way...
SRAM X1 Chain - 11-Speed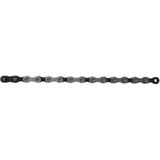 Retail Price:
$37.00
Our Price: $32.99
buy now
Going to eleven is rad; SRAM's 11-speed mountain bike drivetrains are popular for a variety of reasons, not the least of which is their near-inability to drop a chain. However, until the release of the X1 group, getting a SRAM 11-speed drivetrain required a bit of financial finagling. Not so any...
SRAM XX1 Eagle 12-Speed Chain
In the hubbub surrounding the release of SRAM's new one-by 12-speed Eagle drivetrains, the cassette and XX1 Eagle 12-Speed Chain have undoubtedly stolen the show with their golden bling and groundbreaking technology. SRAM met the challenge of creating a chain that could handle off-road abuse with...
Wippermann Connex 11-Speed Link
Wippermann brings over 120 years of German sensibility to its Connex line of chains. If you have work to do on those chains, reach for the Connex 11-Speed Link to make maintenance quick and easy. It allows you to open and close any 11-speed chain for cleaning by hand without worrying about using...
<< Prev | 1 | 2 | 3 | Next >>