Chains Chain Guides - Road Bike Shop
Shop
>
Components
>
Drivetrain, Brakes
>
Chains & Chain Guides
KMC X9.99 Chain
Retail Price:
$45.50
Our Price: $24.99
buy now
KMC's X9. 99 Chain is durable and smooth shifting and compatible with all 9-speed Campagnolo, SRAM, and Shimano drivetrains. It features a Double X bridge shape and outer and inner plate chamfering for fast shifting. It has also been given a proprietary "stretch-proof" treatment to increase...
KMC X9L Chain
Retail Price:
$50.50
Our Price: $29.99
buy now
For your 9-speed derailleur system, KMC's X9L provides durability, unmatched shifting performance, and KMC's MissingLink connector for easy maintenance. KMC's X9L chain has hollow link pins and perforations on the inner and outer plates. These weight saving reductions of excess material will save...
KMC X9SL Chain - 9-Speed
Retail Price:
$72.50
Our Price: $44.99
buy now
If you're committed to your 9-speed setup, the KMC X9SL Chain keeps the shifting smooth mile after mile. It's lightweight construction and a Ti-nitride coating ensure you'll always have the gear you need. KMC chains are designed with hollow link pins which help to lighten the weight of the chain....
KMC Z8 Chain
Retail Price:
$15.45
Our Price: $8.99
buy now
The KMC Z8 Chain is ideal for the casual rider who is looking for a durability and who doesn't need a high performance chain for their 6 to 24-speed bike. The Z8 is half nickel plated for smooth shifting and durability against rust. The links measure 1/2inch x 3/32inch and the chain comes with...
MRP AMG Retention System
The MRP AMG Retention System is built to keep your aggressive trail bike's chain online when you're getting wild. With the widespread acceptance of one-by drivetrains, and clutch-equipped rear derailleurs, many riders have simply chosen to forgo chain retention altogether, but if you check out...
Race Face Light Bash Guard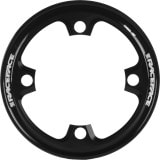 Protect your precious chainrings with the lightweight RaceFace Light Bash Guard. The Light Bash Guard is CNC'd from tough heat-treated aluminum. All unnecessary material is removed to make the Light Bash Guard a super-tough featherweight.
Shimano 105 CN-5700 Chain
Retail Price:
$29.95
Our Price: $24.95
buy now
The Shimano 105 CN-5700 Chain isn't just any old bicycle drive chain. This ultra-narrow, 10-speed specific chain has chromed link pins and heat-treated rollers, pins, and plates for optimum durability, as well as an asymmetrical profile designed to shift better on the front rings and the cassette...
Shimano Dura-Ace CN-7901 Chain
Retail Price:
$54.99
Our Price: $50.00
buy now
With older Dura-Ace chains, we thought that Shimano had reached the limit of refinement for the lowly bicycle chain. After all, what more is there to accomplish than to ensure that it shifts crisply and runs quietly? To our surprise, this Shimano Dura-Ace CN-7901 Chain is better. This improvement...
Shimano Dura-Ace CN-9000 11-Speed Chain
Retail Price:
$49.95
Our Price: $39.95
buy now
We've come to grips with being full-blown bike nerds, and let's face it, if you're looking at the new Shimano Dura-Ace CN-9000 11-Speed Chain instead of the new crankset, you are too. At least you have good reason to be interested. The CN-9000 isn't just an 11-speed chain. Instead of simply...
Shimano SLX 10-Speed Chain CN-HG75
Retail Price:
$44.95
Our Price: $38.20
buy now
Intended for the specific conditions a mountain bike encounters, Shimano's updated the SLX 10-Speed Chain, now designated CN-HG75, and it features a new surface treatment. Like its predecessor, this is a directional chain with task-specific links for optimized Dyna-Sys shifting performance. Inner...
<< Prev | 1 | 2 | 3 | 4 | 5 | Next >>