Chains Chain Guides - Road Bike Shop
Shop
>
Components
>
Drivetrain, Brakes
>
Chains & Chain Guides
Santa Cruz Bicycles Molded Chainstay Protector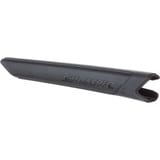 When you ride hard, your frame feels it. When your drivetrain is poorly calibrated or you just had a bad day, sometimes your frame feels that, too. Regardless, if you're on a Santa Cruz, or you just want to rep the company, slap on the Santa Cruz Molded Chainstay Protector to keep that drive-side...
Shimano CN-HG900-11 Chain - 11-Speed
Shimano brings the refinement of the 9000 series all the way down to the humble bicycle chain. Shimano designed the new CN-HG900 11-speed chain asymmetrically to specifically engage the new 9000-series drivetrain. It receives Shimano's revolutionary new SIL-TEC ultra-low friction treatment that...
Shimano Dura-Ace CN-9000 11-Speed Chain
Retail Price:
$49.95
Our Price: $39.95
buy now
We've come to grips with being full-blown bike nerds, and let's face it, if you're looking at the new Shimano Dura-Ace CN-9000 11-Speed Chain instead of the new crankset, you are too. At least you have good reason to be interested. The CN-9000 isn't just an 11-speed chain. Instead of simply...
Shimano SLX 10-Speed Chain CN-HG75
Retail Price:
$44.95
Our Price: $38.20
buy now
Intended for the specific conditions a mountain bike encounters, Shimano's updated the SLX 10-Speed Chain, now designated CN-HG75, and it features a new surface treatment. Like its predecessor, this is a directional chain with task-specific links for optimized Dyna-Sys shifting performance. Inner...
Shimano Ultegra CN-6701 Chain
Run the Shimano Ultegra CN-6701 Chain in between the twister and the twistee for reliable, fast-shifting performance thanks to the innovative Hyper-Glide system. Shift pins and ramps on Shimano chainrings and cassettes mesh perfectly with the Ultegra chain, ensuring you won't miss a shift when...
Shimano XT 10-Speed Chain CN-HG95
Shimano pushed the shifting performance of Dyna-Sys 10-speed components by making a directional chain with four different plates -- both sides/inner and outer. It's understandable that it would seem they've reached the zenith in chain technology, but that's not how Shimano works. Instead, with...
SRAM PC 1 Chain - Single Speed
Keep your townie, fixed gear or single-speed running smooth and reliably with the SRAM PC-1 Chain. Durable steel construction handles your massive wattage when you sprint the beach cruiser to the store for another six-pack. The PC-1 also uses SRAM's Powerlock Link so connecting the chain is so...
SRAM PC 1071 HollowPin Chain
Retail Price:
$68.00
Our Price: $32.52
buy now
The SRAM PC-1071 Chain is the least expensive chain in the SRAM lineup made with hollow pins. These hollow, chrome hardened pivot pins will save you 20 grams or so in comparison to a lesser chain with solid pins, but they're plenty strong so the durability is not sacrificed. It's a refined...
SRAM PC 1091R HollowPin Chain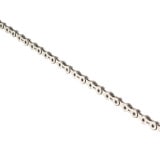 Retail Price:
$83.95
Our Price: $40.00
buy now
SRAM used everything it knew about chain technology to design the PC 1091R Hollow Pin Chain. Hollow Pin technology reduces weight without compromising chain strengthPowerLock allows tool-free chain connection (one-time-use only)More heavily chamfered plates for smoother shifting and a quieter...
SRAM PC 971 Chain - 9-Speed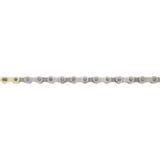 Retail Price:
$30.00
Our Price: $16.98
buy now
Like all other SRAM chains we sell, the PC-971 has bulged outer plates and chrome-hardened pins. It's a notch down from their PC-991 since it lacks the nickel plating on the inner plates and instead has raw steel. So although, it's a bit more susceptible to the elements, it doesn't sacrifice...
<< Prev | 1 | 2 | 3 | 4 | Next >>