Cassettes Cogs - Road Bike Shop
Shop
>
Components
>
Drivetrain, Brakes
>
Cassettes & Cogs
Campagnolo Chorus 11 Cassette
Retail Price:
$186.00
Our Price: $144.99
buy now
The Campagnolo Chorus 11 Cassette is made from steel, unlike its Record and Super Record siblings. This means a small weight penalty, yes, 29 grams over Record and 53 grams over Super Record, but the tradeoff is that steel wears much more slowly than the titanium used in the higher-end models. So...
Campagnolo Record 11 Cassette
Retail Price:
$395.00
Our Price: $257.00
buy now
A cassette is like a soccer referee--you hardly even know it's there if it does the job perfectly, but it can ruin an entire event if it doesn't. If we keep that analogy rolling, the Campagnolo Record 11 Cassette is a hall-of-fame level official, one that can only really be appreciated after you...
Campagnolo Super Record 11 Cassette
Retail Price:
$511.00
Our Price: $383.00
buy now
Campagnolo's Super Record 11 Cassette boils down to buttery-smooth and hyper-responsive shifting. Campy's top-tier groupset features Ultra Shift technology, meaning each and every tooth of the Super Record 11 cassette is shaped to perform a specific function. Whether the chain is being lifted or...
Chris King Stainless Steel Cog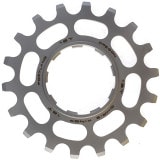 If you want something tough and good-looking for your single-speeder, then look no further than Chris King's Stainless Steel Cog. This single splined cog is heat-treated and bead blasted for incredible strength, durability, and style. The Stainless Steel Cog is designed for use with single-speed...
e*thirteen components Extended Range Cog
Back before the age of derailleurs, dudes had to climb alpine passes on singlespeeds with a flippable rear wheel that had two cogs: big and bigger. Fast forward nearly a century, and e*thirteen components' Extended Range Cog bumps your one-by drivetrain's cassette range up to the granniest of...
Endless Bike Kick Ass Cog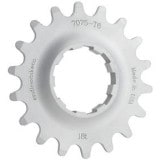 Many single speed cogs will take a toll on freehub bodies over time. Their narrow nature paired with a whole lotta torque makes for trouble. Our friends in North Carolina developed a brilliant solution -- the Endless Bike Kick-Ass Cog. A full quarter inch wide (6. 35mm) at the splines, the...
Niner Cogalicious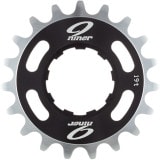 Niner's Cogalicious single speed cog is designed to fit Shimano freehub bodies. With a wide base, these cogs will prevents marring of the body under the high loads of single speed riding. The base is also offset to allow the fine tuning of chain lines. The Niner Cogalicious is available in six...
Niner Cogalicious RDO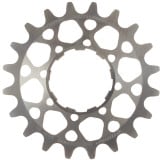 Not only is the Niner Cogalicious RDO a beautifully crafted cog that's sure to please the most discerning of single-speed aficionados, but it has the performance to match, thanks to its exceptionally hard 6AL/4V titanium alloy. Translated to real-world performance, you'll appreciate the enhanced...
Shimano Dura-Ace CS-9000 11-Speed Cassette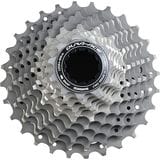 Retail Price:
$227.99
Our Price: $159.95
buy now
Shimano managed to add an additional cog in its Dura-Ace 9000 11-speed cassette with a weight increase of only three grams vs. the Dura-Ace 7900 10-speed cassette. Three grams. How'd they do it? Two time-tested yet innovative materials -- carbon fiber and titanium. You'll find titanium cogs for...
Shimano Dura-Ace CS-R9100 11-Speed Cassette
Retail Price:
$226.99
Our Price: $199.95
buy now
Shimano's groupsets often often miss call-outs for European elegance or relentless pursuit of weight loss at all cost and innovation for innovation's sake, instead earning their loyal following through the incredible dependability and meticulous engineering of the Dura-Ace CS-R9100 11-Speed...
<< Prev | 1 | 2 | 3 | 4 | Next >>