Cassettes Cogs - Road Bike Shop
Shop
>
Components
>
Drivetrain, Brakes
>
Cassettes & Cogs
Campagnolo H11 Cassette
Optimized for long climbs and slogs down gravel roads, the 11- to 32-tooth range on Campagnolo's H11 Cassette gives you plentiful low-end for conserving precious energy during road rides across hilly environments and gravel grinds down brutal back roads. This cassette employs tried-and-true steel...
Campagnolo Record 11 Cassette
Retail Price:
$330.00
Our Price: $257.40
buy now
A cassette is like a soccer referee--you hardly even know it's there if it does the job perfectly, but it can ruin an entire event if it doesn't. If we keep that analogy rolling, the Campagnolo Record 11 Cassette is a hall-of-fame level official, one that can only really be appreciated after you...
Campagnolo Super Record 11 Cassette
Retail Price:
$400.00
Our Price: $304.00
buy now
Campagnolo's Super Record 11 Cassette boils down to buttery-smooth and hyper-responsive shifting. Campy's top-tier groupset features Ultra Shift technology, meaning each and every tooth of the Super Record 11 cassette is shaped to perform a specific function. Whether the chain is being lifted or...
Chris King Stainless Steel Cog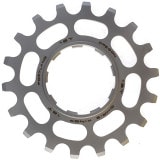 If you want something tough and good-looking for your single-speeder, then look no further than Chris King's Stainless Steel Cog. This single splined cog is heat-treated and bead blasted for incredible strength, durability, and style. The Stainless Steel Cog is designed for use with single-speed...
e*thirteen components Extended Range Cog
Retail Price:
$69.95
Our Price: $62.95
buy now
Back before the age of derailleurs, dudes had to climb alpine passes on singlespeeds with a flippable rear wheel that had two cogs: big and bigger. Fast forward nearly a century, and e*thirteen components' Extended Range Cog bumps your one-by drivetrain's cassette range up to the granniest of...
e*thirteen components TRS Plus 11-Speed Cassette
Retail Price:
$309.00
Our Price: $279.00
buy now
When you bought your stock enduro rig a couple of years ago, you had no idea how big cassettes and gear ranges were about to get. If you're looking for an after-market option that'll expand your shifting options without requiring you to buy a new drivetrain, take a look at e*thirteen components'...
e*thirteen components TRS Race 11-Speed Cassette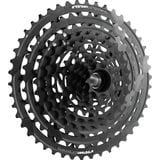 Retail Price:
$349.00
Our Price: $314.00
buy now
In the middle of insurmountable climbs, we've all shakily thrown our shift lever hoping we had a miracle gear left to get us over the nasty, root-laced crux. It's usually not there. But after a deluge of seemingly too-wide-to-be true cassettes emerged recently, the possibility of those elusive...
Niner Cogalicious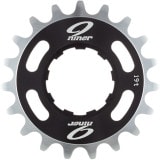 Niner's Cogalicious single speed cog is designed to fit Shimano freehub bodies. With a wide base, these cogs will prevents marring of the body under the high loads of single speed riding. The base is also offset to allow the fine tuning of chain lines. The Niner Cogalicious is available in six...
Niner Cogalicious RDO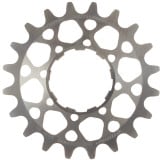 Not only is the Niner Cogalicious RDO a beautifully crafted cog that's sure to please the most discerning of single-speed aficionados, but it has the performance to match, thanks to its exceptionally hard 6AL/4V titanium alloy. Translated to real-world performance, you'll appreciate the enhanced...
OneUp Components Shark Sprocket and Cage Kit for Shimano 11sp
Part of the widest 11-speed 1X system ever created, the OneUp Components Shark Sprocket and Cage Kit for Shimano 11sp crushes climbs, hammers descents, and increases the stock Shimano 11-42 cassette range by 19%. It also provides more total cassette range, not just an easier granny gear, while...
<< Prev | 1 | 2 | 3 | 4 | 5 | Next >>