Cassettes Cogs - Road Bike Shop
Shop
>
Components
>
Drivetrain, Brakes
>
Cassettes & Cogs
Campagnolo Chorus 11 Cassette
Retail Price:
$240.00
Our Price: $154.95
buy now
Value investors, look no further! You've found what you're seeking with the Campagnolo Chorus 11 speed Ultra Shift cassette. This cassette is technologically identical to the Super Record 11 and Record 11 cassettes. It has every last bit of Ultra Shift technology built into it. You get the same...
Campagnolo Record 11 Cassette
Retail Price:
$510.00
Our Price: $313.10
buy now
The Campagnolo Record 11 Ultra Shift cassette is the kissing cousin of the Super Record 11 cassette. Only one distinction of note separates these models: While the Super Record 11 cassette is built with 5 steel cogs and 6 Ti cogs, the Record 11 cassette is built with 8 steel cogs and 3 Ti cogs....
Campagnolo Super Record 11 Cassette
Retail Price:
$470.00
Our Price: $375.99
buy now
Since the era of 8-speed drivetrains Campagnolo offered their Record cassettes in two general styles: Steel/Titanium and Titanium. The latter cost substantially more, weighed notably less, and wore at a more rapid rate. This metallurgic duality existed for the 8-speed, 9-speed, and 10-speed eras....
Campagnolo Super Record 11 Cassette
Retail Price:
$511.00
Our Price: $389.99
buy now
The top Campy groups have seen a pretty big redesign across most of their drivetrains, but one area that stayed largely untouched is the Campagnolo Super Record 11 Cassette. The cassette's most immediately apparent feature is the mix of six lightweight titanium sprockets and five nickel...
Chris King Stainless Steel Cog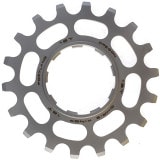 If you've got a single-speed cassette body on your rear wheel, you can use just about any splined cassette on the market. We have to admit that we're partial to the Chris King Stainless Steel cog. It's heat-treated and then bead blasted for great strength and looks. Looks good, rides great, lasts...
e*thirteen components Extended Range Cog
No one disagrees with you: those massive, steep climbs are lame. Don't try to find the long way around, though, and by all means, do not get off and push. Slap the e*thirteen Extended Range Cog on your freehub body, and go for it. You buy yourself precious extra gear-inches with either the 40- or...
Endless Bike Kick Ass Cog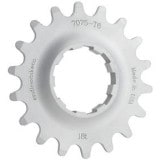 Many single speed cogs will take a toll on freehub bodies over time. Their narrow nature paired with a whole lotta torque makes for trouble. Our friends in North Carolina developed a brilliant solution -- the Endless Bike Kick-Ass Cog. A full quarter inch wide (6. 35mm) at the splines, the...
Niner Cogalicious RDO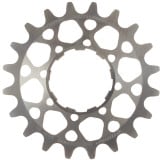 When thinking of bejeweled mountain bike components, King's storied headsets and Salsa's timeless quick-releases quickly come to mind. However, given Niner's acute attention to detail and undeniable quality, we expect the Cogalicious RDO to quickly join those ranks. Constructed from 6AL/4V...
Shimano 105 CS-5700 cassette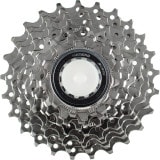 Retail Price:
$64.95
Our Price: $57.50
buy now
Shimano's 105 group has always been the go-to line of components for riders and racers who are looking to save a few bucks. If you don't mind adding a few grams to your bike to save some cash, the cassette is a pretty good place to do it since it's low, doesn't add rolling weight, and really won...
Shimano 105 CS-5800 11-Speed Cassette
The advent of the latest Shimano 105 groupset meant re-engineering the 105 cassettes to work with the 11-speed configuration. The new CS-5800 cassette not only features one more cog, it was also designed to optimize shifting across the entire range of gears. The CS-5800 features the same gear...
<< Prev | 1 | 2 | 3 | Next >>