Cassettes Cogs - Road Bike Shop
Shop
>
Components
>
Drivetrain, Brakes
>
Cassettes & Cogs
Shimano Ultegra 6800 Cassette
Retail Price:
$99.95
Our Price: $79.96
buy now
Shimano knew that the Ultegra 6800 cassette would reside as the heart of the new 11-speed system, which is why it devoted considerable time on a feature known as 'rider-tuning.' What this means is that you receive an updated range of useable gearing options with the advent of the 11-speed design....
Shimano Ultegra CS-6700 Cassette
Retail Price:
$99.95
Our Price: $85.00
buy now
We'll tell you straight up that while we appreciate the appeal of Dura-Ace cassettes, we understand why you would choose Ultegra for your bike. Smart racers routinely save money by going with Ultegra cassettes; the money saved can go for other weight shaving measures. On the plus side, Shimano...
Shimano XT Dyna-Sys CS-M771 Cassette
Retail Price:
$84.95
Our Price: $61.00
buy now
For their Dyna-Sys 10-speed system, Shimano added another cog to their venerable XT level cassette. So like the previous 9-speed versions, the CS-M771-10 XT Cassette has the same Hyperglide tooth and ramp shapes to help the chain move effortlessly across its range. The XT 10-Speed Cassette uses...
Shimano XTR Dyna-Sys Cassette
Retail Price:
$279.95
Our Price: $159.95
buy now
Just when we thought the 970 XTR cassette was the nicest thing we'd seen from their Sakai City factory, along comes the CS-M980 XTR 10-Speed Cassette. The biggest difference from the last generation is that this 980 Cassette has 10 cogs rather than nine. And with the addition of the largest...
SRAM Cassette XG-1080
Retail Price:
$273.00
Our Price: $189.99
buy now
SRAM's XG-1080 10-Speed Cassette is a lot like the XG-1099 XX Cassette. It's light and shares the same mesmerizing go-fast aesthetic. But it's way more affordable due to its construction. Where the XX cassette is machined from one block of steel, the XG-1080 is composed of individual, easy to...
SRAM OG-1090 Red Cassette
Retail Price:
$278.95
Our Price: $139.99
buy now
Black is back. And on the SRAM OG-1090 Black Cassette, the back is anodized black instead of Red. Otherwise, this is the same Red cassette that caused such a huge industry buzz when it was introduced. It's made using "PowerDome" technology, meaning that the top 8 cogs are CNC machined from a...
SRAM PG-1050 Cassette (10-Speed)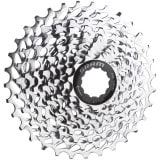 Retail Price:
$84.00
Our Price: $59.99
buy now
The SRAM 'PowerGlide' shifting experience is well-known in the cycling world today, as it should be. The crisp, positive, and reliable shifting that results from the PG cassettes have resulted in many converts to SRAM's smooth design platform. From its Apex group on up through Red, SRAM's leading...
SRAM PG-1070 Cassette (10-Speed)
Retail Price:
$99.00
Our Price: $69.99
buy now
With the introduction of the Force and Rival road groups, SRAM brought some long-overdue, fresh-thinking to component design. Thankfully, SRAM's creativity and innovation didn't stop at components with show-stopper aesthetics like shift levers and cranksets. Instead, it's evenly extended to parts...
SRAM PG-1130 11 speed Cassette
You've upgraded your groupset to 11-speed but need a few different cassettes. The SRAM PG-1130 cassette is an affordable choice to add extra gears to your toolbox. The PG-1130 was constructed from steel, which makes it heavier but also cuts down the cost, significantly. It retains the same...
SRAM PG-1170 Cassette
SRAM's new PG-1170 Cassette was built to give you smooth, quiet, and accurate shifting across all 11 of its cogs. The cassette was engineered to seamlessly pair with SRAM's new Force 22 group, and it includes the addition of a 16T cog neatly tucked into the cassette's profile. This 16T is now the...
<< Prev | 1 | 2 | 3 | Next >>