Cables - Road Bike Shop
Shop
>
Components
>
Drivetrain, Brakes
>
Cables
Campagnolo EPS Under Bottom Bracket Cable Kit
Retail Price:
$60.00
Our Price: $51.00
buy now
If you plan on using a non-standard DTI mount, such as the under bottom bracket mounting location, you'll need the Campagnolo EPS Under Bottom Bracket Cable Kit. It's also recommended for frames with a distance of more than 67 cm from the DTI to the battery.
Campagnolo Record 11 Cable Kit
We can tell you lots of things about the Campagnolo Record 11-Speed Cable Kit. They have stainless steel inner wires and friction-resistant housings lubed with special grease. They've even produced some numbers demonstrating how low the friction is. To quote, "Campagnolo cables maintain a...
Campagnolo Road Brake Inner Cable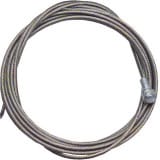 One stainless steel Campy Record brake cable. Identical to what you get when you purchase a new set of Campy Ergolevers. Keep your braking snappy with new, rust-free cables!The actual weight of the Campagnolo Road Brake Inner Cable is 23g.
Jagwire Pro Mountain Derailleur Kit
Lighter, faster, and more colorful -- all superlatives that confidently describe Jagwire's Pro Mountain Derailleur Kit. This kit features a compression-less, Kevlar-reinforced housing and a fully-lubricated Light Lube Liner (L3). And because of this, the housing is up to 30% lighter, and...
Jagwire Road Pro Complete Road Brake And Derailleur Kit
A cable is a cable, right? If you've ever just told your mechanic, "use the cheapest ones you've got", you've probably figured out that isn't the case. A well-designed cable system for your bike not only makes shifting fluid, it also ensures that braking is smooth and powerful when you need it....
Shimano Dura-Ace OT-SP41 Polymer-Coated Derailleur Cable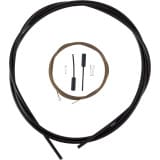 For optimal shifting and minimal maintenance, the Dura-Ace OT-SP41 Polymer-Coated Derailleur Cable is the ideal solution. The housing is pre-lubricated with silicone grease, while the inner stainless steel cable is polymer coated, which reduces the sliding resistance. The end caps are sealed to...
Shimano E-Tube Di2 System Check and Programmer SM-PCE1
With the Shimano E-Tube Di2 System Check and Programmer, you have the ability to precisely tune and oversee the way your electronic Shimano drivetrain reacts when you touch the shift levers. The project software downloads directly to your computer, giving you the ability to customize, check, and...
Shimano PTFE Brake Cable & Housing
Retail Price:
$39.95
Our Price: $37.50
buy now
This Dura-Ace brake cable and housing kit is identical to what comes with a set of Shimano Dura-Ace 10-speed STI levers, and it's an elemental reason why Shimano Dura-Ace brake calipers feel so amazingly crisp. This is a complete set of Dura-Ace brake cables and and housings, with the appropriate...
Shimano PTFE Coated Derailleur Cable
Retail Price:
$15.95
Our Price: $12.94
buy now
Shifting inevitably wears on your cables, leading to slow and sloppy performance and making you curse the day that you didn't go electronic. The proper choice in shift cable is as vital to your Shimano shifter investment as keeping the chain clean and the rear derailleur tuned;...
Shimano PTFE Shift Cable & Housing
Derailleur cables and housing rank among the least sexy parts on a bike. Maybe the seat clamp is lower. Maybe. Few think of their cables. And that could be a problem. When your Shimano 7900 Dura-Ace levers seem to move the derailleurs at a glacial pace, it could very well be the derailleur cables...
<< Prev | 1 | 2 | Next >>