Brakes - Road Bike Shop
Shop
>
Components
>
Drivetrain, Brakes
>
Brakes
Avid Avid X0 Trail Pads
Retail Price:
$24.95
Our Price: $21.99
buy now
The Avid X0 Trail brakes have increased stopping power compared to the regular X0s due to the new caliper with a two pistons instead of one. But, like the standard X0s, the trail brakes have a top loading pad system that makes removal and installation a snap. A steel backing plate comes in two...
Avid BB7 Mountain Disc Brake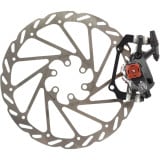 The Avid BB7 Mountain Disc Brake packs all the confident stopping power and simple adjustability you've ever wanted in a disc brake. From day rides to long-distance touring, the mechanically-actuated BB7 provides peace of mind, since all the adjustments can easily be done trailside with your...
Avid BB7 Road Disc Brake Caliper w/ G2 Rotor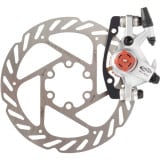 If you're lucky enough to own a road or 'cross frame from a forward-thinking manufacturer, you have the option to run disc brakes. The Avid BB7 Disc Brake Caliper is compatible with the shorter pull of road levers, so major stopping power is just a brake swap away. 6-Bolt Avid G2 Clean Sweep...
Avid BB7 Road S Disc Brake w/ Rotor
Before Avid's ingenious BB7, the Road S' great-granddaddy, mechanical disc brakes were inexpensive options with value as the only defining feature. Avid's engineers transformed that stigma by designing a system with ball bearings to produce smooth leverage and excellent modulation on par with...
Avid Disc Brake Bleed Kit
Retail Price:
$47.00
Our Price: $32.99
buy now
The Avid Bleed Kit includes every item you could possibly need to do a professional bleed job on your Avid Juicy, Code or Elixir disc brakes have been thrown in. The contents include: two (2) bleed syringes, two (2) fitting/clamp tubes, two (2) compression ferrules, two (2) barbed tubing inserts,...
Avid Juicy/BB7 Disc Brake Pads
Retail Price:
$28.00
Our Price: $25.20
buy now
This rectangular pad set, enough for one brake, works with all of the Juicy hydraulic brakes and the cable-operated BB7. Since you never want to ride metal on metal, it's always good to have two sets of pads around, so you don't need to hustle to find pads when you suddenly realize you need to...
Avid Post Mount Brake Adapter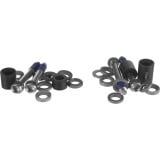 Avid's 10, 20, 30, and 40mm Brake Adapters include bolts and spacers to fit a variety of Post Mount configurations. To find the correct components, pick a rotor size and fork/frame interface then reference either Sram's caliper mounting and spacer configurations doc or the tech specs to the side.
Avid Shorty 6 Brake
Retail Price:
$51.95
Our Price: $35.99
buy now
The cantilever brake of choice for most 'crossers, the Avid Shorty 6 Cyclocross Brakes are built to work with any road levers. The center mounted pad holders offer easy pad setup, and if you routinely switch between aluminum training and carbon race-day wheels, the pad holders allow quick removal...
Avid X0 Disc Brake - No Rotor
Retail Price:
$179.95
Our Price: $99.99
buy now
If your preferences are low weight over complexity, as well as maximal adjustments in your braking system, the Avid X0 Disc Brake is aimed at you. This version of the X0 builds on the existing two-piston, two-piece caliper from previous iterations -- with an updated lever assembly. The X0 brake...
Avid X0 Trail Disc Brake
Retail Price:
$289.95
Our Price: $144.99
buy now
When the goal is stopping power, maximizing surface area and clamping force is paramount. To evenly distribute forces throughout larger pads, high-performance vehicles sport multi-piston calipers. Avid's not wet behind the ears to the multi-piston game, but -- unlike the newly designed XO Trail...
<< Prev | 1 | 2 | 3 | 4 | 5 | 6 | 7 | 8 | 9 | 10 | Next >>