Brakes - Road Bike Shop
Shop
>
Components
>
Drivetrain, Brakes
>
Brakes
Avid BB7 Road Disc Brake Caliper w/ G2 Rotor
If you have a disc-compatible 'cross or road frame and you're still running rim brakes, it might be time to consider replacing them with the Avid BB7 Road Disc Brake Caliper and G2 Rotor. Avid's two-piece forged aluminum caliper has an easy-to-use Tri-Align system that makes it easy to increase...
Avid BB7 Road S Disc Brake w/ Rotor
Before Avid's ingenious BB7, the Road S' great-granddaddy, mechanical disc brakes were inexpensive options with value as the only defining feature. Avid's engineers transformed that stigma by designing a system with ball bearings to produce smooth leverage and excellent modulation on par with...
Avid Elixir Disc Brake Pad
Avid created the top-loading Elixir Disc Brake Pads to pair specifically with its updated Elixir braking system for easy installation and removal along with increased stopping power compared to the Juicy 7 brakes. You get two options when choosing your Elixir Brake Pads: Organic or Metallic. The...
Avid Juicy/BB7 Disc Brake Pad
Retail Price:
$28.00
Our Price: $25.19
buy now
This rectangular pad set, enough for one brake, works with all of the Juicy hydraulic brakes and the cable-operated BB7. Since you never want to ride metal on metal, it's always good to have two sets of pads around, so you don't need to hustle to find pads when you suddenly realize you need to...
Avid Post Mount Brake Adapter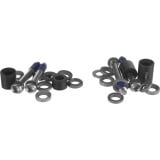 Retail Price:
$20.00
Our Price: $16.00
buy now
Finagle your mismatched brake rotors and post mounts into a coherent speed-regulating package with the Avid Post Mount Brake Adapters. Just find your rotor size and fork/frame interface, then pick the adapter kit that's right for your current setup. Easy peasy.
Avid Shorty 6 Brake
Retail Price:
$51.95
Our Price: $33.99
buy now
The cantilever brake of choice for most 'crossers, the Avid Shorty 6 Cyclocross Brakes are built to work with any road levers. The center mounted pad holders offer easy pad setup, and if you routinely switch between aluminum training and carbon race-day wheels, the pad holders allow quick removal...
Avid Shorty Ultimate Brake
The name says it all, and the Avid Shorty Ultimate Cyclocross Brake is just that. You can have lightweight, adjustability, and the sure stopping power of Avid brakes. The Ultimate Brake has more than a few details that we really appreciate. Firstly, they use standard road brake pads. As you may...
Campagnolo Alloy TT Brake Levers
Retail Price:
$100.00
Our Price: $81.95
buy now
Campagnolo's arsenal of time trial equipment includes these Alloy TT Brake Levers. They're designed to be installed in the ends of any modern time trial or bullhorn base bar. They offer a sleek aerodynamic profile along with a functional detail that Campagnolo brake users will appreciate. Like...
Campagnolo Athena Skeleton Dual-Pivot Brakes
Retail Price:
$157.99
Our Price: $118.49
buy now
As cyclists, we tend to make considerable sacrifices in pursuit of lower weight, but trading safety for weight just seems boneheaded to us. That's why we're pleased that Campagnolo is now offering dual pivot calipers in the front and rear on the Athena Skeleton Dual-Pivot Brakes. They do gain a...
Campagnolo Carbon Brake Pad - 2-Pack
Retail Price:
$59.94
Our Price: $26.99
buy now
Though we all have our own partisan affiliations when it comes to components, it's hard to argue against the supremacy of Campagnolo wheels. The bearings, the iconic branding, the reliability of Italian-built carbon--virtually every wheel wish list reserves a top-three spot for carbon hoops from...
<< Prev | Back | 1 | 2 | 3 | 4 | 5 | 6 | 7 | 8 | 9 | 10 | More | Next >>