Brakes - Road Bike Shop
Shop
>
Components
>
Drivetrain, Brakes
>
Brakes
Avid BB7 Road Disc Brake Caliper w/ G2 Rotor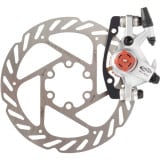 If you have a disc-compatible 'cross or road frame and you're still running rim brakes, it might be time to consider replacing them with the Avid BB7 Road Disc Brake Caliper and G2 Rotor. Avid's two-piece forged aluminum caliper has an easy-to-use Tri-Align system that makes it easy to increase...
Avid BB7 Road S Disc Brake w/ Rotor
Before Avid's ingenious BB7, the Road S' great-granddaddy, mechanical disc brakes were inexpensive options with value as the only defining feature. Avid's engineers transformed that stigma by designing a system with ball bearings to produce smooth leverage and excellent modulation on par with...
Avid Brake Adapter
One of the things Avid brakes are known for is their Tri-Align Caliper Positioning System, aka CPS. It's a simple bracket that does a great job of aligning the caliper with the rotor, regardless of how smartly the fork or frame manufacturer positioned their ISO mounts. No shims, no hours of...
Avid Disc Brake Bleed Kit
Retail Price:
$47.00
Our Price: $32.99
buy now
Whether your Avid, Code, or Elixir brakes need routine maintenance, replacement parts installed, or a major overhaul, the Avid Disc Brake Bleed Kit contains what your need to end your hydraulic woes. With the propped tools, the system isn't nearly as daunting as it first may feel.The kit contains...
Avid Elixir Disc Brake Pads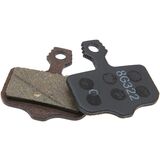 Avid created the top-loading Elixir Disc Brake Pads to pair specifically with its updated Elixir braking system for easy installation and removal along with increased stopping power compared to the Juicy 7 brakes. You get two options when choosing your Elixir Brake Pads: Organic or Metallic. The...
Avid Juicy/BB7 Disc Brake Pads
Retail Price:
$28.00
Our Price: $25.20
buy now
This rectangular pad set, enough for one brake, works with all of the Juicy hydraulic brakes and the cable-operated BB7. Since you never want to ride metal on metal, it's always good to have two sets of pads around, so you don't need to hustle to find pads when you suddenly realize you need to...
Avid Post Mount Brake Adapter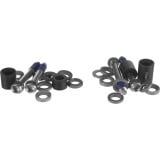 Finagle your mismatched brake rotors and post mounts into a coherent speed-regulating package with the Avid Post Mount Brake Adapters. Just find your rotor size and fork/frame interface, then pick the adapter kit that's right for your current setup. Easy peasy.
Avid Shorty 6 Brake
Retail Price:
$51.95
Our Price: $33.99
buy now
The cantilever brake of choice for most 'crossers, the Avid Shorty 6 Cyclocross Brakes are built to work with any road levers. The center mounted pad holders offer easy pad setup, and if you routinely switch between aluminum training and carbon race-day wheels, the pad holders allow quick removal...
Avid X0 Trail Disc Brake
Retail Price:
$289.95
Our Price: $129.95
buy now
When the goal is stopping power, maximizing surface area and clamping force is paramount. To evenly distribute forces throughout larger pads, high-performance vehicles sport multi-piston calipers. Avid's not wet behind the ears to the multi-piston game, but -- unlike the newly designed XO Trail...
Brake Force One Disc Brake Adapter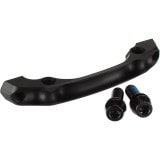 Retail Price:
$39.95
Our Price: $25.99
buy now
The Brake Force One Disc Brake Adapters are machined from aluminum and come in Post Mount and IS configuration for rotors from 140mm to 203mm.
<< Prev | 1 | 2 | 3 | 4 | 5 | 6 | 7 | 8 | 9 | Next >>