Brakes - Road Bike Shop
Shop
>
Components
>
Drivetrain, Brakes
>
Brakes
Avid Avid X0 Trail Pads
The Avid X0 Trail brakes have increased stopping power compared to the regular X0s due to the new caliper with a two pistons instead of one. But, like the standard X0s, the trail brakes have a top loading pad system that makes removal and installation a snap. A steel backing plate comes in two...
Avid BB7 Mountain Disc Brake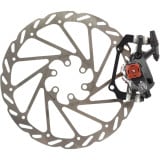 The Avid BB7 Mountain Disc Brake packs all the confident stopping power and simple adjustability you've ever wanted in a disc brake. From day rides to long-distance touring, the mechanically-actuated BB7 provides peace of mind, since all the adjustments can easily be done trailside with your...
Avid BB7 Road Disc Brake Caliper w/ G2 Rotor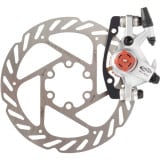 If you're lucky enough to own a road or 'cross frame from a forward-thinking manufacturer, you have the option to run disc brakes. The Avid BB7 Disc Brake Caliper is compatible with the shorter pull of road levers, so major stopping power is just a brake swap away. 6-Bolt Avid G2 Clean Sweep...
Avid BB7 Road S Disc Brake w/ Rotor
Before Avid's ingenious BB7, the Road S' great-granddaddy, mechanical disc brakes were inexpensive options with value as the only defining feature. Avid's engineers transformed that stigma by designing a system with ball bearings to produce smooth leverage and excellent modulation on par with...
Avid Brake Adapter
One of the things Avid brakes are known for is their Tri-Align Caliper Positioning System, aka CPS. It's a simple bracket that does a great job of aligning the caliper with the rotor, regardless of how smartly the fork or frame manufacturer positioned their ISO mounts. No shims, no hours of...
Avid Disc Brake Bleed Kit
The Avid Bleed Kit includes every item you could possibly need to do a professional bleed job on your Avid Juicy, Code or Elixir disc brakes have been thrown in. The contents include: two (2) bleed syringes, two (2) fitting/clamp tubes, two (2) compression ferrules, two (2) barbed tubing inserts,...
Avid Elixir 9 Disc Brake
Retail Price:
$226.00
Our Price: $124.99
buy now
As the fearless leader of the Elixir battalion, the Avid Elixir 9 Hydraulic Disc Brake has a lot to live up to. That means offering serious performance and high-end materials without forcing you to take out another mortgage on 'Chateau Velo-Geek.' Since they're part of the Elixir family, these...
Avid HS1 Heat Shedding Rotor
Great technology can change the way you ride, and with the Avid HS1 Heat Shedding Rotor you'll be riding longer than ever. With a new cross-drilled design, the HS1 holds true to its name by efficiently shedding heat. It allows you to tackle the technical by riding the brakes to your heart's...
Avid Juicy/BB7 Disc Brake Pads
Retail Price:
$28.00
Our Price: $25.20
buy now
This rectangular pad set, enough for one brake, works with all of the Juicy hydraulic brakes and the cable-operated BB7. Since you never want to ride metal on metal, it's always good to have two sets of pads around, so you don't need to hustle to find pads when you suddenly realize you need to...
Avid Post Mount Brake Adapter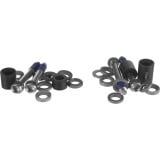 Avid's 10, 20, 30, and 40mm Brake Adapters include bolts and spacers to fit a variety of Post Mount configurations. To find the correct components, pick a rotor size and fork/frame interface then reference either Sram's caliper mounting and spacer configurations doc or the tech specs to the side.
<< Prev | 1 | 2 | 3 | 4 | 5 | 6 | 7 | 8 | 9 | 10 | Next >>