Brakes - Road Bike Shop
Shop
>
Components
>
Drivetrain, Brakes
>
Brakes
SRAM Guide/X0 Trail Disc Brake Pad
In the chaos of spring, singletrack trails can take sudden turns for the worst. In these cases, SRAM's Guide/X0 Trail Disc Brake Pads help to ensure that your rides end well by ending with you grabbing the brakes, not diving into a tree. We recommend the organic pads for lighter cyclists with a...
SRAM Hydraulic Line Kit - GUIDE R/RS/RSC, DB5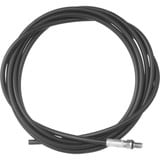 Whether you're running SRAM's new Guide R/RS/RSC or DB5 brakes, the Hydraulic Line Kit is a wise choice to have around as a backup, or for replacing the existing line. With this kit you receive 2000mm of line (suitable for one brake) and the accompanying hardware.
SRAM Level TLM Disc Brake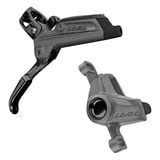 We have some bad news. You may want to be sure you're seated for this. SRAM is effectively retiring its XO brake models. This saddens us because they've been like a good friend at the bar for so long, stopping us when maybe we've gone a bit further than we should; however, the bright side is that...
SRAM Level Ultimate Disc Brake
We've been running SRAM's recently released Guide brakes on everything from four-inch 29ers to six-inch enduro sleds without any complaints, but with the release of the Level Ultimate Disc Brake, SRAM has come up with a solution to problem that we didn't even know we had. The Level Ultimate...
SRAM Red 22 Hydraulic Rim Brake/Shifter
Retail Price:
$508.00
Our Price: $401.32
buy now
In the quest for the ultimate road rim brake, SRAM pioneered the hydraulic rim brake. Even SRAM will admit, however, that the first design left a bit to be desired in the areas of performance and reliability. SRAM knew it was onto something, though, so it went back to the design room and started...
SRAM Red Aero Link Brake Caliper Set
Retail Price:
$285.00
Our Price: $257.00
buy now
The SRAM Red Aero Link Brake Caliper Set positions the Red braking experience apart from the herd with reduced weight and higher braking power. As the name implies, it also has a sleek front profile that boast increased aerodynamics over its Red predecessors and current cousins in the Force and...
SRAM Rival 22 Hydraulic Disc Brake
Retail Price:
$384.00
Our Price: $291.98
buy now
The pioneer of road-ready hydraulic disc brake systems, SRAM is confident that taking a set for a spin will leave you wondering how you were ever satisfied with anything less. To be clear, the company will be the first to admit that its first generation of the brakes needed some refinement to be...
SRAM Rival 22 Shifter/Hydraulic Road Rim Brake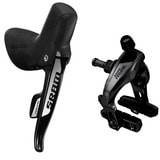 With the exception of a few different materials here and there that add up to a fractionally heavier system compared to the higher-end Force and Red sets, the SRAM Rival 22 Hydraulic Road Rim Brakes still represent the pinnacle of braking on the road or 'cross course. Both shift and brake levers...
SRAM Road Disc Organic Brake Pad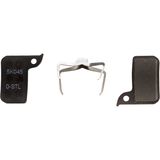 Retail Price:
$26.00
Our Price: $16.99
buy now
The benefits of SRAM's Organic Road Disc Brake Pads include gains in the same areas that initially attracted us to disc brakes: engagement immediately translates to stopping power and there's virtually no breaking-in period. They also address concerns about overheating brakes by redirect heat...
SwissStop Disc Brake Pad
The Swiss Alps, no doubt, are home to some spectacular and demanding mountain bike terrain. SwissStop's testing facility is nestled there as well. Their technicians tirelessly test and re-test brake pad compounds so you can ride with confidence knowing the best stopping power and control...
<< Prev | Back | 1 | 2 | 3 | 4 | 5 | 6 | 7 | 8 | 9 | 10 | More | Next >>