Brakes - Road Bike Shop
Shop
>
Components
>
Drivetrain, Brakes
>
Brakes
SwissStop Disc S Brake Pad - 4-Pack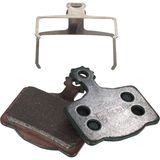 Offering exceptional longevity and higher resistance to heat build-up over OEM pads, the SwissStop Disc S Brake Pads provide powerful braking for gravity riders looking to stop as quickly as possible. Their sintered compound offers significantly more braking force over organic compounds, as well...
SwissStop EXOTherm Disc Brake Pad
The old guard may remember SwissStop as a life-saver for long-wearing brake pads that could magically transfer between aluminum training rims and pampered, early edition carbon hoops with an unmistakable pop of yellow peeping out from most of the peloton's calipers. With the influx of disc brakes...
SwissStop Flash EVO BXP Brake Pad - 4-Pack
Designed for the needs of road and cyclocross bikes with limited brake clearance, the Swissstop Flash EVO BXP Brake Pads offer a low-profile shape that's compatible with direct-mount calipers and super-wide aero wheels. Whether you're riding a wide-rimmed time trial bike or road bike with...
SwissStop FlashPro Original Black Brake Pad - 2-Pack
The SwissStop FlashPro Original Black Brake Pad Set provides superior breaking on aluminum rims and is the best option for your Shimano and SRAM calipers. The pads offer excellent modulation, and the pads now have deeper asymmetrical grooves for improved performance in wet conditions. The...
SwissStop Full FlashPro BXP Brake Pad
That feeling when you grab the brake levers and nothing happens, so you squeeze extra hard, and nothing happens, so you squeeze as hard as humanly possible until your fingers seize up, and still nothing, so you steer into a field (if you're lucky) and take a speed-scrubbing tumble? No fun....
SwissStop Full FlashPro Elite Black Prince Brake Pad
Compatible with both Shimano and SRAM brakes, Swisstop Full FlashPro Elite Black Prince Brake Pads are for carbon rims only. The 'Full' in SwissStop Full FlashPro means that this brake pad kit comes with pads and holders. There will be no stripped set screws or lost parts. Simply remove your old,...
SwissStop Full FlashPro Yellow King Brake Pad
The SwissStop Full FlashPro Yellow King Brake Pad Set represents the evolution of SwissStop's first-generation Flash Pads, delivering improved braking performance in the wet with its deeper asymmetric grooves, as well as longer wear-life with a thicker pad depth. The deep asymmetric grooves also...
SwissStop RacePro Yellow King Brake Pad - 2-Pack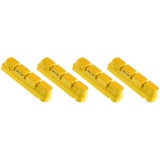 Are SwissStop RacePro Yellow King brake pads the best pads in the world for use with carbon fiber rims? We should have the courage to flat-out say it, but instead we'll just pass along this little piece of gossip: It's SwissStop that makes Lightweight's house brand brake pads -- and we don't know...
TRP 2-Piece Center Lock Rotor
Normally, laying it down in a corner isn't that big of a deal to brush off and recover from, but this time a poorly placed rock has left your rotor in non-linear shambles and left you trying to figure out the best way to get back to the trailhead. Luckily, the ride buddy who always gets ribbed...
TRP Flat Mount Disc Brake Adapter
You've just bought a beautiful new disc-equipped frame, and are looking to save some coin by repurposing the parts off of last year's rig and are running into the age-old issue of incompatible brake caliper mount styles. Instead of ponying up for shiny new flat-mount calipers, get some use out of...
<< Prev | 1 | 2 | 3 | 4 | 5 | 6 | 7 | 8 | 9 | 10 | Next >>