Brakes - Road Bike Shop
Shop
>
Components
>
Drivetrain, Brakes
>
Brakes
SRAM XX Disc Brake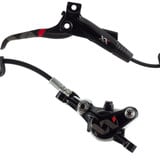 Retail Price:
$288.00
Our Price: $212.49
buy now
SRAM's XX Disc Brake is a lightweight, race-ready stopper that takes the best in SRAM's braking technologies and eliminates any excess. This stripping-of-superfluous ethos is true for every component from caliper to lever, ensuring that your braking system is as streamlined and efficient as...
SwissStop Disc Brake Pad Set
The Swiss Alps, no doubt, are home to some spectacular and demanding mountain bike terrain. SwissStop's testing facility is nestled there as well. Their technicians tirelessly test and re-test brake pad compounds so you can ride with confidence knowing the best stopping power and control...
SwissStop Disc S Brake Pads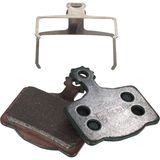 SwissStop prides themselves on research and development, with results that can be seen and felt in its line of sintered metallic Disc S Brake Pads. In its ISO 9001 certified laboratory and production facility, SwissStop uses pressure and heat below the melting point to bond an engineered mix of...
SwissStop FlashPro Black Prince Brake Pads
Compatible with both Shimano and SRAM brakes, SwissStop FlashPro Elite Black Prince Brake Pads are for carbon rims only. FlashPro means that the pads are compatible with Shimano and SRAM brake calipers. To better the performance over the previous Flash pads, the FlashPro has deeper asymmetrical...
SwissStop FlashPro Yellow King Brake Pad Set
SwissStop Yellow. That's the answer we give when asked about brake pads for carbon rimmed wheels. And it's no secret that wheel manufacturers like Mavic choose SwissStop because they make the best carbon-specific brake pads on the market. In fact, SwissStop Yellow King pads come with Mavic's...
SwissStop Full FlashPro BXP Brake Pads
We've never made it a secret that we favor SwissStop's Yellow King and Black Prince compounds for carbon braking surfaces. However, we've been noticing a recurring trend for those who aren't so carbon inclined in their wheel choices -- running stock brake pads. We'd like to say that life is too...
SwissStop Full FlashPro Elite Black Prince Brake Pads
Compatible with both Shimano and SRAM brakes, Swisstop Full FlashPro Elite Black Prince Brake Pads are for carbon rims only. The 'Full' in SwissStop Full FlashPro means that this brake pad kit comes with pads and holders. There will be no stripped set screws or lost parts. Simply remove your old,...
SwissStop RacePro Original Black Brake Pads for Campagnolo - Set of 4
Upon rare occasion we run across a small company obsessed with a small niche of the bike industry, and through this obsession becomes the best-in-class manufacturer in that niche thanks for the fact that it's the only niche they care about. And, thusly, we introduce you to SwissStop. Think of...
SwissStop RacePro Yellow King Brake Pads - Set of 4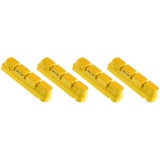 Are SwissStop RacePro Yellow King brake pads the best pads in the world for use with carbon fiber rims? We should have the courage to flat-out say it, but instead we'll just pass along this little piece of gossip: It's SwissStop that makes Lightweight's house brand brake pads -- and we don't know...
Zipp Cork Brake Block
First things first. The Zipp Tangente Cork Composite brake pads have a singular purpose: To revolutionize braking quality on carbon rims. We need to stress the word "singular" here, though, because Zipp says in no uncertain terms that they should never be used on aluminum braking surfaces,...
<< Prev | 1 | 2 | 3 | 4 | 5 | 6 | 7 | 8 | 9 | 10 | Next >>