Brakes - Road Bike Shop
Shop
>
Components
>
Drivetrain, Brakes
>
Brakes
SRAM Road Disc Brake Pads - Organic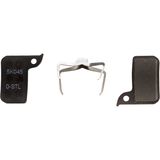 The benefits of SRAM's Organic Road Disc Brake Pads include gains in the same areas that initially attracted us to disc brakes: engagement immediately translates to stopping power and there's virtually no breaking-in period. They also address concerns about overheating brakes by redirect heat...
SRAM S700 Hydraulic Disc Brake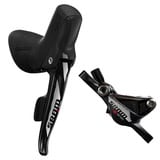 Retail Price:
$469.00
Our Price: $258.00
buy now
When SRAM recently redesigned its road and cyclocross hydraulic disc brake systems, it built the S700 Hydraulic Disc Brake system to deliver the same incredible stopping power and modulation to older 10-speed drivetrains. For the new S700, SRAM reconfigured the lever body, and revamped the master...
SRAM XX Disc Brake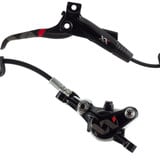 Retail Price:
$288.00
Our Price: $157.99
buy now
SRAM's XX Disc Brake is a lightweight, race-ready stopper that takes the best in SRAM's braking technologies and eliminates any excess. This stripping-of-superfluous ethos is true for every component from caliper to lever, ensuring that your braking system is as streamlined and efficient as...
SwissStop Disc Brake Pads
The Swiss Alps, no doubt, are home to some spectacular and demanding mountain bike terrain. SwissStop's testing facility is nestled there as well. Their technicians tirelessly test and re-test brake pad compounds so you can ride with confidence knowing the best stopping power and control...
SwissStop Disc S Brake Pads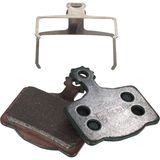 Offering exceptional longevity and higher resistance to heat build-up over OEM pads, the SwissStop Disc S Brake Pads provide powerful braking for gravity riders looking to stop as quickly as possible. Their sintered compound offers significantly more braking force over organic compounds, as well...
SwissStop FlashPro Black Prince Brake Pads
Going fast is only fun if you can stop when you need to, so good brake pads are indispensable if you want to push the pace. Carbon rims can complicate the equation a little bit, but the SwissStop FlashPro Black Prince Brake Pads make life simple and safe. Designed specifically for carbon rims,...
SwissStop FlashPro BXP Brake Pads - Set of 4
Stopping isn't sexy, but it's essential, which means the SwissStop Flash Pro BXP Brake Pads are more like a good pair of socks than a sleek body-hugging kit. SwissStop's BHP (Blue High Performance) rubber compound is one of the best around, proven to stop you even faster and more smoothly than...
SwissStop FlashPro GHP 2 Brake Pad Set
GHP stands for Green High Performance, and it's SwissStop's versatile all-condition pad for aluminum and ceramic-coated alloy rims. This is the 2nd-generation version, known as GHP 2. Due to a new pad compound, it has better stopping power, remarkable durability, and improved rim friendliness...
SwissStop FlashPro Original Black Brake Pads - Set of 4
The SwissStop FlashPro Original Black Brake Pad Set provides superior breaking on aluminum rims and is the best option for your Shimano and SRAM calipers. The pads offer excellent modulation, and the pads now have deeper asymmetrical grooves for improved performance in wet conditions. The...
SwissStop FlashPro Yellow King Brake Pads - Set of 4
Swapping brake pads when changing between carbon and aluminum rims can be a hassle if you just want to get out the door or get a flat and then have to worry about braking function the rest of the race with that aluminum neutral wheel. The SwissStop FlashPro Yellow King Brake Pat Set takes away...
<< Prev | 1 | 2 | 3 | 4 | 5 | 6 | 7 | 8 | 9 | 10 | Next >>