Brakes - Road Bike Shop
Shop
>
Components
>
Drivetrain, Brakes
>
Brakes
SRAM Red 22 Hydraulic Rim Brake/Shifter
Retail Price:
$508.00
Our Price: $373.95
buy now
To the benefit of anyone who rides a road bike, SRAM pioneered road hydraulic brake systems, although they'll be the first admit that the initial systems could still bring even better performance and reliability to the table. After starting with a clean sheet of paper, SRAM drew up the 2015 SRAM...
SRAM Rival 22 Hydraulic Disc Brake
Retail Price:
$384.00
Our Price: $328.00
buy now
The pioneer of road-ready hydraulic disc brake systems, SRAM is confident that taking a set for a spin will leave you wondering how you were ever satisfied with anything less. To be clear, the company will be the first to admit that its first generation of the brakes needed some refinement to be...
SRAM Rival 22 Shifter/Hydraulic Road Rim Brake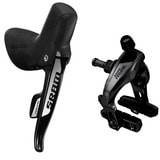 Retail Price:
$334.00
Our Price: $285.00
buy now
With the exception of a few different materials here and there that add up to a fractionally heavier system compared to the higher-end Force and Red sets, the SRAM Rival 22 Hydraulic Road Rim Brakes still represent the pinnacle of braking on the road or 'cross course. Both shift and brake levers...
SRAM S700 Hydraulic Disc Brake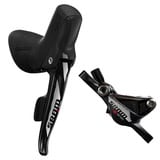 Retail Price:
$469.00
Our Price: $355.00
buy now
SRAM wants everyone to come to the party, which is why, when re-engineering its road and cyclocross hydraulic disc brake systems for 2015 for its newest 11-speed drivetrains, it also extended the technology to its older 10-speed drivetrains by offering up the S700 Hydraulic Disc Brake system. To...
SRAM X0 Carbon GS Disc Brake
Retail Price:
$185.00
Our Price: $148.00
buy now
SRAM split its X0 Disc Brakes into two distinct versions. One aimed for aggressive trail riders, aptly named "Trail" -- for those who prefer power and adjustments over weight -- and the X0 Carbon GS, which favors low-weight over complexity. While the Trail model differs greatly from previous...
SwissStop Disc Brake Pad Set
The Swiss Alps, no doubt, are home to some spectacular and demanding mountain bike terrain. SwissStop's testing facility is nestled there as well. Their technicians tirelessly test and re-test brake pad compounds so you can ride with confidence knowing the best stopping power and control...
SwissStop Disc S Brake Pads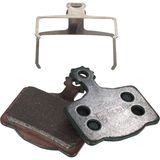 SwissStop prides themselves on research and development, with results that can be seen and felt in its line of sintered metallic Disc S Brake Pads. In its ISO 9001 certified laboratory and production facility, SwissStop uses pressure and heat below the melting point to bond an engineered mix of...
SwissStop Full FlashPro Elite Black Prince Brake Pads
Compatible with both Shimano and SRAM brakes, Swisstop Full FlashPro Elite Black Prince Brake Pads are for carbon rims only. The 'Full' in SwissStop Full FlashPro means that this brake pad kit comes with pads and holders. There will be no stripped set screws or lost parts. Simply remove your old,...
SwissStop RacePro BXP Brake Pads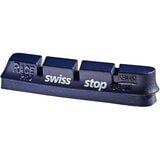 The simple story of SwissStop's new RacePro Blue Extreme Performance (BXP) Brake Pads for alloy surfaces is that they deliver more power with less required lever force, in both wet and dry conditions. SwissStop's parent company, Rex Articoli, is a specialist in technical rubber compounds. And...
SwissStop RacePro Original Black Brake Pads for Campagnolo - Set of 4
Upon rare occasion we run across a small company obsessed with a small niche of the bike industry, and through this obsession becomes the best-in-class manufacturer in that niche thanks for the fact that it's the only niche they care about. And, thusly, we introduce you to SwissStop. Think of...
<< Prev | 1 | 2 | 3 | 4 | 5 | 6 | 7 | 8 | 9 | Next >>