Brakes - Road Bike Shop
Shop
>
Components
>
Drivetrain, Brakes
>
Brakes
SRAM Rival 22 Brakes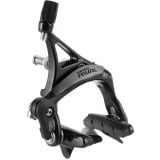 SRAM's Rival 22 Brakes feature all the same stopping power as the Force series -- in wet and dry conditions at a fraction of the cost. In fact, across the entire component line, Force and Rival see very few differences between them. In short, they are mechanically very well matched. What sets...
SRAM Rival 22 Hydraulic Disc Brake
Retail Price:
$384.00
Our Price: $295.20
buy now
The pioneer of road-ready hydraulic disc brake systems, SRAM is confident that taking a set for a spin will leave you wondering how you were ever satisfied with anything less. To be clear, the company will be the first to admit that its first generation of the brakes needed some refinement to be...
SRAM Rival 22 Shifter/Hydraulic Road Rim Brake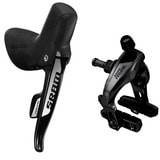 Retail Price:
$334.00
Our Price: $285.00
buy now
With the exception of a few different materials here and there that add up to a fractionally heavier system compared to the higher-end Force and Red sets, the SRAM Rival 22 Hydraulic Road Rim Brakes still represent the pinnacle of braking on the road or 'cross course. Both shift and brake levers...
SRAM Road Disc Brake Pads - Organic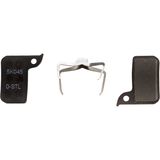 The benefits of SRAM's Organic Road Disc Brake Pads include gains in the same areas that initially attracted us to disc brakes: engagement immediately translates to stopping power and there's virtually no breaking-in period. They also address concerns about overheating brakes by redirect heat...
SRAM Road Disc Brake Pads - Sintered
Retail Price:
$25.95
Our Price: $15.65
buy now
As part of the testing process that went into developing the new Hydro R (hydraulics for road) brake groups, SRAM's engineers spent considerable amounts of time experimenting with different brake pad compounds. For several of the tests, riders wore weighted vests while descending Italy's steep...
SRAM S700 Hydraulic Disc Brake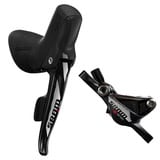 Retail Price:
$469.00
Our Price: $355.00
buy now
When SRAM recently redesigned its road and cyclocross hydraulic disc brake systems, it built the S700 Hydraulic Disc Brake system to deliver the same incredible stopping power and modulation to older 10-speed drivetrains. For the new S700, SRAM reconfigured the lever body, and revamped the master...
SRAM XX Disc Brake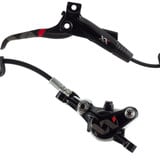 Retail Price:
$288.00
Our Price: $212.49
buy now
SRAM's XX Disc Brake is a lightweight, race-ready stopper that takes the best in SRAM's braking technologies and eliminates any excess. This stripping-of-superfluous ethos is true for every component from caliper to lever, ensuring that your braking system is as streamlined and efficient as...
SwissStop Disc Brake Pad Set
The Swiss Alps, no doubt, are home to some spectacular and demanding mountain bike terrain. SwissStop's testing facility is nestled there as well. Their technicians tirelessly test and re-test brake pad compounds so you can ride with confidence knowing the best stopping power and control...
SwissStop Disc S Brake Pads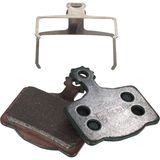 Offering exceptional longevity and higher resistance to heat build-up over OEM pads, the SwissStop Disc S Brake Pads provide powerful braking for gravity riders looking to stop as quickly as possible. Their sintered compound offers significantly more braking force over organic compounds, as well...
SwissStop FlashPro Black Prince Brake Pads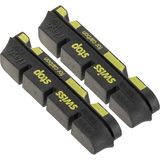 Going fast is only fun if you can stop when you need to, so good brake pads are indispensable if you want to push the pace. Carbon rims can complicate the equation a little bit, but the SwissStop FlashPro Black Prince Brake Pads make life simple and safe. Designed specifically for carbon rims,...
<< Prev | 1 | 2 | 3 | 4 | 5 | 6 | 7 | 8 | 9 | Next >>