Brakes - Road Bike Shop
Shop
>
Components
>
Drivetrain, Brakes
>
Brakes
Magura USA MT8 Next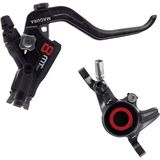 The bucks stop here. If you've got them, that is. No, we won't pretend the Magura MT8 Next Brakes aren't pricey. They are expensive. But they are also German-engineered mountain bike braking perfection: superb control and consistency, bombproof reliability, spot-on ergonomics, and no-brainer...
Magura USA Quick Mount Adapter
Unless you are attaching your Magura brake to a 160mm post mount on your fork, you'll need a Quick Mount Adapter, known by the acronym QM. Magura decided with the proliferation of choices available to riders, it made the most sense to provide the brakes without brackets and have the customer...
Magura USA Storm 6-Bolt Rotor
Lighter than their older Marta SL Rotor, Magura's Storm 6 Bolt Rotor is standard on their Louise Brakesets, and it can be used with Marta brakes as well. It's lighter because it has vent holes drilled into the braking surface, and its gentle sawtooth shaping decreases the chances that you'll...
Magura USA Type 6.2 Endurance Brake Pads
The Magura 6. 2 Endurance dics pads fit 2009 and later Magura Marta SL, Marta SL Mag Ti, 07+ Louise, Louise BAT, and 09 Julie disc brakes. The Endurance pad matter is largely metallic, which makes them less grabby, thus providing a smooth transition from off to on. Another benefit of these...
Mavic CXR Carbon Brake Pads - 1 Pair
Retail Price:
$49.95
Our Price: $29.97
buy now
So, you're the proud new owner of the Mavic Cosmic CXR 80 wheelset. We know that you're loving the aerodynamic advantage and sheer, unyielding speed. But, with all of the speed in the world, you still have to slow down for corners. And if you're not running the Mavic CXR Carbon Brake Pads you...
Mavic Exalith II Brake Pads
Exalith, a treatment given to Mavic's upper-echelon of wheels, penetrates the rim's alloy in order to delay rim wear and to enhance braking power. It's also a key component in maintaining the rim's distinctive Anthracite Grey color. However, you need to use the Mavic Exalith II Brake Pads in...
Reynolds Reynolds Carbon Brake Pad - Set of 4
Historically, a pair of carbon fiber wheels meant that you'd have to sacrifice braking power as compared to a nice set of aluminum rims. It was just a fact of life with composites. Over the last few years, carbon specific brake pads have gotten much better. The new Reynolds Blue Pads are...
Shimano 105 BR-5700 Brakes
Retail Price:
$70.00
Our Price: $41.00
buy now
Shimano's 105 group has always been the go-to line of components for budget-minded riders and racers. 105 components have always carried Shimano's most important innovations, but sometimes the integration of the really high-end stuff takes a year or two to make it to 105. We've always been huge...
Shimano 105 BR-5800 Brake Calipers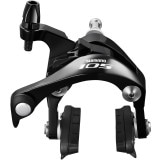 Retail Price:
$104.99
Our Price: $89.25
buy now
Shimano's 105 caliper brakes received a makeover this year with a deviation from its dual-pivot design. Keeping with its theme of sharing technology with its other groupsets, the new Shimano 105 BR-5800 Brake Calipers see an increase in braking power and added tire clearance at a price that is...
Shimano Centerlock to 6-Bolt Rotor Adapter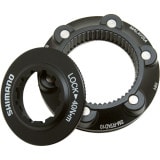 Retail Price:
$25.95
Our Price: $20.00
buy now
Shimano's centerlock brake mount is solid and makes for a great way to fix the brake rotor to your hub. But if you've already got a set of nice disc brakes with 6-bolt rotors, you can use this Shimano Centerlock to 6-Bolt Disc Rotor Adapter to make all of your parts fit together.This adapter kit...
<< Prev | 1 | 2 | 3 | 4 | 5 | 6 | 7 | 8 | 9 | 10 | Next >>