Brakes - Road Bike Shop
Shop
>
Components
>
Drivetrain, Brakes
>
Brakes
Magura USA MT Endurance 7.2 Brake Pads
Worn out brake pads cause damage to the rotors as they get worse. So, as wear presents itself, use the MT Endurance 7. 2 Brake Pads for your MT2, MT4, MT6, or MT8 Magura brakes. The organic endurance compound is less grabby than Magura's Performance 7. 1 pads, but they'll provide a longer pad...
Magura USA MT5 Next
While the Magura MT5 Next Brakes are technically an all-new version of the MT brake series (previously there were only even-numbered MTs), the platform's been around long enough to earn its standing as one of the best all-around braking systems on the market. The MT5 gets some notable...
Magura USA MT7 Next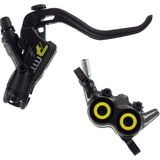 Retail Price:
$320.00
Our Price: $274.99
buy now
They say you can't teach an old dog new tricks, but Magura's new MT7 Next hydraulic disc brakes prove that the venerable German dirt-hound hasn't stopped learning just yet. The company's been making mountain bike brakes as long as anybody, and the new MT7 is extra light but has enough stopping...
Magura USA MTS Next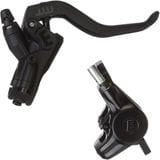 For trail and all-mountain riders who push their bikes hard but don't have a huge budget, the Magura MTS Next brakeset is a great option. Bestowed with the same high quality look, feel, and reliability of all of the MT-series brakes, the MTS set is based on the entry-level MT2, but with two...
Magura USA Quick Mount Adapter
Unless you are attaching your Magura brake to a 160mm post mount on your fork, you'll need a Quick Mount Adapter, known by the acronym QM. Magura decided with the proliferation of choices available to riders, it made the most sense to provide the brakes without brackets and have the customer...
Magura USA Storm SL 6-Bolt Rotor
The Storm SL 6 Bolt Rotor is the lightest Magura brake rotor ever. To make it, they took the Storm rotor and gave it a serious diet, whittling away some serious grams. The difference is that the Storm SL has large, polygonal shaped vent holes rather than the Storm's smaller, round drilled holes....
Mavic Carbon Rim Brake Pads
The one common thread between wheel manufacturers seems to be that they all incorporate their signature colors in their carbon-specific brake pads. For Mavic, this obviously means that the Carbon Rim Brake Pads are bright yellow. Mavic's insistence on innovation over the years means that it...
Mavic Exalith II Brake Pads
You've read the phrase "use with recommended brake pads" many times. If you have the Mavic Cosmic Carbone SLR, Cosmic Carbone SLE, R-Sys SLR, or Ksyrium SLR rims, the Standard Exalith II Brake Pads are exactly what is recommended. If you're looking for spare stoppers for the CXR Ultimate 60...
Mercury Wheels Carbon Brake Pad - Set of 4
For 2016, Mercury worked hard to introduce a beefier, more durable brake pad better equipped to withstand constant use. The new Carbon Brake Pad delivers more consistent stopping power when you need to scrub speed on a steep descent, and without wearing as fast as past versions. The versatile...
Reynolds Reynolds Carbon Brake Pad - Set of 4
Retail Price:
$30.00
Our Price: $26.99
buy now
Reynolds redesigned its Carbon Brake Pad to deliver excellent braking performance with your carbon fiber wheels. Reynolds' new rubber compound offers improved heat dissipation, giving you superb modulation and better overall braking quality in all conditions. The Reynolds Carbon Brake Pad comes...
<< Prev | 1 | 2 | 3 | 4 | 5 | 6 | 7 | 8 | 9 | Next >>