Brakes - Road Bike Shop
Shop
>
Components
>
Drivetrain, Brakes
>
Brakes
Campagnolo Record Brake Pad - 4-Pack
These are the same pads you get factory-installed in a new set of Campagnolo Record brake calipers. Please note that this is the rubber only. You'll need to remove the remnants of your existing pads and install these pads in your original pad holders. You'll get a total of four pads here -- that...
Campagnolo Super Record 11 Skeleton Brakes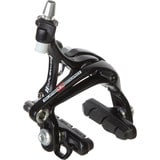 Retail Price:
$395.99
Our Price: $308.99
buy now
You didn't kit your machine out with Campagnolo's flagship groupset in order to stop, you did it to take advantage of Super Record's unrivaled precision and weight to go really, really fast. Of course, certain situations demand discretion, and by blending the stopping power of a dual-pivot front...
ENVE Carbon Brake Pad - 2-Pack
ENVE spent an immense amount of research and development time improving the braking surface on their carbon rims, and it stands to reason that an implicit part of that carbon braking system would include the ENVE Carbon Brake Pads.With a goal of having a brake pad compound that will manage heat,...
Magura USA MT Endurance 7.2 Brake Pad - 2-Pack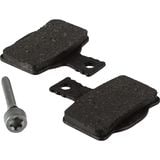 Worn out brake pads cause damage to the rotors as they get worse. So, as wear presents itself, use the MT Endurance 7. 2 Brake Pads for your MT2, MT4, MT6, or MT8 Magura brakes. The organic endurance compound is less grabby than Magura's Performance 7. 1 pads, but they'll provide a longer pad...
Magura USA MT Trail Carbon Disc Brake Set
Retail Price:
$599.00
Our Price: $569.05
buy now
Magura USA brakes have been synonymous with confident stopping since the dawn of mountain bikes, and its MT Trail Carbon Disc Brake Set proves that the company is still at the pointy end of the industry. Super light Carbotecture SL brake lever housing accompanied by carbon fiber levers and bar...
Magura USA MT4 Next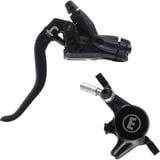 The German-engineered MT Next series of hydraulic disc brakes evolves into something even better than the original MTs for 2014. The Magura MT4 Next Brakes represent a step-up in hardware compared to the entry-level MT2s, which themselves are already world-class brakes. To make the Next...
Magura USA MT5 Next
While the Magura MT5 Next Brakes are technically an all-new version of the MT brake series (previously there were only even-numbered MTs), the platform's been around long enough to earn its standing as one of the best all-around braking systems on the market. The MT5 gets some notable...
Magura USA MT7 Next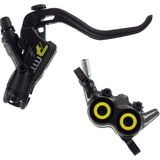 Retail Price:
$320.00
Our Price: $274.99
buy now
They say you can't teach an old dog new tricks, but Magura's new MT7 Next hydraulic disc brakes prove that the venerable German dirt-hound hasn't stopped learning just yet. The company's been making mountain bike brakes as long as anybody, and the new MT7 is extra light but has enough stopping...
Magura USA MT8 Next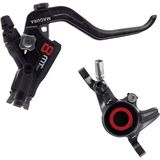 Hammering DH trails without brakes is super fun, if you're a "Better to burn out than fade away" type of person, but if you'd rather ride hard and live to see tomorrow, there's the Magura USA MT8 Mountain Bike Brake. Yeah, it's expensive--pushing $400 for a single lever and caliper--but for the...
Magura USA MTS Next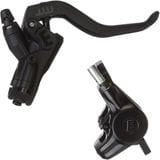 For trail and all-mountain riders who push their bikes hard but don't have a huge budget, the Magura MTS Next brakeset is a great option. Bestowed with the same high quality look, feel, and reliability of all of the MT-series brakes, the MTS set is based on the entry-level MT2, but with two...
<< Prev | 1 | 2 | 3 | 4 | 5 | 6 | 7 | 8 | 9 | 10 | Next >>