Bottom Brackets - Road Bike Shop
Shop
>
Components
>
Drivetrain, Brakes
>
Bottom Brackets
Campagnolo Power Torque BB30 Adapter
BB30 was the first new bottom bracket standard to appear in the aughts. Cannondale devised it and made the standard available to everybody. Today, the BB30 ranks are swelling. It makes sense that Campagnolo would offer a cupset to adapt their Power Torque cranks to the BB30 standard and thus we...
Campagnolo Power Torque BB86 Adapter
One of the many joys of stocking parts is how there's been a proliferation of "standards" for the bottom bracket. We were happy to see French, Swiss, Chater-Lea, Whitworth, and Raleigh threading standards all bite the dust, leaving English threading at the top with a few holdouts still using...
Campagnolo Power Torque Bottom Bracket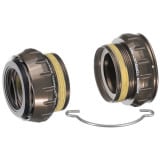 If you're buying a Power Torque crankset, then you need a Power Torque bottom bracket. The Campagnolo Athena 11 Power Torque Bottom Bracket mates perfectly up with the Athena, Centaur, and Veloce Power Torque cranks. From the outside, these cups look almost identical to the bottom bracket cups...
Campagnolo Record 11 Ultra-Torque Bottom Bracket
For such a small part, Campagnolo spent plenty of time making this better. The updated look and graphics of their Record 11 Ultra-Torque Bottom Bracket cups is only a part of what they've done. It signals a small change in design as well. Through careful study of high- and low-stress areas, the...
Campagnolo Ultra-Torque BB30 Adapter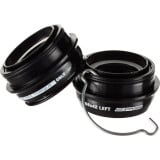 Retail Price:
$64.95
Our Price: $58.46
buy now
This is the adapter that will allow you to use a Campagnolo Ultra-Torque crankset in a bicycle frame built with a BB30 bottom bracket shell. The adapter consists of two black anodized aluminum cups that press into the BB30 shell. Once installed, the Campy Ultra-Torque crankarms with integral...
Chris King Ceramic SRAM Road Bottom Bracket
Chris King components are synonymous with precision and beauty. Anodizing in a myriad of colors, Chris King has become known for hubs that engage without drag, headsets that move buttery-smooth, and bottom brackets that rotate with fluidity. Though other brands can boast similar qualities, it's...
Chris King Mountain Bottom Bracket - Shimano
A fortunate few companies are market leaders. Rarer still are market obliterators. These companies are so dominant and worthy of their marketshare and mindshare we sometimes wonder why their competition even bothers. And no company obliterates quite like Chris King. In unveiling their Shimano...
Chris King Mountain Bottom Bracket - SRAM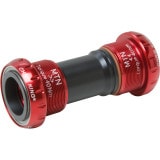 Retail Price:
$155.00
Our Price: $139.50
buy now
The Chris King Nothreadset is perhaps the industry's single most iconic component. With its precision and its durability, Chris King established the standard for quality. And ever since Chris King unveiled their bottom bracket, Shimano riders have reveled in having the King name adorn their...
Chris King Press-Fit 24mm Ceramic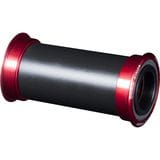 While Chris King has always been revered for its steel ball bearings, there's no denying the fact that ceramics are lighter and offer a measurable reduction in friction. And, if quality and ultimate performance are your two bottom bracket requirements, look no further than this Press-Fit 24mm...
Chris King PressFit 24mm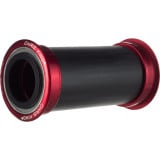 When Chris King finally entered the bottom bracket market, the wishes of cycling enthusiasts and shop technicians, worldwide, were answered. King's reputation of turning maintenance-intensive, grimy components into reliable, not to mention handsome, apparatuses pushed that desire. And, when you...
<< Prev | 1 | 2 | 3 | 4 | 5 | Next >>