Bottom Brackets - Road Bike Shop
Shop
>
Components
>
Drivetrain, Brakes
>
Bottom Brackets
FSA 386EVO PF30 Ceramic Bottom Bracket
Retail Price:
$210.00
Our Price: $178.99
buy now
Lots of people will tell you that ceramic bearings are the way to go for serious cyclists, and we're not here to argue. Ceramics are said to be more spherical, smoother, and made to higher tolerances, so it isn't surprising that ceramic BBs like the FSA 386EVO PF30 is buttery smooth, durable, and...
FSA BB86 EVO Bottom Bracket
If you're anxious to take advantage of the improved stiffness and lower weight of FSA's BB386 cranks, but your frame is geared with an PressFit BB86 bottom bracket, just pop in the BB86 Evo Bottom Bracket and you'll be spinning the new standard in no time The BB86 Evo Bottom Bracket converts your...
FSA Mega Exo Cartridge Sealed Bottom Bracket
This winter, treat yourself to some new bottom bracket bearings courtesy of the FSA Mega Exo Cartridge Sealed Bottom Bracket, then set about trying to destroy them as soon as the trails are rideable in spring. This will be a tall order, as the bottom bracket's aluminum external cups are precisely...
FSA MegaEVO Chrome Steel Bottom Bracket
Stainless steel bearings are nice to have -- for underwater applications. But if you're not planning on leaving your bottom bracket permanently submerged in water, then the smoother, more durable chromium steel bearings in FSA's MegaEVO Chrome Steel Bottom Bracket are your best bet for long...
Niner CYA Insert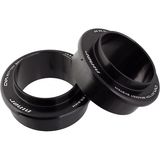 Retail Price:
$89.00
Our Price: $75.65
buy now
Bottom bracket standards have gotten a bit out of hand in the last few years, requiring frame designers to use one system over another. Instead of succumbing to one brand's standard, Niner saw this as an opportunity and developed the CYA Insert. Now you can press fit an adapter for BB30, BB92,...
Race Face BB92 Bottom Bracket Adapter
Retail Price:
$36.99
Our Price: $31.39
buy now
You have options if you're trying to run a 24mm-spindle crankset on a BB92 frame, but the Race Face BB92 Bottom Bracket Adapter is one of your better options. Whether your favorite crankset comes from Shimano or Race Face, it doesn't matter, because either way, you're covered. At the heart of...
Race Face Cinch BB92
The Race Face Cinch BB92 Bottom Bracket is an ingenious solution to fitting Race Face's Next SL crankset to your bike with a Shimano BB92 shell. Realizing the BB92 standard accommodates a 24-millimeter spindle, the engineering gurus at Race Face use 19 custom ball bearings to increase strength,...
Race Face Cinch BSA Threaded Bottom Bracket
Navigating bottom bracket shell standards can be a headache when you're trying to customize your ride. The new Cinch interface system from Race Face offers an easy solution. The Race Face Cinch BSA Threaded 30mm Bottom Bracket allows you to experience 30mm spindles and a stiffer bottom bracket...
Race Face Cinch PF30 Bottom Bracket
With the new Race Face Cinch PF30 bottom bracket you can finally reap the benefits of the spectacular Next SL crankset. The Cinch PF30 fits a 30mm spindle in a frame equipped with the PressFit 30 standard. The Cinch PF30 features the durable and smooth-running 6808 bearings filled with Phil Wood...
Race Face X-Type Bottom Bracket
Retail Price:
$49.99
Our Price: $42.49
buy now
Race Face trimmed all excessive weight from the X-Type Bottom Bracket and then doubled the bearing count to provide a smooth feel on every pedal stroke. Internal tapered sidewalls and light 7050 aluminum reduce the gram count, and Race Face used fully sealed bearings for extra long life. You can...
<< Prev | 1 | 2 | 3 | 4 | 5 | 6 | 7 | 8 | Next >>