Bottom Brackets - Road Bike Shop
Shop
>
Components
>
Drivetrain, Brakes
>
Bottom Brackets
Chris King Road Bottom Bracket - SRAM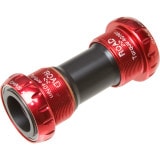 Ever since Chris King unveiled their bottom bracket, Shimano riders have reveled in having the King name adorn their drivetrains. This SRAM compatible version allows the Chris King Road Bottom Bracket to be used on all SRAM GXP, Truvativ GXP, and Bontrager GXP cranksets with a stepped 24mm axle....
Chris King Shimano Mountain Ceramic Bottom Bracket
Since 1976, Chris King has been producing no-compromise bicycle components that exceed even the lofty reputation that King has built for itself. King components are timeless. They are also legendary for design and durability. The Chris King Mountain Bottom Bracket with Ceramic Bearings is no...
Chris King SRAM Mountain Ceramic Bottom Bracket
For years the name Chris King has been synonymous with precision bicycle components. The latest in the long line of industry-leading products is the Chris King Mountain Bottom Bracket with Ceramic Bearings. The Mountain bottom bracket is lightweight, durable, precise, and easily serviceable. The...
Niner CYA Insert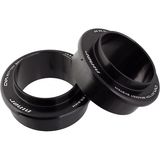 Retail Price:
$89.00
Our Price: $49.99
buy now
Bottom bracket standards have gotten a bit out of hand in the last few years, requiring frame designers to use one system over another. Instead of succumbing to one brand's standard, Niner saw this as an opportunity and developed the CYA Insert. Now you can press fit an adapter for BB30, BB92,...
Praxis Works Conversion Bottom Bracket for PF30 - Road
Designed as a proper Bottom Bracket Conversion for Shimano Hollowtech cranks to PF30 frames, Praxis Works' patent-pending design evenly disperses pressure for a super tight fit. This reduces maintenance headaches and creaking for a solid BB/crank interface. The cartridge bearings sit outboard of...
Race Face BB92 Bottom Bracket Adapter
You have options if you're trying to run a 24mm-spindle crankset on a BB92 frame, but the Race Face BB92 Bottom Bracket Adapter is one of your better options. Whether your favorite crankset comes from Shimano or Race Face, it doesn't matter, because either way, you're covered. At the heart of...
Race Face Cinch BB92
We're fans of Shimano's BB92 press fit standard, but what do you do if your new bike has this extra-wide, super-stiff, bottom bracket standard, and you want to run a crankset with a 30mm spindle? Well, the good folks at Race Face came up with the Cinch BB92 bottom bracket to make your predicament...
Race Face Cinch BSA Threaded Bottom Bracket
The Race Face BSA 30mm Bottom Bracket was made to work with its new Cinch interface system. The Cinch system uses a 30mm spindle to provide an ultra stiff bottom bracket/crankset interface, but previously this would limit you to BB30/PF30 frames -- Cinch doesn't have this limitation. These new...
Race Face Cinch PF30
The PressFit 30 bottom bracket standard was pretty much waiting for Race Face to come along with its stellar Next SL crankset and make use of the oversized interface. And the Race Face Cinch PF30 Bottom Bracket is the ideal way to mount your Next SLs to your frame. Designed to match the stunning...
Race Face Isis Bottom Bracket
ISIS bottom brackets just about went extinct a few years back, but thankfully you don't have to swap out your entire crankset just because those torched bearings are starting to rattle. Get your old ride back to its former glory with the Race Face SRX ISIS Bottom Bracket. It has a hollow,...
<< Prev | 1 | 2 | 3 | 4 | 5 | 6 | Next >>