Bottom Brackets - Road Bike Shop
Shop
>
Components
>
Drivetrain, Brakes
>
Bottom Brackets
Chris King Press-Fit 24mm Ceramic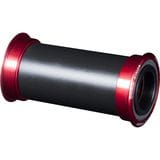 For decades, Chris King components have enjoyed a well-earned reputation as some of the best in the industry. Everything Chris king makes is built with incredible precision. Because of this, they last. Not only that, a Chris King product can be produced for years, unchanged. Upgrades are never...
Chris King PressFit 24mm
The wishes of cyclists and shop technicians around the world were answered when Chris King introduced the PressFit 24mm Bottom Bracket. Their reputation for turning troublesome components into reliable and easy-to-tune parts was solidified with this PressFit 24mm Bottom Bracket. First, the bottom...
Chris King PressFit 30mm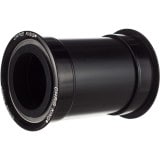 It took a few years, but the aluminum wizards at Chris King finally graced us with a bottom bracket designed specifically for PressFit 30 bottom bracket shells. The PressFit 30mm bottom bracket ensures that your cranks will spin as freely as possible, thanks to King's house-made steel ball...
Chris King PressFit 30mm Ceramic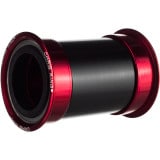 The Chris King PressFit 30mm Ceramic bottom bracket brings smoothness, reliability, and quality to PF30-equipped frames. Both cups house 24 ceramic balls in each cartridge--providing a measurable reduction in friction and weight when compared to steel. That means you'll be riding faster. Bearings...
Chris King ThreadFit 24mm Bottom Bracket
Before the dizzying array of bottom bracket standards that all just look like a gaping hole in your frame, bottom bracket cups used to thread in to precisely-manufactured frames, and lasted darn near forever, rarely creaking. The Chris King ThreadFit 24mm bottom bracket is the perfect match for...
Chris King ThreadFit 24mm Bottom Bracket - Ceramic
Chris King has solved the dilemma of buying a new crankset only to find out it doesn't fit your existing bottom bracket. The new ThreadFit 24mm Bottom Bracket is essentially a modular system able to "fit" most any crankset with the simple addition of an adapter. This bottom bracket features an...
FSA BB30 Bottom Bracket
Retail Price:
$49.99
Our Price: $42.49
buy now
The people at FSA are borderline nuts about all things related to bottom brackets, cranksets, and the integration of the two. Little wonder, then, that pressing the FSA BB30 Bottom Bracket into your frame will yield a smooth, durable ride. It spins on reliable, no-nonsense stainless steel...
FSA Mega Exo Cartridge Sealed Bottom Bracket
Retail Price:
$54.99
Our Price: $44.00
buy now
This winter, treat yourself to some new bottom bracket bearings courtesy of the FSA Mega Exo Cartridge Sealed Bottom Bracket, then set about trying to destroy them as soon as the trails are rideable in spring. This will be a tall order, as the bottom bracket's aluminum external cups are precisely...
Niner CYA Insert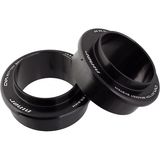 Retail Price:
$89.00
Our Price: $39.99
buy now
Bottom bracket standards have gotten a bit out of hand in the last few years, requiring frame designers to use one system over another. Instead of succumbing to one brand's standard, Niner saw this as an opportunity and developed the CYA Insert. Now you can press fit an adapter for BB30, BB92,...
Praxis Works Conversion Bottom Bracket for PF30 - MTB
Designed as a proper Bottom Bracket Conversion for Shimano Hollowtech cranks to PF30 MTB frames, Praxis Works' patent-pending design evenly disperses pressure for a super tight fit. This reduces maintenance headaches and creaking for a solid BB/crank interface. The cartridge bearings sit outboard...
<< Prev | 1 | 2 | 3 | 4 | 5 | 6 | 7 | Next >>