Luggage - Road Bike Shop
Shop
>
Accessories
>
Travel
>
Luggage
Alchemy Goods Dravus Recycled Messenger Bag
While small shoulder bags can conveniently carry a few pens, a netbook, and an analog book, there are times that call for more transporting capacity. A lot more. For commuters who need enough cargo space to accommodate multiple stops and errands throughout the day, Alchemy Goods introduces the...
Alchemy Goods Haversack Bag
Staying upright on skinny tires while navigating road obstacles can be hard enough, but add to that the pendulous weight of a bulky shoulder bag threatening to throw you off balance or constantly swinging into your elbows and you've got a rolling hazard. Alchemy Goods' Haversack Bag addresses...
Alchemy Goods Jefferson Messenger Bag
You'd be hard-pressed to find a more enduring symbol of urban cycling than the messenger bag. Even the name itself has become synonymous with the bike messenger culture, a lifestyle that has percolated from the coastal metropoles into almost every urban space in the continental US. Given its...
Alchemy Goods Madison Recycled Slim Backpack
Alchemy Goods has elevated the science of constructing cycling backpacks to an art form. While its other model, the Brooklyn, offers a more compact, body hugging version of the conventional backpack, the Madison Recycled Slim Backpack presents an even more minimalist profile. 74% of the Madison's...
Alchemy Goods Pike Recycled Messenger Bag
The humble, utilitarian shoulder bag has long been every cyclist's friend, whether commuting to campus, the start line, or as a professional courier. With its Pike Recycled Messenger Bag, made from bicycle inner tubes, Alchemy Goods pays direct homage to this long-time relationship -- with added...
Chrome Barrage Cargo Backpack - 2075cu in
Retail Price:
$180.00
Our Price: $162.00
buy now
Chrome Bags is well known for creating messenger-style bags that can carry the kitchen sink, literally --plus a six pack for after your day's work is done, shoes, your wallet and a few random items with room to spare. And though those bags have their place, you don't always need thousands and...
Chrome Bravo Laptop Backpack
Heading out into nasty weather with your $2000 laptop on your back can be frightening experience. Mother Nature doesn't care what you paid for your computer any more than she cares about the sandwich you have in your pack, and she's happy to destroy either one without a second thought. There are...
Chrome Cardiel: ORP Backpack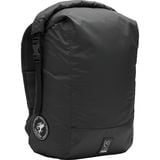 Retail Price:
$90.00
Our Price: $59.99
buy now
In the event of a zombie apocalypse, grab the Chrome Cardiel: ORP Backpack, hop on your bike, and get ready to weave between cars as you hack the heads off those lame-brains. The waterproof ORP (Operation Readiness Pack) is Chrome's first foray into superlight packs, and who better to help design...
Chrome Citadel Laptop Backpack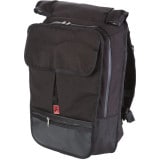 The Chrome Citadel Laptop Backpack carries all your essentials for a weekend-long adventure or a really big day exploring the city. Durable material, plenty of storage, and messenger-bag styling make the Citadel the versatile fortress of a pack that it is. Ergonomic shoulder straps free you from...
Chrome Citizen Messenger Bag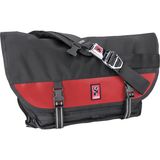 You don't need a messenger bag big enough to carry bank boxes, but you want a bag large enough to haul a six-pack, an extra jacket and your laptop. Look no further than the Chrome Citizen Messenger Bag. Constructed using tough 1000 denier Cordura outer shell and 18-ounce truck tarp liner, Chrome...
<< Prev | 1 | 2 | 3 | 4 | 5 | 6 | 7 | 8 | 9 | Next >>