Luggage - Road Bike Shop
Shop
>
Accessories
>
Travel
>
Luggage
Chrome Barrage Cargo Backpack - 2075cu in
Chrome Bags is well known for creating messenger-style bags that can carry the kitchen sink, literally --plus a six pack for after your day's work is done, shoes, your wallet and a few random items with room to spare. And though those bags have their place, you don't always need thousands and...
Chrome Bravo Laptop Backpack
Heading out into nasty weather with your $2000 laptop on your back can be frightening experience. Mother Nature doesn't care what you paid for your computer any more than she cares about the sandwich you have in your pack, and she's happy to destroy either one without a second thought. There are...
Chrome Buran II Messenger Bag
Retail Price:
$160.00
Our Price: $120.00
buy now
The Chrome Buran II Messenger Bag mixes style, function, and durable protection, so you get a bag that will get you and all your junk from home to work and back again, rain or shine. For this model, Chrome moved the laptop pocket so it sits against your back for a better fit and more natural...
Chrome Cardiel: ORP Backpack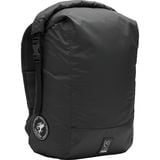 Retail Price:
$90.00
Our Price: $59.99
buy now
In the event of a zombie apocalypse, grab the Chrome Cardiel: ORP Backpack, hop on your bike, and get ready to weave between cars as you hack the heads off those lame-brains. The waterproof ORP (Operation Readiness Pack) is Chrome's first foray into superlight packs, and who better to help design...
Chrome Citadel Laptop Backpack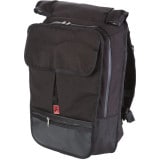 The Chrome Citadel Laptop Backpack carries all your essentials for a weekend-long adventure or a really big day exploring the city. Durable material, plenty of storage, and messenger-bag styling make the Citadel the versatile fortress of a pack that it is. Ergonomic shoulder straps free you from...
Chrome Citizen Messenger Bag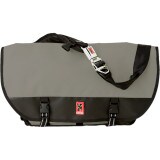 You don't need a messenger bag big enough to carry bank boxes, but you want a bag large enough to haul a six-pack, an extra jacket and your laptop. Look no further than the Chrome Citizen Messenger Bag. Constructed using tough 1000 denier Cordura outer shell and 18-ounce truck tarp liner, Chrome...
Chrome Metropolis Messenger Bag
Strap yourself into Chrome's Metropolis Messenger Bag and take a ride downtown. With 40 liters of interior space, the Metropolis is Chrome's largest buckle messenger bag and is ready to haul all the gear you need for a day on the town. It swallows 17-inch laptops for breakfast and still has...
Chrome Mini Buran Laptop Messenger Bag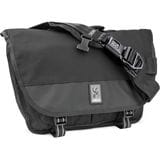 Retail Price:
$139.95
Our Price: $104.96
buy now
Unless you're a courier, you most likely just have shoes, a phone, and a case of beer in your bag. After all, we're not all able to earn a living on our bikes, so why do any of us need a bag the size of the Kremlin (remember that thing)? So, for those of us who relegate our portage riding to the...
Chrome Mini Metro Messenger Bag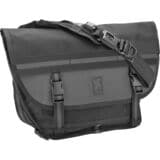 The Chrome Mini Metro Messenger Bag is a small messenger bag with a deceptively large interior for hauling all of the basics to work, school, and play. The exceedingly durable interior and exterior can take whatever you can dish out. Made in Chico, California, USAWaterproof, durable Cordura...
Chrome Orlov Backpack
Hauling wet gear around is a waste of time if you get wet in the process. On the flip side, though, hauling dry gear in a leaky bag in the rain is just as annoying. At the same time, you don't always need to carry the kitchen sink with you. Taking all of this into account, Chrome tackled big...
<< Prev | 1 | 2 | 3 | Next >>