Luggage - Road Bike Shop
Shop
>
Accessories
>
Travel
>
Luggage
DAKINE Manscaper Organizer
Retail Price:
$29.95
Our Price: $16.47
buy now
Instead of throwing your toiletries in a plastic bag before cramming them into your suitcase, keep your travel essentials in order with the Dakine Manscape Organizer.
DAKINE Manual 20L Backpack - 1205cu in
Retail Price:
$39.95
Our Price: $25.97
buy now
The Dakine Manual 20L Backpack harmoniously holds everyday items, text books, and your trusty skateboard without missing a blink. Horizontal carry straps secure your skateboard vertically when you walk around town or travel through busy airports. The pack's large main compartment easily stashes...
DAKINE Milo Backpack - Girls' - 800cu in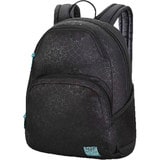 Retail Price:
$34.95
Our Price: $19.22
buy now
The Dakine Girls' Milo Backpack has everything your girl needs to get her through the school year, including a spacious main compartment for her books and binders, a zippered front pocket for pencils and small supplies, and a fleece-lined sunglasses pocket to keep valuables from getting scratched.
DAKINE Mod 23L Backpack - 1406cu in
Retail Price:
$79.95
Our Price: $63.96
buy now
The Dakine Mod Backpack has everything you need to get through the daily grind. A padded laptop sleeve protects your computer when you're headed to work or class, and one of the two front accessory pockets detaches.
DAKINE Option 27L Backpack - 1650cu in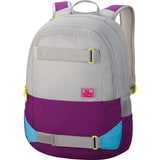 Retail Price:
$49.95
Our Price: $27.47
buy now
Head to school early to skate a couple spots near campus before class, then strap your deck up to the Dakine Option Backpack before heading inside. Once inside, whip your computer out of the padded laptop sleeve and get to learnin'.
DAKINE Over Under 49L Carry-On Bag - 3000cu in
Retail Price:
$164.95
Our Price: $107.22
buy now
You already separated the DAKINE Over Under Rolling Gear Bag so that it'll fit in the overhead compartment, but now you have all these duty-free goodies that you bought during your layover. Never fear, just use this bag's expandable compartment and gain 900 cubic-inches of storage quickly. Whew ....
DAKINE Park 52L Duffel Bag - 3162cu in
Whether it's a trip to the skatepark or a weekend visit to the folks, pack up everything you need with the Dakine Park 52L Duffel Bag. The spacious main compartment stores your helmet and pads or a couple days worth of clothes, while a zippered end pocket keeps your stinky shoes separate or...
DAKINE Party 22L Duffel Bag - 1350cu in
Retail Price:
$79.95
Our Price: $43.97
buy now
Don't limit your partying to one place. The Dakine Party Duffel Bag features an insulated main compartment to keep your brews cold and crispy so you can be a walking party whether you're hitting the beach, chilling at the park, or moving from house to house in an effort to thwart the fun-hating...
DAKINE Point Wet/Dry Backpack - 1800cu in
Tuck your surfboard under your arm, toss your Dakine Point Backpack over your shoulders and skate on down to the beach. Hear those waves? Today is going to be good. A seam-sealed wetsuit pocket keeps your suit from making the rest of your gear soggy once you're done shredding, and the skate carry...
DAKINE Roam 60L Duffel Bag - 3704cu in
The Dakine Roam 60L Duffel Bag eagerly organizes your clothes, gear, and accessories while you're traveling internationally or taking a weekend trip into the mountains. Its removable shoulder straps and adjustable sternum strap make for easy transport when you navigate through busy airports and...
<< Prev | 1 | 2 | 3 | 4 | 5 | 6 | 7 | 8 | Next >>