Luggage - Road Bike Shop
Shop
>
Accessories
>
Travel
>
Luggage
DAKINE Groomer Kit
With the help of the DAKINE Groomer Kit, your bathroom goods stay organized so you can keep looking classy, even on the road. An array of pockets hold your toothpicks, deodorant, and mango-flavored floss where they're easily accessible, and the slick nylon lining is easy to clean so things don't...
DAKINE Heli Pro 20L Backpack - 1200cu in
Sure, you can strap a shovel to your back and shoulder your boards, but you'll be thirsty, hungry, and freezing to death once you summit. And don't even think about bootpacking on a skin track. Pack up treats, layers, skins, and hydration in the Dakine Heli Pro 20L Backpack and hit the...
DAKINE Hudson 20L Messenger Bag - 1200cu in
Roll into class or the office in cool, comfortable style when you have the Dakine Hudson Messenger Bag slung over your shoulder. This quality-constructed messenger bag features an internal padded sleeve for your laptop, enough room for your binders and books, and cleverly-designed organizational...
DAKINE Jetty Wet/Dry 32L Backpack - 1976cu in
Dakine's Jetty Wet/Dry 32L Backpack is a dedicated surf pack, but we guess you can take it to school on those few days you actually show up. Its roll top closure offers waterproof protection if you get the pack too close to the surf, and there's additional side access for quick-and-easy retrieval...
DAKINE Ledge 25L Skate Backpack - 1530cu in
Always be ready for an after-school skate sesh by heading to campus with the Dakine Ledge 25L Skate Pack. Horizontal skate straps keep your deck close at hand for easy access when you want to pop a few ollies to blow off some steam before chemistry class, and a padded laptop sleeve secures your...
DAKINE Lid 26L Backpack - 1607cu in.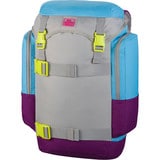 Head straight from school to the skatepark with the Dakine Lid 26L Backpack. It has a rugged 600D fabric to withstand life in the streets and skateboard carry straps to hold your board when it's not under your feet. It also has a padded laptop sleeve to protect your computer when you're headed to...
DAKINE Manscaper Organizer
Instead of throwing your toiletries in a plastic bag before cramming them into your suitcase, keep your travel essentials in order with the Dakine Manscape Organizer.
DAKINE Manual 20L Backpack - 1205cu in
The Dakine Manual 20L Backpack harmoniously holds everyday items, text books, and your trusty skateboard without missing a blink. Horizontal carry straps secure your skateboard vertically when you walk around town or travel through busy airports. The pack's large main compartment easily stashes...
DAKINE Milo Backpack - Girls' - 800cu in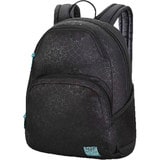 The Dakine Girls' Milo Backpack has everything your girl needs to get her through the school year, including a spacious main compartment for her books and binders, a zippered front pocket for pencils and small supplies, and a fleece-lined sunglasses pocket to keep valuables from getting scratched.
DAKINE Mod 23L Backpack - 1406cu in
The Dakine Mod Backpack has everything you need to get through the daily grind. A padded laptop sleeve protects your computer when you're headed to work or class, and one of the two front accessory pockets detaches.
<< Prev | 1 | 2 | 3 | 4 | 5 | 6 | 7 | 8 | 9 | Next >>